Williams QuickFit Tool Organization System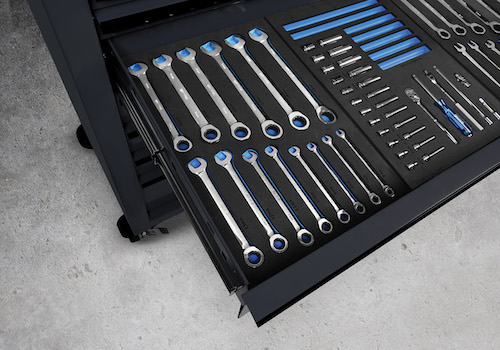 Williams®, known for their workhorse line of industrial tools and equipment, is bringing new ways to organize tools with their new Williams® QuickFit Tool Organization System. This online configuration tool and organization system provides quick, easy identification of tools and helps optimize the workspace and keep the shop organized.
Williams® QuickFit tool sets come with strong, trusted industrial tools industrial applications need to get the job done safely.
"Williams® builds on 140 years of experience to design tool sets that best meet the needs of folks working in industrial environments," said Mike Bogdanovic, Product Manager. "By adding the Williams® QuickFit Tool Organization System to our tool offering, Williams® brings a higher level of organization enabling a shop to be safer and more efficient while employees can focus on the job."
Convenience, access and tool organization are at the heart of the Williams® QuickFit system. Laser-cut industrial-grade foam is used to create modular drawer- inserts, keeping tools ready and always organized the way the user wants them.
With over 40 different foam combinations, you can quickly select the right set that best meets your needs. These foam inserts fit the Williams® 40" roll cab and come in three dimensions: 1/3, 2/3 and full drawer size. With the different combinations and drawer dimensions available, Williams® QuickFit makes it fast and easy to build an ideal workspace.
Customers can use the Williams® QuickFit online configurator to create their ideal workspace by selecting their foam inserts and toolbox, if needed. The configurator walks customers through the selection process from the start; from the color of their box to the foam configurations for each of the seven drawers. From there – it's simply a matter of calling your favorite industrial distributor and place your order.
Features and benefits of the Williams® QuickFit Tool Organization System include:
One-finger easy access: recessed tool inlays perfectly to secure each tool, while also providing a pivoting lift for easy access.
Instant identification: two-tone foam helps technicians instantly identify if any tools are missing or incorrectly placed.
Staying clean: Williams® QuickFit foam drawer inserts resist oils, solvents and fuels, and are made to meet modern environmental guidelines.
For more information on Williams® QuickFit Tool Organization System, visit www.williams-industrial.com/quickfit or the online configurator at https://configurator.williams-industrial.com; email Williams@snapon.com; or call 800.446.7404.
About Williams®
Williams® has made strong, trusted tools for industrial professionals with pride since 1882. Our products are designed and manufactured for industries such as Power Generation, Oil, Gas and Petrochemical, Mining, Manufacturing, Assembly, Facilities Maintenance and Metal Fabrication where using strong, trusted tools is a necessity.
Based in Kenosha, Wisconsin, Williams® is known as the workhorse line of tools focusing on hand tools, tool storage, tools for the trades, hydraulics, insulated tools and Tools@Height; they deliver results every day to hard-working technicians. Williams® is sold through distribution.
For more information on Williams® or to locate the nearest distributor, visit williams-industrial.com or call 800.446.7404. Williams® is a wholly-owned brand of Snap-on.