Williams Universal Pliers Wrench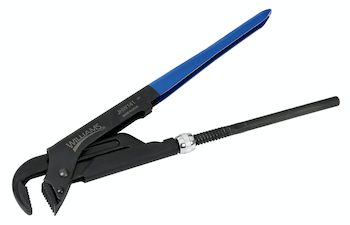 Williams®, known for their workhorse line of industrial tools and equipment, is offering a new pliers wrench that makes tightening and loosening a breeze. Williams® Universal Pliers Wrench is created to give technicians a tight grip on pipes and hex nuts, as well as the ability to lock the tool with one hand. It provides versatility, durability, and power for even the toughest jobs.
Since the Williams® Universal Pliers Wrench functions as both a pliers and wrench, it delivers the convenience of two tools in one, allowing for easy adjustments with its quick-lock technology, and providing the trusted endurance needed to get the job done safely.
When tightening or loosening a pipe, hex nut, or something that needs adjusting, using a traditional pipe wrench might provide a tight grip, but still requires the force of two hands to make the adjustment. Using a tongue and grove pliers doesn't typically fit every application. For example, if hex nuts have small spaces around them there is no way to get the pliers into the space to make the adjustment. And, if someone does get the tongue and groove pliers to work, it still requires a lot of force so the user must use two hands.
The Universal Pliers Wrench addresses these issues by offering convenience and power, while it only requires one hand to make the adjustment. The tool ensures no slippage, and the small jaw design fits easily into almost any space.
The Universal Pliers Wrench is available in five sizes, from 8-7/16" to 28-3/8" with a maximum jaw opening of between 1-3/16" to 4-3/8".
Features and benefits include:
Easily locks into the desired position with the adjusting nut
Built-in security with unthreading guard
Narrow jaws for extra accessibility in tight spaces
Inwardly angled teeth for a stronger, more secure grip
Alloy steel construction offering a heavy-duty design and high-performance
Built-in pinching protection on the inner handle
Adjustable grip width without opening your hand aides in reducing repetitive motion
Gives strength and power in the jaw grip when pressure is put on the handle
Williams® is known as the workhorse line of tools and equipment. For more information on Williams® Universal Pliers Wrench, visit www.williams-industrial.com; email Williams@snapon.com; or call 800.446.7404.
About Williams
Williams has made strong, trusted tools for industrial professionals with pride since 1882. Our products are designed and manufactured for industries such as Power Generation, Oil, Gas and Petrochemical, Mining, Manufacturing, Assembly, Facilities Maintenance and Metal Fabrication where using strong, trusted tools is a necessity.
Based in Kenosha, Wisconsin, Williams® is known as the workhorse line of tools focusing on hand tools, tool storage, tools for the trades, hydraulics, insulated tools and Tools@Height; they deliver results every day to hard-working technicians. Williams® is sold through distribution.
For more information on Williams® or to locate the nearest distributor, visit williams-industrial.com or call 800.446.7404. Williams® is a wholly-owned brand of Snap-on.