fischer Power-Full II Full-thread Screws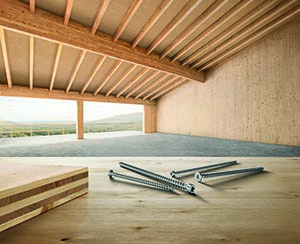 The fischer Group of Companies is launching the latest generation of Power-Full II full-thread screws. These wood screws are ideal for permanently and securely connecting or reinforcing supporting wood constructions.
They also offer the advantage of easy and efficient installation as an economical pro solution for challenging fastening requirements in timber construction.
Main and secondary beam connections, false beam edges, shear tension bracings or shear connections - PowerFull II always proves to be the ideal choice whenever timber connections or reinforcements are subjected to particularly high requirements.
The latest generation of fischer wood screws has a European Technical Assessment (ETA- 21/0751) that already covers several updates and the state of the art of the future Eurocode 5 on the design and construction of timber structures.
The new ETA of fischer's full-thread screws is more user-friendly than the previous version, with significantly more comprehensive and structured content.
Compared to its renowned predecessor, fischer has optimised its full-thread screw even further. For instance, as an alternative to the effective screw-in depth of the screw thread, this screw-in depth can be applied without considering the length of the screw tip by calculation, but with a significantly increased pullout parameter. This allows the pullout load capacity or tensile strength to be increased by up to 60%.
Screw tip and thread geometry make installation easier
One of the special features is the screw geometry developed by fischer. It significantly improves the pullout load capacity, while the higher thread pitch reduces the screw-in torque for simple and easy installation. Its unique core-milling geometry enables low edge and axial spacing and high loads without any pre-drilling. The special tip geometry makes it easy to place and insert while reducing the splitting behaviour in the base. The needlepoint even allows the screw to be placed and inserted with ease under extreme conditions such as slanted screw connections.
The PowerFull II version with a cylinder head is ideal for wood on wood connections. Additional mill pockets allow the head to be neatly countersunk deep into the wood using a long bit. The countersunk head variant with mill pockets below the head is ideal for fastening steel parts to wood, preventing fixtures from being damaged by reaming.
PowerFull II in a 10 mm diameter: Pre-drill effect included
fischer offers the 10 mm-diameter PowerFull II for applications such as lateral pressure reinforcements on bearings, main and secondary beam connections, false beam edges or reinforcements on notched bearings. The screw's geometry also differs between the available diameters of 6 and 8 mm. It has a drill tip that creates a pre-drilling effect without causing the long screws to slip, reducing the risk of splitting the wood and lowering the turning torque, for simple, quick and safe installation.
Other highlights of fischer's screw range
fischer's Power-Fast and Power-Full wood screws are suitable for almost any fixing task of carpenters, joiners and timber construction specialists. Different versions with various drives, heads, thread and material variants and sizes were specially designed to process wood in all its shapes and sizes, utilising the material to the fullest extent.
Screw tips and thread geometries tailored to fastening projects make installation quicker and easier, allowing processing in soft and solid woods without pre-drilling in accordance with the ETA. This requires minimum time, effort and battery power. The ETA also regulates the alternative use of tangential impact screw drivers.
The screws additionally enable gap-free and non-splintering installation close to the edge. fischer's chipboard screw Power-Fast II can be used for all types of wood on wood and metal on wood connections as well as in fischer plastic plugs with verified loads. The new adjusting screw FAFS meanwhile is ideal for the infinitely adjustable installation of wood slats or frames on timber substructures.
Safe designs with fischer WOOD-FIX
The WOOD-FIX module in fischer's free FiXperience design software allows planners and processors to create and print verifiable proof for any applications and projects with PowerFull II and other fischer screws. In addition to its simple and intuitive interface, the programme offers a clear 2D or 3D display as well as automatic error recognition if incorrect geometric limiting conditions are entered.
The designs are carried out in accordance with the European Technical Assessment (ETA) or DIN EN 1995-1-1 (Eurocode EC5), including a free choice of national application documents (NAD).