Woodman Tools SkatePlateH20 Has Arrived
SkatePlate and water jet system is designed for cutting tile, granite, masonry or concrete.
---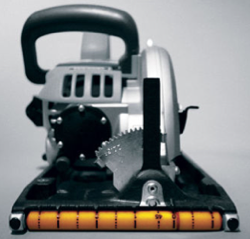 For the better part of a year we have been telling you about the SkatePlateH20. The wait is over. They are in hand & ready to ship.
The SkatePlateH20 is our standard SkatePlate equipped with a water jet system that greatly reduces if not eliminates dust making, and as such is the perfect solution for tile, granite, masonry, concrete, or any like task.
A button that attaches just above the saw trigger activates the flow of water as needed. Take your thumb off the button and the flow stops. The stream of water shoots across the blade in such a manner as to not only keep things cool, lubricated, and dustless; it also helps prevent slurry from building up in the saw housing making for an easier clean up. Also, as the spray nozzle is aimed facing the blade, water will not pool up in front of the saw erasing any markings you may have made.
The SkatePlate will not interfere with the depth of your cut allowing for cuts up to 2-1/4" in depth for expansion joint cuts and just like the dry version, you will always be on a smooth, straight track that will not be hindered by inconsistencies in the surface you are working on.
Be it a garden hose or a pressurized water canister, secure your water source and you are good to go.
Remember the prototypes you have seen at shows? We took a quality product & improved it further. Brass, stainless steel, & polished aluminum are the order of the day. A commercial grade, outdoor rated GFIC interrupter is also included as an added safety feature.
For more information on the SkatePlateH20 or to place an order, please visit us online at www.woodmantools.com or contact Brad Samples, director of sales & marketing at (310) 606-2380 or at brads@woodmantools.com.