Posted April 24, 2019
Chris Berry, "Paint Life TV" YouTube Star at National Hardware Show
Berry to appear in PaintLine Booth #4736 – Las Vegas May 7-9.
---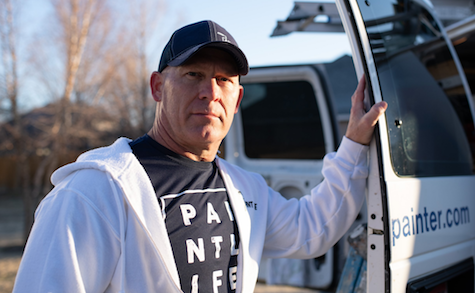 The PaintLine Co. is hosting "Paint Life TV" YouTube star Chris Berry at its National Hardware Show [NHS] booth #4736 in Las Vegas May 7-9. Berry, whose YouTube channel has over 49 million views and 200,000 subscribers, will be on hand to meet and greet booth visitors as well as to answer professional and DIY paint questions during the first two days of the show.
"We're really excited to have Chris Berry at our booth," says Kyle Robinson, President of the PaintLine. "Chris is a foremost expert on residential painting and a fantastic guy – this is a good chance for fans to meet him and also for anyone attending the show to get some really great input on some insider 'do's and don'ts.'"
The PaintLine booth will also feature:
New products – see what's latest and greatest in drying racks and spray stands
Product giveaways/drawings
Show product specials
PaintLine will be exhibiting in Booth #4736 at the National Hardware Show in Las Vegas, NV, May 7-9, 2019.
Chris Berry produces painting techniques and DIY videos. He created the Paint Life Community and The Idaho Painter to teach others to paint. The Idaho Painter serves YouTube viewers with free self-help painting videos. Berry created The Idaho Painter as an alternative to big box and DIY videos so that he could show the actual, real-life process of various painting applications, demonstrations and scenarios.
Since the 1990s, PaintLine products have provided innovative, practical and economical drying rack and spray stand solutions for painters, cabinet makers, millwork shops, residential remodelers, renovators and DIYers. PaintLine is a Merchandising Systems Inc. brand, a leader in metal fabrication for material handling and retail store fixturing for over 50 years. PaintLine is headquartered in Menlo Park, CA. For more information, go to www.thePaintLine.com or call 1-510-477-9100.