CS Unitec MAB 845 Portable Magnetic Drill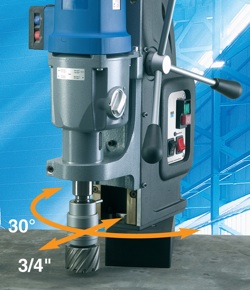 CS Unitec's new MAB 845 portable magnetic drill features a swivel base that provides 30 degrees movement left and right and 3/4" forward and backward for drilling in hard-to-reach areas. With infinitely variable torque control and full-wave electronics, this heavy-duty drill cuts holes up to 4" diameter in structural steel and other metals.
Additional capabilities include twist drilling and reaming up to 1-1/4" diameter, tapping up to 1-1/8" diameter and countersinking up to 2". A stroke length of 10" makes the MAB 845 ideal for steel engineering, plant construction and more. The 16-amp, double-insulated, reversible motor has a 4-speed oil bath gearbox (40-110, 65-175, 140-360, 220-600 RPM) for applications requiring high power. This unit has a quick-change keyless cutter system for 3/4" Weldon Shanks, saving time and money. An arbor for 1-1/4" Weldon Shank is also included.
Integrated sensors in the MAB 845 include magnet overheating protection, visual magnet adhesion indication and an Electronic Safety Shutoff Sensor to automatically shut down the drill motor if the magnet loses contact with the material. An internal cable routing system helps protect the motor power cord from external damage. The magnet has a holding force of 6,600 pounds.
For more information, call 800-700-5919 / 203-853-9522 or email info@csunitec.com.