DEWALT DWE357 Reciprocating Saw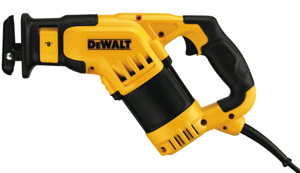 DEWALT announces the launch of its new Reciprocating Saw (DWE357), which features a unique, compact configuration that provides outstanding control and balance compared to traditional reciprocating saw designs, without sacrificing the power that professionals expect. The DWE357 is ideal for general contractors, mechanical contractors, demolition workers, electricians, HVAC professionals, framers, remodelers and other residential and commercial construction professionals who are tasked with completing cutting applications in tight spots, overhead and other challenging workspaces.
"Our new, compact reciprocating saw is designed to provide professionals with improved balance and comfort, allowing them to complete a variety of cutting applications efficiently," said Ivonne Meza, DEWALT product manager. "The saw's innovative configuration enables contractors to cut in tight spaces where reciprocating saws can't typically go, providing versatility on the jobsite."
The reciprocating saw weighs just 6.8 pounds and is 14.5 inches in length, making it 20 percent shorter than other traditional corded models currently on the market. The compact size allows users to make strong, fast cuts in small spaces such as in between rafters and studs, under sinks and in corners.
Despite its small size, the DWE357 features a 10 AMP motor that delivers the power to complete tough applications, with 2,800 strokes per minute (SPMs) and a 1 1/8-inch blade stroke length. The saw is designed to provide balance and control, ultimately helping professionals to work longer and experience less fatigue.
In addition to its compact design, the DWE357 includes several innovative features including a lever-actuated, four-position blade clamp and fixed/pivoting shoe. The four-position blade clamp is unique to DEWALT reciprocating saws and allows users to position the blade in horizontal and vertical positions. The pivoting shoe provides the leverage necessary to complete different applications, making the saw versatile particularly in flush-cutting applications. Additionally, the DWE357 includes a keyless blade change feature that allows users to replace the blade easily and efficiently.
The DWE357 also features an ergonomic handle with a soft overmold for comfort while cutting. The handle helps to minimize discomfort for contractors who use reciprocating saws throughout the workday. Also aiding in comfort, the saw features a variable speed one-finger switch.
The reciprocating saw will be available at home centers and through the independent channel in the second half of 2012. The DWE357 is expected to retail for approximately $129.00, and will come standard with a three-year limited warranty, one-year free service contract and 90-day money-back guarantee.