FatMax Xtreme Portable Truck Box Stops Thieves Dead In Their Tracks
Integrated alarm system and secured docking station deters theft and tampering.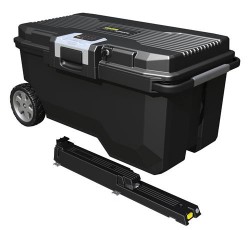 Stanley's model 036800R portable truck box addresses the high price of tool theft which costs contractors in the U.S. more than $1.3 billion each year in lost assets and productivity. Surprisingly, 94 percent of all contractors have fallen victim to theft at some point in time, which typically occurs when items are left unsecured in the back of their trucks for only a manner of minutes.
The new FatMax Xtreme portable truck box touts an integrated alarm system with a water-resistant key pad that the user activates by entering a personalized code for quick and easy access. Accepting 4 "C" alkaline batteries, this unique key pad features an audible alarm (with a sound rating of 107 dB) to alert the owner if someone is tampering with the box. If the box is opened before being disarmed, a micro switch senses a break in the secured connection and then triggers the alarm, which sounds for a duration long enough to deter any would-be thief.
Another innovative feature of the FatMax Xtreme portable truck box is its unique docking station, which secures the box to the back of a truck very much like how a computer docks to its station. Mounted to the bed of a truck by five screws, the docking station guides an ergonomic movement that secures the box into position quickly and easily. It provides a firm lockdown on the undercarriage of the box to restrict movement while the vehicle is in motion. This also protects the box from being undocked before it is disarmed to help signal any tampering while the box is unsupervised.
Other features include:
42-gallon capacity
integrated water seal inside the lid for an airtight closure
load capacity of 130 pounds
telescopic steel handle
8.5-inch diameter rubber wheels
thick structural foam walls and heavy-duty rust-proof metal hinges and latches
For more information, visit www.stanleytools.com or call 1-800-STANLEY.