Cables & Lights: Larson Explosion-Proof Stringlights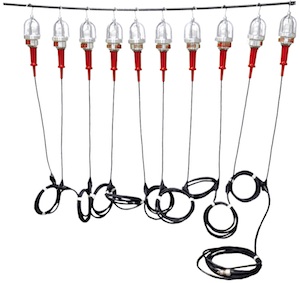 Larson Electronics reveals their newly designed Class 1 Division 1 explosion proof string lights which are designed for general close work and inspection activities in hazardous locations requiring explosion-proof protection.
The EPL-SL-10 explosion proof string light set contains a total of 10 work lights that are equipped with aluminum hooks and connected in series along 150 feet of 14/3 SOOW explosion proof cord.
Each hand lamp is equipped with an optional 26 watt compact fluorescent bulb or a 75 watt or 100 watt incandescent bulb.
The machined aluminum housings, cast aluminum guard, tempered glass lamp globe, and abrasion resistant cord make this a very durable unit that will resist damage from chemicals, abrasions, vibrations and impacts.
A molded T junction is mounted every ten feet, with 3 feet of 16/3 SOOW cord connecting a single drop light to the backbone. The cord on this unit is terminated with a 1523P Class 1, Division 1 explosion proof plug for complete protection. With this arrangement, each drop light will not spark if pulled apart or dragged.
A 25 foot tail section of main SOOW cord is included to allow ample length for connection to power sources. The hand lamps can be moved around and hooked to different points on a scaffold, but must remain within 10 feet of one another.
"We have redesigned these hand lamps by using a molded T connector to connect each hand lamp instead of an aluminum junction box," Rob Bresnahan. This has made our hand lamps lighter in weight and easier to manage. Also, the molded T connectors have an integrated eyelet, making it easier to hang each T connection above the ground."