Larson Skid Mount Light Towers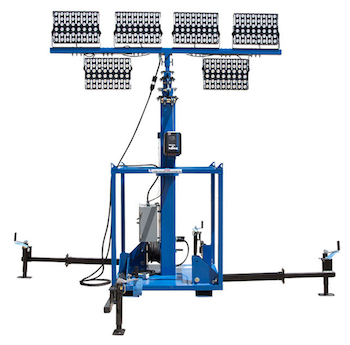 While trailer mounted light masts are great for mobility, sometimes it's good to have a skid mounted unit – once that is resistant to vandalism or stealing.
A skid mount is a very popular method of mounting, which is done by mounting a piece of machinery or equipment onto rails or a metal pallet, making it very easy to safely transport via crane to areas where standard vehicles cannot tow.
Larson Electronics' skid mount light towers feature:
Multiple heights/lengths for vertical or horizontal mast systems
Manual, electric, pneumatic, or hydraulic operations
LED or metal halide light fixtures
Equipped with generators, cameras, or sensors for complete solutions
Powder coated or galvanized finishes
Larson skid mounted light plants are specially engineered to withstand destructive outdoor conditions and hard operation. These units can withstand rapid temperature changes, are weatherproof, and can resist ingresses of dust, dirt and humidity.
They provide a safe and effective way to deploy lights and other equipment, creating an effective workspace.
On top of all the incredible features these towers can offer, Larosn has pushed things a step further and offer full customization of any unit to fit your needs and requirements.