Cables & Lights: Magnalight WAL-ML-2XM-3G Mini Light Tower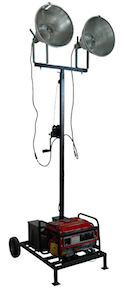 The WAL-ML-2XM-3G Mini Light Tower with 3000VA Generator from Magnalight is an ideal solution for operators who need a fully portable yet easy to operate light system capable of illuminating large areas.
Adjustable from 7 to 12 feet in height and equipped with a 3000VA generator and two 1,000-watt metal halide lamps, this unit will provide over 200,000 lumens of illumination for up to 6 hours on a single tank of fuel.
The WAL-ML-2XM-3G Mini light tower is a portable lighting system designed for stand alone operation and high mobility while providing enough output to illuminate approximately 2 acres of area effectively.
A single hand crank allows operators to easily raise or lower the tower as needed, and a removable lamp mounting platform allows removal of the lamp assembly for easier transport and storage. The tower is constructed of heavy gauge steel for durability, and a tough powder coat finish provides protection against rust and corrosion. The base of the tower is fitted with two solid wheels to allow easy positioning; the operator can simply tilt the unit back and roll it into the desired location as needed.
This tower is fitted with two 1,000-watt metal halide lamps producing a combined total of approximately 220,000 lumens in a wide flood pattern. The lamps feature spun aluminum reflector housings, ceramic fixture bases, and tempered glass lenses for resistance to heat and shocks.
Each lamp is mounted to the tower arm via a trunnion style U-bracket which allows operators to adjust each lamp independently for optimal light dispersion.
A single 3000 VA generator is mounted to the base of this tower to provide standalone power for the metal halide lamps and allows for quiet operation and 6 or more hours of run time on a single tank of fuel. This generator also includes standard 120 and 240 volt outlets for accessory attachments, allowing operators to run tools and other equipment while also operating the lights.
---