Cables & Lighting: Tower Light VB9-M Light Tower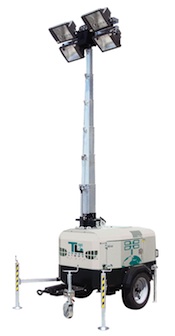 Bartell Morrison is now the exclusive North American distributor of Tower Light Ittaly jobsite and extreme duty lighting equipment. The Tower Light VB9-M vertical lighting tower is designed to be very environmentally friendly. It has four metal halide lamps that collectively distribute light evenly.
The floodlights, with high efficiency and low power consumption, are driven by a small 5 KVA generator instead of 9KVA, which is usually used in the towers of the same category. This means that when compared to traditional lighting towers the VB9-M can provide a fuel saving of 75%. This feature, combined with the large fuel tank, will illuminate the affected area continuously for over 200 hours.
Features include:
Vertical mast with 26.25 feet maximum height (8m)
Galvanized telescopic sections
4 adjustable stabilizers
Manual lifting system with winch auto-braking system
Mast rotatable to 340°
Certified wind stability up to 50 mph (80Km/h)
Electrical coiled cable complete with housing
On/Off switches for each lamp
4 floodlights 400W metal halide High Efficiency
Structure assembled on site-tow trailer, single axle
37-gallon (140 liter) fuel tank
75% of fuel saving compared to a traditional lighting tower
More than 200 hours of run time per tank
Central lifting hook
Lockable doors
Series of alarms to protect the engine
5KVA generating set Kohler KD350S diesel engine