Economic Update 2014: Alan Beaulieu
Annual economic forecast: Plan for more growth!
---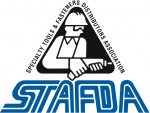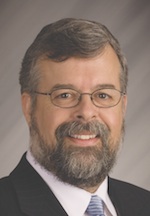 WHEN AND WHERE:
Noted economist Alan Beaulieu is president of the Institute for Trend Research and delivers STAFDA's annual economic update each year during the convention. This year he presents from
8:00 - 10:00 a.m. on Tuesday, Nov. 11, 2014.
Things are looking good for STAFDA members as we finish 2014 and head into 2015. The softness we had projected for the latter half of 2014 has been upgraded to mild rise. The new outlook calls for U.S. Industrial Production to end 2014 a thin 1.7 percent higher than our November 2013 projection (annual moving average). The 2015 projected percent increase, at 2.4 percent, is 0.8 percentage points higher than our previous outlook.
The 2015 annual moving average is forecast to end the year 2.7 percent higher than we had thought in our late-2013 projection. That is not a large upward revision, but it is upward!
The general economic outlook, using U.S. Industrial Production as our benchmark, was upgraded as a result of existing trends in new and unfilled orders, capacity utilization rates, the strong financial position of the consumer, leading indicator trends and the likelihood of ongoing low interest rates. In hindsight, the first-half-2014 GDP decline is understood to be the forecasted difficulty of 2014. The current situation is reminiscent of the mid-1990s, when the macroeconomic indicators held up reasonably well even though there was stagnation or mild decline in the trend for some individual companies.
Widespread Indicator Input
The financial position of the consumer is depicted by the Delinquency Rates on Consumer Loans chart (page 70). The level of delinquency has dropped below the cyclical lows established in 1993 and 2004-05, suggesting that the consumer is in a good position to spend cash. With a rising trend in employment and mild cyclical rise in Disposable Personal Income underway, the consumer is in better shape going through the second half of 2014 than we had thought would be the case. STAFDA members should benefit from the demand-pull of consumer spending.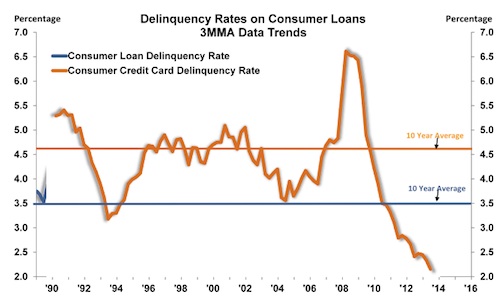 We have been forecasting that interest rates would stay flat through mid-2015. Although the Prime Rate has been flat, we are experiencing some decline in the Federal Government 10-year Bond Yield, AAA rated Corporate Bond Yields and fixed-rate mortgages. Seeing decline in these measures of long-term interest rates is encouraging for the economy and is a better trend than we had expected.
The ITR Leading Indicator is also providing a glimpse of better days ahead. The gains in the ITR Leading Indicator are not yet statistically significant, but the trend dynamics appear likely to continue and our indicator is thus providing positive input for next year. Business-to-business activity, as evidenced by Capital Goods New Orders (without aircraft), was quite bullish in July. One month doesn't make a trend, but the good news here also played into the upward adjustment to our general economic outlook.
Until recently, the trend in Corporate Profits concerned us relative to the stock market and a possible reason why we might not see additional rise in new orders. Corporate profits ran below year-earlier levels for the first and second quarters of this year. Such negativity in profits is typically a harbinger of tough times ahead for stock prices. However, the stock market continues to shrug off the bad/disappointing news. The reason for this may be that the overall profit numbers have been dragged down by the poor results in the financial industry (year-over-year -2.6 percent).
Looking at the non-financial industry numbers as a whole, profits are up 15.0 percent year-over-year gain. The manufacturing sector is also doing well with an 11.4 percent year-over-year rise in profits. Durable goods manufacturers led the way with a 21.4 percent increase over last year.
Housing Starts
Housing starts moved higher in July, totaling 974,000 over the last 12 months. This is 10.2 percent ahead of the year-ago level. Starts for the month of July posted the strongest single month since June 2008. Resilient construction activity has necessitated an upward revision of our forecast. Expect Housing Starts to end the year 8.0 percent higher than 2013 at just under a million units. The slower rate of rise in construction activity is because of falling housing affordability and a declining trend in mortgage applications. Look for the rate of growth to pick up in 2015 with the year as a whole, coming in 9.2 percent ahead of 2014.
Activity will vary within the STAFDA regions. We will look at the regions more closely, as well as activity in multi-unit construction and remodeling activity when we get together for the annual meeting.
Commercial Construction
Private Commercial Buildings Construction, at $51.5 billion, is up 11.3 percent from one year ago. The dollars spent will move higher through the rest of this year and in 2015, although the rate of rise is projected to be lower than today's ambitious growth rate. The slower rate of growth in the coming quarters is being signaled by the Commercial and Industrial Billings Indexes.
Manufacturing Construction is up 7.3 percent from one year ago and accelerating quickly. We expect this trend to continue, with the growth rate peaking in mid-2015.
Warehouse Construction (up 30.1 percent year-over-year) is also accelerating strongly as generally improving economic conditions drive more business through the distribution channel. The American Trucking Associations' Truck Tonnage Index rose 1.3 percent and is nearing a record high. Trucking represents 69.1 percent of all domestic freight transportation.
Total Wholesale Trade, at $5.3 trillion on an annual basis, is up 5.7 percent from one year ago and is also accelerating.
Examine your business and see where any bottlenecks may incur that will inhibit your growth. It's time to spend money on your operation and on your future! CS
Noted economist Alan Beaulieu is president of the Institute for Trend Research and delivers STAFDA's annual economic update each year during the convention. He can be reached at www.ecotrends.com.