Fry Fastening Systems: On the Ground and in the Cloud
Fry Fastening Systems builds its brick and mortar business with online sales.
---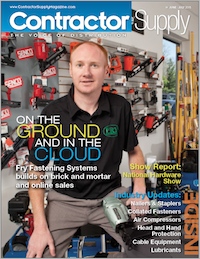 Fry Fastening Systems' second-generation owner and general manager Phil Burkhart leads three-stores and a staff of 30 employees to brick and mortar and online growth.
Milestones are times for reflection — on the accomplishments that got us here, the stumbles we made along the way, and the challenges and opportunities ahead. Businesses often use these events to review past goals and set new ones. This story is about a company that is relishing all of it.
Fry Fastening Systems, of metro Cincinnati, is marking two milestones in 2015 and 2016 and is taking advantage of them to plan growth goals for its three stores and, more ambitiously, to prepare for the future of distribution itself.
Next year, Fry celebrates 30 years in business as a fastening systems and accessories supplier serving Ohio and northern Kentucky. Perhaps just as impressive, this year marks Fry's 15th year of selling tools and fasteners online. Launched in 2000, Fry's Nail Gun Depot is a thriving and growing online source for nailers, staplers and fasteners with customers across the United States and in several foreign countries.
Phil Burkhart, second generation owner and general manager of Fry Fastening Systems, traces his father's company's origins to the late 1980s. As collated fastening systems began transforming the market, Phil's father, Greg Burkhart, decided the time and the market were ripe for him to launch his own business. Initially, the company carried a broad array of fastening systems and related construction products, but with time that was consolidated.
"When my dad launched the company, our line card was broader than it is today," Phil Burkhart explains. "I think the introduction of collated fasteners really helped shift our focus into our core tool and fastener lines today."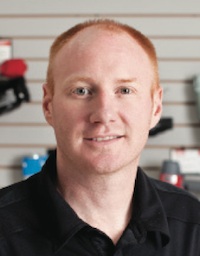 "Mobile usage accounts for 60 to 70 percent of all web traffic today and is a big part of our new website project."
— Phil Burkhart, general manager, Fry Fastening Systems
Those lines center around collated fasteners, the tools that drive them, tool repair and some related product lines such as levels, caulks, gloves, air compressors, hand tools and saw blades. Fry is light on power tools; Hitachi and Makita are its preferred tool brands.
Fry goes much deeper with nailers and staplers with Hitachi, Paslode, Senco, MAX, Makita, Grex, Apach, Grip-Rite, Pneu-Tools, Aerosmith, Stanley Bostitch, BeA, Josef Kihlberg, Duo-Fast and Fasco America among others.
Tool Repair, Front and Center
Fry also offers tool repair, but tries to limit that to brands it sells. Since Fry carries virtually every major brand of nailer and stapler, this basically just excludes house-brand products from big box retailers.
Fry puts repair front and center in its stores — almost literally. In the Erlanger, Kentucky store, the repair desk is right next to the front sales counter. Fry's two other Cincinnati area stores are set up the same way and, like Erlanger, each has full-time repair specialists. Fry aims for a three-day or better turnaround on each repair.
Veteran repair specialist Phil Peebles has been repairing tools for 35 years, the last eight of them here for Fry in Erlanger. He serves some walk-in customers but mainly works on tools brought in by Fry's outside sales people or tools from Fry's wholesale lumberyard and home center clients.
"Most of my work is pneumatics, as you would expect, but I also repair compressors and some electric tools," Peebles explains. "And I repair fuel-cell tools like Paslode as well. Paslode, by the way, has an excellent factory training staff. "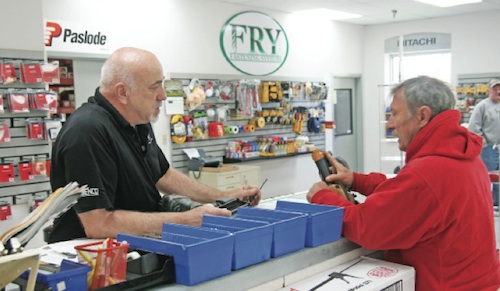 With 35 years of experience with tools, Phil Peebles (left) has earned the equivalent of a Ph.D. in tool repair more than four times over. Fry repairs everything it sells, including guns, air compressors and small electric tools. Tool repair is a key service for Fry Fastening Systems, so much so that the repair bench is right next to the sales counter at the front of each Fry branch.
Working at the store front has its pros and cons, but Peebles likes the activity and customer interaction.
"Being up here in front is very handy for me and for the counter guys because I can just step over and help out when they get really busy," Peebles says.
Fry's depth of fastening tools is impressive but it pales compared to the volume of fasteners the company moves, which include pallets of Hitachi, Paslode and Senco, plus lesser volumes of more specialized brands. But Fry also offers its own private label fastener line, SureFit.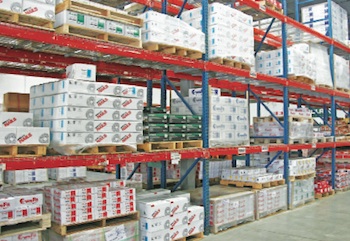 Fry Fastening System's 7,500-square-foot Erlanger, Kentucky warehouse is pin-neat, squeaky clean and packed ceiling high with fasteners from Hitachi, Senco, Grip-Rite and other major brands, including Fry's private label fastener line, SureFit.
A Public Private Label
"We bring in truck loads of fasteners almost every day," Burkhart says. "We have been selling SureFit for probably a decade now. Fairly early on, we started selling some product to lumberyards and home centers. This eventually led to partnerships with wholesale customers, ultimately resulting in SureFit growth."
For the benefit of its wholesale partners, Fry eschews putting its own name on boxes and uses the SureFit brand exclusively so those wholesale customers can claim the brand as their own more easily.
"We prefer to distribute SureFit through our wholesale sales partners," Burkhart explains. "We don't want customers coming to us and cutting them out of the sale; we want them to buy from their local vendor. Yes, SureFit is our line but that retailer is our partner and we support him 110 percent."
Fry Fastening Systems
at a Glance
Founded: 1986
Ownership: Privately held
Headquarters: Cincinnati, Ohio
Branches: Erlanger, Ky.; Cincinnati and Franklin, Ohio
Facilities: Approximately 10,000 square feet per branch
Staff: 30
Markets: Commercial and residential construction, manufacturing, e-commerce

Advertisers in this issue:
BeA Fasteners USA, DeWalt, Fasco America, Grip-Rite, Hitachi, Irwin, Lenox, Makita, MAX USA, Omer, Powers Fasteners, Rolair, Senco, Simpson/QuickDrive, Stanley
Line Card: 3Pro, Acme, Aerosmith, Apach, BeA Fasteners USA, Cadex, CAMO, Coilhose, DeWalt, Duo-Fast, Durabilt, Everwin, FallTech, Fasco America, Fein, Flexovit, Global Glove, Grex, Grip-Rite, Hitachi, Husqvarna, Hygrade, Irwin, ISM/CCC, J-Air, Jaaco, Josef Kihlberg, Klinch-Pak, Krylon, Lenox, MAX USA, Omer, Paslode, Pneu Tools, Porta-Nails, Powernail, Powers, QuikDrive, Radians, Rolair, SAS Safety, Senco, Spotnails, Stabila, Stanley Bostitch, Stringliner, Superior, SureFit, Swan Secure, Tajima, Tyrex, Uffy
Services: VMI: mobile, in-plant and in-house tool repairs
Revenues: 60% tool and fastener sales; 20% wholesale; 20% e-commerce
Affiliations: STAFDA, Sphere 1 Websites: www.frysys.com;
www.nailgundepot.com
Optimism in the Air
Overall, Burkhart credits fastener sales with generating 60 or more percent of the company's annual revenues. And now that the economy is once again approaching its pre-recession levels, Burkhart sees blue skies ahead and is upbeat about Fry Fastening Systems' prospects for the near future.
"We see a very healthy optimism in the market today," Burkhart observes. "We are still getting back to our pre-recession levels but we are seeing 10 to 15 percent growth year over year."
"However, we are also facing a labor shortage. There's work in the pipeline again, but now it's a matter of having the manpower to get the jobs done. If 2015 continues to be strong then this will be the year we start showing some growth over our pre-recession highs."
As for expanding Fry Fastening Systems, Burkhart has no immediate plans for future branches, except for breaking ground on a new headquarters branch in Cincinnati.
"Right now, we feel well aligned to allow us to continue growing the business and reach our goals for the next five years," Burkhart says. "We recently hired two new salespeople, plus we are continuing to add resources to help our e-commerce business keep growing."
The Future Online
Celebrating 15 years in business in 2015, the company's online division, Nail Gun Depot, has emerged as a core component of Fry's business model.
Two years ago, Burkhart hired Mark Bordicks to lead Fry's online programs, including Nail Gun Depot. With a background in digital media, marketing and public relations, Bordicks also manages all corporate marketing and social media efforts.
Bordicks's first project was launching a blog called The Nail Gun Network, which resides within the Nail Gun Depot website.
"My goal was to develop The Nail Gun Network into a resource for users that would also drive them to our site," Bordicks says. "The result — several hundred thousand additional visitors per year."
While building The Nail Gun Network blog, Bordicks also focused on improving Nail Gun Depot's search engine rankings and reorganizing and improving its informational content and searchability.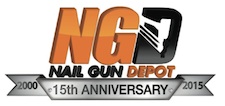 "Another focus early on was simply making sure the product information on our site was worded most effectively. Sometimes that means reorganizing how things are categorized, like enabling customers to shop by tool, fastener or application."
Just one nifty example is offering tools and their correct fasteners together on the same page.
"This is just one aspect of our full-service approach," Burkhart interjects. "We try to make fastening a non-issue for our customers."
"Right," Bordicks adds. "We want to create a seamless experience. At the end of the day it's all about developing a user-friendly site for the customer."
This thinking applies to both Nail Gun Depot, which Fry targets to national and international customers, and to Fry Fastening Systems' site for local customers, with features like bulk ordering, in-store pick-up and purchase order generation.
Getting Social
A third aspect of Bordicks' job is to build traffic to the sites via social media tools.
"Facebook and Twitter are our two main avenues at this point," Bordicks explains."Social media hasn't taken off very well yet in the tool and fastener industry, but I think it is on the verge. There isn't very much interaction taking place on the contractor side of the market yet, so we are trying to stay ahead of that trend and build relationships. We have over 4,000 fans on our Nail Gun Depot Facebook page, so it is building."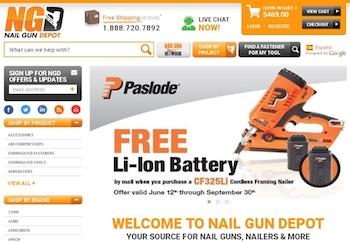 "We are also trying to get more manufacturer participation in our social media efforts," Bordicks says. "That is still in its early stages but I foresee it becoming much bigger in the next two or three years."
Going Mobile
Currently, Bordicks and his team are doing a mobile-focused redesign of the Nail Gun Depot website, due to go live later this year. Developed on the Magento platform, the new site will feature advanced, highly intuitive search filters that will make researching, selecting and buying tools and fasteners easier than ever. It will also be optimized for mobile devices like cell phones and phablets.
"Mobile usage accounts for 60 to 70 percent of all web traffic today and mobile capability is a big part of our new website project," Burkhart says. "More contractors than you might think are already using their cell phones to order product right to their job sites and we are going to ensure that we're right there to serve them."
Entrepreneurs are nothing if not gamblers, but with 30 years of experience, a local market in recovery mode, a raft of analytical tools and a formidable young online marketing and social media team, Fry is positioning itself both for organic growth for its brick and mortar stores and for potentially explosive online growth for Nail Gun Depot. We think both bets are right on the money. CS