Show Report: National Hardware Show
Warm weather and cool tools make NHS a good show.
---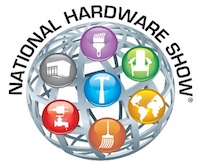 Editor's Note: This online version features additional interviews and photos.
After a soft "showing" last year, the National Hardware Show returned to Las Vegas, May 5-7, for another spin at the wheel of trade show fortune. According to returning attendees, although this year's show didn't hit any jackpots, it did appear to break even.
Show promoters have elected not to publish attendance figures this year after, but our polls of exhibitor impressions uniformly pegged the show attendance equal to last year's 19,000, or slightly lighter.
That said, the airy aisles and this year's upper South Hall concentration of Tool and Hardware exhibitors gave walking the show a casual, leisurely feel. But that didn't keep exhibitors from doing as much business as possible and there were enough new products here to make the visit worthwhile.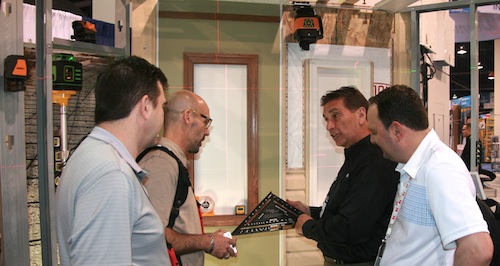 Johnson Level's Jim Cerroni (in black shirt) discusses the finer points of Johnson's Easy Read Professional Johnny square. Seen below is Johnson's new model 40-6685 combination five-dot cross line laser.
Right off the bat, upon hitting the show floor, we found Johnson Level right inside a main entrance. Director of sales, Jim Cerroni, was talking up several new innovations, including three new updates of existing lasers and two all-new models, the 40-6685 combination five-dot cross line laser and the 40-6645 three-line laser.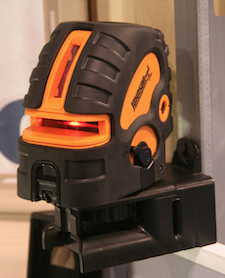 "A great feature of the 40-6685 five-dot laser is that I can detent with it," Cerroni said. "It can project five self-leveling beams and two cross-lines simultaneously and I can control the dots and cross-lines separately. If I just want an up and down dot, I can get that, or if I'm doing floor to ceiling or side to side work, I can get a horizontal line, a vertical line or a combination of a vertical, horizontal line with a center point on it."
The upgraded 40-6546 split-beam green and red lasers feature Johnson's new cartridge system that accepts "C" cell batteries for operation while their Lithium-ion batteries are being charged. The upgraded 40-6536 horizontal laser has a 2,000-foot range and simple, three-button operation.
"And now for something completely different," we visited the Centipede Tool booth, where inventor/president Ed Adkins was showcasing his ingenious Centipede work tables. Utilizing the same accordion design as popular folding lawn chairs, the Centipede system springs from a collapsed position to accept a 4x8 sheet of plywood. With hold-down clamps installed, the table is flat and supports up to 3,000 pounds.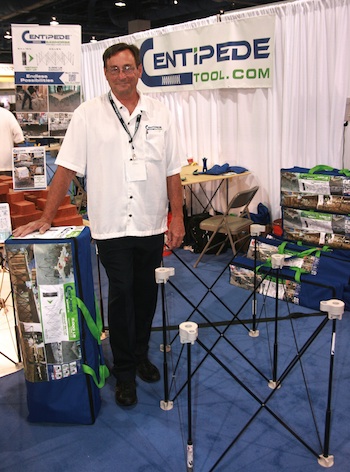 Centipede Tools' founder Ed Atkins demonstrates the compact, collapsed forms of his 2x4 and 4x8-foot folding work tables — which hold 1,500 and 3,000 pounds respectively.
"A number of years ago, I was playing around with the idea of a better solution for large sheet material support system, and just started playing around with ideas and came up with this," Adkins explains.
"With a few fundamental changes to its structure, it became a very solid, rigid, heavy-duty support. It is available in two sizes — the Centipede Sawhorse is 2x4 feet and the Centipede Support XL is 4x8 feet."
The 2x4 Sawhorse (shown at right) supports up to 1,500 pounds; the 4x8 Support XL holds up to 3,000 pounds and folds down to just 9 x 14 x 38 inches tall. Ingenious.
Another bright idea was found at the nearby CLC booth. Custom Leather Craft has been doing innovative things with tool bags for several years and their latest is another "case" in point. The model P235 Power distribution bag (below) includes both built-in lighting and power distribution capabilities.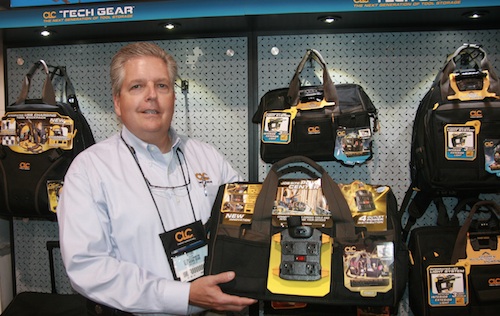 CLC's Steve Phillips shows off the L235 power distribution bag that acts as a surge-protected power port for tools and charging station for cordless tool batteries, phones and other and electronics. The "hot" version is shown below.

"A lot of contractors asked us for a single source port where they could have all their chargers and keep things secure," said Steve Phillips, VP of sales and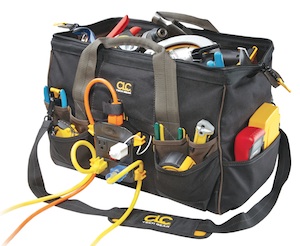 marketing for CLC. "We came up with a power distribution bag which has a four-stage surge protector built to the front. The nice thing about it is you still have room for your tools and all your chargers."
"You run one cord to this and it will basically make your bag 'hot,' so you can have all your chargers and all your components in one spot, either inside or outside of the bag."
Forney Industries was getting a lot of attention for their newly redesigned, feature-packed welding lineup in a bright hi-viz green livery. Mark Clouser, director of warehouse sales for Forney, walked us through some of the highlights of the new line. Common to them all were higher-priced features trickled into mid-priced products. Some of these include longer, beefier cords, built-in cord wraps, Euro connects and cast-aluminum dual-gear wire feed systems.
It's green for go at Forney Industries. Bob Ferguson (L) and Mark Clouser (R) had a great show demonstrating Forney's newly updated mean green welding machines packed with high-end features.
"One of the nicest features on our entry-level units, that you don't see until some of the higher-end units from other companies, is a Euro-Quick Disconnect," Clouser explained. "The Euro-Quick Disconnect allows you to change out liners easily, so if you want to run aluminum or stainless steel or a Teflon liner, you can do basic maintenance to the guns themselves instead of having to go into the machine."
"You usually don't see that until you get into higher-end models," Clouser added. "We're bringing it in at $499 retail on our model 140 MIG welder with 140 amps of power."
Small tools continue to see ingenious innovations too. Rapid is a case in point, with new Power Curve Technology for its hand stapler line.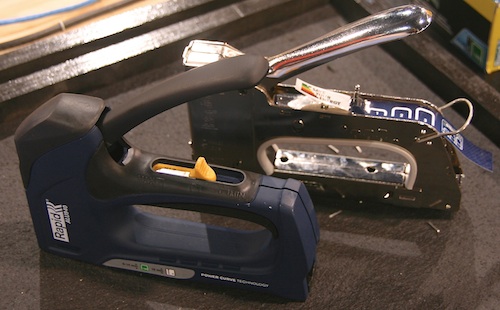 The yellow slider on the blue Rapid stapler here allows the user to choose from three power settings to achieve the best combination of optimum material penetration and minimum force.
"Power Curve Technology allows you to select one of three driving force levels to match the material that you are fastening into," said Dan Donovan, national sales manager for Rapid North America.
The system enables more precise penetration into different materials and requires less user exertion; firing into pine is almost effortless.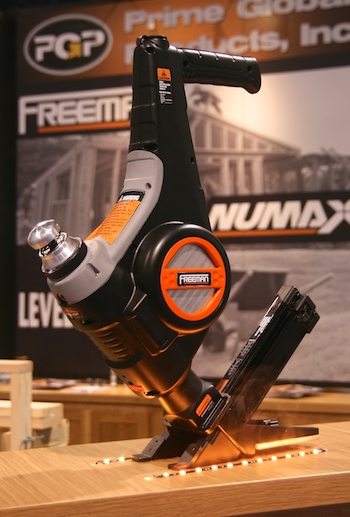 Steam punk lives! You can believe it; this cordless flooring nailer from PGP/Freeman runs on steam.
Then there are products so novel they fall into the experimental category. PGP, Prime Global Products of Atlanta, demonstrated a nice line of Freeman value-contractor-grade air compressors and nailers, including a new 20-gauge L cleat nailer for engineered flooring that is perhaps one-third of the size of a standard flooring nailer, with a roughly $179 price to match.
But the eye candy of PGP's display was a brand new cordless steam-powered flooring nailer. That's right, steam-powered.
"When I first heard about it I thought, 'how hokey can that be?' but then I saw it work," says Jason Richards, PGP president.
"It runs on distilled water. You plug it into a 12-volt power source like one in your truck and charge the heating element for 20 minutes to get a standby time of about six hours. With six ounces of water it will shoot 1,000 to 1,200 15 1/2-gauge staples or 16-gauge L cleats. Recharging it only takes 10 minutes. It weighs about four pounds more than a standard nailer, but it runs completely on steam."
Lights, Camera, Formaldehyde!
We love gadgets and General Tools always has lots of gee-whiz products to show. This year is no different. Two in particular caught our eye at the show.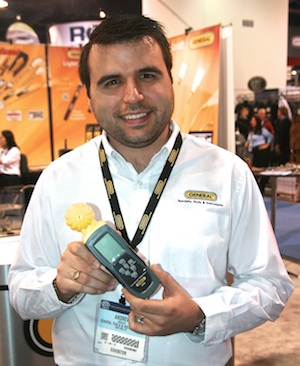 Andrew Micallef, product manager-instruments for General Tools & Instruments showed us General's timely new FD08 formaldehyde tester that measures up to 5 ppm.
First up, Andrew Micallef, product manager-instruments for General Tools & Instruments showed us General's new FD08 formaldehyde tester that measures up to 5 ppm.
"OSHA's formaldehyde exposure limit is 2 ppm so 5 ppm doesn't sound large but it's actually a large number in terms of formaldehyde. This product meets NIOSH acceptance criterion. It tracks, calculates and displays three cumulative formaldehyde gas metrics and has one-button calibration to 0 ppm in fresh air."
"You start it up in fresh air and let it calibrate itself, then go inside and it's a natural diffusion sensor. If you want to test the flooring, you put it on the flooring, leave it for a couple seconds and the off-gas will go right through the sensor and it will give you a reading on the screen. It will be priced at $399."
General's new DCF1 TorchScope Video Recording Flashlight is designed for security and inspection applications. It takes pictures with 5 megapixel camera and records in 720p HD video.
"It stores your information on a micro SD card and offers video playback on the screen," Micallef explains. "It comes with a 4 gigabyte card that is upgradable to 32 gigs, which allows you to have 8 hours of recording. You can date- and time-stamp your files to document or create a time line of projects or events. It also captures audio simultaneously with video clips, so you can record ambient sound, comments and explanations.

The unit is IP68 waterproof, making it operable under water up to 33 feet deep. Four buttons on the handle control: menu access, brightness and illumination-mode selection, photo and video capture, and zoom (up to 4X). The flashlight can be used independently or in conjunction with the integral camera. Brightness and illumination-mode selections include 50%, 75%, 100%, fast strobe and S-O-S Morse Code transmission.
The integral camera has a 60° field of view and a 2.4 in. (60mm)-to-infinity depth of field. A straightforward, user-friendly menu facilitates changing photo and video resolution, turning date/time stamp on or off and choosing from 11 on-screen languages.
Getting side tracked can be a good thing
By their very nature, up and coming companies are often built on innovations born in the field. Such is the case with Side Track Saw Tables. Based in Frisco, Texas owner/inventor Mel Koresh spent six years designing, refining and patenting the Side Track and is now bringing it to market.
The SideTrack saw table is a portable mitering system that Koresh, a former siding contractor, developed for use with a cordless circular saw to quickly and accurately cut angles in siding, even while working on a scaffold.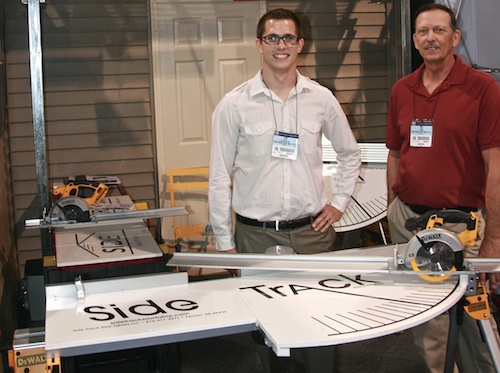 Siding contractor Mel Koresh developed the Side Track saw table as a portable mitering system for quickly and accurately cutting angles in siding, even while working on a scaffold. Its design utilizes a DeWalt cordless circular saw, which eliminates power cords and makes it a true-go-anywhere system.
"A siding contractor can use the Side Track to cut a variety of materials up to an inch and a half thick," Koresh explained. "It works great on vinyl, aluminum siding, wood and fiber cement siding. I've got a guy in Canada who's cutting standing seem roof metal with it using a 48-tooth Carbide blade."
The system is essentially a miter table that uses a DeWalt circular saw and a track. It has 18 preset pitch positions and switches between them with the same mechanism as a miter saw. It folds to fit easily in the trunk of car, sets up in one minute and weighs less than 40 pounds.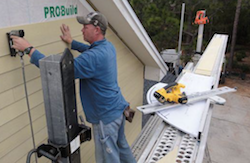 The Side Track Saw Table goes anywhere the work is, even up onto the scaffold.
The Side Track Saw Table is built to last of an aluminum frame and high-quality PVC table top. A built-in material stop enables quick repeat cuts. It attaches quickly to scaffolding or a DeWalt miter saw stand.
"Its predrilled for the miter saw brackets. With four screws, the brackets go on and fit right under the DeWalt miter saw stand. The Side Track also works great on wooden saw horses, folding saw horses, up on scaffolding and anyplace that you can set it down on. Because it is designed for use with a cordless saw, you don't have the restriction of cords or generators. That's what's kind of unique about it — you can cut material in the same place where you will install it."
Click here to see a video of the Side Track Saw Table in action.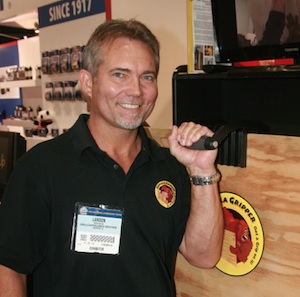 Landon Worthington's new Gorilla Gripper Advantage offers the same leverage as the original in a lighter, lower cost model for sheet goods up to 3/4-inch thick.
Get a Grip!
We have admired Landon Worthington's Gorilla Gripper for years. His original aluminum Gorilla Gripper tool for sheet goods has become a job site favorite of framers and drywallers. Not it is joined by a new, lighter model, the Gorilla Gripper Advantage.
"The Gorilla Gripper Advantage is launching here at this show and we're really excited about it," Worthington said. "It is a 30 percent glass-filled nylon version of the original Gorilla Gripper. It has a gripping range from zero to three-quarters of an inch."
"What we found is that most people in the construction industry are not carrying materials larger than three-quarter so we focused on that range. And we made this basically a lighter, less expensive version of the Gorilla Gripper so that more people have the opportunity to save their back. We guarantee that you can use it for any sheet materials up to 100 pounds. It's got a retail price of 29.95.
"It has the same gripping ability as the original and has a nice handle to give you a firm grip on any kind of sheet, drywall, plywood, melamine, MDF, OSB, sheet metal and Hardie backer board."
Triton Returns
The orange Aussie brand, Triton Tools, made a splash in the U.S. market some years ago and then seemed to disappear. Not only have they not gone away, they are better than ever. Steve Hewson, global brand manager, clued us in.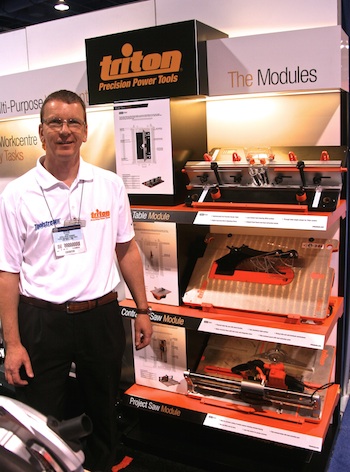 Triton's new WX7 mobile work station is a modular system that utilizes one base and interchangeable work modules: table saw, clamping/sanding table, router table, project saw. More modules are coming.
"The original Triton work center was the starting point for the Triton brand back in 1976. It was a mobile and workshop tool for woodworkers. We sell it all around the world but never have here in the States. This latest incarnation is called the WX7. It is a mobile work station for working professionals who want a workshop on site and for high-end hobbyists with smaller workshops."
"The WX7 eliminates the need to buy a separate stand-alone router table and table saw. You have a standard clamping table which is the original setup which folds enough to go in the back of a pickup truck. You can take the clamping table out and drop in a fully featured router table, a contractor saw or a project saw specifically designed for doing things like laminate flooring or small project work."
Other modules include a downdraft table, a jointer and more are in development. Triton launched the WX7 at this show and it is expected to be available as you read this.
Greased But Not Greasy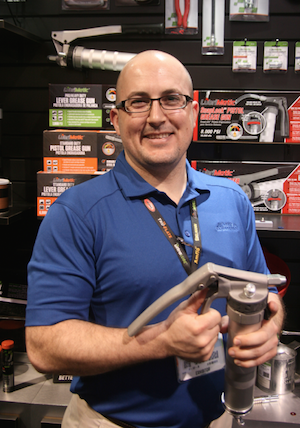 Ryan Hulings, category manager for Plews and Edelmann, show us one of the company's new LubriMatic line SnapLock heavy-duty aluminum grease guns.
Ryan Hulings, category manager for Plews and Edelmann was happily telling attendees about the new LubriMatic line SnapLock heavy duty grease guns.
"These are very heavy-duty guns for high-volume, high-pressure applications, Hulings explained. "The lever version produces 10,000 psi and the pistol delivers 8,000 psi. SnapLock grease guns feature a 1/4-turn threadless head cap design with solid stop so you know it's locked. This design helps reduce downtime when reloading."
"A non-slip knurled barrel provides better grip. Uses standard 14 oz. grease cartridge or suction load. It includes a straight grease pipe, an 18" flexible grease hose and heavy-duty coupler."
"SnapLock tools have lightweight aluminum bodies so they're easy to hold and your armwon't get tired while greasing equipment. It also has a bulk loader and an air release. It's all right there in one nice item. These are brand new and will be hitting the market this summer."
Next year's National Hardware Show is set for May 3-5, 2016, in Las Vegas. Learn more at www.nationalhardwareshow.com.