Business Brief: Ramset T3MAG
ITW Ramset's T3MAG system makes a powerful statement in the field.
---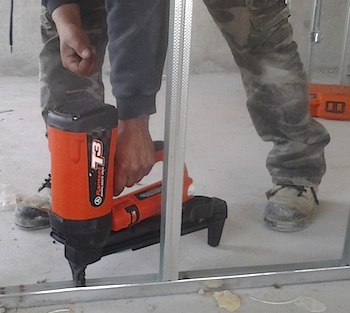 The T3MAG is easy-to-load and can fasten into concrete, block and steel without needing to be adjusted. Customers love it for its reliability and flexibility to operate in tight places, including difficult angles and overhead.
ITW Ramset was the first company in the world to offer a gas-powered framing tool for home builders. It was later expanded to the commercial drywall framing industry.
Over the years many competitors have tried but failed to develop a tool that matches up on every level. Customers from coast-to-coast are clear that when it comes to measuring speed, power and operator comfort, nothing can duplicate what the T3MAG System delivers from Ramset.
"The T3MAG hasn't failed us. We buy enough to have on hand for any job and it has never let us down," said Ken Truesdale at Collins & Wright in Columbia, South Carolina, which specializes in acoustical ceilings, drywall and light gauge metal framing work in the Carolinas and Georgia. A former Hilti customer, he's been using the T3MAG since 2006.
The easy-to-load T3MAG system can fasten into concrete, block and steel without needing to be adjusted and has the strength to get any type of job done quickly and correctly. For harder concretes, a stepped shank fastener penetrates and holds in the toughest conditions. T3MAG fasteners are made in the USA and are known for their high quality, dependability and consistent pin length.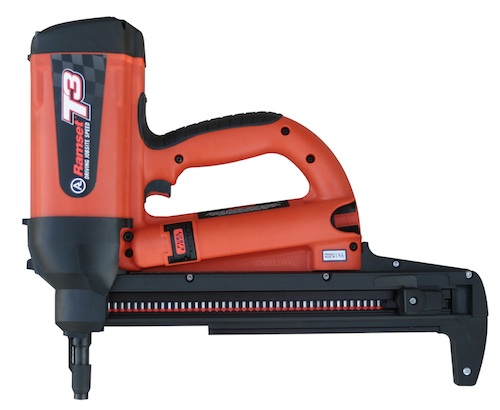 Pound-for-pound and across every category, no other gas powered tool can match up with ITW Ramset's T3MAG. The tool's battery averages 3000 shots before needing to be recharged and drives the fan motor to keep it cool, even in the most extreme temperatures.
In side-by-side comparisons, the T3MAG makes a clean sweep in every category. At two shots per second, it is 14 times faster than what Tyrex/Simpson has; the manufacturer suggests limiting their tool to 500 shots per hour to avoid overheating. The T3MAG is six times faster than Hilti's GX120, which fires one shot every three seconds. This is possible since the T3MAG's easy-to-load battery averages 3,000 shots before needing to be recharged. The battery drives the fan motor to keep the tool cool, regardless of the temperature. The fuel cell — largest in the industry — is capable of shooting over 1,000 shots before needing to be changed.
The T3MAG has electronically controlled fuel injection which reads temperature and humidity, allowing for the perfect shot each time. The tool boasts a wide working temperature range and is capable of shooting between zero to 110 F, an important consideration to Gary Eatinger, president of Performance Drywall of Arizona. The medium-sized commercial steel stud framing and drywall contractor is based in Gilbert, which is located in the Phoenix metro-area.
"Quite a bit of our work is new construction outside in the heat. The Ramset tools perform the best in extreme weather," remarked Eatinger, who bought his first T3MAG in 2012. "It is more dependable by far and faster because we don't have to keep the gas canisters in a cooler. When Powers originally reached the market, we bought a dozen or so of their new tools. We still have some of them in the warehouse as we had a hard time keeping them running."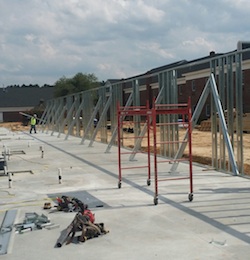 Ken Truesdale of Collins & Wright prefers using the Ramset T3MAG on large projects such as this job at Methodist Manor in Florence, South Carolina. Truesdale said the company recently completed work on a 24-story high-rise in Myrtle Beach using the four same T3MAG tools on 60,000 square-feet of framing. "We did the entire job of two million shots with those four guns. The project took a year to complete and we only took off 38 days."
Eatinger said the T3MAG is also safer. "We aren't worried about the gas cans failing in the heat." One of the safety reasons can be attributed to ergonomics and operator comfort. It's widely regarded as the best-balanced tool, easiest to operate, and has the lightest closing force in the industry.
Competitor models are heavier, hard to close and place additional stress on an operator's wrist and forearm, which makes a huge difference. At six pounds more per shot to close the competitive tool, it's equivalent to lifting an extra 6,000 pounds per 1,000 fasteners.
"The T3MAG is very reliable and durable. It's long lasting and can take quite a bit of abuse, and is easier to handle than any other similar tool," said Dave Kozak, a foreman with Chicago-based Thorne Associates who has 25 years experience. He's currently using it for exterior framing on a large project in downtown Milwaukee. The two-city block long site won't be completed until December 2017.
"I've used it for about 12 years and the balance of the tool and fit in your hand is very good. You can use it at tough angles and overhead, and you experience less kickback from firing pins into concrete."
To learn more about the T3MAG, visit www.ramset.com.