Cover Story: Industrial Supply, Salt Lake City
Industrial Supply celebrates a century of customer, community and industry service.
---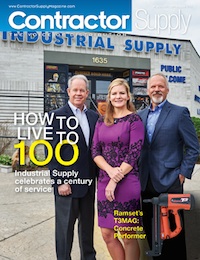 Looking Good! Industrial Supply prepares to celebrate 100 years of business in 2016 and is gearing up for its next 100 years of serving its customers and communities.
Today, in this new golden age of information and innovation, many of us look back on the tools and technologies of five and ten years past as if they were the dark ages. We wonder, "How did we work that way?"
Now think abut how things worked 100 years ago. A corporate centennial is an almost inconceivable accomplishment, especially given the facts that 50 percent of new companies fail within their first year of business and 95 percent fail within five. But 100 years in a company is achievable, if you do things right. Industrial Supply has done things very right.
When Rudolph "Rudy" Orlob founded Mountain States Rubber Company in 1916, Utah had only been a state for 20 years. Mountain States Rubber initially provided the region's mining industry with tires, conveyor belts and related rubber products.
As mining thrived in Utah, businesses, people and construction followed, and the company began adding products and services to meet the rugged region's growing needs. Mountain States changed its name several times to reflect its evolving market identity. In 1975, those entities officially became Industrial Supply Co.
Adapting to Challenge
In the 1980s, a couple of major mine closings led Orlob's grandson, industry luminary Phil Thompson, to adjust the company course again, not with a new name but with a new emphasis on the construction channel.
Thompson served as the chairperson of the Economic Development Corporation of Utah and worked with the Utah Governor's Office of Economic Development. Thompson remains active in the industry but has recently retired and handed over the reins to the next generation of company leaders.
"We were largely an industrial and MRO distributor until the early 1980s," observes Jessica Yurgaitis, Phil's daughter and vice president of sales and marketing. "We lost two major mine customers in quick succession and we had to reinvent ourselves. When one of the mines was repurchased, its new owner did a lot of reconstruction, so we were able to essentially work for the same customer, but in a construction supply capacity."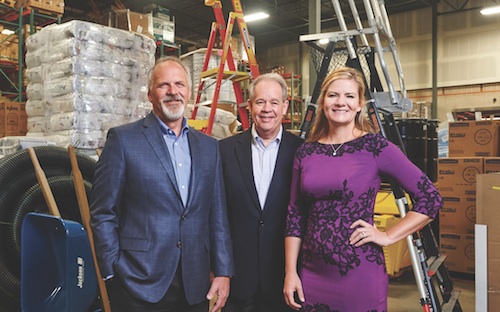 Industrial Supply's leadership team, including (L-R)
president Randy Evans, CEO Chris Bateman and vice president of sales and marketing Jessica Yurgaitis, are keenly aware of the honor and duty the company has to its family founders, community, customers and vendors as it embarks on its second 100 years of business.
The Family Tree
Randy Evans, Orlob's grandson, is now the third generation president of the company. Jessica Yurgaitis and her sister, vice president of finance, Kellie Bartz, are part of the company's fourth generation of family owner/employees. Even though IS is a family company, Jessica and Randy are quick to stress that being a family member is no guarantee of a job.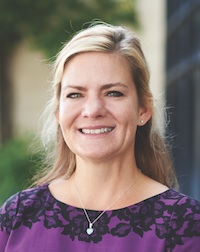 "We are involved on a grassroots level with our local communities as well as with big charitable organizations. We give back quite a bit, in time, resources — and product when it's needed." — Jessica Yurgaitis, vice president of sales and marketing, Industrial Supply Company
"We have a big family tree but just because you are family that doesn't mean you can have a job," Jessica says. "One thing we have done well here is to make sure that our family members are well qualified for and passionate about the business. You can't just knock on the door and ask for a job here because if we did that then we would not be sending the right message to our employees, our customers or vendors."
"And if we do hire you, you'll start in the warehouse, just like we all did," Randy adds.
"To clarify our business a bit for you, we consider construction to be two different kinds of business," Randy continues. "Commercial construction is highways, buildings and structures. Industrial construction is big plants, fabricators and boilermakers, pipe fitters, refineries and power plants. We see them as two different markets; one that works mainly with concrete, and another that is mainly steel products."
Centegenarian Science
Books and magazines like Forbes offer insights into the traits of 100-year companies. Some of these traits include investing in your employees; building strong relationships with partners and communities; strong leadership; financial stability and the ability to weather to market swings; and clear, focused identities and value propositions. Industrial Supply clicks in firmly on every point — with one odd exception.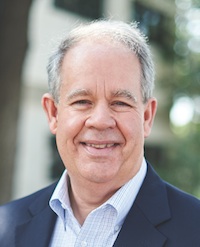 "We live here. It's personal to us and we care about that. Wherever we go as a company, we work hard to be part of that community." — Chris Bateman, CEO, Industrial Supply Company
"'Industrial Supply' is a very generic name, but to be honest, I don't ever remember any discussions about changing our name," Chris Bateman, chief executive officer of Industrial Supply explains. "When Mountain State Rubber evolved into other businesses and other commodities, we operated under two or three company names, but Industrial Supply Company was the one that stuck."
Actions Speak Louder Than Names
"We actually had a tagline on our business cards at one point that said, 'The real difference between companies is in how they treat their customers,'" Chris adds. "But we mainly try to let the way we do things define who we are. It's the name that folks know and love in this region. People come and go and they still know this name, because of how this company has treated them over many years. And that refers to both customers and employees alike."
Very true. A lot of 'Industrial Supply' companies use a family surname as a precursor, but in the construction and industrial channels, when you mention "Industrial Supply," you are only talking about one particular company, this one. The fact that Industrial Supply is based in Utah speaks even more loudly about its national reputation and the stature of its leaders.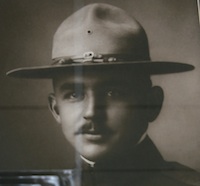 Above, this photo in Industrial Supply's lobby shows founder Rudy Orlob as a 1st Leutenant in the United States Army during World War I. Orlob was instrumental in building Salt Lake City's first commercial airport, where, on Sept. 3, 1927, Charles Lindbergh landed his plane "The Spirit of St. Louis." The photo below shows the parade for Lindbergh through downtown Salt Lake City.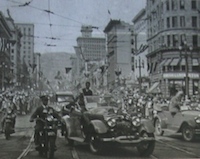 Industrial Supply grew, as did Utah and the entire region, from mining. Today, IS has nine stores that supply more than 50,000 products to the region's construction, aerospace and defense, utilities, government, electronic, mining and manufacturing industries.
The company linecard ranges from abrasives, belts, blades and power tools to ladders, safety equipment, janitorial supplies, office products, break-room supplies, material handling equipment, anchors and fasteners, job boxes, blasting media, protective clothing, propane, windshield washer fluid, sugar, coffee, forks, spoons and bottled water.
One-stop Solutions
"We're a resource and a solution provider in a one-stop shop," Randy explains. "We're after that good old-fashioned service. What does the customer need? We try to look at all the items they use and find opportunities to become their supplier for the majority of their products.
"Our product mix has evolved from being problem solvers for our customers," Chris says. "We brought on ladders, for example, as a convenience for construction companies. Then one day we realized, 'Hey, we're selling a lot of ladders.' If we can have the materials that our customers need, and solve the problem of 'Where do I get it? How quickly can I get it? Can I get it in sufficient quantity?' That's really what we're trying to do."
"Many of our product categories have grown from staying close to our customers, listening to their needs and then making adjustments to support those needs," Randy says. "Our safety business, for example, has grown from a few hard hats to instrumentation and gas monitoring."
"Today, safety is probably 30 percent of our business," Jessica adds. "It's a big part of what we do."
Service: Sure, We Do That
Given Industrial Supply's nearly 100 years in business, you would expect it offers a number of traditional services — such as tool repair and band saw blade welding — that many companies today would prefer to farm out.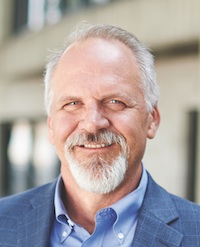 "Many of our product categories have grown from staying close to our customers, listening to their needs and then making adjustments to support those needs." — Randy Evans, president, Industrial Supply Company
"Absolutely, we do repair," Randy says and laughs. "We weld band saw blades, too, and we even mix paint! But we also offer on-site services too. We take mobile trailers to job sites that are being shut down for annual maintenance turnarounds.
"Those jobs often take three to six weeks. We'll place a mobile store onsite, stock it with inventory, a wireless system, and support the project until it is done — sometimes 24 hours a day. That anytime access is a big thing when those jobs are running around the clock."
"We also do mobile store rooms, VMI programs and on-site vending machines too," Chris adds. "Again, these services are really close to us because we are forever looking for solutions — how can we help our customers deal with challenging and difficult situations? Vendor-managed inventory, on-site storerooms, mobile storerooms and vending machines are all very much part of what we do all day, everyday."
"We have hundreds of vending machines in the field," Randy says. "We stock them according to what each customer wants and replenish them with anything from duct tape, shackles, gloves and caulking to head lamps, batteries, locks and Loctite. We get the machines from companies like CribMaster and SnapVend and send them out to plants and facilities all over the territory."
Product expertise and other services, such as safety training and monitoring equipment recalibration, are all elements of the same model of solving customer problems. Even that perennial loss leader, tool repair, falls squarely into the service basket.
"Our customers don't want to do tool repair either, so we need to take that on and help them because we're their provider," Chris says. "You can't have the easy stuff all the time. You have to do it all. Yes, it is a little bit more difficult but that's what we do and it is a key part of that good old-fashioned service that we offer. In the long run, our goal is to have our customers think of us for tools, for repair, for everything."
Industrial Supply Co.
at a Glance
Founded: 1916
Ownership: Privately held
Headquarters: Salt Lake City, Utah
Branches: Ogden, Orem, Salt Lake City and Vernal, Utah; Elko and Las Vegas, Nev.; Gillette, and Rock Springs, Wyo.
Staff: 170 total, including 25 outside sales and 25 inside sales
Markets: Commercial and Industrial construction, mining, oil and gas, manufacturing, aerospace, defense, electronic, utilities and government
Line card advertisers
in this issue:
DEWALT, ITW, PFERD, RIDGID, SOUTHWIRE (COLEMAN CABLE), STANLEY, WERNERCO
Line Card: 3M, Ames True Temper, Ansell, Apex, Brady, Capital Safety, Channellock, Coleman Cable, CRC, Crescent, Crews,
DeWalt, Draeger, Ergodyne, Gear Wrench, Gott, Honeywell, Hyde Tools, Irwin, ITW, Jackson, JET, Justrite, Kimberly-Clark, Klein Tool, Knaack/Weather Guard, Lackmond, Little Giant, Loctite, LPS, Lufkin, Mag-Lite, Majestic, Milwaukee Tool, MSA, Nicholson, Osborn, Pferd, PIP, Plumb, Porter-Cable, Precision Dormer, Pyramex, Quincy, Rayovac, Rectorseal, Ridgid, Roen, Rubbermaid, Rust-Oleum, SGS, Sherwin Williams, Simonds, Simpson Strong-Tie, Sioux Tools, Standard Abrasives, Stanley Proto, Starrett, Stihl, Streamlight, Tingley, United Abrasives, WernerCo, Wiss
Affiliations: STAFDA, ISA, A-D, ABC, AGC, Economic Development Corporation for Utah, Supply Force, Utah Manufacturers Association, Utah Mining Association
Website: www.indsupply.com
Deeper Understanding
In its pursuit of deeper relationships with end-user customers as well as vendors, Industrial Supply has pioneered several programs that have become industry tent poles, including the company's Marketing Partnership Program. If you have ever been exposed to a preferred supplier program like those offered by A-D, the Evergreen Marketing Group, NetPlus Alliance or Sphere 1, you have seen a version of Industrial Supply's Marketing Partnership Program.
"We're active with about a thousand suppliers," Jessica explains. "About 25 years ago, Chris created a program wherein each member of our upper level management team selects five or six suppliers that we 'mentor,' for a lack of a better word. I am the point person for mine; they can get everything they need directly from me. We are hands-on with many more, but this program
operates at another level."
"Our Marketing Partnership Program is really about drawing our supplier partners close to us," Chris says. "The program drives our resources together with those of the manufacturer and covers everything from marketing and making joint sales calls to promote their product to physically delivering that product, message and opportunity to the customer in a way that, at the end of the day, the customer considers valuable."
IS works with approximately 30 companies a year in the Marketing Partnership Program and the waiting list for openings in the program is as long as the company's linecard itself. Some companies make the program every year, others come and go as the IS leadership team identifies new candidates with growth potential in different market segments.
The goal is the same; to bring customers genuine value, product and process improvement and competitive advantage through better solutions and, in that process, deepen the customer/distributor/vendor relationship.
"If I know more about your company and what makes you different, or special, or unique, and I can use my relationships and what's unique about our company to add to your brand, then that's a pretty powerful, synergistic combination," Chris adds.
Standing Its Ground
Like many companies, IS acquired adjacent land and bolted on warehouses as it grew in its present location, which it has occupied since the 1960s. Rather than move to cheaper land further out of town, the family owners decided to invest $2 million in consolidation and expansion of its existing downtown location.
Recently completed, the expansion eliminated the need for forklifts to trundle between buildings, often through snow in the winter, and enabled IS to lean out its warehouse operations for greater efficiency. But rather than invest in expensive automated picking systems and carousels, IS focused on eliminating wasted motion and other inefficiencies from its human processes.
"This is more of a lean coordination process," Chris explains. "How far you have to walk to do this? How far do you have to climb to pick an item? Some improvements are about putting high-pick items into more accessible places, making sure there is enough room to maneuver and then eliminating waste in the processes that we've grown up using."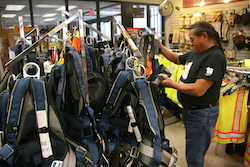 From its beginning with a few hardhats, safety has grown into one of Industrial Supply's largest categories, spanning all of its varied markets.
Our Town
One final component of a 100-year company is so deeply encoded in IS' DNA that it is part of the company's very identity. A deep, genuine commitment to its community is a major component of Industrial Supply's philosophy, business model and way of life. This applies both to the local community and the industry as well.
"We are very active in our industry associations," Jessica continues. "Chris works hard with the A-D board. We are also involved with some of the state agencies, with STAFDA and ISA. When you work in a small community, associations offer you an opportunity to learn from other people. It's good to hear what other people are doing and to take some of those best practices and bring them back to the ranch."
More important than industry participation is involvement in charitable work to benefit not just Industrial Supply's hometown of Salt Lake City, but for every city in which it is established.
"We've always been very charitable in the community; that's one of the things I'm most proud about," Jessica says. "We are involved on a grass roots level with our local communities as well as with big charitable organizations. We give back quite a bit, in time, resources — and product when it's needed."
Those community projects have ranged from supporting the Salt Lake City Symphony, Susan G. Komen for the Cure, the Huntsman Cancer Foundation, the University of Utah, the 2002 U.S. Olympics Skeleton Team, and the Utah Manufacturing Association. Industrial Supply's leaders are also justifiably proud of their participation in the Utah Food Bank's nationally recognized campaign to end hunger in Utah.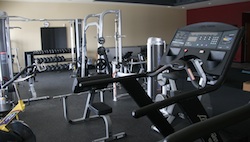 Mind and body: IS has recently converted part of an older warehouse area in the Salt Lake City branch into a well-equipped — and well-utilized — exercise room, with a kitchen and shower facilities. Jessica Yurgaitis teaches a weekly yoga class here.
Faith, Hope and Charity
"The founder of this company, Rudy Orlob, had a real devotion to the community," Chris adds. "He helped build the first airport here in Salt Lake City. Being involved is good for business but it's also good for the community."
"Jessica's dad, Phil Thompson, really led the way for us in that regard too. We live here. It's personal to us and we care about that. Wherever we go as a company, we work hard to be part of that community."
"Running a business is challenging and difficult," Randy adds. "When you can do something that matters on those kinds of human terms, that's pretty good work to do. I think that's what our company founder would have wanted, and it's part of the example that we set."
So how does a company live to be 100? In the simplest terms, by being humble, hardworking, honest, never getting too big for your britches, sticking to what you know but being willing to learn new things, and giving back some of what you get. If the Golden Rule serves as a mission statement for any company, it does for Industrial Supply. CS