Economic Update 2013: Time for Action
Get aggressive with planning and execution.
---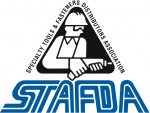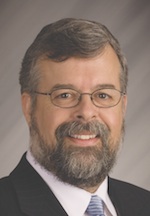 WHEN AND WHERE:
STAFDA economic consultant Alan Beaulieu, president of the Institute for Trend Research, will deliver his standing-room-only annual update on a

NEW DAY AND TIME: 8:00 to 10:00 a.m. on Wednesday, Nov. 13.
There has been a spate of inquiries into ITR Economics recently about articles that present an imminent economic decline of significant proportion. Donald Trump among others is suggesting that the dollar will come under extreme downward pressure. Don't worry, the economic nightmare is years away. Focusing on that now will guarantee that you miss the upside potential of the next few years. Now is the time to get aggressive with planning and preparation.
Here is the forecast in a nutshell. The construction industry in 2014 will under perform 2013. Nonresidential work will outperform residential construction. Housing and the economy in general will improve in 2015, especially in the latter half of the year. STAFDA members will be busier in 2015 than they were in 2014. You will be busier still in 2016. A lack of preparedness in 2014 will mean lost opportunities in the latter years.
Use 2014 to beef-up sales procedures, add key people to
keep markets or to generate new business in new geographic localities, streamline your operations to increase efficiencies, upgrade your CRM or ERP to keep up with the coming pressures and train your people to enhance their technological prowess. This last point will be demanded of you in the future so you might as well get a jump on it now.
All of the above takes money. Get past any uncertainty about government action or non-action and start pushing your company to where you know it needs to be.
STAFDA members should be realizing year-over-year revenue improvement (you are computing your rates-of-change I hope). These gains are being supported by improving consumer spending trends and additional gains in residential construction. Despite reinstated payroll taxes in 2013, the consumer is still shopping aggressively as second quarter retail sales (deflated) registered 3.5 percent ahead of the second quarter of 2012.
This is the best year-over-year growth rate in over a year. The retail sales trend should support STAFDA member sales trends through at least the next few months.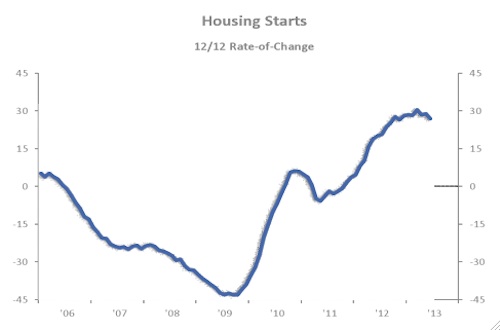 Housing starts nationwide have slowed quite noticeably in their rate of rise. We are projecting that the annual total will plateau in the last few months of 2013.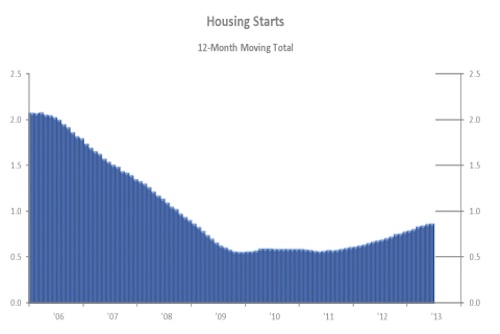 A more forward looking indicator is the residential construction market, which tends to lead the overall economy by one to two quarters. We look at the housing starts growth rate at the annual meeting and webinars. Housing starts nationwide have slowed noticeably in their rate of rise. We are projecting that the annual total will plateau in the last few months of 2013. The housing starts annual rate-of-change is already trending lower, signaling coming difficulties in the housing market in 2014.
Private commercial buildings construction spending for the 12 months ending in June reached $44.1 billion, up 3.9 percent from one year ago. The rate of expansion will ease through the end of 2013. Expect the slower rate of rise to last through 2014.
Total lodging construction is an area of opportunity within commercial construction, with annual construction approaching a three-year high of $12.3 billion. The hotel occupancy rate during the second quarter rose 1.3 percent from the previous year to 65.9 percent.
The slow improvement in occupancy rates combined with the strengthening U.S. economic recovery will place pressure on the hotel industry to upgrade facilities to
remain competitive. This will result in not only new
construction, but upgrades as well.
Enhance and communicate your unique competitive advantages. Send me an email (alan@itreconomics.com) if you want to know more about how to find and communicate these advantages (ITR does not make any money from this; I will point you in the right direction to get you started). CS