Business Briefs: ITW Buildex — Versatile, Flexible and Smart — Sammys!
Sammys Anchor Solutions are making the grade in many fields.
---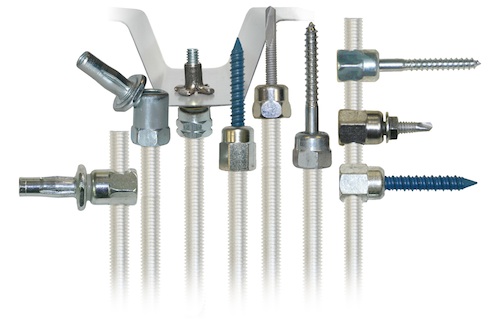 ITW Buildex makes it easier to install threaded rod anchoring with its complete Sammys line of time and cost saving products.
Many products often are promoted with their "versatility" in mind. With over 45 years of proven success, ITW Buildex has redefined versatility with its Sammys line of threaded rod anchors. Continuing to earn high praise for design flexibility, plus the significant time and cost-saving patented solutions for threaded rod anchoring into a wide range of construction applications, Sammys capabilities are highly effective for fire protection, electrical, HVAC, piping and other situations.
Above: Sammys products were used recently on a Target store being constructed in metropolitan Houston.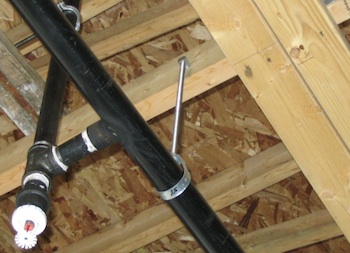 Sammys were used on a fire protection job site, with a fire sprinkler horizontal application into wood.
A Sammys X-Press Swivel model easily placed threaded rod
anchoring into steel.
The product roster recently expanded with the addition of the industry's first and only cracked concrete and seismic-approved threaded rod screw anchor. A newly redesigned Sammys Pole Tool is another innovative product that saves an incredible amount of time and makes it much easier for crews to install and hang threaded rod anchors into wood, steel and concrete.
The Sammy X-Press system has revolutionized direct attachment of threaded rod in metal deck for piping. Visit www.itwbuildex.com for a complete product list.
Swivel models can accommodate installation vertically, horizontally or at an angle up to 90 degrees for a wide range of substrates in about half the time compared to three-step drop-in wedge or multi-piece hardware methods.
The concrete Sammys requires pre-drilling and utilizes Advanced Threadform Technology from Tapcon anchors, which provide teeth at intervals on alternating threads and allows it to grip into concrete with tremendous holding power that traditional threads can't duplicate.
The Sammy X-Press system expands to provide direct vertical attachment of threaded rod into Metal Deck (22-16 gauge), thin gauge Z-Purlin (18-16 gauge), and horizontal attachment in 16 ga – 3/16-inch purlin tubular steel with the Sammy X-Press Sidewinder.
The patented X-Press anchors eliminate the need for costly "armovers" used in pipe hanging installations, and include a threaded fastener and expandable sleeve with no retaining nut required.
The X-Press system installs in seconds, saving time and labor costs and features an easy-to-install anchor with expanding strips that collapse to prevent pullout
after installation.
The new vertical design of the Sammys Pole Tool comes fully assembled to make installation easier than ever, especially in hard to reach places. Ideal for working in tight spaces, through the ceiling grid, or with work involving high vaulted ceilings, the Pole Tool eliminates the need for scaffolding, ladders or lifts since it is available in two telescoping sizes: one extends from 4-12 feet and the other from 6-18 feet.
The Pole Tool can be adjusted to the desired length, requires loading the rod and attaching to the choice of Sammys screw anchors, and the socket will disengage when the anchor is completely installed.
Time studies indicate Sammys can result in over a 25 percent labor savings compared to traditional installation methods. Both wood and steel models can install directly into the most aggressive substrate, including up to 1/2-inch-thick steel, and eliminates the need to build a trapeze. Swivel models are available to eliminate rod bending and save time for work being performed around other items and on sloped ceilings.
For more information and complete product type and application listings, visit www.itwbuildex.com. CS