Industry Update: Concrete Saws
Emissions standards are changing saw design, but that's just the beginning.
---
Tomorrow's concrete saws will be different from today's, with reduced emissions, in-line engines, greater ease of maintenance and more on-site adjustment versatility. Here is what's in development at four companies that are literally on the cutting edge of technology.
Diamond Products: Tomorrow's saws today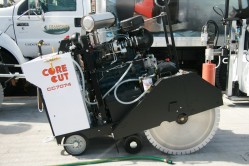 Diamond Products' new CC7074 is its first to use an in-line engine design. It features a transverse gearbox developed by DP engineers. DP expects the saw to be on the market later this year.
Without a doubt, a major challenge facing walk-behind saw manufacturers, not counting the economy, is the new EPA Tier 4 emissions standard that will become effective in 2012, explains Martin Marsic, product manager for Diamond Products. Engines will be different than they are now — larger and more expensive.
R&D efforts that would normally go toward new product design are for now being "diverted" to ensure companies can deliver products that meet the new regs when they go live in two years. That said, "pure" new product development has hardly ground to a halt.
"We have been working on the model CC7074, our first in-line saw for the last year," Marsic says. "Our second, or 'pre-pilot' production run, will go out shortly for testing and evaluation. The engine is in-line and features a transverse gearbox that we have developed in-house. The CC7074 should be on the market later this year."
In-line engine design is a growing trend in saws because it allows the use of longer engine bodies which produce more power.
"Traditionally, engines have been mounted transversely on saws, which limited the saw's overall width. You always want to make your saw as narrow and compact as possible so it can fit through doorways and openings."
Like other manufacturers, Diamond Products (www.diamondproducts.com) views the market downturn as a mandate to innovate.
"We have several new products to introduce and we hope to have them all ready when the economy improves," he says. "Another one is our model CC3500 'jackshaft' saw. Its predecessor used the Wisconsin 35-hp gas engine and was very popular. Because of emissions issues, we have done some testing with both a Briggs Vanguard 345 and a Kohler 40-hp V-twin. By using a jackshaft design (because these engines run at higher speed than our traditional saw engines) we have developed a saw that is both pretty economical and is a heck of a cutter."
Husqvarna: worldwide innovation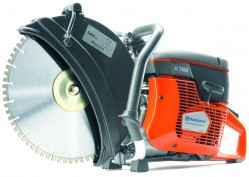 The new K760 power cutter from Husqvarna incorporates numerous emissions and operator comfort features including its DEX (Dust Extinguisher System) system that reduces water consumption by 50 percent. Also on the K760, Husqvarna's Active Air Filtration delivers about a year's worth of dry cutting before needing service.

Sweden-based Husqvarna (www.husqvarna.com) has a presence in more than 100 countries worldwide and is a leader in environment- and user-protection technologies including hand-arm vibration (HAV) reduction, emissions control and noise reduction.
"Dust control and noise are always issues at the top of contractors' lists," says Mike Ward, product manager, power cutters. "They want a power cutter that will perform the required job efficiently, without extra noise and dust. Husqvarna's DEX (Dust Extinguisher System) system, launched in 2008, includes a water-saving wet-cutting kit that reduces water consumption by one-half."
DEX is now standard on all Husqvarna gasoline-powered cutters. The amount of water used is sufficient to bind the dust without creating any excess. This produces cleaner cutting with less water usage and slurry than a traditional wet-cutting system, Ward observes.
Noise reduction is high on contractor wish lists and Husqvarna has just the technology for the job. The new K760 power cutter boasts a large-volume muffler to reduce noise and create a better working environment for both the operator and the surrounding area. Husqvarna Active Air Filtration, another feature of the K760, delivers about a year's worth of dry cutting before needing service.
Husqvarna provides product training sessions at its corporate offices for dealers and their sales forces twice a year. Additionally, Husqvarna salespeople provide demonstrations at dealer locations and job sites.
ICS Blount: On the chain gang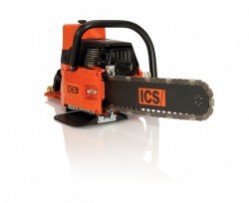 PowerGrit chain is available for use on the ICS 633F4 101cc gas powered chain saw and ICS 853 and 880 large frame hydraulic powered chain saws. PowerGrit is also sold through an OEM partnership with Stanley Hydraulic Tools.
"The biggest issue facing us currently is that the concrete saw market is down 45 percent in North America," says Joe Taccogna, marketing and product line manager for ICS Blount. "In this market, there isn't much willingness to pay for technical advancements in engines and saw design. The economic situation has also increased the demand for concrete saws in rental because contractors are more reluctant to invest in new equipment."
Power-to-weight is always critical; meeting new EPA emissions regulations without adding weight is a major challenge every manufacturer faces.
"At ICS, we also have a range of tools to handle a wide variety of cutting depths, starting with a very lightweight 60cc saw. Even that smallest of chain saws will cut through more than eight inches.
"We have also recently addressed user needs with the introduction of PowerGrit (www.powergrit.com), a value-priced diamond chain that is ideal for use in the rental market," he continues. "This helps the rental house sell a chain at a reasonable price with the rental of a saw, making it more convenient and cost effective for the rental store and its customer."
These aren't your father's chain saws, so ICS posts a variety of training videos on its Web site (www.icsbestway.com) that can be streamed or downloaded. These cover everything from initial assembly of the chain on the saw to operator safety. Taccogna notes the section now delivers thousands of training downloads each month.
MK Diamond: the user is king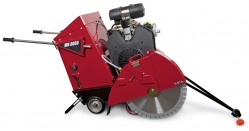 MK 3000 series saws from MK Diamond are powered by either by 35-hp Briggs & Stratton Vanguard Big Block air-cooled V-twins or the new Kohler Command Pro 35-hp engines. The Big Block engine includes a multi-stage cyclonic air filter, full-pressure oil lubrication system and an industrial-grade solenoid shift starter motor. The MK-3000 is also available with the new Kohler Command Pro 35-horsepower engine.
"As the world continues to demand stricter environmental protection, engine manufacturers have been striving to meet rigorous emission regulations," states Brian Delahaut, president, MK Diamond Products, Inc. "Currently, all U.S. manufacturers of large flat saws (29 to 82 hp) are working with engine manufacturers to meet the EPA Tier IV Interim emissions requirements that come due in 2012."
Tier IV Interim regulations call for particulate matter reductions of 90 percent and nitrogen oxides reduction of 50 percent from Tier 3/Stage III A requirements. These measures are designed to ensure that all engines used on large flat saws have the adaptability to pass future emission regulations. MK Diamond's large flat saws are currently equipped with Tier 3/Interim Tier IV-compliant engines by Deutz, Kubota and Hyundai.
In early 2009, MK Diamond introduced a complete line of compact (35-38 hp) professional flat saws equipped with the latest in V-twin air-cooled engines from both Kohler and Briggs and Stratton.
"These air-cooled engines provide simplicity and rugged reliability," Delahaut explains. "Both the Kohler and Vanguard engines deliver the horsepower and torque required for the most challenging applications in deep concrete sawing and meet all of the EPA Tier 3/Interim Tier IV emission requirements."
MK Diamond (www.mkdiamond.com) has also implemented a new power-to-weight distribution design feature to enhance operator ease and control, and is currently developing controls to reduce exposure to hand-arm vibration (HAV).
Saw manufacturers are also focused on making maintenance/accessibility easier and improving designs to accommodate various blade sizes.
"MK Diamond professional flat saws reduce maintenance down time via removable side panels that allow easy access to all major components," Delahaut says. "A recent University of Massachusetts study by Susan Sheperd and Susan Woskie has shown that flat saw maintenance is also an important factor in blade stability, which contributes to controlling noise.
This year, MK Diamond will also be introducing a new gearbox design that will allow an operator to change the blade speed of the saw on the job site without having to change out the pulley and belts.
"This new heavy-duty gearbox design will allow the operator to move from 18 to 30 inches with the shift of a lever. This greater flexibility will allow operators to move from patch work to deep sawing in a matter of minutes, not hours, with the shift of a lever and a quick change of the blade guard." CS