Cordless Nailer Maintenance
Properly maintained tools improve partnerships and profits.
---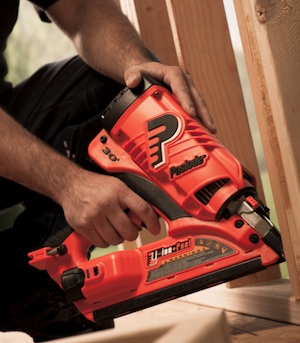 By sharing field maintenance information at the time of purchase, you can help your customers get the most out of their products from the start — while also reinforcing your role as a valued partner.
As a channel expert, your customers rely on you to provide quality solutions that improve job site productivity and increase profitability. By educating them about your advanced offering and recommending the best tools to meet their needs, you can offer them a leg up on the competition.
However, this is just the first step. After sharing your industry insights and setting them up with the right products, it's equally important to train them on proper maintenance techniques to ensure long-lasting performance and durability.
From regular cleaning to
occasional field maintenance,
contractors should have a solid grasp on procedures and practices that will extend the life and performance of their tools. By sharing this information at the time of purchase, you can help your customers get the most out of their products from the start — while also reinforcing your role as a valued partner.
Starting the Conversation about Proper Care
When it comes to explaining the importance of cleaning tools, remind your customers that
sportsmen don't leave home without their gear prepped and cleaned — they take the necessary steps to keep it in top condition since it directly impacts their performance. The same goes for contractors — the quality of their tools have a direct correlation to
the quality of their work.
Many building contractors may be surprised by how little maintenance is required to ensure optimal performance of their equipment. For example, leading cordless framing and trim nailers require just 15 minutes of cleaning every six months or 50,000 nails. And the cleaning process itself is typically very simple and straightforward, requiring a few basic items that most industry pros already have on hand.
While it may seem obvious, it's also important to remind customers to read and understand all safety instructions included in the product's operation manual before servicing the tool. By reviewing the information provided by the manufacturer, the contractor can arm themselves with the knowledge they need to avoid harming the product or themselves. Manuals from top manufacturers include in-depth information such as step-by-step instructions and a recommended service schedule.
While contractors should always follow instructions provided by the manufacturer to ensure proper cleaning for each individual tool, the following are some basic tips and information you can share with customers to help them properly clean their cordless framing and trim nailer systems.
Tips for Cleaning Cordless Systems
Necessities: The necessary items for cleaning cordless systems include a rag, tool cleaner, tool oil and an Allen wrench, which often comes with the tool. It's important that the rag is clean and lint-free, so it may be helpful to have several on hand. Most manufacturers offer cleaning products and oils that are specially formulated for use with their tools. Contractors should be aware that using other lubricants like WD-40 or 3-IN-ONE can cause rapid buildup of combustion residue or result in premature parts failure.
Safety Check: Before cleaning cordless systems, always remove battery, fuel and nails. Because fuel cells expire and this can affect the performance of the tool, the expiration date on the bottom of the fuel cell should always be checked to ensure that it doesn't need to be replaced.
Spray, Wipe and Oil: The key areas that need to be cleaned are the filter, the cylinder head assembly, the sleeve assembly and combustion chamber. Begin by spraying these components with the tool cleaner and then wipe thoroughly with the rag to remove dirt and residue. Then oil seal rings, motor assembly sleeve and combustion chamber. When using oil, it's important to ensure that it's evenly distributed.
Reassemble: When finished cleaning, the tool should be carefully reassembled. It's important to ensure that all screws are tight. Operating the cordless tool with a loose or missing head screw can result in the escape of burning gases that may cause personal injury or damage to the tool. In addition, a loose nose screw might cause the firing of two nails at once.
Tool Test: After the tool is completely assembled and all screws are tightened, test the tool for proper operation. During the first few shots, some smoke may come out of the exhaust ports, which is OK. However, if a tool malfunctions or you need more instructions, the user should be sure to check the manual or contact the manufacturer.
One item you may want to note to customers is that some manufacturers offer video tutorials on YouTube and their company websites that visually demonstrate the steps in the process. Video tutorials are often very useful for contractors who are cleaning their cordless systems for the first time, as well as for those who need a refresher course.
Regardless of how thorough the contractor is with maintenance, it's inevitable that some issues will require professional assistance. This is yet another opportunity for your team to shine by offering repair technicians who can effectively and efficiently service tools to quickly get them back in the field.
In addition, by recommending products from trustworthy manufacturers known for strong technical expertise and customer support, you can further ensure that the customer has a positive experience with his product should any issues arise that can't be resolved in your shop.
As a trusted partner for today's professional, your product maintenance knowledge solidifies your position as a valuable resource and an industry expert customers can rely on for years to come. Your efforts to educate customers about proper care of their tools can improve the profitability of their business as well as your own. CS
John Horvath is marketing manager for ITW Paslode/Construction Service and Parts. He can be reached via the website at www.paslode.com.