Top of the World
2011 STAFDA President Mike Kangas and AIH serve the United States' largest, wildest market.
---
2011 STAFDA President Mike Kangas and AIH serve the United States' largest, wildest market
By Tom Hammel, Contractor Supply Magazine
Any way you look at it, Alaska is huge. From its land mass — equal to 21 "lower 48" states combined — to Denali, its highest peak, Alaska has the most rugged, remote and ravishing scenery on the planet.
The only thing about Alaska that isn't massive is its population. The entire state is home to only 750,000 people and most of them, roughly 40 percent of the state's population, live in Anchorage. This dichotomy — an immense land mass and almost unfathomable
mineral and natural resources on one hand and relatively few people in isolated, inhospitable population centers on the other — poses challenges and opportunities that are unique to Alaska and the businesses that thrive here.
Alaska Industrial Hardware (AIH) was born in 1959, the same year Alaska became our 49th state. Last year, both Alaska and AIH celebrated 50 years of "statehood." Mike Kangas, president and general manager of Alaska Industrial Hardware (and incoming 2011 STAFDA president) has been with AIH for 30 years. Like many Alaskans, Kangas flies his own plane, sometimes between AIH branches and remote wholesale customers.
Alaska's sheer size and its distance from the lower 48 poses distinct logistics issues for every resident and business here.
The midnight sun (is really bright!)
Alaska's construction season largely mirrors its growing season — brief but round-the-clock. From May through August, Anchorage averages nearly 20 hours of daylight each day. In Alaska's summer, the lights are always on, so to make the most of the time they have, contractors often work two 12-hour shifts per day.
Supplying those job sites becomes a long day, too. Every AIH store is open 12 hours a day, Monday through Friday, year-around. Weekend hours are a bit shorter, but each store is open seven days a week.
"When you have a retail presence, you have to be open seven days a week," Kangas says simply.
Being open longer hours is the easy part. The single most critical component of success in Alaska's supply business is having product in stock when contractors need it — today, right now. Every distributor in Alaska, large and small, depends on inventory from Seattle.
The same ships deliver product for everyone in the state. It takes from one to two weeks for a ship to make its way from Seattle to Anchorage. Add the three to six weeks
it takes for an order to be processed and shipped by the manufacturer and logistics can be a challenge.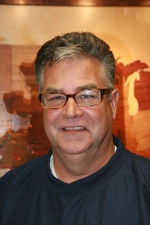 "Our distribution center is unlike any other in Alaska. We have about $12 million in inventory on hand right now."
— Corey Grubb, vice president, sales manager, AIH
In this market, the distributor who makes the sale is the one who has the product on the shelf when the contractor calls. AIH's strategy for addressing this would drive many inventory control experts to fits.
"Our distribution center (DC) is unlike any other in Alaska," states Corey Grubb, AIH vice president and sales manager. "We have about $12 million in inventory on
hand right now."
"And that's just here in the DC, " Kangas adds. "That doesn't include the store inventories, which we can feed from, too. If we run out of something in the DC, we can pull it back from a store to complete a sale. We never miss a sale."
"The problem some national competitors see in Alaska is they have branches all over the U.S. and they need their five turns a year to keep their accountants happy, but in Alaska that just doesn't happen," Kangas adds. "We have been working for the last two years to get our turns up to 2.5. That's a good turn in Alaska.
"If you don't have it when somebody needs it, then you're no different than the guy down in Seattle because the customer can call Seattle and get it shipped up here as easily as we can. Alaska has a four-month building season that makes or breaks us.
"Our warehouse is 100,000 square feet and it is filled to the gills right now," Kangas continues. "A national competitor has 30,000 square feet here with maybe 80,000 items — usually one to show and one to go at best. That's what sets AIH apart from everybody else trying to do business in Alaska. The barriers to entry are so high: $12 million just to open the doors and go out in the streets and be competitive with AIH. Most national concerns look at the numbers for doing business in Alaska and they just don't pencil out."
Oil and the military are the state's dominant industries.
"Being an oil state, I think Alaska's economy has fared better than the rest of the country," Kangas says. "There is a lot of government money coming in right now. We have four circa World War II military bases and Uncle Sam is spending billions to modernize them. Most of the construction work in Alaska right now is on those bases, which is good because commercial construction has been hit hard."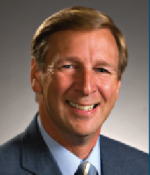 Mike Kangas: 2011 Stafda president
Alaska Industrial Hardware has been a STAFDA Distributor Member since 1979. Mike Kangas, by his own reckoning, has attended every STAFDA
convention for the last 25 years and has watched it grow into one of the dominant trade expositions in the country.
"As the National Hardware Show fizzled out in
Chicago, people began looking at STAFDA as a premier showcase for our industry," he says.
"STAFDA has done a great job growing its show into an event that everybody looks forward to," he continues. "You mark it on your calendar and arrange your yearly schedule around it — you don't ever want to miss a STAFDA convention."
This year Kangas has extra incentive to attend. On November 8 he will be sworn in as 2011 STAFDA president.
"It is an honor to even be considered," he says. "To be president of such a great organization is going to be amazing. In Alaska, being so isolated from the rest of the country, I don't get to meet and shake hands with all the members that someone who is more centrally located would, so I'm looking forward to meeting more of my fellow STAFDA members.
I've met some great board members, past and current presidents and I'm really looking forward to continuing that."
The import of import
Because there is little manufacturing in Alaska, most hard goods, from power tools to power boats and drill bits to dishwashers are imported. Virtually every product AIH sells comes to its Anchorage warehouse via Seattle, some 1,400 miles south. AIH maintains a full-time freight coordinator in Seattle to manage shipments, which on a yearly basis average out to about one full container every day. Very little product is trucked up from the south; most is delivered by container ships right to the port in Anchorage, then straight to AIH's DC loading docks.
After 51 years in the business, AIH has developed some ingenious solutions to the shipping problem. For one, AIH has its own contract with the ocean carriers, which bypasses freight consolidators that would normally be middlemen in cross-dock operations. The ocean carrier provides containers, which are loaded in Tacoma, Washington and shipped directly to AIH's Anchorage DC. The product is received, processed and staged for shipment to the branches. AIH uses its own trucks for local deliveries and an Alaskan consolidator for longer runs.
"It's more cost-effective to have local consolidators make the long hauls intrastate," Kangas notes. "We always try to ship full containers because it costs less per pound than LTL (less than truckload) rates for a pallet at a time."
Mailing it in
Because Alaska's highway system only connects the largest cities, residents in "bush" towns and villages depend on air and water transport for their goods. Many products are shipped by parcel post.
"Here in Alaska we have bypass mail," Kangas says. "It is a government-subsidized program where you can ship something like a bag of cement to Nome for a fraction of the true cost. Anything going air-freight into the bush ships parcel post. Right now we have about 10 pallets of product ready to go. In the summer, we will have two people working 10 hours a day just to keep up with the parcel post shipments."
Those guys are busy: in 2008, AIH and other Alaskan merchants shipped 125 million pounds of goods via bypass mail. Without bypass mail, many bush communities could not survive.
Retail, wholesale and rental
"Bush" towns and villages are often served by general stores. These retailers, along with other hardware chains and lumberyards across the state are served by General Hardware Distributors, the wholesale division of AIH.
"Geographically, Alaska is huge, but economically it is fairly small, so for a company to be successful in the hardware business you have to wear a lot of hats," Kangas says. "And there's a fine line between selling wholesale and selling retail. You don't want to step on the dealer's toes because he looks at the retailer — AIH — as a competitor."
"If we do have some products that compete, we are low key about it; we won't advertise them. We have a massive advertising budget but we protect the dealers on products we bring in for them. And, we have learned from long experience that if we are going to stock something on the shelf for certain customers' needs, it has to be a viable product in each and every one of our stores."
This balancing act also applies to rental. Launched just five years ago in response to customer demand, AIH now has three in-house rental centers in strategic branches; Anchorage, nearby Eagle River and Fairbanks. The products that AIH rents are chosen as carefully as the locations.
"We don't have heavy equipment, but we rent most hand power tools, cement mixers, breaker hammers and plate compactors," Kangas explains. "We are open on the weekends (a lot of rental centers here aren't) so we can rent things when the other guys are closed."
The success of rental so far has encouraged AIH to expand it into other branches, but this is a delicate matter. "We have a pretty good rental dealer base in GHD, so we won't go into a market with a lot of rental customers. The small return on rental would not counteract what we would lose from that customer base."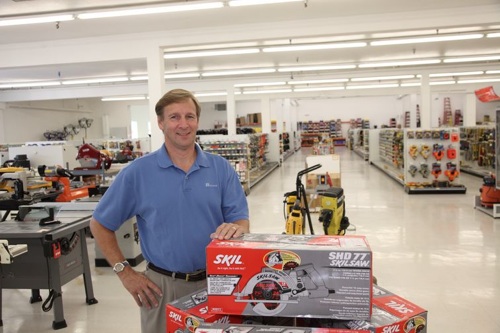 Industrial construction
"Most of our business is in industrial and commercial construction," Kangas says. "It can be difficult to dial in an exact split because some contractors prefer to shop in our retail stores using credit cards rather than being on account. But I would say our wholesale business is about 20 percent, retail is another 20, and the remaining 60 percent is industrial construction. And our retail stores draw a lot of consumers and high-end DIYers. There's a lot of discretionary income in Alaska."
This comes from several factors. The median wage in Alaska is somewhat higher than the national average, even including bush residents where unemployment is very high. The oil industry and military installations employ many support personnel. Then there is the Permanent Fund.
The Permanent Fund
Created in 1976 as a way for the state to share in the revenue of the oil flowing through the Trans-Alaska Pipeline, the Fund income is diversely invested, with a small portion used for administration costs. The dividends from the investments are given out to each Alaskan resident in an annual Permanent Fund Dividend Check, which ranges most years between $900 and $1,800 per person.
The dividend is paid out each October. This "Christmas present" from the state has a significant impact on the state economy. "Each October, every man, woman and child in Alaska has, on average, $1,500 burning a hole in his pocket," Kangas says. "This is one reason for the large amount of discretionary income in Alaska."
You can't get there from here
AIH's eight main branches are located in five key cities strung along a 1,200-mile "L"-shaped corridor from Fairbanks in the state's interior down to Anchorage, then to Juneau far to the southeast. This is oversimplification — there are in fact no roads into Juneau, the state capital. It can be reached only by plane or ferry, and, true to the
Alaskan self-image of rugged individualism, many Juneau residents don't want a highway built.
AIH actually has three locations in Anchorage; one retail store on the north side of town, one on the south, and the DC, just two blocks from the north-side store.
The product selection is broad, deep, and sometimes unusual. Judging from their sales, far more people here are terrorized by mosquitoes than bears. SkeeterVacs and propane to fuel them are front and center every summer.
Temporary shelters sell well, too. Residents like to protect their toys from the elements and a Shelter in a Box from Shelter Logic is far less expensive than an extra garage. Then there are the ceiling-high pallets of five-gallon buckets in the warehouse. We won't tell you what they are for, but "honey" takes on a whole new meaning here.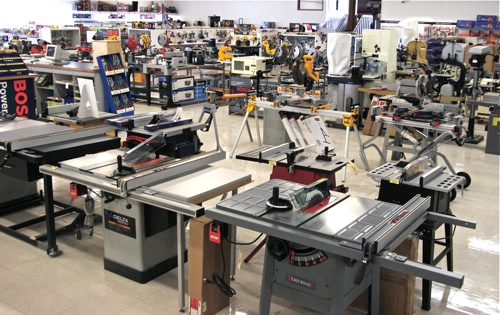 Standard products, from power drills and chain hoists to boots, abrasives, table saws, fans and pressure washers are also represented in well-organized abundance. Virtually every major brand is presented side by side with its leading competitors to make product evaluation as easy or agonizing as each customer likes it. The AIH line card reads like the STAFDA Directory itself; if you can't find it here, you truly don't need it.
And, since we knew you would ask, let's look at the weather – through a triple-paned window if possible. Although the state's climate zones range from subarctic to temperate rain forest, it gets cold here in the winter; cold weather gear is big business.
"We sell about $1 million in gloves every year, and heaters are a huge business," Kangas says.
In the winter, contractors often cocoon projects in heavy-gauge Visqueen and blast away with heaters until the structures are enclosed or Alaska's famously wild winds tear the plastic enclosures apart and they must be rebuilt.
AIH AT A GLANCE:
Year founded
: 1959
Ownership
: Privately held, ESOP
Divisions
: General Hardware Distributors (wholesale); Alaska Industrial Hardware (retail stores)
Branches:
Anchorage (3 locations, including the company DC); Eagle River; Fairbanks; Juneau; Kenai and Wasilla
Employees
: 200
Sales staff
: General Hardware: three outside; two support staff; AIH: 12 outside; 4 inside
Annual sales
: $50 million plus
Revenue
: 80% AIH; 20% GHD
Warehouse
: 100,000 square feet
Product categories
: Construction equipment and hardware, fasteners, portable and stationary power tools, hand tools, plumbing, electrical and paint supplies, adhesives and sealants, outdoor equipment, janitorial, safety, outerwear, automotive, seasonal
Software
: PIC operating on JBASE 4, with UNIX; Graphics software: Adobe InDesign
Inventory
: $12 million in DC
Lines
: 400 active vendors; 3M/AO Safety, Ansell, Atlas Glove, Bosch, Cooper Tools, CST Berger, Delta/
Porter-Cable, DeWalt, Duo-Fast, Eagle safety cabinets, EverReady, E-Z-Rect Shelving, FallTech, Fanaco, Generac, Honeywell/North Safety, Hitachi, Hotsy, Husqvarna, Ironclad, Irwin/Rubbermaid, Jet, Klein Tools, Krylon, Lackmond, Majestic Glove, MechanixWear, Miller/Sperian, Milwaukee, Mr. Heater, OK1, Paslode, Porteous, Poulan, PrimeSource, Ridgid, Rolair, ShelterLogic canopies, Shop Vac, SK, SkeeterVac, Southern Glove, Spectra Precision, Stanley, Stanley Proto, Sure Tape, Thermal Dynamics, Uvex, Werner ladders, Wilmar, Yamaha
SKUs
: 22,000-plus
Affiliations
: STAFDA, Sphere1, state and local associations
Web site
:
www.AIHalaska.com
Training time
If product is king, training is queen. Much of Corey Grubb's energy is focused on employee training; he spends 75 percent of his time in the field working with sales staff and customers. Training begins the day a new employee starts working.
"When a new salesperson comes on we put him in a store for approximately 90 to 180 days, depending on his experience and comfort levels with our lines," Grubb says. "It can be kind of intimidating to learn 22,000 SKUs."
Grubb also works closely with manufacturers to schedule and present product knowledge sessions for AIH employees and their customers. To house these sessions, AIH has a 500-square-foot dedicated training center attached to its DC.
"Training is paramount in our organization, but it is darned hard to do up here," Kangas adds. "So our vendors send trainers to us. We usually have an event in the training center at least every few weeks.
"One thing we really focus on is how to close the deal. Corey has been in sales all his life and he can really go out and show a person how to sell. It's not just about the features and benefits of a given product; it's also about having the skills to qualify the customer and close the deal. That is the one thing that is so difficult to get from vendor training. And in my mind, it is a very important part of Corey's job — teaching these guys how to bring it home."
AIH also relies on its memberships in STAFDA and Sphere1 for training opportunities, as well as local trade groups — "every one of them," Grubb states.
Growing up
The distances between population centers here, and their differences in climate and thus product needs, make each city an island economy. This, plus the fact that buildable land in private hands is scarce means that for companies like AIH to grow, they must expand up, not out. For AIH, this means taking market share from competitors and improving the facilities it already has.
Over the past few years, AIH has been expanding and upgrading existing stores to make them the premier tool and supply venues in their markets. After visiting two stores, the impact is impressive. They are bright, clean, expansive, exceptionally well merchandised and big. Long open roof spans and low aisle displays allow the eye to roam literally from corner to corner in a 30,000-square-foot store. The north side Anchorage store for example, occupies a former roller rink. It has 80-foot clear spans of 12- by 60-inch wooden beams — once the largest clear span in Alaska. The view is wide open from wall to wall.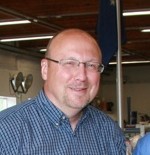 Since joining AIH three years ago, retail and merchandising pro Blake Hutchins has been busy directing store retro fits and helping to design the company's 50,000-square-foot flagship store, currently being built in south Anchorage.
Blake Hutchins, director of store operations, has supervised these renovations since joining AIH three years ago. In addition to store design and merchandising, he trains store employees to be more retail and service oriented.
"This is an interesting business," Hutchins says. "You need dual-purpose employees with retail knowledge and customer service skills on one hand and product knowledge on the other. Sometimes this makes for an interesting mix; a long-time employee may know products really well but may be lacking in retail skills. You need the right mix of people in this business."
Presently under construction in Anchorage is AIH's new 50,000-square-foot flagship store on the south side of town. It will have a 40,000-squre foot showroom and 10,000 feet of warehouse. Other features will include a separate tool center, a staffed safety department and a specialized material handling products area for everything from hand trucks to mezzanine systems.
Interestingly, power tools are among the company's best selling products. "Hand and power tools make up 25 percent of our sales," Kangas says.
The reasoning is again, somewhat uniquely Alaskan. For one, many Alaskans are, either by choice or necessity, DIYers. That inclination, coupled with discretionary income, makes for good customers. AIH regularly donates use of its training center to professional and hobbyist groups like the Anchorage Woodworking Guild.
Then there are the contractors' own usage habits.
"Contractors gearing up for a remote bush job will buy new tools for a project and leave them at the job site when they are done," Grubb explains. "For the next job, they buy new tools all over again. Freight costs are another concern. The cost to ship something to a bush Alaska village is unbelievable, but bringing it back is just as expensive. Contractors will sell tools to locals or just leave them rather than bring them back."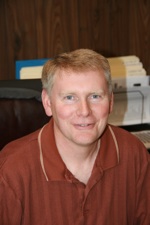 "Our foremost supply chain challenge is developing a good prediction of customer demand — and timing that prediction to our long shipment lead times."
— Jeff Clapp, director of supply chain operations, AIH
Managing the inventory demands of a condensed construction season, regional market needs and preferences and "retool every job" contractor buying habits over a range of more than 400 active vendors keeps Jeff Clapp, director of supply chain operations, exceedingly busy.
"Our foremost supply chain challenge is developing a good prediction of customer demand — and timing that prediction to our long shipment lead times," Clapp says. "This means by barge. In perfect weather conditions, it takes a container barge 12 days to get from the dock in Seattle to the dock in Anchorage."
Forecasting demand is critical for AIH.
"We use the past two year's sales history as our key tool to predict customer demand," Clapp explains. "However, excluding lead-time, we have the ability to react quickly to changes in our market. We often make the decision to add a new item or increase the on-hand quantity of a product and have that product on order the same day."
Building the brand
Another challenge AIH shares with distributors everywhere is how to address the opportunities and hazards of the Internet. However, when you have two companies such as GHD, which sells only to wholesale customers, and AIH, which sells at retail, things can get sticky. After a year of programming work, the company has reintroduced www.AIHalaska.com. The site allows industrial customers password-protected access to their accounts, pricing and online ordering. AIH upgraded its computer system to handle the potential permutations of 22,000 SKUs spread over the company's 5,000 accounts.
To support the Web effort, AIH has shifted roughly 40 percent of its annual advertising budget over to banner ads on various Web sites throughout the state. AIH tracks Web hits to determine which sites produce the best leads and allocates funds accordingly. Most of the company's $500,000 annual advertising budget still goes to print.
"Every week we run some type of printed piece in the newspapers in Fairbanks, Juneau and Anchorage," Kangas says. "It is usually four pages, color, theme-driven — such as power tools specials — and runs for two weeks. Three times a year we do a 28-page flexi; in spring, fall and for Christmas."
The circulars are built in-house by a four-person graphics team, which also now builds the company's mammoth 700-page biannual master catalog.
As oil companies wrangle over expanding deep drilling in the Arctic Ocean, the state of Alaska ponders the future of its massive natural gas reserves, and the military upgrades its defensive readiness in this vital strategic region, what does the future look like for AIH?
"We have saturated all the communities in Alaska that are large enough to support a stand-alone store — and we have loyal dealers in all the communities throughout the state not large enough for an AIH store," Kangas says. "We have remodeled or rebuilt all our other stores, so the last piece to complete right now is our new big store in south Anchorage.
"But we always want to continue to grow and are always looking for new opportunities — new market share," Kangas adds. "As an example, AIH is growing in the safety category every day. We are pretty well dialed-into the oil industry, so one day we may look into the oil producing regions in Canada. But AIH is synonymous with Alaska — as the state grows, so will AIH." CS
Land of the Giants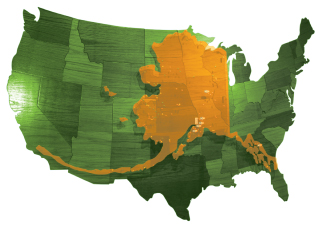 Maybe size matters after all. Alaska is not only the largest U.S. state, it is the size of 21 of our "lower 48" states combined (see below). At 586,400 square miles, it is twice the size of little ol' Texas. If it seceded, Alaska would be the 19th largest country on Earth.
From end to end, Alaska stretches nearly 2,700 miles from east to west, roughly the distance from
Seattle to Miami. (North to south it is a mere 1,400 miles, the distance from Seattle to Minneapolis.)
Here are a few other nuggets for you:
Alaska has 29 active volcanoes and 3 million lakes.
It has nearly 34,000 miles of tidal shoreline — more than the entire lower 48.
America's highest peak, 20,320-foot Mt. McKinley (Denali) is here.
In 1867, the U.S. government bought Alaska from Russia for $7.2 million — about 2 cents an acre. (Today you can spend $2 to 3 million for an executive home in Anchorage or Juneau.)
Alaska became the 49th state on January 3, 1959.
More than 80 percent of the state's revenues come from the oil industry.
Anchorage is home to more than 40% of the state's total human residents.
As for backyard pests, Anchorage also has a chronic moose problem.
Sarah Palin cannot see Russia from her house. (She didn't say that, either.)
But just because Alaska is huge don't think land is dirt-cheap. Less than 1 percent of the state's land area is privately owned. The bulk of it — 65% — is owned by the federal government. The State of Alaska owns about 25% and almost 10% more is owned by native groups and corporations.