The Gotham Advantage
To chart a course to the future, a nail house looks to its past.
---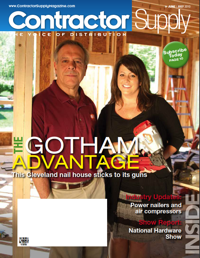 Gotham president John Manfroni (L) and vice president Michellle Hajdu stop in on a new home under construction in Cleveland.
By Tom Hammel, Contractor Supply Magazine
If there is a one lesson in this story, this is it: Those who cannot remember the past are doomed to repeat it. Although this recession was a humdinger, it was hardly Gotham Staple's first. Gotham opened its doors in 1919 in Cleveland, just after World War I, struggled to grow, then struggled to survive the Great Depression, a global train wreck compared to the relative flat tire of our now-ending "Great Recession."
More recessions and wars followed and Gotham got through them all, picking up market savvy on the way. In the mid 2000s, Gotham again saw recessionary scribbles on the wall and began applying a bit of something old, something new to its construction and industrial business model. As its traditional markets, including residential construction, have declined, Gotham has applied both fore- and hindsight to adapt to changing market realities.
Oh, great, another recession
"I think everybody could see it was coming," says
Gotham owner and CEO Mike Bluso. "We decided to refocus on what Gotham historically has done to be successful. Years ago we weren't a residential housing driven company. We looked at what worked to build sales for us in the past and applied what we could to today."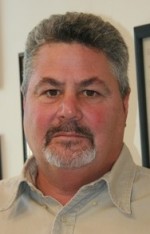 "All we sell is nails and staples and the tools that go with them. That's all we've done since 1919. We don't sell power tools and we don't try to compete against the big boxes."
— Mike Bluso, Gotham Staple
In the heart of the Rust Belt, Ohio has seen more than its share of manufacturing go elsewhere. When we think of cities by their products, Pittsburgh equals steel and Detroit is Motor City, but Cleveland, midway between them, often draws a blank stare. Cleveland however, has a rich manufacturing history of its own, taking steel from Pittsburgh and shaping it into components and engines for Detroit, among others. Ford still builds engines here.
Gotham Staple has always served Cleveland's first and second-tier suppliers and still serves those that remain. These survivors are now more valuable than ever.
"About four years ago we decided to recreate ourselves in a different business model," Bluso says. "We began refocusing on the industrial business that was still out there, on automotive and the crating, carton closing and pallet industry. We also got more actively into export and bridge and road contractors, mainly with the MAX rebar tying tool."
Hurricane repair
After Hurricane Andrew decimated south Florida in 1992, Gotham watched the Florida market before deciding to move into it in 1994. However, Gotham didn't just lease warehouse space and start selling.
"We went to the Building Department in Miami-Dade County and asked them, 'What do we need to offer to contactors here that will meet your new building codes?' They told us no one had asked them that before."
Gotham worked as a liaison between Collier County (Naples, FL) and Paslode to provide product specifications, which the county soon began writing into codes. To this day, most of the product Gotham sells in Florida is Paslode.
Tool repair
Other Gotham services predate Florida's new codes by decades. Gotham was doing nail gun and compressor repairs well before the Bluso family bought out founder Hugo Gotham in 1958. Companywide, Gotham has eight full-time repair technicians; one or more per branch. The home branch in Cleveland has two repair technicians, service manager Roy Thieman and service technician Mike Hamill.
Gotham is a warranty center for MAX, Paslode, Ramset and Rolair, but repairs most brands on the market for contractors and wholesale clients like Carter Lumber and 84 Lumber.
"Our sales reps may pick up the tools during a visit or the customer may ship them in to us," explains John Manfroni, Gotham President.
Manfroni divides his energies between sales, marketing, P&L and container forecasting for the company.
To streamline the process, Gotham created tool-sized "pizza boxes" for shipping tools back and forth.
"We made corrugated boxes to fit the tools and we will leave a dozen or so with each dealer," Bluso says. "They are pre-addressed knock-down boxes so the customer doesn't have to forage for a box or our address. We ship the repaired tool back in the same box —one box will go back and forth a number of times."
The recession had a big impact on the repair business.
"The repair business picked up tremendously in recent times," Manfroni states.
Although not a major profit center, Gotham offers tool repair as a means of building customer loyalty.
"If you fix the tools right, the customer will come back," Bluso says. "That was instilled in us by my father, who was a service manager for Bostitch before he bought this company. That's how he met Hugo Gotham, by doing repairs for him on the weekends."
"Even though repairs are not the most profitable part of our business, they are a huge priority to us," Manfroni adds. "We try to turn around every repair within two days because we know how important those tools are to our customers."
Exporting product
As a response to the recession, Gotham increased its sales efforts to export fasteners.
"We found some channels where our product is needed elsewhere in the world, so we have started exporting some product to Central and South America," Bluso says. "We have also been supplying our American-made products to the U.S. military in Afghanistan and Iraq for building temporary shelters and facilities."
It helps that Gotham has been doing business with the United States government since the 1920s.
Other export orders come as a result to private sector responses to natural disasters. Some Gotham second-tier wholesale customers do business in Chile, where massive rebuilding projects have been underway since the earthquake of February 27, 2010.
Exporting expertise
Going though life as a nail and staple house has its limitations, but it avoids a lot of inventory headaches, too.
"All we sell are nails and staples and the tools that go with them," Bluso says. "That's all we've done since 1919. We don't sell power tools and we don't try to compete against the big boxes. Our main tool line is MAX, our fastener line is PneuFast and we also sell a lot of Beck product from Austria."
What Gotham lacks in breadth of line, it makes up in depth. This has allowed Gotham to develop some deep relationships with key suppliers and customers. A key example is Gotham's work in introducing and promoting MAX USA tools to ironworker's unions. For the last five years, Gotham staffers have toured the country doing workshops for apprentice union ironworkers, demonstrating MAX rebar tying tools.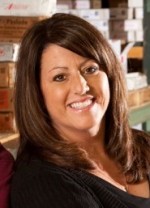 "If you get the unions involved with the tool, they are more apt to have their
apprentices use it in the field."
— Michelle Hajdu, Gotham Staple
"If you get the unions involved with the tool, they are more apt to have their apprentices use it in the field," says Michelle Hajdu, vice president of Gotham Staple.
Hadju, Bluso's sister, took the traditional route up the family business ladder, via stints in the warehouse and as a delivery driver. Today she is also office manager for the firm, but as an owner does "a little bit of everything," including customer service, sales support and working with large wholesale customers.
On learning the business the old school way, Hajdu says simply, "You have to know the product. You have to know your customer base."
"We have done MAX training from New Jersey to New Orleans to San Diego," Manfroni says. "We'll take Roy Thieman, our service manager, and have him do application, safety and maintenance training on the tools. Sometimes the unions will come to us; other times we will contact the local union office and ask if we can do a training session."
The union relationship has grown: for the last four years Gotham reps have staffed the union booth at the World of Concrete show — demonstrating MAX rebar tying tools. Even after 10 years on the market, Bluso notes, the tools are still a revelation to many ironworkers.
"The unions are happy with the tool and endorse it now," Bluso says. "They buy the tool from us now, and because of that, the Max rebar wire tyer and wire consumables have been among the fastest growth items in our company."
The real Gotham Advantage
Some Gotham marketing strategies have been in works in progress for decades and are now proving almost prescient. Gotham's own Advantage brand of fasteners is the prime example. As the company watched nail manufacturing leave the United States, it saw an opportunity.
"We were reliant on branded manufacturers, but they would change or drop lines or not be competitive in certain areas," Bluso says. "If a market segment became too competitive for them, they would just drop out of it. Well, as a wholesaler, we can't just tell our customers, 'Sorry, we can't get that product for you anymore.' "
"Actually, trying to source roofing nails is what brought us into this business," he continues. " There came a time when there were no more roofing nails being manufactured in the United States, so we had to find our own sources for them. Now we broker our own containers and control them from the factory through the ports and all the way to the customer. What we would really like to do is to combine those various worldwide sources into one so we could have better control over our shipping costs."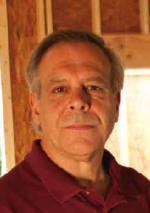 "Today we have more than 280 SKUs in the Advantage brand. That is by far the largest offering in a 'private label' brand in the country."
— John Manfroni, Gotham Staple
"We wanted to control our own destiny, so we worked with our best suppliers and combined their products under one label," Manfroni says.
Sourced to Gotham's specifications from both international and domestic sources to ensure consistent quality, Gotham can supply any job needing collated fasteners.
"Since we created the Advantage brand about 15 years ago, we have worked very hard to develop its market and it is our largest area of growth right now," says Manfroni.
Gotham has created Advantage as a distinct brand, separate from Gotham itself, to avoid potential conflicts with wholesalers in areas where Gotham also has branches. The strategy has worked. In the Cleveland market, Gotham sells Advantage fasteners to contractor customers and also to the area's largest lumber yards.
Gotham will co-brand the Advantage product for large wholesale customers, too, so they can have their "own" private label nails and staples.
"Today we have more than 280 SKUs in the Advantage brand," Manfroni says. "That is by far the largest offering in a 'private label' brand in the country."
Having both international and domestic sources helps Gotham be more price competitive with Advantage products and allows the company to meet the "Buy American" provisions of the American Recovery and Reinvestment Act. Every box of U.S.-made Advantage nails has an American flag on it, a flag that Mike Bluso intends to make more visually prominent in future packaging.
Gotham Staple
at a Glance
Ownership: Privately held
Owners: Michael Bluso, Michelle Hajdu, Jeff Bluso
Year founded: 1919
Year acquired by current owners: 1958
Branches: Belpre, Cleveland (two branches) and Columbus, OH; Fort Meyers, FL;
Pittsburgh, PA
Business divisions: 70% Construction (residential and commercial, roads and
bridges, pallets and cartons, wholesale, export); 30% Industrial (including automotive)
Employees: 36 total (more than half have been with Gotham 20-plus years each)
Sales staff: 5 inside, 18 outside
Cleveland Facility: 22,000 square feet (70,000 companywide)
Lead lines: Advantage Fastenening Systems, Aerosmith, Buildex, Duo-Fast, Hitachi, International Staple &
Machine, MAX, Paslode, PneuFast, PolyChem, Port-a-Nail, Powernail, Ramset/
Red Head, Rol-Air
Phones: Verizon
Software: Activant/Prophet 21
Web site:
www.gotham-staple.com
And, having the Advantage brand allows Gotham to do a nice business in container sales as well, which ship directly from the factory to the customer and never cross Gotham's loading dock.
If the nails are doing well, why not an Advantage brand of tools to shoot them? Gotham's owners have discussed this concept more than once but have always reached the same conclusion: "It's not the razor, it's the blades." Bluso and Manfroni have watched many others try it and fail. The high investment, liability issues, replacement part sourcing challenges and contractor tendencies to buy the brand that's on-sale, all convinced Gotham that fasteners, not tools, are the best way for them to build a brand.
You don't give your kids numbers — you give them names. So, in addition to SKUs, Gotham also gives its fasteners names, too. Training customers to ask for products by name, such as Advantage Power Lock framing nails or Floor Lock subflooring nails, reinforces the brand in the customer's mind and builds preference. It works.
Smelling like a rose
Bluso, Manfroni and Hadju beleive Gotham is well positioned to emerge from this recession a stronger company.
"We've been through recessions before — not like this one — but every time we've had a recession we have grown our business," Bluso says. "Our revenue dollars right now might not show much growth, but we are gaining market share. We grow because we focus on new business through recessions; when things break loose again we come out smelling like a rose."
"It's all about new business," Manfroni states. "Even during a recession, our sales area has grown, through different ways of covering the market."
"We have a very conservative way of running our business," Bluso adds. "We never stop trying to sell. We sow the seeds of growth during recession so we can come out in a better position when it ends."
"We sell nails and staples and we are looking to grow that business, not change it," he adds. "We continually work to grow our Advantage brand, with MAX and a few other suppliers where we have true partnerships — where we can genuinely rely on each other to grow together."
For Gotham, the moral of the story is: Those who remember the past can use it. CS
Sidebar: Playing the nail card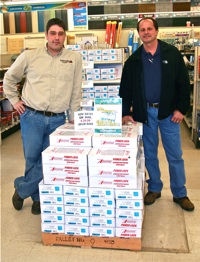 Steve Hart (L) a store manager for Carter Lumber and Paul Radice of Gotham Staple showcase their simple and effective summer 2010 Advantage nail promotion. Buy nine boxes of Advantage nails and get the 10th box free, keeping track of your progress with a handly little "coffee club" type punch card. The promotion is driving sales, adding a little excitement to the day and giving Carter salespeople a fun little icebreaker for customer conversations.
It all happened because a lumber yard manager goes to the same place every day for his morning coffee. Entrepreneurs are always on the lookout for ways to build business and a good idea is a good idea wherever you get it. Steve Hart, a Carter Lumber store manager in the Cleveland area, had his while waiting for coffee one morning. He told it to Gotham Staple's Paul Radice.
"I took over this store at the first of the year and one of the things we decided to do was to get back to basics," Hart says. "The customer we wanted to focus on was the contractor that came into the store every day to buy the materials he was going to use that day. Most of them have guns to shoot mag nails, so Paul and I decided to focus our marketing on builders who could take advantage of buying multiples. If they buy a box of nails per week over the summer, they can earn a free box."
Hart wanted to build sales and loyalty, but he also wanted contractor e-mail addresses. He and Radice created a simple "coffee club" type card program — buy nine boxes of nails and get the 10th free. They designed business-card-sized punch cards, and Radice even found punchs for the cards that made nail-shaped holes.
The program is driven at the sales counter and by Carter Lumber outside salespeople who pass out the cards to customers, maybe with a few sample nails, and explain the program. Pallets of Advantage nails are in the center aisle and are promoted with little more than 8 1/2- by 11-inch printed single-sheet signs.
There's no ad budget — the entire summer-long program is driven by word of mouth. Four other Carter stores signed onto the program. Within three weeks, the program was producing results, increasing nail sales and building Carter's e-mail list database.
"An almost no-cost program was critical because there's not a lot of money for marketing anymore," Radice says. "We are direct-marketing to customers who come in the door or are on job sites we visit. It's cheap and simple, and that's one of the reasons we like it so much, because there was not a whole lot of up-front advertising involved. It's all word of mouth.
"It's been pretty successful — it's a nice partnership," Hart says. "Sales are already up for the month over last year. Contractors think it's clever and they are coming back. Gotham worked with their suppliers to make sure we had a good competitive price on the product.
Plus, it is something to get excited about. In the last few years there hasn't been much to get excited about. Just a little excitement is all you need."
"And everybody is winning," Radice says. "The contractor is getting a good price, Steve is getting the product out and the e-mail addresses he needs, and Gotham is providing him the nails." CS