Grand Opening
Soft economy or not, this Central California distributor feels the time is right to grow.
---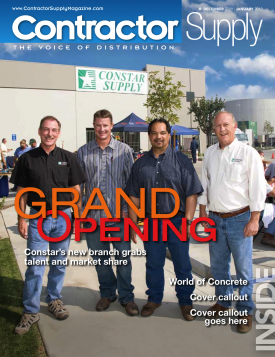 "What are you thinking?" is the first question most people ask when they hear someone has launched a new company in the midst of a recession. The same holds true for opening a new branch when most members of your industry are merely treading water. The deeper the recession, the more urgent the question becomes: it rises from mild curiosity to the desperate concern of talking someone down off a ledge. Bill Morse has heard it a lot lately, but he's happy right where he is, thank you for asking. To Morse, its not just a leap but a leap of faith; in his own vision and in the people he employs — especially in the people he employs.
No time like the present
"So, Bill, what were you thinking?" we ask almost as soon as we sit down in the offices of Constar's airy 18,000-square foot store in Clovis, California.
"The determining factor why we moved into Bakersfield now was the people," he says. "One thing you will realize just by spending a short amount of time with us is that we are people-based. I don't look to reports, cash flows and inventory turns a lot. I rely on our people to drive the business. If you get the right people in position then everything else falls into place."
Constar at a Glance
Founded: 1997
Branches: Bakersfield (8,000 square feet plus yard); Clovis/Fresno (18,000 square feet on two acres)
Ownership: Privately held
Employees: 28 total
Sales staff: Seven outside, seven inside
Software: OMS/Operation Management System, Stockton, CA
In short, the talent circle came back around, this time in Constar's favor. As the recession dried up the market, mega distributorships that grew like mushrooms across the West in the late 1990s and early 2000s began drying up, too. Key people who were avidly recruited when those companies were in growth mode were coming back on the market, looking either for jobs or different jobs.
"I've seen the full circle and it's nice being on the other end of it this time," Morse says. "The top salesmen in Bakersfield weren't happy with their situations anymore and wanted to come work for us. We got the top outside salesman and inside manager in Bakersfield to join us and that was what made us pull the trigger to do it now."
In addition to having the right people available, other stars have aligned, too. Low real estate lease rates make expansion more affordable right now. Plus, Morse adds, vendors are more willing to offer favorable terms lately.
"There are a lot of pluses in favor of doing it right now," Morse adds. "But you have to be very careful. Five or six years ago I would have just written a check and told them to get to work, but you have to watch the numbers much more closely nowadays."
Home on the plain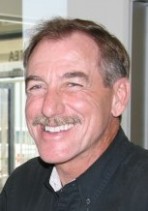 "After people ask why we are expanding in a down market, the second thing they ask is, 'Are you nervous about it?' And I say, 'No, because we have the right people.' " — Bill Morse
Morse has spent his life serving San Joaquin Valley contractors and he knows the region like the back of a huge hand. He also knows its people and their preference for working with local suppliers. When he and his partners launched Constar 12 years ago, they already had future branch locations in mind.
"From day one, my plan has always been to just work the valley," he says. "The markets here are similar; ag-related, mostly smaller, tight-knit communities versus a big-city type of approach to selling."
California's real estate realities are also helping. As businesses up north in the San Francisco Bay area and down south in the Los Angeles basin look for lower cost locations, the San Joaquin Valley is welcoming all with open arms — and relatively inexpensive land.
"It used to be that people would divide the state into 'Northern' and 'Southern' California and Fresno was sort of the cut-off point," Morse explains. "As California has grown, there are now three markets; Northern, Southern and Central, which has become a market in itself. And cities here in the valley are getting more aggressive about luring companies here."
The 100-mile rule
Agriculture is king of the valley: nearly 10 million acres of the San Joaquin Valley is crop land. Construction here, led for years by food processing facilities, is expanding to include warehouses and distribution centers too.
The valley's population resembles a chain of islands on a 300-mile-long, 100-mile-wide dry lake, concentrated in three main cities tracing a line down its center from Sacramento in the north to Bakersfield in the south. Fresno lies smack in between. Based on the mileage between them, Morse calculates that he can cover the entire valley from just three stores. The math works perfectly.
"I've calculated that a 100-mile radius is the maximum service area of any individual store, if you are using outside salesmen and you make deliveries," Morse says. "Our Bakersfield store is about 140 miles from Fresno; so they can come north 75 miles and we can go south 75 and cover these markets really well.
"We want to do the same thing going north now. Stockton is about 140 miles north of Fresno, and from Stockton we can serve the Sacramento, market too."
Inventory help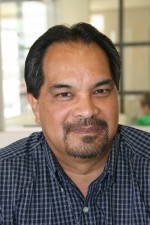 The new branch also provides an outlet for inventory.
"The Bakersfield store has also allowed us to move some inventory right now," Morse adds. "When times are busy, we probably could not have moved any inventory down there, but since it has slowed down in this market, we have been able to move some excess inventory from here down to there, versus buying more for that store."
However, success breeds its own inventory problems.
"The Bakersfield branch has been getting ahead of us," Morse says. "They doubled their target numbers in the first month and we couldn't keep inventory flowing down there fast enough. So we had to speed things up a bit, get the new store set up quicker and get some inventory down there. We are still struggling to keep up with them because they are growing it as fast as we can get inventory to them."
A really new store
Setting up the new store was a team effort and involved the entire staffs of both stores. The process was complicated by the fact that the facility was so new that when Constar was ready to move in, the mechanical systems were still being installed. So Constar's staff began fleshing out the store while contractors finished the building.
"We put this whole store together over the last seven weeks," says Mike Capanas, inside sales manager for the Bakersfield branch. "When I first came on board a few months ago, the offices weren't built yet and some of the lighting, air conditioning units and coolers had yet to be installed.
Constar's Top 10
"We cross over to most all of the construction trades, but our emphasis is probably on the concrete contractor which is where we started," says, Bill Morse, Constar president. "This translates to the vendors who are our top suppliers and products."
Dayton Superior/Universal Forming/Meadow Burke (Concrete Products)
Weyerhaueser/Harris Supply/Blue Linx (Rebar/Wire Mesh)
Armorcast/ADA (Tactile Panels)
W.R. Meadows/Nox Crete/Euclid (Chemicals)
Powers Fasteners /Simpson (Fasteners/Epoxy)
Multiquip (Equipment)
Milwaukee Electric/Bosch/Dewalt (Power Tools)
BASF (Sealants/Repair Products)
Diamond Products (Cutting/Grinding Wheels)
Stanley/Klein/Irwin (Hand Tools)
Other lead lines: Airman, Allmand, Blaklader, Core Cut, Husqvarna, Irwin, Jobox, Liftall, Makita, Occidental Leather, PrimeSource, Stiletto, Tsurumi, Vaughan, Youngstown Glove
"Over the last seven weeks we have been bringing stock down, building and setting up racking, you name it. The guys from Clovis have been rotating down here to help us build shelving, put up stock and bin-locate product in the right places. Bill came down just about every day and has been helping us with the merchandising. Getting this store to where it is today in that amount of time, all the while selling and serving our customers, was a real team effort."
Currently, a transfer truck runs between Clovis and Bakersfield daily. The driver helps the Bakersfield staff make deliveries, transfer rentals and collect products for transport back to the Clovis tool repair shop. Constar provides tool repair services for contractors but does not do many actual repairs in-house. Instead, Constar subs the work out to two Fresno jobbers; one does electric tools, the other repairs gas equipment.
By Design
The Bakersfield store follows the model of the Clovis store, which itself is just two years old. Bill laughingly says explains, "We out grew our old building in eight years and spent two years making due," before moving to Clovis. The Clovis store has 18,000 square feet under one roof and a two-acre yard. Constar owns an adjacent 20,000-square-foot building which will soon house the rental operation and more warehouse space.
The design for the Clovis store had been percolating in Bill Morse's mind for several years before the company made the move in 2007. The building utilizes high ceilings and typically open loading bay doors to flood the storefront and warehouse with light. The store offers a textbook study in distribution store design. Aisles are wide, floors are spotless and product is unfailingly well-displayed. "Impulse" items are displayed literally at hand beneath the front of the sales counter, which has six computer check-out stations.
Some design elements are more subtle: the tool crib is perched on its own mezzanine — in view of the entire store but inaccessible to customers; there are no stairs to it. Constar staff uses a rolling warehouse ladder to access product when they need it. "Locking" the tool crib simply requires rolling the ladder to the next aisle.
Constar green is also visible everywhere, in signage, on the counter tops, and on the rack of business cards displayed in front center of the sales counter. Each employee, from owner to driver, has a card here, each with the same title, "Customer Service." The rack is efficient, useful and speaks volumes about Constar's service philosophy.
Open House!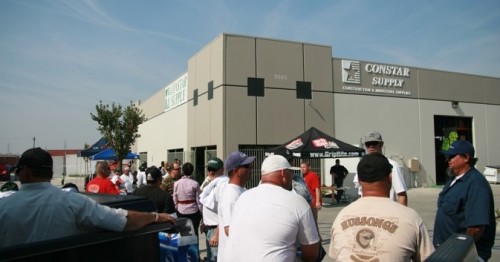 Friday, October 23, the day of the Bakersfield open house, was a perfect day in the valley, sunny as usual but not too hot. Scheduled from 11 a.m. to 3 p.m., the open house gave area contractors a chance to see the new store, eat an excellent free lunch, see tool demonstrations, nab some deals and grab free Constar tee shirts and hats. I came, too, and not just for the tri-tip steak and garlic chicken grilled up by Grills on Wheels (661-331-2600).
Over the next four hours, more than 400 contractors came to eat, talk, shop, catch up with Mike Capanos, with inside manager, and Matt Tiede, outside sales manager, and congratulate them on heading up the new store.
Manufacturers came, too. Some 20 companies, including Grip-Rite, Bosch, Milwaukee, TRM, Husqvarna, PLS, Simpson Strong-Tie, Irwin and Stabila demonstrated dozens of top lines. A good time was had by all.
Answering the Call
Constar also decided to branch into Bakersfield now to seize the day.
"Another reason that we are going to Bakersfield now is because with all this consolidation and companies leaving the market, I'm getting calls from people who want to come to work for us and from customers who want a supplier like us," Morse says. "They are really asking us to be in their market. They want someone with experience who follows up and provides the extras beside just selling a product.
"That formula has worked well for us here and we won't change it," he continues. "The business has to be founded on experience and people, and as long as that works — and it is working out really well in Bakersfield, then I don't anticipate it being any different in, say, Northern California, the Bay area or the L.A. basin. Again, it depends on how the economy comes back around and how our industry evolves, but I think it's there for the taking if you do it right and get the right people."
All of which brings us back to the original question.
"After people ask why we are expanding in a down market, the second thing they ask is, 'Are you nervous about it?' And I say, 'No, because we have the right people.' I've always said that, in our store in Clovis, too, that I sleep well at night because I know who is working for me and I know the odds are in my favor."
Visit Constar Supply at www.constarsupply.com