Here comes the sun
Southwest Fastener grows with the solar market
---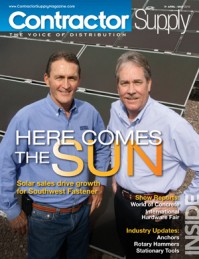 Up with the sun: Southwest Fasteners' Ken Lubbering (L) and Terry Moore led their company to its best year ever in 2009 by cultivating a customer base in the solar energy market.
By Tom Hammel
Editor's Note: This extended version of our April/May 2010 cover story contains more information, additional photos and solar industry resources.
You might think that a story about a Phoenix area distributor in today's economy would tell a grim tale. There are plenty that would fit that description awfully well, but not Southwest Fastener.
As the famed Phoenix real estate market boomed Southwest Fastener was quietly courting a new market that began to boom just as the construction market went bust. So rather than watch business fall-off by double digits, Southwest achieved its best year yet — in 2009. More amazingly, this happy
ending began with a call that many distributors would have simply ignored.
"About nine years ago, I got an e-mail from an engineer in New York who wanted an RFQ on stainless steel fasteners," explains Ken Lubbering, Southwest's president. "After I finished asking myself how I was going to sell to a guy in New York, I sent off the quote. He replied and asked to set up an account. So I started selling to him."
That New Yorker had designed a system to allow solar panels to track the sun across the sky. After a couple of years doing business with Southwest, the engineer sold out to a California company and recommended
Southwest as a supplier. That company quickly became a Southwest customer.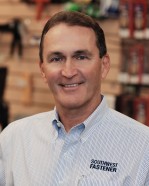 "When customers call in saying, 'I need a Lightning Bolt,' we know exactly what they are talking about."
— Ken Lubbering
"Then that company got bought out and the new customer works with us now," Lubbering adds. "Terry has some of the largest solar companies in the world buying from us now, but it all grew from that one customer."
Just as they do in many small companies, Southwest's three partners, Ken Lubbering, Terry Moore and Mike Birkhold have different, but overlapping specialties. Lubbering today handles some customers but focuses more on operations, while Moore and Birkhold lead the construction and industrial divisions.
As head of the construction division, solar sales now fall under Moore's purview. He is excited by the momentum Southwest is gaining in the solar industry and the possibility of establishing the company as a leading supplier to the industry, not just in North America but globally.
Last year, two solar projects generated nearly $1.3 million for Southwest and helped the company reach a record $10 million in sales. Moore believes this is just
the beginning.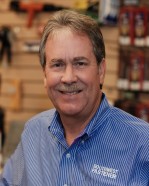 "When you solve a problem for one solar energy
customer, word spreads. They get comfortable with you and the word starts spreading."
— Terry Moore
"When you solve a problem for one solar energy customer, word spreads," he says. "They get comfortable with you and the word starts spreading. In October, 2009 we had a booth at the largest solar show in the United States, in Anaheim. Ken and I were there the whole week and we never stopped talking to people. By the end of each day we were just exhausted."
"It was a great show — we were busy the whole time," Lubbering adds. "And the solar business is like the fastener business; once you are in it you don't leave. Your customers and contacts may move between companies, but always within the solar industry."
Lubbering sees great potential in solar, but tempers that with reality, when looking at revenue projections. "Solar is about 13 percent of our business now, but we can see it becoming 15 or even 20 percent by next year."
New markets, reorganized company
Southwest's growing sales to the solar industry also shifted its revenue numbers for 2009, in a typically unexpected direction.
"Normally we would be about 40 to 45 percent construction, but we just finished our 2009 numbers and construction was actually 54 percent of our business last year," says Mike Birkhold, vice president. "That was because in our markets here, some of the smaller
industrial accounts that would buy hardware and nuts and bolts and so forth for facility maintenance have just gone out of business.
"So even though construction is down in this market, it is still a big part of the market. And we count solar as part of our construction group business. In 2009 we did $1.3 million in solar out of $10 million total in sales."
But the company's day-to-day focus is on its 3,000 small to mid-sized customers, most of them industrial.
"Besides our construction business, the strength of Southwest Fastener is that smaller customer who buys $500 to $2,000 a month," Birkhold adds. "We provide a service and product there, but it still comes down to dollars and cents a lot of times, too."
Nuts, strut and sun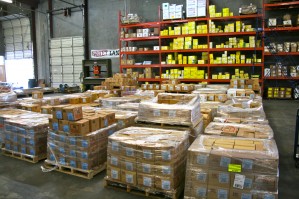 Nice order. These 36 or so pallets, all Porteous Fasteners, are stage two of an order going to a new ground-mount solar installation in Henderson, Nevada.
Amazingly, Southwest's blossoming solar sales have been driven by three main products categories, Riv-nuts, fasteners and strut from Alcoa, Porteous Fastener and Unistrut. Ample evidence of this exists in the warehouse, where some three dozen pallets of Porteous fasteners sit staged to ship to a solar installation being built in Henerson, Nevada. Moore notes that these pallets are stage two of an order that began shipping in late 2009.
Initially, he notes, fasteners were the only products Southwest sold to solar companies, but in 2008 that changed in a big way.
"The more you talk to these customers the more you think, 'We are selling them all these bolts — what are they going into? Oh, they are attaching brackets to Unistrut. Hey, we sell Unistrut, too!'" Lubbering says.
"We always sold Unistrut or strut type products to electrical and mechanical contractors. It's a popular product with them and I think that is why a lot of solar companies use strut today, because so many electrical contractors they worked with had been using it for years."
"Unistrut is the original metal framing company of the steel industry," Moore observes. "It is written by name into most specs and that is how I got started with my solar company."
Southwest Fastener supplied Riv-nuts, fasteners and strut from Alcoa, Porteous Fastener and Unistrut for this ground-mount solar installation near Las Vegas.
Moore relates that the customer faced time constraints for earning the tax credits in 2008, needed help getting an installation in place and producing power by December 31. Southwest didn't become involved with the project until August. Moore worked out special arrangements with Unistrut to acquire the material, roll channel and deliver the finished strut to the site over two months.
Southwest Fastener at a glance
Ownership: privately held
Owners: Ken Lubbering, Mike Birkhold, Terry Moore
Year acquired: 1999
Branches: Phoenix, AZ; Albuquerque, NM; Irvine, CA (sales office)
Business divisions: Construction,
Industrial, Solar, Waterworks
Employees: 26 total
Sales staff: 4 inside, 9 outside
Phoenix Facility: 25,000 square feet
Lead lines: (primarily Sphere 1 brands): Aervoe, Alcoa/Marson, Brighton Best, ERICO/Caddy, Ifastgroupe, ITW Buildex/Ramset/
Red Head, Milwaukee Electric, MK Morse, Norseman, Nucor, Porteous Fastener, Powers Fasteners, Safewaze, Simpson Strong-Tie, Thomas & Betts, Unistrut, United Abrasives
Web sites: www.swfastener.com www.solarfasteners.com
"Performing on this opportunity opened the door for us," Moore says. "It was huge; the first phase of that project was only 20 megawatts — just 25 percent of the total project. That project in 2008 kicked off our strut sales into the solar market."
"It is huge!" Lubbering emphasizes. "When you drive down the road and look off into the distance, it looks like a lake out there. When people driving to Las Vegas see it, they think it's a water reservoir out in the desert."
"It was a lot of steel," Moore continues. "Unistrut was actually in the process of moving the plant and because of the time constraints we had on that job, we had to commit to deliver four semis a week, showing up on the job site with channel. They were going to move that plant to Phoenix, which they eventually did, but I basically told them, 'Please don't even entertain the idea of shutting that mill down until this order is complete!'" he says to a round of laughter.
Since supplying that project, Unistrut has created a new division, Unistrut Energy Solutions, to incorporate designs and prefabricate product for the solar market. Unistrut continues to work with Southwest to develop new customers in the energy market.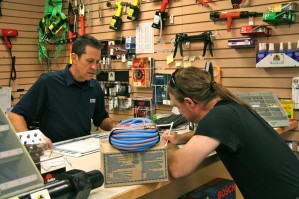 A decade of will-call
Rick Belanger, will call manager, has been with Southwest for 11 years. Recently, he has seen a welcome uptick in walk-in traffic.
"Our customers are becoming more active again, so we are getting busier at the counter again, too," he says.
Southwest's showroom is built as much to relax customers as it is to do business. There is always fresh popcorn on hand, the flat screen TV is frequently tuned to ESPN, ice cold free Southwest bottled water and a putting green for contractors to use while they are waiting on orders.
And what do customers most often need? Rick reels off his most popular items: "Hardware!" he says, "Porteous fasteners, lots of Unistrut and related items, anchors and epoxies from Powers, Simpson and ITW. Marson rivets and tools are big sellers for us; they are big with the truck and trailer companies out here."
And two items that contractors always need: technical information and support.
"Customers often need information as much as they do the product," he says. "They will come in and do Q&A sessions with us. Fortunately, we have a lot of people who
have been in this business a long time, so if I can't answer a question right off, I can go to our resources inside and one of us will have that answer. "
Reorganizing for growth
The same event that prompted Unistrut to launch a new energy solutions division, prompted Southwest to evaluate its business model, too. Today the company is
reorganized into four small business units to focus on its core customers; construction, industrial, solar and waterworks.
"As we grow we want to add more dedicated salespeople for each business," Birkhold explains. "That is part of our growth strategy for the future."
Although construction has fallen off in the Phoenix metro valley, Southwest's partners know it will return, with new homes, schools and the water demands they entail. As the cities grow, so do their water treatment requirements. Birkhold sees two avenues for sales; growth markets where new developments are going in, and older facilities that need to be refurbished.
"We aren't talking about million dollar jobs — these are all stainless steel pump stations, so they will be $50 to $100 million dollar projects. And we will sell the nuts and bolts, pipe supports, flanges, gaskets that support those water treatment plants."
Southwest's partners see the water treatment market continuing to grow in the west. They also see money available for the work; because these projects are large, Recovery Act funds are being allocated for them.
With 26 employees company wide, Southwest is a lean company, and well positioned to grow. Moore and Lubbering spearhead the solar and construction business. Birkhold drives industrial sales. Inside sales representative Barbara Hovis specializes in serving water utility customers in Phoenix and did so before she even joined Southwest.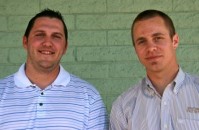 Southwest's next generation includes Ken Lubbering III (L) and Philip Moore (R). Both have recently begun work in outside sales for the company.
The partners are looking further ahead as well. Both Lubbering and Moore's sons, Ken Lubbering III and Philip Moore have grown up in the company, working summers during high school.
Lubbering also did warehouse work for a competing distributor for a time before joining Southwest full time. Today he is moving from warehouse manager into outside sales for Southwest and will serve the industrial market, working with Mike Birkhold.
"I'm excited to go into outside sales," Lubbering says. "I love seeing how our products are being used and being able to tell people, 'See the new Cardinals stadium? Our products were used to build that.' "
Philip Moore will work with his father cultivating outside sales relationships in Southwest's construction and solar businesses.
A lucky strike of lightning
Southwest offers customers numerous personal touches including free popcorn, free ice-cold Southwest-labeled bottled water and a putting green in the showroom — to more substantial offerings — VMI, strut cutting to order and intensive project work preparing submittals. But by far its highest visibility service is its most unique: Southwest's trademarked Lightning Bolt delivery service.
Trademarked to protect the name, Southwest's Lightning Bolt service promises — and delivers — free job site delivery anywhere in the Phoenix metro valley, not just the same day of the order, but within 90 minutes of when it is called in. And they do it totally free of charge. There are no hidden fees, no pricing premiums — and no minimum order.
Birkhold recalls the concept was born in the slow season after 9-11, 2001. The partners brainstormed ways to spice-up the business and hit upon several key points.
"We came up with these points: Nobody has any money to keep inventory; everything always seems to be a rush order — when customers want something they want it right away, certainly on the construction side. So we came up with this idea and we started doing it. At any point we could have up to three vehicles making Lightning Bolt deliveries."
By tracking delivery times and distances, they learned they could deliver almost anywhere in the valley within 90 minutes. Tracking forms filled out by drivers showed they were in fact making many deliveries in 35 to 40 minutes.
"We felt this achieved a lot of things," Birkhold says. "We got the customer the product they wanted; but it also allowed us to test our own efficiency. We had to pull the order, package it and get it to that customer within 90 minutes. In the process we found situations to correct and improve upon that made our warehouse more efficient. Lightning Bolt was all about the service but it made us more efficient as well."
Sandra Sanchez has been Southwest blessing to contractors.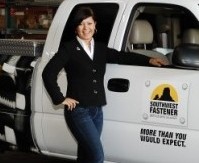 Lightning Bolt delivery driver Sandra Sanchez, has been getting Phoenix contractors out of jams for nine years. Southwest's trademarked Lightning Bolt service delivers product anywhere in the Phoenix metro "valley" within 90 minutes of placing the order, free of charge, with no minimum order required. Southwest was also one of the first companies in its market to apply distinctive graphic wraps to its delivery trucks.
"I was the company's first Lightning Bolt delivery driver," she explains. "I make deliveries every day, Monday to Friday. When I'm not driving I also do administrative work. Because I have been here seven years, I know the customers and they know me. If there's something they forgot to order or they need right away, they ask, 'Can you please send Sandra?' and I take it out to them and they have it in 90 minutes or less."
After so long on the job, Sandra knows the valley intimately and rarely needs directions. "I have my own built-in GPS," she says and laughs. "I like to be outside, so it's a great job for me right now. As for the future — maybe someday I'll move into outside sales."
But does such a service cost more than it earns?
"When customers call in saying, 'I need a Lightning Bolt,' we know exactly what they are talking about," Lubbering says. "And when they call our competition and pick on their next-day service, saying "Southwest can have it here today,' that's when you know you've done a good job."
"That translates directly into loyalty," Birkhold adds. "When someone new comes into the market with lower prices, our customers tell them, 'Southwest's service is just too good for me to leave them.' "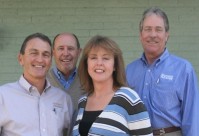 Small world: Southwest Fastener's partners Ken Lubbering (L), Mike Birkhold (C) and Terry Moore (R) meet with Sphere1 executive director Carol Shackelford (Front) on the day of our visit. Vendor relationships are a key facet of Southwest's business model.
Line loyalty is also important to Southwest. As STAFDA and Sphere 1 members, Southwest works closely with its preferred vendors to drive sales and mutually develop new markets. In fact, on the same day Contractor Supply visited Southwest, Carol Shackelford, executive director of Sphere1, also dropped in to discuss future business.
As refreshing as it is to see a company doing so well in the face of a traumatic recession, the fact remains that without a focused pursuit of new business — in this case, in the solar and water treatment markets — 2009 would not have been a record year for Southwest Fastener either.
"As unoriginal as it sounds, the things that really set us apart are our service, expertise and relationships," Moore says. "It ends up being about how you treat your vendors, your employees and your customers, especially in tough times like these." CS
Visit Southwest Fastener at www.swfastener.com
Learn More: To learn more about the solar energy industry, visit these sites:
Story images: Bob Miller, 602-614-0514, Bob@bobmillerphoto.com
Additional images by Tom Hammel