Cover Story: Ironman
Robert Devers, 2010 STAFDA president, brings a marathon runner's stamina to industry service.
---
By Tom Hammel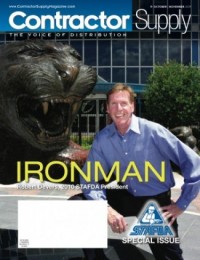 Robert Devers chafes a bit at being called an Ironman. A stickler for accuracy, he will tell you he is not technically speaking an Ironman, as he has not participated in any "full" Ironman competitions. He has however completed the Boston Marathon in 2006, the Marine Corps Marathon in 2007 and the St. Anthony Olympic distance triathlon, which requires a .93-mile swim, a 40-kilometer bike ride and a 10-kilometer run. If all goes well, by STAFDA time this year he will have just completed his first New York City Marathon.
So by our standards, he's an ironman right enough. And in our view, if STAFDA ever needed a president with an ironman's stamina, this may well be the year.
In business, Devers is an ironman, too — A-JAX Company is a fastener house first and a tool and supply house second. Roughly 60 percent of the company's business is in fasteners.
"The 'secret' of our success is diversification, in our inventory and the services and products we offer our customers," says Devers, A-JAX executive vice president. "The lion's share of our business is still in nuts and bolts but we also have many other products though our association with STAFDA and the Evergreen Marketing Group to offer our customers as well."
In a sense, A-JAX Company's diversification came naturally because Jacksonville is home to such a broad range of high-consumption customers outside the construction industry. But it was also a conscious decision as well.
A-JAX Company
at a Glance
Founded: 1973
Affiliations: STAFDA member since 1982; Evergreen Marketing Group, NFDA, ISM and others
Branches: Jacksonville, Ocala and Tallahassee, FL: Savannah and Valdosta, GA
Jacksonville branch: 50,000 square feet under one roof
Employees: 48 companywide
Lead lines: Avdel Textron, AVK, Bosch, CAMCAR, Custom LeatherCraft, Elco, Emhart, Green Bull Ladder, Holo Krome, Infasco, Irwin, ITW Buildex and Red Head, Jobox, Milwaukee Electric Tool, Nucor, Porteus, Powers Fasteners, Rayovac, Simpson Strong-Tie, United Abrasives, Werner Ladder, Weiler
Sales Staff: 8 outside, 12 inside
CRM software: ACT!
Phones: Verizon
Web site: www.ajaxco.com
Deep water, huge opportunities
A newcomer to Jacksonville quickly learns about its big three industries: the military, shipping and its overland counterparts, railroads and freight carriers.
The Port of Jacksonville is the second largest on the East Coast and may soon eclipse the New York/New Jersey ports in volume. A lot of cars come in on its waters and more are on the way. Jacksonville is the largest deep-water port in the South Atlantic, and as a result it is also the number one U.S. port for automobile imports. Industries directly serving the shipping industry currently employ more than 50,000 people in North Florida, a high percentage of them Jacksonville residents.
And that figure is guaranteed to grow. Recent contracts with shipping companies from Japan and South Korea are expected to result in two new shipping terminals worth nearly $600 million. These two terminals will add nearly $2 billion a year and 12,000 jobs to the regional economy.
And there's more floating on that water. Jacksonville is also home for two key U.S. Navy installations: the Naval Aviation Depot (NADEP), and Mayport Naval Station. Mayport is the third-largest naval base in the United States. Tons of equipment pass through these bases each month bound for deployment around the globe.
All that cargo has to come from and go to somewhere, so Jacksonville is also home to two of the United States' leading railroad companies, CSX Transportation and Florida East Coast Railway. The railway companies, more than 100 trucking firms and the many businesses that serve them create a steady demand for supplies, particularly for fasteners.
A-JAX Company is more than happy to oblige. Since its launch in 1973 by owners David and Mary Anne Baker, A-JAX has built a steady business providing fasteners to all of them, plus manufacturers that serve those industries and others like Toyota and Maxwell House Coffee that benefit from plants close to the port. All of them need fasteners, tools,
accessories and MRO supplies.
"Our diversification is absolutely one key to our success," says Tom Gibson, sales manager of the Jacksonville branch. "We are somewhat unique in the STAFDA market in that we take a more broad-based route to market than more traditional STAFDA houses. Yes, we do large construction projects, but that is just part of our business. We work with many of the large manufacturers here and companies that perform maintenance for the major industries — the ports, the military, the shipping industry, and metal fabricators who work on containers, trailers and trains as well as the structural steel for infrastructure and commercial construction."
Stocking up
Recession or no, Jacksonville has major plans for growth in the works and not just in the ports. The city, which bills itself as "The Gateway to Florida," has for the last few years been in a citywide renewal project aimed at eliminating urban blight, adding public and tourist amenities and polishing the city's appeal for future corporate and private residents.
Numerous individual project plans ground to a halt over the last two years but several are now coming back online. The sharp drop in housing values has hit Jacksonville, too, with the result that for now at least, beachfront condos are some of the best luxury bargains on the east coast.
Increasing capacity
Devers plays his cards close to the chest in terms of the company's plans for possible new branches, but other improvements are as bright as day. In January 2008, A-JAX made major renovations to its Jacksonville facility including a brand new showroom and a new 20,000-square-foot warehouse adjacent to its existing one. In the process A-JAX tied several former buildings under one roof.
"We capitalized on height in the new warehouse and use a lot of natural light and new energy-efficient lighting," Devers observes. "This new warehouse is our main pulling zone now. Next door is our bulk overstock warehouse where we stage materials that are coming through for repackaging. We keep structural bolts and materials in a third area.
"We like to think of our receiving and shipping area as a high-speed switching station — the less time spent on the shelf the better. We receive the material, break it down, bar code it and, although Jacksonville is the company's central warehouse and DC, our inventory is live in all five of our locations. So our staging area for UPS and our own trucks is right here, too."
Most of the business in the Jacksonville branch comes in through the phones and goes out on A-JAX trucks, but customers also often pick up orders at the counter. Contractors can pull up their trucks, hit the counter and get back on the freeway fast: the US-1 on-ramp is a mere 100 yards away.
"Our will-call desk is right behind the sales counter so a lot of times the customer has already called in the order," Devers explains. "Then when they come in they can pick up other items here to add to the order. So this is a stocking showroom but it is also a display area for the range of products we offer."
As a fastener house, A-JAX has a deep run of fasteners from companies like Powers, ITW Red Head, Elco, Simpson Strong-Tie, Nucor, CAMCAR, Emhart, Holo Krome, AVK, Avdel Textron, Infasco and others.
"We try to source from domestic suppliers as much as possible," Devers says. "That has always been one of our strengths and we have a strong association with our preferred suppliers in the Evergreen Marketing Group."
The service mix
Having a strong industrial base means A-JAX does a lot of work in plants. As such, A-JAX provides industrial customers with kitting services, some Vendor Managed Inventory (VMI) contracts and a lot of MRO supplies. A-JAX outside salespeople also service the VMI customers in their territories.
"We do bolt-and-gasket sets and special packs for customers, mainly industrial, who are doing assembly work, but we have also done it for some construction customers too," Devers says. "If a construction contractor is building a tract or a lot, we will build what they need into packages with, say, the Simpson anchors and epoxy in a bundle, stage it and drop them at the lot where the customer is going to use it."
In the shop
A-JAX also has its own shop where two full-time technicians produce threads, bends, plates, custom anchor bolts, all-thread studs and more. Shop equipment is a mix of old and new: Landis threaders work next to this year's Jancy slugger, a brand A-JAX also sells.
"Here again, having the shop gives us a tremendous degree of diversification," Devers adds. "Our customers don't have to wait for transit time on critical orders. They can order small quantities and custom sizes and we do all the work here in-house."
Florida's climate dictates that most metal materials are at least galvanized, but the shop also works in alloys, high-strength materials and stainless steel.
Wind resistance
Given Florida's catastrophic recent history with hurricanes, the hurricane protection industry is becoming a major segment of the construction market. Building codes are continually being revised to require ever more wind and impact resistant home and building materials and techniques. The closer you get to the water, the more airtight those regs become. The young industry has spawned numerous competing technologies and
A-JAX fabricates special products for some vendors.
A-JAX also has seen increased demand for hurricane-related items from companies like Elco and ITW Buildex.
"It's a whole new industry of companies with different devices for covering windows, voids in homes, roofing and so on," Gibson says. "There are a lot of new fasteners related to that industry, too."
Given its industrial base and industry's general growing awareness of occupational health and safety issues and compliance, A-JAX is also enjoying growing sales of
Personal Protective Equipment products; eye wear, gloves, hard hats, lanyards, harnesses and other fall protection systems as well as one of its traditional mainstay lines, ladders. A-JAX has a strong local position in Green Bull and Werner ladders.
The energy market continues to grow in northern Florida too. A large coal-fired electric plant in Jacksonville has been making major upgrades over the last few years and those improvements will continue as demand in the area increases. A-JAX also provides products to several solar product manufacturers in the area.
The "in" crowd
National security has taken center stage at the Jacksonville Port and Mayport Naval Station since 2001 and access to customers on those facilities is increasingly restricted. Having long-established relationships with purchasing officers helps but they don't erase requirements for applications, background checks and security access badges.
"Since 9-11 it is very difficult to even get close to doing business with some of these facilities," Devers says. "And not just here in Jacksonville. The Georgia Port Authority in Savannah is the same."
"The military bases are the same," Gibson adds. "I have numerous badges so I can access different facilities. I need several badges just to get in to see one person."
"Building a business with relationships is not an overnight thing," Devers explains. "We've been doing this for 30 years with the military and the shipyards."
Pay it forward
Devers, Gibson and all A-JAX employees take it as a fact of life that they are on 24/7 call for their customers, and there have been numerous times when everyone came in on a weekend to fabricate emergency orders to get a customer out of a jam. This dedication has been ingrained into the company since the beginning.
"Our founders, David and Mary Anne, have always instilled in their kids and employees the belief in giving back," Devers says. "When we hire new employees, we look for people who are involved, in their church, in civic organizations, with their kids' sports teams, any kind of community involvement because we want people with strong ties to their community."
The run to STAFDA
As a member himself of several civic organizations, Devers uses the Rotary Club motto, "Service Above Self" to describe the A-JAX philosophy. This volunteer spirit also guides Devers' goals for his coming tenure as 2010 STAFDA president.
"One of my main goals as STAFDA president will be to engage more members in taking part in the programs and services STAFDA offers and what can happen when they participate all year long and not just at the annual convention," he says. "I want to encourage distributors to realize the full benefits of STAFDA membership."
As STAFDA and Jacksonville look ahead to a prosperous new decade, both are fortunate to have the dedication and stamina of professionals like Robert Devers and companies like A-JAX to help lead the way over the hurdles and set a solid pace toward new
opportunities of our changing economy.
So run, Robert, run! CS