Jiffy Fastening: In the Family Business
Two generations of the DeMoss family work side by side to build Jiffy Fastening Systems
---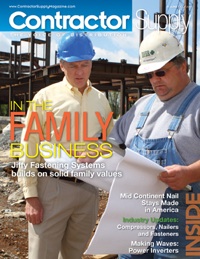 Jiffy Fastening Systems' Steve DeMoss (L) put the family name on the line with every customer visit. Here he works with Will Hennigan, superintendent for contractor T.J. Dyer, on site at Lexington's new Eastern State Hospital.
By Tom Hammel, Contractor Supply Magazine
It is still pretty common today to see a business transferred from father to son, but it has been some time since we came across a distributor that took the "family" in "family business" to such a degree as Jiffy Fastening Systems of Lexington, KY. Bob and Mary DeMoss, their three sons, Jeff, Kevin and Steve, and daughter, Julie, all work in key roles in the company, somehow without stepping on each other's toes or butting heads — very often anyway. You might say distribution is in the family blood — all of it.
Out of the garage
Bob DeMoss launched Jiffy Fastening Systems in 1968 like many start-ups of the day, in his garage. While Bob made sales calls during the day, Mary raised their four children, three boys and a girl in that order, and did the books in between. The boys started pitching in "as soon as they could push a broom," Bob says, often heading straight to work after getting home from middle school.
In 1985, brothers Jeff (the eldest), Kevin (in the middle) and Steve (the youngest son), looked at the distribution industry and decided they wanted their own piece of the pie. They launched a mail order tool company and called it Bluegrass Tool Warehouse. After working for dad
during the day and with help from mom on the phones, they spent their evenings and nights filling orders and hauling parcels to the local UPS site.
"We had our own 'welcoming committee' at UPS every morning at about 1:00 a.m.," Kevin says. "We would drive in, back right up to their belt, toss the packages on the belt and off it would go. They all knew us."
"Back then you made money by the way you bought," Jeff states. "Manufacturers then tended to push distributors to buy more than our local markets could handle, so we decided we had to spread it out and ship it all over the country."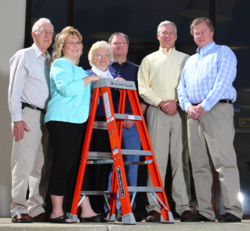 There's no question that Jiffy Fastening Systems is a family business. From left to right are Bob, Julie, Mary, Kevin, Steve and Jeff DeMoss. The third generation of the DeMoss family is still mostly in elementary school, so it's a bit early to get them started "pushing brooms" yet.
Bluegrass and Jiffy grew side by side initially; then Bluegrass began to grow faster by virtue of its greater market reach. By 1988 the brothers had a successful mail order business, but it was working them to death. Jeff, Kevin and Steve knew that by combining Bluegrass Tool and Jiffy Fastening, they could get even better pricing from manufacturers, so they approached Bob to sell Jiffy to them.
The three brothers became equal partners. They kept the Jiffy name for the sake of local customers, who did not really know the Bluegrass name.
Action and reaction
Jeff, Kevin and Steve quickly settled into their new roles, responsibilities and management styles.
"They make their own decisions and they have profited from some that I might not have made, so it's been gratifying to see in that respect," Bob adds.
As a small, tightly-knit family operation, everyone does a bit of everything and titles between the three equal partners don't count for much except on business cards. Jeff DeMoss is president of Jiffy Fastening, Kevin is vice president and Steve is treasurer/general manager. In addition to their specific duties, all three make sales calls.
"When our general manager retired last year, Steve assumed the role of general manager of daily operations and we split the product groups into four categories; threaded fasteners, power tools and accessories, contractor supplies and pipe hanging products. I oversee pipe hanging, Kevin manages contractor supplies, Steve takes care of the threaded fasteners and we all collaborate with our purchasing managers on the power tool business."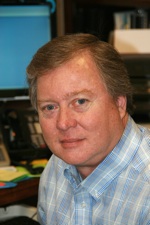 "Family is important and this is a family business. Everyone who works here is family-oriented, so we have a very stable environment and atmosphere."
— Jeff DeMoss
Family ties
As might be expected, such a close, nuclear family business has engendered strong client relationships over the years. A few original customers from the late 1960s still buy from the company.
"Family is important and this is a family business," Jeff says. "Everyone who works here is family-oriented, so we have a very stable environment and atmosphere."
Customers have responded well to Jiffy's family business model. As Jiffy expanded its stores beyond Lexington into Louisville and then Cincinnati, Jeff, Kevin and Steve had less time to maintain the Bluegrass mail order business. The result was the same, if a bit circuitous: the DeMoss brothers used national mail order as a springboard to build buying power, which they then leveraged into brick and mortar store growth across their region.
"The Lexington market wasn't large enough for us to support a lot of tool sales," Jeff explains. "Mail order gave us the opportunity to ship tools everywhere and the buying power with the tool companies that we needed to develop a competitive stronghold in this market."
"We had to get in the game or get out and we needed more volume to get in," Kevin says."Mail order supported that model really well. It helped us gain a lot of leverage."
Today, Jiffy is looking at resurrecting the Bluegrass model for Internet sales, but fortifying physical store sales comes first this time.
Jiffy Fastening Systems
at a Glance
Founded: 1968
Ownership: Privately held
Branches: Lexington (45,000 square feet), Louisville (7,500 square feet), KY; Cincinnati (26,000 square feet), OH
Markets: Industrial contractors: mechanical, HVAC, electrical, etc.
Main product categories: Fasteners, power tools and accessories, contractor supplies, pipe hanging equipment, safety equipment
Employees: 40
Sales staff: Five outside; five inside (plus, each of the three owners and founder Bob DeMoss also make sales calls)
Territories: Kentucky, Ohio, and parts of Indiana, Tennessee and West Virginia
Fleet: 20 trucks, 10 delivery drivers
Lead lines: Allen wrenches, Bosch, Capital Safety, CGW Camel Grinding Wheel, DeWalt, Diamond Products, Erico/Caddy, Energizer, Gardner Bender, Gott Industrial, Greenlee, Irwin/Rubbermaid, ITW Ramset/Red Head, Jobox, Louisville Ladder, Milwaukee, MK Morse, PHD Manufacturing, Porteous Fastener, Ridge Tool, Sumner, Thomas & Betts, Union Tools, United Abrasives
Services: Tool and supply sales, tool repair, some rental
Affiliations: Evergreen Marketing Group, STAFDA (1988)
Web site: www.jiffyfastening.com
"We don't promote mail order so much now," Kevin says, " We got so busy after we bought dad out and put the two companies together that our focus became more local. We started looking toward the Cincinnati, Dayton, Columbus and Louisville markets and when we got into them, they quickly took up our time."
Strutting their stuff
Bob DeMoss built Jiffy Fastening with an emphasis on fasteners and that category is still key for Jiffy today. Sales veteran Bob Witt specializes in hangers, and helps Jiffy supply some of the largest jobs in the region.
"I focus on clevis hangers, strut and all the hanging components and anchors," Witt says. "Right now, I'm very busy on a new $550 million hospital in Owensboro, Kentucky, another one in Winchester and another in Clarksville, Indiana. Our other salesmen are supplying different hospitals here in Lexington, at the University of Kentucky and Eastern State Hospital, plus hospital projects in the Cincinnati and Columbus markets."
Product expertise, inventory depth and competitive pricing help Jiffy win and keep winning these "plumb" jobs. In particular, Steve DeMoss lauds Jiffy's veteran outside sales force for building the company's "part of the family" customer relationships and geographic reach.
"Our breadth of product has helped us build relationships with customers and firmly establish Jiffy with the electrical, mechanical and HVAC trades," Steve says. "But we can't stress enough how phenomenal our sales guys are. Each one of them has had the classic distributor education; starting in the warehouse, working up to the sales counter and then out into the field."
"Jiffy specializes in fasteners — we're very competitive and we know what we're selling," Witt explains. "This is my 49th year doing the same job. Jiffy does it right; they give me the inventory to work with and the best pricing. They go out and get the best pricing of anyone."
"I see the market coming back," he adds. "We might have to go a little further out than we have in the past for the work, but you go where the job is."
Kevin DeMoss agrees. "Our boundaries have changed in the last three years — we go wherever our customers need us, within reason," he adds. "And we drop-ship product all over the country. These days we drop-ship as much as we can, either directly to the branches or to the customer if time allows. The less we have to handle inventory, the less expense we have in it."
Growing out — and in
Ironically, Jiffy's expansion into the Cincinnati and Louisville markets have helped bring more sales into Lexington. Before opening its Louisville store in 2006 and Cincinnati store in 2007, Jiffy had been selling into both markets for years, to some of the same contractors who are now doing hospital work in Lexington, Owensboro and Clarksville.
"We got to the point where we were running three or four trucks a day back and forth to Cincinnati and one or two daily to Louisville, so it just made sense to put locations there," Kevin explains.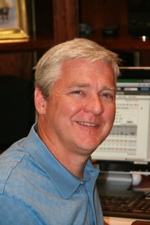 "Two of the main contractors on the UK hospital job have been doing business with us in Cincinnati since we first started selling there in the early 1990s. When they landed this hospital job here in Lexington we were already established with them." — Steve DeMoss
Steve points to the current hospital project on the University of Kentucky campus as a prime example. Its lead mechanical and HVAC contractors are both based in Cincinnati.
"This is a classic example of how being in the Cincinnati market has helped us here in Lexington," Steve explains. "Two of the main contractors on the UK hospital job have been doing business with us in Cincinnati since we first started selling there in the early 1990s. When they landed this hospital job here in Lexington we were already established with them; they knew us and knew they could count on us so that gave us an advantage over our competitors. And as they finish this UK job, they already have a contract for another hospital right up the road that is breaking ground right now.
"And we are selling them materials for a third hospital on the other side of town, too," Steve adds. "They are dominating the Lexington market right now and the fact that they are long-standing, loyal customers has really worked out well for us."
Detroit South
The Southeastern states have also become a national center for auto manufacturing. Ford has two plants in Louisville. Three Toyota plants dot the region with another in planning. Honda, BMW, Mercedes Benz, Subaru and Hyundai are a few others. Jiffy does its best to serve them all via contractors who travel between them.
"The auto plants in this region are constantly under construction," Jeff says. "There's a core group of contractors who work in auto plants all over the country and we do very well with them. I'd say between 70 and 80 percent of our business is with mechanical, electrical and HVAC contractors in those auto plants and on jobs like the hospitals going up."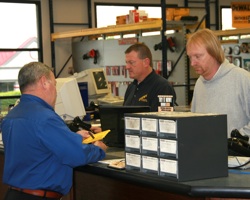 A customer (L) gets some product research help from Jiffy's long-tenured counter pros Rob Hickerson (C) and Troy Claunch (R).
Another benefit of a running family business is that good employees tend to stay with the company.
Jiffy adds value to these customers by offering tool repair and even some rental on higher-ticket items that contractors are currently reluctant or unable to buy outright. Chris Gordon and Ricky Smith have each been repairing tools for Jiffy's three stores for more than 10 years. All repairs from the three stores come to Lexington. In addition to power tools, they repair larger equipment like Ridgid, Greenlee and Gardner Bender benders and pullers.
No crystal ball
Had they known a "100-year" recession was just around the corner, the DeMoss brothers say they might have held off on opening two branches almost back-to-back in 2006 and 2007. But having the stores in place before the recession hit also helped Jiffy improve its market share in the Louisville and Cincinnati markets, and to attract a wider range of customers, particularly walk-in business.
The recession drove a harsh round of fiscal belt tightening, from evaluating inventory levels to phone systems and replenishment schedules for Jiffy's 20-vehicle fleet. When the recession began to take hold in early 2009, Jeff, Kevin and Steve began working more closely with Jiffy's two buyers to trim inventories and keep the three stores lean.
"Our sales dropped about 20 percent in 2009 and another 10 to 12 percent in 2010," Jeff says.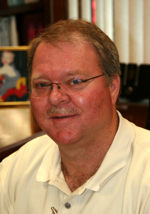 "Our boundaries have changed in the last three years — we go wherever our customers need us, within reason."
— Kevin DeMoss
"We managed the inventory tighter than we ever have and we continue to do that, " Kevin says. "We got much more involved in it than we were before. Each of us manages a key product category and we work with our purchasing managers pretty much every day. We don't place the day-to-day orders but we give them closer guidance than before."
Jiffy has also relied heavily on pricing incentives and training from its membership in the Evergreen Marketing Group.
"Evergreen has been a huge help," Jeff says. "We have better relationships with Evergreen preferred suppliers, and I don't know anywhere else that you can get training in product knowledge, sales skills and business management — their classes are phenomenal."
"Evergreen vendors also pay more attention if you have an issue," Steve adds. "It really seems like they work harder to resolve issues than vendors outside of Evergreen. They take a bigger interest in things."
Recovery mode
Today, Jeff, Kevin and Steve DeMoss are focused on guiding Jiffy into a healthy recovery phase. They continue to wrestle problems small and large, like the cost of health care, how to grow into markets of opportunity like safety and Internet sales, and the gridlocked, anti-business environment in Washington — a frequent source of consternation around the office.
But they remain "cautiously optimistic" that the economy will continue to improve and that a change in leadership in Washington will reduce unfair pressures on small business owners across America. Like their father, they are firm on that point.
Mary and Julie continue to manage the back office operations, although these days, Mary jokes that she is "Julie's assistant." Bob DeMoss still does 300-mile days several times a week visiting clients in the rugged country of eastern Kentucky.
"We pride ourselves on being one of the a few independently owned STAFDA-type distributors of our kind that covers the geography that we do," Steve DeMoss says.
Presently, Jiffy is focused on recovery and building store sales. As the economy improves, however, we would not be surprised to see Jiffy take its unique brand of "family values" to an even wider geographic audience. CS
Jiffy Fastening Systems at a Glance
Founded: 1968
Ownership: Privately held
Branches: Lexington (45,000 square feet), Louisville (7,500 square feet), KY; Cincinnati (26,000 square feet), OH
Markets: Industrial contractors: mechanical, HVAC, electrical, etc.
Main product categories: Fasteners, power tools and accessories, contractor supplies, pipe hanging equipment, safety equipment
Employees: 40
Sales staff: Five outside; five inside (plus, each of the three owners and founder Bob DeMoss also make sales calls)
Territories: Kentucky, Ohio, and parts of Indiana, Tennessee and West Virginia
Fleet: 20 trucks, 10 delivery drivers
Lead lines: Allen wrenches, Bosch, Capital Safety, CGW Camel Grinding Wheel, DeWalt, Diamond Products, Erico/Caddy, Energizer, Gardner Bender, Gott Industrial, Greenlee, Irwin/Rubbermaid, ITW Ramset/Red Head, Jobox, Louisville Ladder, Milwaukee, MK Morse, PHD Manufacturing, Porteous Fastener, Ridge Tool, Sumner, Thomas & Betts, Union Tools, United Abrasives
Services: Tool and supply sales, tool repair, some rental
Affiliations: Evergreen Marketing Group, STAFDA (1988)
Web site: www.jiffyfastening.com