Live Oak, Deep Roots
Live Oak Construction Supply's deep family roots are preparing the next generation to branch out.
---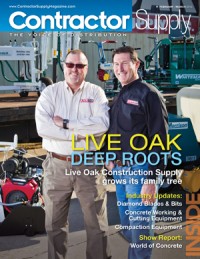 Brothers Mark (L) and Jeff Fraizer keep their family business nimble and agile to take advantage of emerging opportunities in the metro Atlanta construction market.
Tom Hammel, Contractor Supply Magazine
The words "family business" can mean many
different things. Describing a company as a family business ascribes certain traits and
characteristics, often relating to values and settings on an invisible moral compass by which a company is presumably guided. But, like trying to judge a book by its cover, you can't really tell much about how deeply those values go until you look inside.
In that sense, Live Oak Construction Supply of
Lawrenceville, GA is an easy read. The company's
owners, brothers Mark and Jeff Fraizer, wear their family values on their sleeves for all to see — their customers, vendors, community, employees — and perhaps most importantly, their sons and nephews who are now learning the business by their sides, just as Mark and Jeff learned by working beside their parents.
"In 1986, when Dad was 55 years old, he got
furloughed by General Electric," says Jeff Fraizer. "He had always been a woodworker and a handyman, and growing up we often talked about having a family business."
Encouraged by interest from Mark and Jeff in one day joining the company, Phil Fraizer purchased Oakes Hardware in downtown Lawrenceville.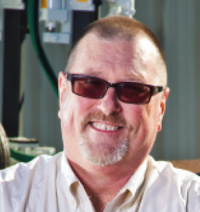 "STAFDA produces so much good information, like the sales training manuals. Our first employee handbook was based on STAFDA's model."
– Mark Frazier
"Dad was the only person who went back a second time to look at that business," Mark says.
"It was a real old-time hardware store with wood floors, stuff hanging from the ceilings, a basement where you kept the spools of rope and pulled it up through holes in the first floor to measure off for the customer," Jeff adds.
"We always kidded dad about getting taken on the inventory that he bought in the place, but he got a good customer list and a pretty good vendor list," Mark says.
"And that's one of the lessons dad taught us," Jeff adds. "Your customers are important but your vendors are equally important. He knew you needed good relationships on both sides to be successful as a distributor."
Jeff joined the new business just a month after his parents bought it. "I just started beating the streets for them in outside sales," Jeff says. Mark followed one year later almost to the day. So although he is the younger brother, Jeff has "seniority," an observation that provokes instant laughter from Jeff and good-natured protests from Mark.
Since those early days, the Fraizers have worked to build both their customer and vendor lists and shed the original company's long-time image as a small town hardware store. Since the Oakes name was well known in the area, they decided to change it from Oakes Hardware to Live Oak Hardware, a name that served for several years before the company's evolving market focus demanded it change again — to Live Oak Construction Supply.
"We still get checks from older customers made out to 'Oakes Hardware' and we cash them right along with the others, " Mark observes.
Before joining the family business, Jeff worked for a time for a sister company of Dixie Diamond, which is located a few miles down the road. That experience gave Jeff a taste of the construction industry, and his work with another company, P-I-E Trucking, gave him a strong knowledge of local manufacturing firms. That knowledge would come in very handy.
Building Boom
The 1980s and 90s were great years for construction supply houses in the metro Atlanta area, Lawrenceville included.
"In the 1980s and 90s, Gwinnett County was the fastest growing county in the United States and it's still one of the fastest growing in the entire country," Mark says. "They were framing up houses around here like crazy, so we figured we would get into air nail guns and nails. But about four months after we bought the business, a customer came into the store one Saturday for some hand tools — we had a pretty good selection of concrete hand tools, and — Jeff, you tell this story."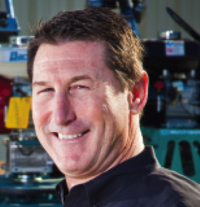 "You need to have the repair capability and spare parts on hand because concrete is the only industry that won't wait."
– Jeff Frazier
"This customer, Tim Johnson, comes in and says, 'You guys ought to call on our company,' " Jeff adds without missing a beat. "I said, 'Okay, who do you work for?' He replied, 'Baker Concrete Construction.' We'd never heard of them, but it turned out Baker was a major concrete contractor from Ohio and from that point on it was history. We became partners and they taught us all about concrete construction. Sometimes we would make deliveries to them two or three times a day."
That meeting was fortuitous indeed. In 1986, Baker Concrete Construction was in the process of becoming one of the top three specialty concrete contractors in the United States, a distinction it has held since the early 1990s and still holds today.
"The main thing we sold to Baker was trowel blades," Mark says, picking up the thread. "Jeff knew where everything was manufactured in this area and there was a guy over in Loganville, about 12 miles from here, who made trowel machine blades, Bellaire Blades they were. When we started buying from him, an order for 24 was a good order for us. Then one day Dad called me all excited,
saying, 'You won't believe the order Jeff just got — an order for 600 blades!' "
Live Oak Construction Supply at a Glance
Founded: 1986
Ownership: Privately held
Branches: Lawrenceville, GA
Facility: 17,000 square feet
Employees: 14
Markets: Commercial/concrete construction
Line Card: 3M, Chapin, Kraft Tool, Wagman, Marshalltown, Armor Tile, Access Tile, CTS/Rapid Set, Euclid Chemical, Clemons Concrete Coatings, Quikrete, Right Pointe, Lyons Manufacturing, Brickform/Solomon Colors, Smith Paint, Raven Industries, Erect-A-Line, Dayton Superior, Simpson Strong-Tie, Powers Fasteners, Diamond Products, Dixie Diamond Manufacturing, Husqvarna, Soff-Cut, Ames True Temper, Minnich Manufacturing, Multiquip Whiteman, Bartell Morrison, Stihl, Wyco Tool, Denver Concrete Vibrators, MultiVibe, Tencate Mirafi, Zurn, Estwing, Just Rite, ERB Safety, Seymour, Spectra Precision Laser, Makita, Benner Nawman, Bosch, Blue Linx, Wacker, Perma Pro/EZ Chem
Web site: www.liveoaksupply.com
"When that happened, boom! — 'We're in the trowel blade business now!' " Jeff adds and laughs.
That relationship opened other doors for Live Oak. It also taught the incurably curious brothers that valuable educations could be had almost for the asking. They eagerly soaked up knowledge about concrete placing and finishing. Over the years, Jeff and Mark earned reputations as experts in ride-on trowels, blade and pan finishing, high-cycle vibrators and other aspects of construction that made Live Oak a go-to place for that specialized knowledge — and products.
Today Live Oak also does a steady business repairing most of the products it sells, including trowel machines, dowel pin drills and high-cycle and hydraulic vibrators that are used on massive Gomaco-type road pavers.
"You need to have the repair capability and spare parts on hand because concrete is the only industry that won't wait," Jeff states emphatically. "If you've already poured out and the weather turns bad, you better have the equipment to deal with it or else you'll be tearing it back out and starting over. If equipment breaks down you better have a back up available. With any other trade from masonry to steel erection or mechanicals, you can come back the next day if you need to, but concrete will not wait. A framer can walk away and go to lunch. But if you're pouring concrete, there's no walking away."
Keeping up with new technologies like the emergence of laser screeds, green concrete saws and pan finishing systems has helped Live Oak not only stay at the front of industry trends but more importantly, help its customers learn ways to work more efficiently and profitably, providing them value that customers don't soon forget.
Tracking trends has also helped Live Oak successfully branch into growing fields like decorative concrete finishes and concrete repair and restoration.
"Being diverse has really helped keep us growing," Mark observes. "If we were only in housing we would be out of business by now."
No Empty Wagons
Live Oak has built its local reputation on service, which they define as having both product expertise equipment repair facilities, and on having products in stock.
"Our father's philosophy always was, 'Boys, you can't sell out of an empty wagon, you've gotta have the stuff — especially in construction,' " Jeff says. "And he was right. We learned some contractors don't plan ahead very well, or there's changes all the time, so they often don't know what they need until the day they're gonna use it. By gosh, you better have it or know where to go locate it quickly to get it to them. So we built our business on having service and having in-stock supplies. "
"Many of those Baker Concrete people would come down here from all over the country and tell us, 'This is some of the best selection of concrete tools we've seen anywhere in the nation,' " Jeff adds.
That Other Atlanta Company
Competition always shapes in part how a business goes to market, but Live Oak can, in a sense, say it learned from the best. Four years before the Fraizers bought their little hardware store, another company was launched just a few miles down the road in Atlanta. It was called The Home Depot. The Fraizers went to school on HD.
"Here we are in our hardware store, and here comes Home Depot and starts putting in these big stores here in Atlanta," Mark observes. "We always say we are glad and lucky that Home Depot started here in Atlanta because we grew up with them; right away we saw what HD was, what we couldn't be as a result, and what we didn't want to be. We didn't want to be open 24/7, and at that point we had so much industrial construction business going on here, that we decided we wanted to focus on that."
"So we never viewed them as a threat. Yes, they were competition and yes, we cussed at them here and there, but having them here allowed us to decide on the path we wanted to take."
Distribution Centers
That path was also influenced by the warehouse and distribution center construction in metro Atlanta.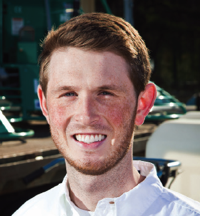 "We use STAFDA more for business operations and training information. STAFDA helps us a lot."
– Ryan Frazier
"Like Mark said, in the 1980s, Gwinnett County was the fastest growing county in the United States for 10 years in a row and it was in the top three for 20 years," Jeff says. "We were in the right place at the right time. Plus, from my work in the freight business, I knew that Atlanta was a regional distribution center. Manufacturing here was declining but more and more warehouses were being built and we grew toward that construction."
During those years Mark and Jeff's mother was the office manager and handled invoicing and accounts receivable. She had her share of wisdom to impart to her sons as well.
"One of the things she taught us is that you never dodge anybody," Jeff says. Always be honest with people. If you can't pay an invoice at a certain time, you take their calls or you call them and be honest about it. And that honesty helped us build relationships and trust with our vendors and our customers. And we would expect the same thing."
"We got a lot of our values from our folks," Mark adds. "We grew up in a very strong, almost Ozzie and Harriett kind of family. So the other big lesson she taught us is when you make a commitment to someone, you honor it," Mark adds. "Don't make a commitment that you cannot honor. And when you do make it, you follow through to the end."
Today, Mark and Jeff are imparting those same values to the generation coming up behind them, including Mark's son Chris, Jeff's sons Austin and Ryan, and Mark and Jeff's nephews Bobby and Billy Hughes Ryan, age 23 and Bobby, 27, are bringing new energy, ideas and methodologies to the business with clear goals in mind.
An Apple a Day
Both have grown up with computing as second nature. Not surprisingly, they are bringing more formalized procedures and methods to Live Oak. Since joining the company full time in 2010, Ryan and Bobby have automated the invoicing system, begun creating
marketing materials with popular desktop publishing tools like InDesign, and introduced Apple computers to the company system.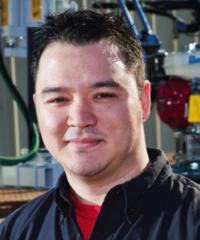 "Now several other employees here also run Apple computers, including Ryan. Some business software still requires a Windows PC, so for that we run Parallels, which allows you to run Windows software on a Mac."
— Bobby Hughes
"I was the first to switch over my work computer to a Mac," Bobby explains, "One reason was for wiring; a Mac Mini has Wi-fi built in so you don't have to deal with wires for networking, which is a plus for me because my office is in the back warehouse which is too far to try to run an Ethernet cable all the way back to the hub."
"Running a Mac Mini was a better option because the unit is $600 and you don't have annual virus protection fees. Plus, you don't have to worry about its monitor like in an iMac, which has both hard drive and the monitor in one unit."
"Now several other employees here also run Apple computers, including Ryan," Bobby continues. "Some business software still requires a Windows PC, so for that we run Parallels, which allows you to run Windows software on a Mac."
New distribution software is also on the company's wish list as part of its plan to take the business to the next level. Several STAFDA vendors are currently under consideration. For the Fraizers, STAFDA and ACDI are perfect complements to each other.
"We joined ACDI four years ago and we are pretty involved with it lately, but we've been STAFDA members since 1991," Mark says. "STAFDA produces so much good information, like the sales training manuals. Our first employee handbook was based on STAFDA's model."
"We're doing more networking with ACDI lately because their members are geared more toward the construction materials that we are expanding into," Ryan says. "And we use STAFDA more for business operations and training information. STAFDA helps us a lot."
Creating a Template for Growth
Ryan, a former commercial real estate major helped Mark and Jeff evaluate potential locations for their new home. By the time your read this article, they will have closed on a prime-location, 50,000-square-foot facility about 10 miles closer to downtown Atlanta — and closer to most of their customer-base as well.
The new software systems, back office procedures and product line extensions are all part of a drive that Ryan, Bobby and the rest of the Live Oak team are using to build a template to apply in new markets.
"Right now we are focused on making the operations here more efficient," Ryan says. "We're working on perfecting our operations here with the people we have, and hiring the people we need to create that template, so we can move out into other markets." CS