Mann's Best Friends
South Carolina's Mann Tool carves its niche with woodworkers.
---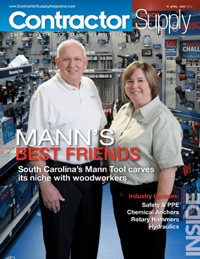 The father and daughter team of Ronnie Mann (L) and Suzaane Mann Brunnemer have shaped their family business from an electric motor service shop into one of the Southeast's premier woodworking supply destinations.

Tom Hammel, Contractor Supply Magazine
Once upon a time, the mental shorthand for describing a STAFDA member distributorship was to call it a "tool and fastener house." Some people still call it that, generally when explaining STAFDA to people outside the industry. While this description is about as valid as the proverbial blind man's description of the elephant, it gets the point across.
But nothing drives that point home like walking into a true tool house, with slat-filled walls of colorful power tools, floors jammed with massive woodworking machinery and aisles of supplies in between. Just the smell of it raises a woodworker's pulse. Which is just the response Mann Tool & Supply wants.
"We are a tool house and we sell power tools to small contractors," begins Suzanne Mann Brunnemer, owner Ronnie Mann's daughter. "We got into woodworking by branching out, but our bread and butter is the small plumbing, mechanical, electrical, cabinet and interior and installation contractor. We can take them from building and fabricating, right on through installation, and even the decorative process in some areas. But our whole business is based on power tools and their accessories. Everything is centered around the fact that for the lines we carry, even into special lines like Festool, we carry the full line."
For a brand like Milwaukee, this means a sea of red in the storefront, from voltage
testers to rotary hammers and band saws. "We don't cherry-pick lines or just carry the top 10," she says. "We service our lines across all the trades, and their cordless tool cross all the platforms."
Brunnemer also stresses that this deep and wide philosophy also extends to all the branded accessories, from bits and blades to abrasives "for wood, tile, concrete, metal or whatever it may be," she adds.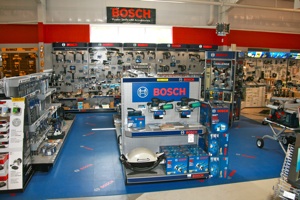 Seen from the sales counter, Mann's Bosch System Specialist store presents a welcoming sea of blue from signage and packaging right down to the floor mat.
System specialists
Mann's all-in brand strategy made it an easy choice when Bosch began seeking partners for its Bosch System Specialist (BSS) store-within-a-store program. Mann has been a BSS store since May 2010. BSS program perks include in-depth product training, an exclusive window for introducing new products in one's market, BSS-only promotions and financing, a loaner program for tool repairs and extensive "Bosch blue" showroom fixtures and merchandising elements. Best of all, since Mann Tool was already so dedicated to the Bosch brand, the conversion required very little extra financial or inventory commitment.
"Bosch came in and said, 'Hey, we think you are a good fit for our System Specialist store program. If you have a spot for us, we have some fabulous merchandising materials that we would like to put into your store,' " Suzanne explains. "We didn't have to stretch very much to add product because we were already so broad in their line."
"Some other manufacturers take a different approach," observes, Ronnie Mann, Suzanne's father and patriarch of the store. "They say, 'If you broaden and deepen your commitment to us, then we will bring in these materials.' But Bosch's strategy was to begin by pinpointing dealers where this program already makes sense. It may not be so simple for some other distributors to make the commitment to do this, but for us it was win-win all the way."
However, the new layout did entail an investment — paid in elbow grease. Tyler Cook, Ronnie's nephew, was responsible for the overall design and physical placement of the new layout.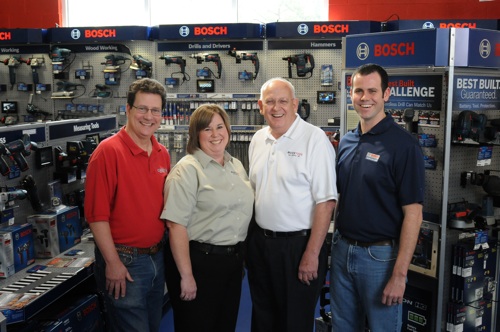 Mann Tool's showroom stalwarts (L-R): resident woodie, counter sales and wood products buyer Eric Albrecht, Suzanne Mann Brunnemer, Ronnie Mann and "unofficial" showroom sales manager Tyler Cook, who is also Ronnie's nephew.
"When Bosch came in and designed what we thought would work for us, we ended up 'turning' our showroom almost 180 degrees," Suzanne says. "Our power tool displays used to be closest to us and now they are all against the far wall. And we not only turned everything around, we went from displaying products by category to displaying them by brand."
"Before that, we displayed all our power tools together by category," Ronnie clarifies. "If you wanted a rotary hammer, we had Bosch, Milwaukee, DeWalt and Makita all side by side."
"It makes a nicer visual impact to see all red, all yellow and all blue together," Suzanne observes.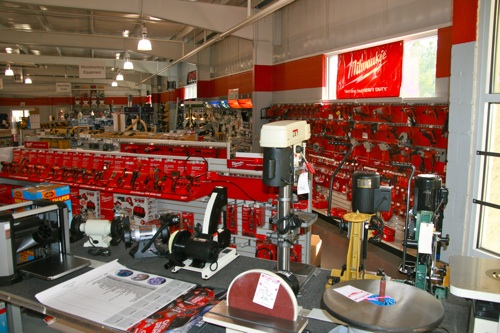 Looking back from the right front of the store, the dominant colors shift from Milwaukee red to Festool green, Bosch blue, DeWalt yellow, Makita teal and Porter-Cable gray as the customer walks back. Hand tools, supplies and safety equipment occupy aisles that radiate like spokes from the store-center sales counter (just out of sight to the left).
Apples and oranges
Shifting to a categorical display has also answered, at least for the Manns, the brand vs. category merchandising conundrum.
"It's easier to sell this way," Ronnie states. "This design takes a little of the sales pressure off us because if you come in with a "color" in your head and you see it on the wall, you will often go straight there and start servicing yourself before we even get involved. But if you are looking at 20 drills in a five-foot space, you're gonna have 20 questions, starting with, 'What's the difference between each of these?' If you are in the Bosch section, that's all we need to talk about at that point."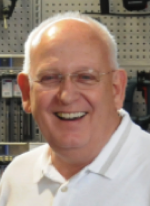 "It's easier to sell this way. This design takes a little of the sales pressure off us because if you come in with a "color" in your head and you see it on the wall, you will often go straight there and start servicing yourself before we even get involved. — Ronnie Mann
For maximum visual impact, each color's section needs to be large enough to catch and hold the customer's eye. Mann's deep and wide brand philosophy ensures that whatever color of tool the customer initially likes "best," there will be plenty to see in each brand's section — all the apples together in one place and all the oranges in another.
Mixing the colors
Initially, the showroom's visual impact was strikingly color shifted into the blue spectrum, but once other power tool company reps saw what Bosch was doing, they began stepping up their game.
"When we started rearranging the store, other manufacturers' reps felt they really had to step up and get their sections in order to offset that because this place was blue," Ronnie says. "The floor was blue, the walls were blue — there was no question in your mind when you walked in."
"Those reps all said, 'Hey wait a minute — we want to provide you with merchandising materials to make our brand look better too,'" Suzanne says. "Our Milwaukee guy asked us, 'What can I do for you?' We told him, 'Do whatever you want — it's your section.' And they are all pretty generous sections because we have a lot of room for every brand. The same thing happened with DeWalt."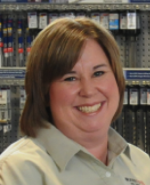 "Creating the Bosch System Specialist section was a real win-win for us. It created a chain reaction with our other key vendors and lit a fire under us, too." — Suzanne Mann Brunnemer
A whole new store
"Creating the Bosch System Specialist section was a real win-win for us. It created a chain reaction with our other key vendors and lit a fire under us, too. We had been in this store for nine years by then and it was time for us to do something different," Suzanne adds.
Although she doesn't advocate changing store layout and merchandise sections around as often as a clothing store might, Suzanne does believe that shopping should not be boring.
"Shopping should at least be a little fun," she advises. "You are spending your money so we need to make it as pleasant as possible for you and I think change goes hand in hand with that. Make them look; make them walk past something new."
"After we made the change, one customer who had been coming in here for seven or eight years — walking in the front and all the way back to the repair department every time — looked at a display and said to me, 'You guys sell blades for the Fein MultiMaster?' There's never been a time when we didn't sell them and he's just seeing them now? He's been taking the same path through the showroom for eight years! So we take the showroom, spin it around, and (she laughs) it's a different store!"
With so much to choose from, a customer with no specific "tint" to his glasses can get very confused.
"If the customer doesn't walk in with a color in his head already, or if the tool he wants isn't offered by a particular manufacturer, he will generally take our recommendation on what to buy," Suzanne says. "With cordless tools so big these days, you generally have to stay loyal to your brand for the battery platform cost advantages, but if the customer just wants to know what we think is the 'best of the best' for that application, they typically take our word on that. Our customers are loyal to us."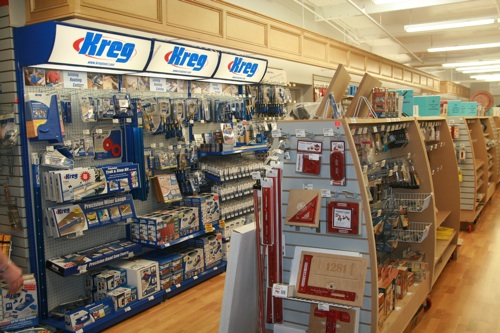 The mid-showroom entry to Mann's Rockler store showcases the distinct design and lighting features that set it off from the rest of Mann's showroom. Right, the Kreg display of wood joinery products at the front of the Rockler area.
The Rockler effect
One contributor to that "different store" impression is the fact that since 2006 Mann Tool has also been home to a Rockler store-within-a-store. This 1,800 square-foot space annexed off the center of the main showroom is a different store, with separate flooring, lighting — and clientele. Some Rockler customers are contractors, mainly cabinet shops and finish professionals, but many are hobbyist woodworkers and pen turners who specialize in turning and finishing ink pens from wood, acrylic or anything that can be solidified with resin, even pasta.
To cater to those hobbyists, the back of the Rockler store opens into a dedicated classroom area outfitted with a bank of lathes at the front of the room, student seating in the middle and work tables at the back.
"We have been working with the Columbia Woodworkers Club for the last 15 years and the Palmetto Wood Turners for 10, and now the Carolina Pen Turners for a little over a year now," Ronnie says. "They hold all their club meetings here and they bring in some major presenters, even some international experts on occasion."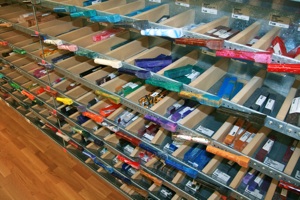 Looking back from the "front" of the Rockler store, colorful pen turning blanks occupy 15 running feet of the right hand wall.Further in past these pen blanks are bowl and vase blanks, then tall glass displays of router bits.
While small compared to Mann's primary contractor customer base, the nearly 250 combined members of these clubs have proven to be dedicated and regular customers. Any woodworker will tell you the hobby is an addiction, and habits must be fed — often.
"Rockler has been great. It got us into a hobby that really helped support us through the recession," Ronnie says. "Home building here has been dismal, and we were always more residential than commercial focused. But if you have a hobby, you'll support it. People may cut back on vacation travel or something else but they will still come in and buy supplies for their hobby. Rockler got us headed in that direction at just the right time."
"So, during this recession, our customer count has not declined," he adds. "Our transactions per day and dollars per transaction dropped — the big stuff stopped selling, but that little, high-margin stuff has kept us going."
The decision to partner with Rockler reinforced a direction Mann Tool was already headed, and gave Mann access to a whole universe of products that would be very difficult to buy otherwise. In this sense, Mann uses Rockler as a master distributor.
"We are one store and we can't just buy from hundreds of vendors and meet their minimums and freight requirements for every order, especially for products like finishes that have a shelf life," Suzanne says. "With Rockler, we can buy one quart at a time if that's all we need."
Cash Day
Their hobbyists' need-to-feed has made Saturday one of Mann's busiest days of the week.
"We are open on Saturday from 9:00 a.m. to 1:00 p.m. and our Saturday business is becoming as big as our weekday business — in half the hours and with only two employees running the store, and one security guard we bring in on Saturday only," Ronnie says. "We may have to add a third person for the registers. Customers just pile in here to buy their supplies. They bring their entire families. Saturday is a big cash day for us now."
The Saturday hobby trade also serves to set Mann Tool further apart from its competitors on either side of its location fronting I-26. This strip is home to branches of HD Supply, Grainger, Lowe's, Dillion Supply, New South Supply and Blue Eagle. So every bit of differentiation helps. One Mann Tool difference is that Mann is the authorized repair center for all of its power tool brands for the area.
Ronnie laments the loss leader aspect of tool repair, but he also recognizes its drawing power. Mann's repair counter is at the rear of the showroom, so customers carrying in tools for repair "get" to walk by all the shiny new ones on their way in and back out. Having repair builds traffic and customer loyalty, so the Mann's accept its downsides. It is a legacy service: Ronnie's father Jimmy launched Mann Tool in 1944 as an electric motor repair shop.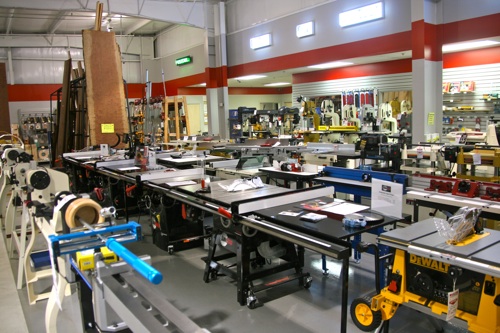 SawStop table saws figure prominently in Mann Tool's store-front display of woodworking equipment. JET, Delta and Powermatic are among Mann's other top "big iron" brands.
Mann Tool & Supply
at a Glance
Founded: 1944
Ownership: Privately held
Branches: West Columbia, SC
Facility: 30,000 square feet with 10,000 square-foot showroom; two acres of land
Employees: 10
Markets: Construction, woodworking
Line Card: Beadlock, Bench Dog, Bessey, Bosch, Bostitch, Briwax, Carter, Carve Wright, Channellock, CLC, CMT, CST/berger, Delta
Machinery, DeWalt, Drill Doctor, Dynabrade, Easy Wood Tools, Empire level, Falltech, Fein, Festool, Flexcut, Freud, WL Fuller, General International, Green Bull, Incra, HTC, Irwin, JDS, JET, Jobox, King Arthur's Tools, Kreg, Robert Larson, Makita, MD, Milwaukee, Mirka, Oneway Mfg., PLS, Porter-Cable, Powermatic, Prazi, PrimeSource, Quik Drive, Robert Sorby, Rockler, Rolair, SawStop, Simpson Strong-Tie, Stabila, Stanley, Starrett, Stiletto, Super Max Tools, System Three, Timber Wolf Blades, Tormec, Vaughan, Vise Grip, Werner, Wilton, WoodPeckers, Wright Tool
Affiliations: STAFDA, Sphere1, Columbia Woodworkers Club, Palmetto Woodturners, Carolina Penturners
Web site: www.manntools.com
Changing of the guard
So what about all that "big iron" in the showroom? Ironically, today's best seller is a tool no one would buy 20 years ago. However you feel about SawStop, Mann Tool sells more SawStop saws than any other table saw — except portable job site saws — by a margin of five to one. Although the technology is not mandated in many places yet — and in fact is being hotly contested right now as SawStop pushes legislation to make its technology the table saw "law of the land," many schools, prisons and manufacturing facilities now require it in new equipment. Compared to the potential cost of lawsuits, the extra price of a SawStop saw is a drop in the bucket, even if it is $1,000 extra, or more on some models.
Much of what is on the showroom floor today is the only sample of a given table saw, planer or drill press. Mann assiduously sold-down big-ticket inventory during the recession to its current lean levels.
"In the past we would keep one on the floor and one or two in the warehouse," Suzanne explains. "Now the one on the floor is probably it, except for SawStop. We have reduced our inventory almost by one-half since we started feeling it in 2008. But we don't do consignment or finance our inventory — we have always paid within terms. If it's under this roof, it's paid for, or it will be within the next 30 days. We feel good about that."
Like every distributor, Mann Tool has plans for the recovery. They are looking at rebuilding their outside sales force, which fell to attrition in the recession. They also want to focus more on Internet sales and its challenges.
Exotic and domestic hardwood is another "growth" area. Since Mann began selling wood four years ago, sales have grown continuously. If a large piece doesn't sell for a while, Mann's "resident woodie" Eric Albrecht saws it up and repackages it into smaller parcels, which invariably sell. There is never any "dead wood."
But for now the Manns are enjoying their business and their customers.
"We're pretty content," Suzanne says and laughs. CS