Cover Story: A Store Grows in Brooklyn
Siegel Bros. Supply Co., Brooklyn, NY, turns 90 in the heart of America's toughest market.
By Tom Hammel
As the Chairman of the Board sings it, "If you can make it here, you can make it anywhere." Any company that can make it in New York City for 90 years deserves to feel like the king of the hill — and that goes double for distributors serving the industrial and construction trades. Distributors face the same realities in every city, but they seem magnified here, accelerated by the pace of traffic and heightened by the skyline itself.
But it's not lonely at the top of this heap, it's downright crowded and there is no time to rest on laurels. Construction supply distributors face intense competition not only from other established tool and supply houses but from every side.
This is a fact of life for Jay Siegel, third generation president of Siegel Bros. Supply Co. of Brooklyn, NY. Born and raised in the family business, Jay has been full-time at the company helm for 31 years. He has seen New York City's economy reinvent itself more than once, and he has reinvented his company to feed the city's needs.
COMPETITION'S GRAND CENTRAL
As the gateway to the world's largest market, New York City offers contractors easy access to construction products and power tools from more countries than they can count. A recent census of languages spoken in New York counted nearly 170. Imported products — the good, the bad and the dangerous — are just one challenge Siegel and his salespeople face every day.
"The thing about New York is you're not just talking about the five boroughs," Siegel explains. "People here import everything under the sun, and we compete with all of them."
Siegel combats these forces two ways. First, he only carries top-rated name-brand products. Offering name-brand products reassures contractors that those products are manufactured to uniformly high standards and are tested to perform as claimed. For all but those contractors who buy only the cheapest products possible, this piece of mind still has value, and Siegel salespeople work hard to reinforce that every day.
"It can be difficult at times to remind customers that we carry apples and what other people are trying to sell them are oranges and that they aren't really making a valid comparison," he says. "There is a reason why a product may cost half the price of ours. We have to ask them, 'Do you want one of your guys standing beneath a 20-ton beam being held up by a Crosby product or by something that was made in some factory who knows where?'
"There is a finite universe of customers out there who want and expect quality and you can't adulterate your business to accommodate other customers who don't care about that. So we have basically said, 'You know what, if you know a guy who will sell you that product for one-half of the best price we can give you, then go ahead.' We just have to walk away."
With the plethora of products available to them, New York contractors are in a buyer's market. Same-day delivery is a given in this fiercely competitive market.
And don't even think about charging for it.
"New York operates on its own time scale," Siegel says. "I don't know any other places where a guy can call in an order at 8:00 a.m. and have the stuff on his job site by lunchtime. Here, by 1:00 the guy is calling you and screaming, 'Where's my stuff?' "
AN ACE IN THE MUD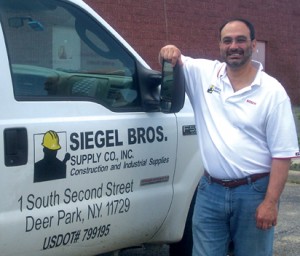 Siegel's second key counter to competition is his concrete specialist. Siegel hired Si Solomon away from Master Builders in 1999 to reinforce the company's position in the concrete market.
Unlike Siegel's other outside sales staff, Solomon has no set territory. He goes where he can help most, advising customers and Siegel's other salespeople on "anything that goes under, in, or on top of concrete," Solomon explains. "My main function is to be a resource for our customers."
Solomon focuses on products and technologies that promise time and labor savings without sacrificing product performance for New York City contractors, who are often strapped for both.
"We are having a lot of success with a new generation of lithium silicate floor densifiers from companies like Prosoco," Solomon says. "The previous generation of densifiers had to be applied, then washed off with water. That residue would go down the drain. The new generation product doesn't need to be washed off. Rather than apply two or three coats, the contractor can apply one coat, and there's no worry about hazardous waste."
Siegel is also placing a new concrete reinforcement system from PNA Construction Technologies that replaces wire mesh and rebar in poured slabs.
"It is much less expensive than putting down rebar or wire mesh and is a lot less labor intensive," Solomon says. "You only install at the joints, Unlike a rebar mat that goes down over the whole floor, you only install this product at the joints, so the labor and steel savings are significant."
BASF Crack Sealer Plus is another product Solomon sees as a godsend for contractors that are pressed for time. It features a hardener that can be adjusted according to ambient temperature to dramatically speed curing time.
"If you are sealing cracks in a bridge deck where you have a lane closure, other MMA's (methylmethacrylates) or low viscosity epoxies exhibit much longer curing times and may require heating of the material prior to application. With this product, in most cases you can reopen the lane to traffic in less than an hour."
NOW, IF NOT EARLIER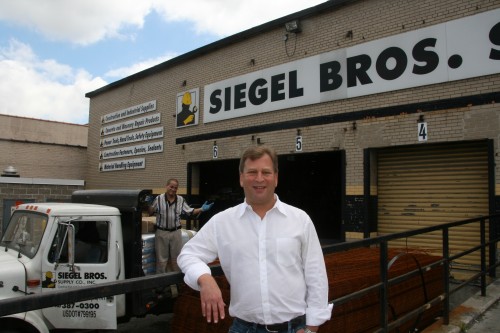 What do New York contractors want most? Hands-down, Solomon says, "Contractors want things when they want them. New York has the same constraints you will find anywhere but they are significantly magnified here. Money is obviously important but it costs more for a contractor to have union guys sitting around doing nothing than it would be to spend a little bit more to make sure that material is there in a timely manner."
"Carrying DOT-approved product is critical," Siegel adds.
He and Solomon constantly review New York State DOT, Port Authority, Transit Authority and other major public agencies to make sure Siegel's preferred brands are specified. Siegel's Web site lists the DOT-approved products it carries and has direct links manufacturer data and MSDS sheets.
THE TOUGHEST LESSON: WHEN TO WALK
Siegel admits that a distributor has to take orders at low margins from time to time, but he warns against the temptation to work on margins at or below operating cost.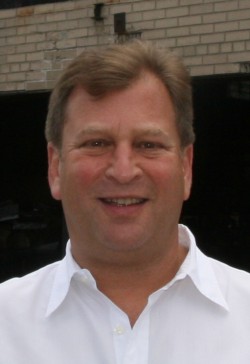 "Too many distributors are enticed by volume when there's no profit," Siegel states.
"Low margin business is not worth it. We're all in this business to make a profit and I have never apologized for that," he says. "It's why I get up in the morning; it's why I pay all these people, it's why I take on risk — to make a profit. Chasing volume just isn't as enticing to me as it is to some other distributors."
As hard is it is to say "no," sometimes he has no choice.
"This is business 101 and it applies universally, regardless of where you are. Your value to me is the profit that I make, and in exchange for that I'm willing to bend over backwards, jump through hoops, deliver products to you at 2:00 a.m. — whatever it takes. But in exchange I have to make a profit. And yes, I have said as much to customers," he says.
If Siegel ends up walking away from a sale, it is with head held high. And customers respect that.
"Even if they don't buy from you, they respect you. And they are often the ones who come back later and become customers. The difference between me and the distributor who takes that deal is this: I'll be here when that customer wants to come back — that other distributor won't."
IF YOU CAN MAKE IT HERE . . .
Today, Siegel keeps one eye on the business and another on the economy, watching for the signs that will tell him the time is right to branch out again.
"Opening more branches is a very good way for a company like us to grow. The avenues for growth are more product lines, more geographic coverage, or both."
Thanks to its dedication to product knowledge and in-house experts like Si Solomon, Siegel knows how to strategically add lines. Geographic expansion is next.
"New York City is the toughest market in the country; maybe in the world. If you can make it here, well . . ." Siegel says and spreads his hands. "Let me put it this way; it's a lot easier for us to take this show on the road than it would be to come into New York City from out of town, even if you are successful there."
In 2001 Siegel Bros. opened their first branch on Long Island, adding an additional 20,000 sqaure feet of warehuse space plus a yard. This enables Siegel to draw from it to feed the Brooklyn store.
"Because of the levels of activity we have here in Brooklyn, our product line is very broad, much more so than a firm that only serves Long Island," Siegel explains. "We can inventory product out there, and if we run out of it here we can always draw it back. But if my whole market was Long Island, I wouldn't carry half the products that we carry here."
Does he ever worry about growing too fast?
"I think seven or eight years in between branches is slow enough," he says and laughs.
Now that Siegel's Long Island branch has been running for eight years, he is confident the company can take its act on the road. After all, if you can make it here . . .