Western Tool's Long Run Back
Western emerges from Chapter 11 leaner and wiser.
---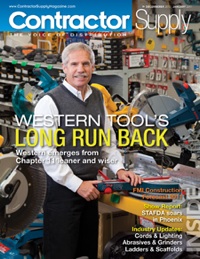 Western Tool's Kevin Kiker has successfully guided his company through Chapter 11 reorganization.
Tom Hammel, Contractor Supply Magazine
As a marathon runner, Kevin Kiker knows a thing or two about pain management, stamina and will power. Every long-distance runner brings all these into play in each race to keep legs and arms
moving long after they have hit the wall. That endurance and force of will was put to its most
severe test when the recession came slamming down on Kiker and Western Tool Supply.
From its start in 1982 until 2007, Kiker's Western
Tool Supply grew at an average annual rate of nearly 30 percent a year. By the early 1990s, Western began expanding more aggressively, riding the economy like a wave across Idaho, Montana and Utah and down into California. Then, in 2004 came two major acquisitions. The first, House of Tools, with annual revenues of roughly $39 million, added 10 stores in western Canada. Before the crash, Western's Canadian operations alone had grown to more than $54 million.
Next, Western leapfrogged across the country to purchase 13 former Trend Lines stores in New England. Those 13 initial stores soon became 17.
By 2007, Western Tool had 76 stores, 510 employees across the United States and Canada and annual revenues of $127 million. Western's "Pioneer" house brand of power tools was contributing some $6 million a year by itself. All that growth required money.
"To fund that kind of growth you need capital; and we got fairly deep into the banks," Kiker says matter-of-factly. "We had a lot of stores and lot of inventory because that's what you do if you are going to grow — you anticipate your future needs. Everybody was loaded for bear; everyone expected the good times to go on forever. Plus, we were very deep into the housing construction business — it was a perfect storm."
All would have been well if the economy had not taken a sudden turn right off a cliff.
"In 2007, the economy began to slow — then California started to go over a cliff. There was the stock market meltdown, the sub-prime mortgage crisis; then it spread to everything. Next, our business in New England started to die. By 2008 everything hit the fan. Sales dropped dramatically; we couldn't shrink fast enough."
Every business was impacted, banks included. They began putting the squeeze on their customers, including businesses like Western Tool.
Both ends burning
Kiker found his company in trouble both in the United States and in Canada. "The advice I got was, 'Kevin, you have two raging infernos here; one in the U.S. and one in Canada — and you can only save one.' "
As if to force the issue, after Western paid down its debt in Canada from $9 to $1 million, its American bank foreclosed. "They shut down the Canadian operation," Kiker says. " Once you go into bankruptcy in Canada, BIA it's called, you're left sitting on the sidelines; you don't own the company anymore."
This made the pressure to save Western's U.S. operations all the more urgent. "There was much more at stake here so we had to file Chapter 11 fairly quickly, because the bank was beginning to squeeze us here, too," he says. "The creditors were getting upset; we were on hold; landlords were coming unglued; suppliers were having problems; so were the banks. We were caught in that downdraft and we needed to call 'Time out.' That's what Chapter 11 does — it's a time out. So we filed for Chapter 11 in June 2009."
By then, Western had closed, or was in the process of closing, all of its east coast stores, but the company couldn't shrink fast enough. The federal Court in Eugene, Oregon had jurisdiction in Western's home territory and took over the case.
"One of the biggest expenses you have as a multi-location company is in leases for your facilities," Kiker explains. "When you have a five-year lease on a building in New Hampshire at $5,000 a month, that's a big commitment. And you have to renegotiate that. There are protections from creditors and rules in place to allow that to happen. So you begin to negotiate with your landlords, your creditors and your bank, but at least you now have some time to do that."
Naturally, some creditors were more supportive and understanding than others. Rick Ikeda, Western's vice president, had the unhappy task of working with many vendors, as did Kiker.
"The supplier salespeople I had relationships with wanted to help us any way they could, but the final decisions were often made by
financial departments where we did not have any relationships."
— Rick Ikeda, Vice president, Western tool supply
"The supplier salespeople I had relationships with wanted to help us any way they could, but the final decisions were often made by financial departments where we did not have any relationships," Ikeda says. "Some of them surprised us by how much they were willing to step up for us and others were much more conservative. Some took it personally, but for the most part they were professional about it."
One result is that Western Tool's line card is not what it was three years ago. Some lines are gone for now; others are gone forever. Some categories are either gone or being sold down and not reordered. These include ladders and stationary power tools like table saws and jointers. Because so many small contractors have either gone out of business or have been reduced to fractions of their pre-recession payrolls, the survivors find themselves with excess tools.
Another tool Western Tool utilizes these days is two-tier suppliers to fill orders for product that Rick used to stock routinely. As business gradually improves, Rick intends to reduce Western's reliance on two-tier suppliers, but for now they're valuable resources. "For the most part we are buying direct again," he says.
Plan your work . . .
The key component of Chapter 11 reorganization is a new business plan. First, Kiker and his bank had to go through the soul-searching ordeal of determining if the company could be saved at all. In the United States, business bankruptcy takes two basic forms: go for a Chapter 11 reorganization, or declare Chapter 7 and close the door.
"We chose Chapter 11 — we thought we could make it," Kiker says. "As demoralizing as it was, we didn't give up. Sometimes people in those situations think, 'What's the use?' but I never felt that way."
Kiker, with the approval of Western's court-appointed trustee, brought in a small team to help draft a reorganization plan. A key player was Kevin Adams, an experienced and respected turnaround specialist. Having Adams and his team on board lent more credibility to Western's reorganization plan out of the gate.
As part of the Chapter 11 process, the court forms a committee of Western's creditors, from suppliers to landlords. The committee elects a leadership team, typically made up of the largest creditors. These in turn represent the interests of all of their fellow creditors.
"Black and Decker/DeWalt was the lead on our creditors committee and I have to say they were very good," Kiker states. "They were reasonable, cooperative and really helped keep people focused."
"The plan took several months to create and is very complicated," Kiker says. "It projects our cash flow by month, by product category, by store, by everything for five years. So far, we are hitting our plan numbers. These things aren't done on the back of a napkin — they take months of hard work by highly qualified, experienced professionals."
Finally, the plan was presented to the creditors committee for a vote. If the majority of creditors had voted "no," it would have been the end of Western Tool Supply. Fortunately, the vote was almost unanimously in Western's favor. The plan was confirmed by the court and Western exited Chapter 11 on March 19, 2010. From start to "finish", the process took nine months, a relatively brief time.
Through it all, Kiker communicated with employees in person and via his weekly employee newsletter. This communication helped keep everyone in the loop, provide facts to counteract rumors and misinformation and keep employee morale as high as possible.
"We worked hard to maintain our dignity," Kiker says. " 'Let's keep our head high and work through this thing.' Chapter 11 was not something we are proud to have gone through, but at the end of the day it was one of our finer achievements."
Out of the frying pan
Far from allowing Western to simply "reopen" its doors, the plan dictates a new Western Tool that is in-line with today's economic reality. Kiker and his team made major adjustments to Western's business model, from sales strategies to line card, inventory and sourcing. Here are some hallmarks of the new Western Tool Supply:

1. Margin, margin, margin. The old Western Tool was top-heavy with every power and stationary tool under-the-sun, in depth, ordered by the container load. No more. Western Tool now only carries those tools, mainly pneumatics, that complement its new focus on consumables and supply products. "Actually, our margins have never been higher than they are right now," Kiker says.

2. Expanding markets. Although housing will always be part of Western's identity, and they will welcome the market's return when it comes, as Kiker believes it must, Western today focuses much more on institutional, government, infrastructure, manufacturing, MRO and healthcare customers.
3. Outside sales. Gaining market share in the above markets means prospecting and relationship building of the kind that can only be done by an outside sales force. In the past, Western was able to rely on massive monthly advertising campaigns and high-profile locations to draw customer traffic. Most of those old customers are now gone. The headcount tells the story; 14 of Western's 60 current employees do outside sales.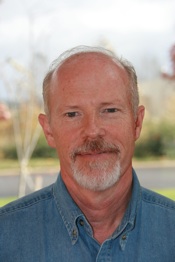 "I work to help our guys get into schools, hospitals, government agencies and other areas where they have not sold before,"
— Dean Hanna, outside sales manager, Western tool Supply
Dean Hanna, Western's outside sales manager, has two initiatives; build market share and expand Western's markets of opportunity. Hanna works with his 14 outside sales reps to develop sales relationships in Western's newly expanded target markets.
"I work to help our guys get into schools, hospitals, government agencies and other areas where they have not sold before," he says. "Our people have construction experience but don't have a comfort level in those places, in getting past the gatekeepers and finding out who really does the buying. We have a heavier emphasis on cold calling now."
4. Repurposed locations. Two of Western's remaining 19 stores still exist as locations but no longer have retail staff. They serve as bases for outside sales in those markets. Western maintains a selling presence in these key markets but without the overhead of a retail staff or a showroom.

5. Master distributors. Western's reorganization forced the elimination of a number of lines and categories it used to sell. When customers today ask for products Western no longer carries, Western uses area tier-two companies such as Cascade Wholesale to fill the order quickly and still profitably.
6. Slashed inventories. A Western store employee from 2006 would shudder to see the pared down line card of the new Western Tool, but, Kiker notes, there is no sense carrying products that people don't buy anyway. The new line card reflects the new reality of the nation's economy as well as the new markets the company is working to cultivate.
Minimizing the impact on remaining customers was critical. When customers began to complain about thinly merchandised shelves in the normally packed showrooms, Western employees were instructed to tell the truth. When customers learned of Western's situation, they almost unanimously rallied to whatever degree they could to shift more business to Western. These expressions were gratifying and gave employees a shot of hope during the dark days.
Western Tool at a Glance

Founded: 1982
Ownership: Privately held
Locations: Albany, Bend, Klamath Falls, Medford, Portland, Salem and Tigard, OR; Kent, Lacey, Spokane, Woodinville and Yakima, WA; Boise, ID; Billings, Bozeman, Helena and Missoula, MT;
Salt Lake City, UT
Employees: 60
Sales staff: 14 outside sales
Lead lines: Bessey/American Clamps, Bosch/Freud, Calculated Industries, Coilhose, Coleman Cable, CLC, DeWalt, Empire Level, ERB Safety, Fall Tech, Fein, Hitachi, Interchange Fasteners,
Irwin Tools/Marathon Blades,
ITW Ramset/Redhead, Kreg, Makita, MAX USA, Milwaukee Electric Tool, Mirka Abrasives, Norton Abrasives, Occidental Leather, Olson Blades, Omer, Porter-Cable, PrimeSource,
RolAir, Senco, Stabila, Stanley Tools, Tajima, TiteBond, Whiteside
Web site: www.westerntool.com
7. Online sales. With the proliferation of media both on and off the Internet, it is more difficult than ever to reach customers, Kiker notes. This new reality is evident in Western's limited and highly targeted use of what was once one of its main advertising vehicles, direct mail flyers. From a once-peak mailing list of nearly 750,000 names, Western now prints only enough flyers to mail to current active customers and a few extra copies for use as handouts in the stores and by its outside sales force.
The longest run
One question that keeps popping up is the emotional toll such an ordeal takes on the body and the soul of an owner who must close stores and lay off longtime loyal employees. No business owner who has never been through it can understand the price this exacts or the endurance and fortitude demanded to see the process through to salvage the remains and begin to rebuild. It takes a tough body and a tougher mind to endure it all. How does an owner "train" for such an event?
Ironically, Kiker may have been training for this all along.
"My banker recently told me, 'I think the fact you are a long-distance runner helped you through this,' " Kiker says. "Before this happened, I considered myself a fairly mentally healthy individual, but the emotional turmoil was brutal. And the only thing to do was focus on the finish line. You train yourself to get there and you have to do the right things — closing stores, cutting lines, letting people go — to get there. Some of those decisions were gut-wrenching, but it all had to be done."
Today, Kiker, Ikeda, Hanna and the rest of Western's employees are grateful to be through it and are looking forward to better times ahead. And they are seeing the market improve — almost imperceptibly, but enough.
"It's almost microscopic at times," Kiker muses. "It is getting better but it's hard to tell. We don't expect to see any big swells of business any time soon, but this is much better than running backward like we did for so long." CS