The Competitive Edge
Incoming STAFDA president Eric Grabowski helps his company build its competitive "Edge"
---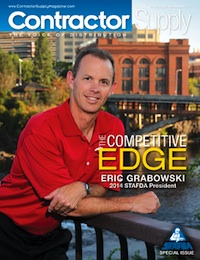 Eric Grabowski, CEO of Edge Construction Supply and incoming 2014 STAFDA president, brings a fresh perspective to his company and is excited about his opportunity to contribute to and learn from his tenure with STAFDA in 2014.

By Tom Hammel, Contractor Supply Magazine
Spokane, Washington, home of Edge Construction Supply and STAFDA's incoming president Eric Grabowski, is nestled in rolling wooded hills on the eastern border of the state. Just 35 miles to the east, Coeur d'Alene, Idaho is considered a sister city.
For over 60 years, Edge (formerly Safway Supply) has been serving commercial construction and industrial customers in Washington, Idaho, Oregon, Montana and Wyoming — with a lot of wide open spaces in between.
A lot. Edge's eight branches cover five states and an approximate land area of 425,000 square miles. Driving between the Gillette, Wyoming branch and the Eugene, Oregon store is no quick run — it's 1,230 miles. This fact alone influences company operations such as purchasing.
"We are very spread out geographically, so each of our stores buys some product," explains Eric Grabowski, Edge CEO. "We also transfer product each week from our home branch here to each store, so it's a hybrid approach to buying — we don't have a true distribution center operation."
Purchasing is coordinated through the Spokane branch and the two primary buyers, with input from Grabowski and Rick Thomas, the company's chairman.
"We have one part-time buyer per location too, so we look at both what we need to transfer to that location and what they need to buy directly into the store. If it is a freight-intensive item, we try to buy direct to the branch."
Edge also operates on the "edge" of its region's major metro areas.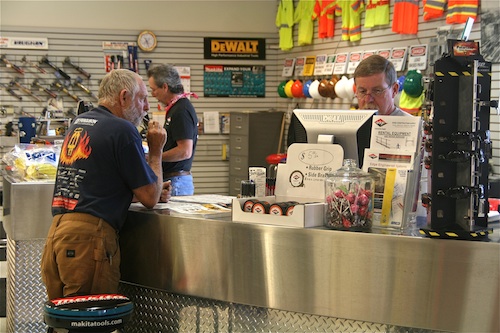 The Spokane store's curved stainless steel and diamond tread counter design backs up to windows that wash the entire showroom with natural light. The counter faces the aisles, which open via rows of parts and tool racks straght into the warehouse itself.
"Our stores are in the second-and third-tier cities of our five-state region," he says. "The two largest cities are Seattle and Portland: We have customers in those markets but not brick and mortar. Spokane and Billings are our largest stores. The cities we serve range from 50,000 to 500,000 people and lots of towns in between."
Because of the "island market" nature of its far-flung territory, Edge offers a wide range of products to its customers, while staying predominately a commercial construction-focused business.
"We have a pretty broad range of customers, primarily construction but industrial as well, plus some government and municipal clients," Grabowski notes. "Probably 75 to 80 percent of our business is in construction and of that, about 90 percent is commercial."
The relative isolation of its region, and the company's own history, means that Edge has something for everyone — it sells, rents, repairs, fabricates and installs some products, all depending on the customer's needs.
"Jesse Thomas launched Safway in 1949 as a scaffolding company and the rental business grew out of that," he explains. "Scaffolding was the primary business for years, and because some of the product had motors, repair came in there too. Customers began asking for supplies, so they were added to the mix. When Rick Thomas, Jesse's son, joined the company, he grew all three parts of the business into a tool and supply sales, rental and repair distributorship. He was the impetus for that."
Edge sold its scaffolding business (and the Safway Supply name) in 2007 and does not do much work in the scaffolding market at present, but rental has stayed.
Today, Edge rents indoor scissor lifts, power tools, pneumatic tools, concrete saws, ladders, planks, baker's scaffold, suspended scaffold, compressors, generators, cable pullers, pipe benders, threaders, material handling equipment, smaller gantry cranes and anything else unique that makes good business sense. Edge concedes the big iron market to the "iron giants" but does a steady business in smaller equipment.
Like many other STAFDA houses, the company's largest product categories include power tools, strut, ladders, mechanical tools, electrical tools, fall protection, concrete cutting, job site storage, material handling, hand tools, abrasives, power cords/distribution and general safety products.
"A lot of STAFDA and Evergreen Marketing Group member companies might focus more on a couple of key subcontractor categories but we, because of where we are, we serve general contractors, mechanical, electrical, plumbing, drywall, glazers, masonry, roofing, excavating and other specialty trades. Mining is big in our markets so we do that too. We do it all, whatever customers need."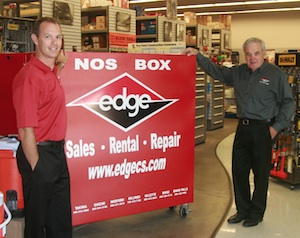 Edge offers contractors what they need most — a job site box that is NOS — Never Out of Stock. Currently, Edge has approximately 40 of these fully-stocked, custom painted Jobox supply stations on job sites across its 425,000-square-mile territory.
Never Out of Stock
On a walk-through of the facility, Eric and I meet Edge chairman Rick Thomas in the showroom. Just inside the entry doors a large toolbox merchandises popular products — and itself. The bright red box carries a large, crisp Edge logo and the words "NOS BOX."
"NOS stands for 'Never Out of Stock,'" Thomas explains. "We put these on job sites for contractors and stock them with their needs for that job, whether it be mechanical, electrical, HVAC or whatever. It's a keep-fill system; we go restock weekly or whenever they tell us they need more, and we bill them for the items they use."
The NOS box program has been running for nine years and Edge currently has about 40 boxes on site at present. The boxes are custom painted at the factory by Jobox; Edge applies the logo decal, stocks them with product pre-ordered by contractors and delivers them to job sites.
"The program works well, especially on out-of-town jobs where it's hard for contractors to get merchandise," Thomas says. "But I can't take credit for the idea; Eric and his team started this."
Thomas, a construction supply icon in the Pacific Northwest, is gradually handing over the reins to Eric, his son-in-law. "I'm happy for the third generation to take over the business," Thomas says. "It's been a real blessing for Edge and the family."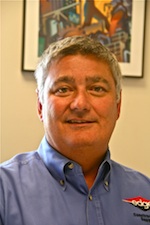 "Fundamentally, construction distribution is very much still a face-to-face, problem-solving business."
— John Cervelli
Wide Open Spaces
John Cervelli, vice president of sales, has been with the company for 18 years. From a start in safety product sales, he now manages the company's 13 outside sales pros and Spokane's inside and outside sales team.
"Our footprint is pretty large throughout the Pacific Northwest and the Rockies, so I work both by phone and on the road," Cervelli says. "I do field training with new outside salespeople — go into the field with them, get a feel for how they work, relate what the company expects of them and lay out some groundwork. That's beneficial — it's a good way to do things."
Cervelli also has his own sales territory, the central basin area of Washington. He sees a general improvement underway across Edge's entire five-state region.
"I see things turning the corner quite substantially, especially in private sector investment. During the slump of 2009 through 2011, very little private money was being spent on commercial construction. The purse strings are loosening; people are sick of sitting on their hands and the people who have the capitol to invest in private commercial projects are moving forward now. That's been the biggest commercial uptick."
Grabowski has one quick lesson from the recession to impart: "Don't take anything for granted," he stresses. "Relationships with customers are key. In this industry, if you are not continually seeking new customers, marketing to them and bringing them new products, you'll die off."
Grabowski also notes that the good manufacturers have gotten the same memo about developing new products and continually working with their customers.
"Coming from a manufacturing background with my previous work experience, I have been surprised by how dynamic the construction industry really is," he says. "We are driven more by projects that last from six to 24 months than by a steady manufacturing process, so our buying tends to follow those project variations and spikes. Any construction supply business and manufacturer who makes products for this industry will benefit from having a lot of product in stock, which we do, but we are also
challenged to stock new products that we think are going to feed the demand of projects coming up."
The Need to Know
Cervelli sees change in the industry every day, but one thing never changes, the contractor's need for solid, reliable, personal advice.
"Technology is wonderful for disseminating, transferring and sharing information, but fundamentally, construction distribution is very much a face-to-face, problem-solving business. You've got to be out there with your customers — at all levels of their business — bringing things that set your distributorship apart. Problem-solving is how we do that. Through training, education, experience and expertise, we bring our customers new solutions that are truly better ways to do business — and they appreciate that. You just can't get that across in an e-mail."
Cervelli points to Edge's engineered systems business as a great example.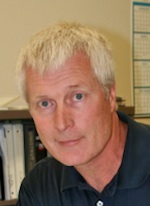 "The largest part of our engineered systems work is with Unistrut, where we do medical supports for x-ray machines, surgical lights, heavy booms and exam lights. We basically provide the interface between the building structure and the x-ray machine." — Vern Olson
Engineered Systems
Vern Olson, engineered systems lead for Edge, has been with the company for 26 years. He works with customers to develop solutions for new construction or retrofits in medical facilities, manufacturing plants, schools, commercial construction and HVAC installations. His primary lines are Unistrut permanently engineered fall protection systems and Lindapter of Germany.
"Lindapter is a fairly new product for us," Olson says. "It is for connecting steel with steel without having to drill or weld so it is really a retrofit-type product rather than one for new construction. Lindapter also makes the Hollo-Bolt, which is like a wedge anchor for steel. It's a great line."
"The largest part of our engineered systems work is with Unistrut, where we do medical supports for x-ray machines, surgical lights, heavy booms and exam lights. We basically provide the interface between the building structure and the x-ray machine."
Far from being as esoteric as it first sounds, medical equipment installation came with the territory when Edge began selling Unistrut.
"Hospitals often don't want equipment welded in place, so for hanging things or in-the-field adjustments, bolting is a lot easier," Olson says. "If a renovation calls for changes in the floor plan or if they purchase new machines, it's just a matter of removing bolts, moving the system and reattaching. Unistrut has done these systems for years."
"What makes us a little bit different is the way we service this segment. We will do turn-key work — bid it, engineer it and install it, or we'll do whatever the contractor wants us to do. If he just needs material, we'll provide material."
Edge Construction Supply at a Glance
Founded: 1949 Ownership: Privately held
Locations: Boise and Idaho Falls, Idaho; Billings, Mont.; Eugene and Medford, Ore.; Spokane and Yakima, Wash.; Gillette, Wyo.
Facility: (Spokane home branch plus adjacent warehouse): 45,000 square feet total, main facility has 30,000-sf with 20,000-sf warehouse and 4,000-sf showroom
Markets: 80% Commercial construction and engineered systems; 20% industrial and government
Services: Sales, repair, rental, engineered systems
Employees: 78 Sales Staff: 13 outside; 18 inside/counter
Line Card: (Issue advertisers are linked) 3M, Airman, Ajax, Ames, Anvil, Apex, Armstrong, Arrow, BASF, Bernzomatic, BioSystems, Bosch, Buildex, Burndy, Caddy, Cadweld, Capital Safety, Cendrex, CEP, Certified Safety, Channellock, Chapin, Chicago Pneumatic, CLC, Coleman Cable, Columbus McKinnon, Cortina, Cox, Crescent, Current Tools, Delta, DeWalt, Diamond Products, Eagle, Edco, Electrotape, Elmdor, Empire Level, Enerpac, ERB, Erico, Erin Rope, Fein, GearWrench, Generac, Genie, Greenlee, Grip Hoist, Guardian, Heatstar, Helly Hansen, Honeywell, Hougen, Husqvarna, Igloo, Irwin, ITW, Jenny, JET, Jobox, Kett, Kimberly Clark, Klein, Knaack, Kraft, Krylon, Leatherman, Liftall, Lindapter, Little Giant, Louisville Ladder, Lug-All, M.K. Morse, MSA, Makita, Markal, Marshalltown, Masterlock, Memphis Gloves, Miller Safety, Milwaukee, Motorola, Multiquip, Newborn, Nupla, Occidental Leather, OSI, Paslode, Pferd, PIP, PLS, Pneutek, Porteous, Power-Pull, Powers, PrimeSource, Radians, Ramset, Rap-I-Form, Raven Industries, Rayovac, Redhead, Reed, Relton, Ridgid, Rothenberger, Rubbermaid, Sammy, Shop-Vac, Simpson Strong Tie, Skil, SkyClimber, Sonneborn, Sqwincher, Stabila, Stanley, STI, Sumner, Surface Shields, Telespar, Telpro, Triumph, Union Tools, Unistrut, Unitec, United Tape, Uvex, Vaughan & Bushnell, Vizcon, WD-40, Werner, LB White, Daniel Woodhead, Yamaha, Zipwall
Affiliations: STAFDA, Evergreen Marketing Group
Website: www.edgecs.com
"We also do specification-based subbing," Cervelli adds. "Our salespeople are very adept at reading spec books on projects, so if they see a spec that's old and outdated, they will show the contractor a newer and often better alternative."
Since Grabowski joined Edge seven years ago (just in time for the recession), he has become keenly aware how much customers need solutions and individualized service.
"When I joined Edge, I was surprised by how much contractors want to be catered to, but when you think about the technical requirements they face and how fast they are always running, it makes sense. If you are out there with them on job sites, rolling up your sleeves and getting dirty with them, that's a big deal. It takes a lot of time and energy to build a loyal customer, but it pays off."
And what about Internet, Facebook and Twitter-savvy contractors? Grabowski believes he is on the way but he's not there yet.
"Since we have been watching the Internet the last four years, most of our customers still don't use Facebook for anything work related," he says. "They still prefer to buy from a person face to face. We hired Todd White last summer to manage print and digital marketing and he recently created our Facebook page. So far we have two 'Friends,' my wife and Todd's wife," Grabowski says and laughs.
The Fine Print
"I'm a strong believer in marketing. For my first several years here, our salespeople kept telling me, 'We need a catalog; we could sell more.' Most of our customers want a hard copy catalog, too. We spent a lot of time putting one together and I think we've had a good return on it. We will have a larger one ready shortly, 750 or 800 pages."
He expects to print about 10,000 copies of the new master catalog. Edge also produces welll-executed flyers, brochures and an employee newsletter.
Even so, Grabowski does see a tide turning. A new company website will go live soon and Edge has converted its entire product database to digital format for future use in marketing materials.
"The new website will contain a lot of information, however its main purpose will be to drive customers to pick up the phone and call us, not so much to generate online sales" Grabowski explains. "Our goal with the catalog is more for use as a marketing tool than a sales tool. Customers will be able to order based on item numbers in the catalog, but
its goal is to get them to talk to us or email us with their requests, in part because in commercial construction maybe 50 to 70 percent of our orders involve some variation from the standard product anyway. We want the catalog to increase our customers' awareness of the broad range of products we sell that they could also be getting from us."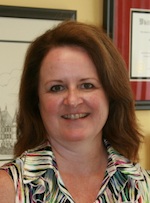 "Having long-term employees helps the company because we try to be a solutions provider for contractors." — Nancy Othmer
And, as one generation exits the industry and a younger one enters, Grabowski sees a trend toward more online interaction with customers. Fortunately, turnover is not much of a concern for Edge.
"Our average employee has been here for 10 years, so turnover isn't really an issue," says Nancy Othmer, vice president of administration, human resources and finance.
"Plus, having long-term employees helps the company because we try to be a solutions provider for contractors. If we had high turnover, we couldn't provide those solutions because we wouldn't have the knowledge-base that we have in these veteran employees."
Othmer watches her own leading indicators of where the economy is headed — accounts closed and outstanding.
"Not many customers are going under anymore and we are seeing more timely payments coming in," she notes. "From my desk, I see an improving market right now."
Grabowski sees the same. Across its nearly half-million-square-mile territory, Edge Construction Supply's engineered systems, tenured expert sales staff, broad range of lines and rental and repair services all help set it apart from competitors. The company's combination of construction products and custom solutions give it a genuine competitive "edge" in its market. CS