Ohio Power Tool — Live and Online
This next-generation distributor is is 50% web, 50% local and 100% customer-focused.
---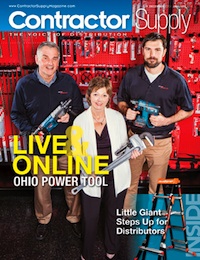 Jim, Suzanne and Jay Amstutz (L-R) have built a strong Internet sales operation and a loyal local customer base for Ohio Power Tool. Now they plan to use both to grow the company.
By Tom Hammel, Contractor Supply Magazine
Distribution is something of a grey-beard business and discussions of what the next generation of the industry will look like are common. To see precisely what that next generation looks like, one need only look at Ohio Power Tool (OPT) in Columbus, Ohio.
Launched by former Ingersoll Rand salesman Jim Amstutz in 1983, OPT sells, repairs and rents power tools and equipment to contractors in the metro Columbus market.
"For the first 10 years, the business focused on tool repair," explains Jay Amstutz, OPT's vice president. "From there, Dad began gradually adding sales to the mix. That was a good move — tools are so much cheaper today, that after the
warranty has expired, it often makes more sense to replace a tool than repair it."
Located close to downtown Columbus, OPT's 8,000-square-foot building was convenient for contractors, but as the business grew it became hemmed in by its own walls.
"In our old building, we weren't even able to carry basic products like marking paint, shovels or ladders because we just didn't have any space for them," Jay explains.
Jim Amstutz hoped to acquire land adjacent to the store for expansion, but environmental issues ultimately squelched that hope. OPT would have to move. Thus, the search for a suitable building close by took three years. OPT wanted to stay as close as possible to its first location, so finding the right vacancy in the area became a game of watch and wait. The search ended in early 2013, when OPT found a 40,000 square foot building just a mile from its existing store. The company moved into the new location on July 1.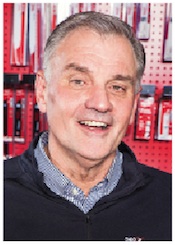 "Setting one price for everyone was a decision Jay made early on."
— Jim Amstutz
The new store has a 4,500 square foot showroom, an equal amount of office space and a 16,000-square-foot warehouse, currently. Some pre-existing tenants, including a local school's baseball team that has indoor batting cages here, take up the rest of the building's 40,000 square feet. OPT finally has room to grow — and is wasting no time doing it; Jim and Jay Amstutz began planning to add lines months before the move.
"Once we decided to move here, we knew we would finally have the space to carry more lines. We began polling our key customers on which lines they would like us to add and what they expected to pay for them," Jay explains. "We compiled all of their input and said, 'OK, people need these products. This is what they expect to pay — can we do that?'
Jim and Jay then began signing on new lines from their customer wish lists so the lines would be in stock on opening day or soon after.
"We opened this new store with a lot of lines we had never carried before, and we have added more since. Now we have lines like Krylon marking paint, Michigan Ladders and a lot of consumable products that local customers expect when they come into a store."
The new location presented the opportunity not just to add more lines but also to significantly expand displays to create a "narrow but deep" treatment for key brands.
"We worked with all of our vendors for months, well before we had the final building plans done, on how they would like to be presented in the store. We selected a few partners like Bosch, Milwaukee and Ridgid and focused heavily on supporting them. So we sell a lot of the accessories with the brands instead of just cherry picking; we'll sell their grinders, recip blades, hammer drills and cordless. Plus, with our repair background, we do warranty work on the whole line, so we didn't see the need to add six different power tool manufacturers."
Blue and red are the store's dominant colors.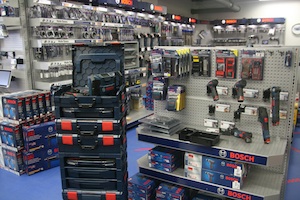 "We are a Bosch Systems Specialist store," Jay says. "Bosch does a good job of creating distributors who will really support the brand. Milwaukee is also very high-end and very focused on their user's experience, so we want to sell their tools and accessories and the entire breadth of their line, too."
OPT hosted a grand opening and 30th anniversary celebration on September 26.
"We set the open house for the end of September so we could have all those lines set up for people to see," Jay says. "Most of our customers had been to our old store but the open house was the first time many of them saw our new one. We wanted them to see all the new lines we had added and to let them know, "We listened to you; now we have all the products you need right here."
"One main objective when we moved here was to enable customers to add more line items to their orders," Jim says. "We have only been here for a few months so we haven't seen a huge turnover yet, but it will happen because our customers are liking what they see. They all say, 'I didn't know you carried this.'"
The decision to stay in downtown Columbus is more significant than it might seem at first, because OPT's main driver of growth since the early 2000s, and particularly through the recession, when the company did indeed grow, has not been local contractors, but rather Internet sales. The company's path to the Internet was charted not by Jay, but by his mother, Suzanne.
Internet Pioneers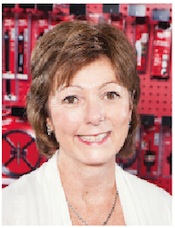 "Back in 2000, the online shopping cart was still kind of new in the tool industry, so we were ahead of some folks."
— Suzanne Amstutz
Suzanne Amstutz joined her husband, Jim, in the firm two years after its launch, in 1985. She brought insurance industry experience that would transform OPT from a ledger-and-receipt-based operation into a distributorship at the forefront of the online sales revolution.

"I worked for Nationwide Insurance in the 1980s when the VP of data processing took typewriters off everyone's desk, plopped down a computer and said, 'Use this now.' Part of my work was to train other employees to use Excel, Lotus and word processing software, and I loved it. When I joined Jim here at OPT, we were still doing everything on ledgers and cards and I said, 'Jim, there's a better way — we have to get a computer."
Suzanne's interest in computer technology next led her to begin exploring a new thing called the Internet. A friend from Nationwide helped her build the company's first website and OPT online was up and running. She helped Jim run the company during the day and built the website at night, typing in catalog information and adding photos. In 2000, she launched the company's website.
"Back in 2000, the online shopping cart was still kind of new in the tool industry, so we were ahead of some folks," she says. "Many contractors were still looking at the Thomas regional books, but I thought, 'These people aren't going to be looking at books forever — they are going to be researching products online.'"
Jay began doing part-time web programming for OPT in 2004 and the company's online sales began to grow. He joined the company full-time in 2008, just in time for the recession. Having Ohio State University in town kept some area companies in the game, but not all of them. Even the Buckeyes could not defend businesses that focused exclusively on residential construction. OPT's Internet sales formed another line of defense against the recession.
"Through 2008 and 2009 when local contractor sales really slumped, our Internet sales kept growing," Jay notes. "We had positive growth in both 2008 and 2009, driven by online sales. Today, over 50 percent of our business is online."
The majority of OPT's online customers are in the United States and Canada and their orders are processed and shipped entirely from the Columbus branch. International orders are processed differently.
"Our whole shopping cart goes to a different site for international check-outs," Jay explains. "They handle the credit card processing, currency exchanges and all the rest of the transaction. We ship the products to our international partner, who then ships them to the customer."
The company's high percentage of online sales lends a deeper meaning to the family decision to continue to invest in downtown Columbus and local contractors. Rather than say, "We can sell online from anywhere, so why not move where buildings are cheaper?' OPT opted to say, "We can sell online from anywhere, so why not stay as close as we can to our local customers?"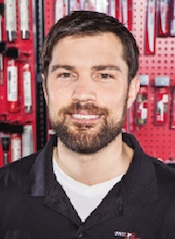 "Through 2008 and 2009, when local contractor sales really slumped, our Internet sales kept growing,"
— Jay Amstutz
"If we were just focused on the Web, we probably wouldn't be in this central location downtown," Jay says. "We could move to a warehouse out to the west side of town, but we wanted to stay central. We've got a big sign on the building that's pulling people in here so we definitely plan to continue to focus on local sales just as much as we do on Internet sales. And now that we're a little bit larger, we can dedicate some people to the Web and others to our local customers."
This dual approach goes to the heart of OPT's business model, to use both online and local sales to drive growth for the company. And it is working. During the recession, because there was little work going on in Columbus, OPT pulled most of its sales and growth from the Internet. Today however, as the economy recovers, local sales are perking up.
"In 2013, our percentage of local sales has grown faster than our online sales," Jay observes. "Now we are hiring a new outside salesperson and new lines to sell locally."
Local customers benefit from OPT's online sales in another way, with a wider product selection.
"In a brick and mortar store, you stock products that your customers use on a regular basis," Jay says. "People go online to find less common products, the 'weirder' things, that they won't normally find at Home Depot or even a STAFDA house because they may turn maybe only two or three times a year."
The experience gained from selling less common products online also enabled OPT to begin to keep some of those low-inventory turn items in stock. When local customers learned that OPT had those items in stock, the turns began to increase.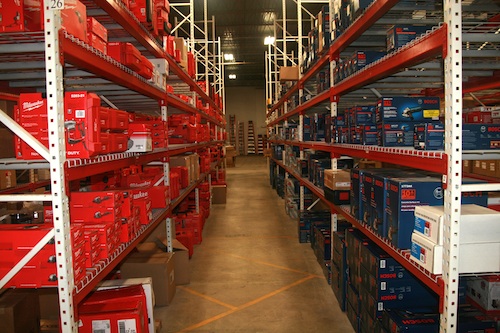 "Local sales and online sales work together really well," he adds. "Plus, if you only do online sales, the business is a little more volatile. Google likes you one day but maybe not so much the next and your sales of certain products will drop. We've been pretty lucky with Google updates but I've talked with people who lost half of their organic web traffic literally overnight because of a Google update or something. If all of your business came from Internet sales, that could be terrifying."
One for all
And what about pricing? Every customer, whether he comes to OPT in a pickup or on a laptop, gets the same price. This was a key decision made when OPT first started selling online.
Ohio Power Tool
at a Glance
Founded: 1983
Ownership: Privately held
Location: Columbus, Ohio
Facility: 40,000 square feet total, including 16,000-sf warehouse and 4,500-sf showroom
Markets: Commercial construction
Services: Sales, repair and rental
Employees: 17
Sales Staff: 2 outside; 3 inside/counter
Line Card: (Issue advertisers are linked)
AccuSharp, Ajax Tools, Ames True Temper, Amflo, Armstrong, Bosch, Campbell Chain, Champion Cutting Tool, Chicago Pneumatic, Crescent, CST Berger, CS Unitec, Current Tools, Diamond Products, Dremel, Duracell, Dustless Technologies, Edge Eyewear, Empire Level, ERB, FallTech, Gearwrench, Generac, Gray Jacks, Greenlee, HK Porter, Hein-Werner, Hougen, ICS Blount, Ingersoll Rand, Irwin, JET, Jobox, Kett, Krylon, Lincoln Lube, Makita, Markal, Michigan Ladder, Milwaukee, Motorola, MultiQuip, Nicholson, Norco Jacks, Pacific Laser, Porto-Power, Power Team Hydraulics, Powermatic, Ridgid, Ringers Gloves, Rolatape, Rototzip, Simplex, Simpson Strong-Tie, Spray-on, Stren-Flex, Tanaka, TPI, United SAIT, Voltec, Wheeler Rex, Wilton, Wiss, Wright Tool
Affiliations: STAFDA, NetPlus Alliance, Builders Exchange
Websites: www.ohiopowertool.com;
www.coptool.com
"It was a struggle in the beginning because to sell stuff online you have to go with pretty small margins," Jay explains. "We looked down the road and decided we wanted everything to work together: the website is the store and the store is the website. I would hate to have a customer find out that we sell a product online for $5 less than it is in our store — that didn't strike me as right."
"Setting one price for everyone was a decision Jay made early on," Jim adds. "Actually, we refer to the website a lot for pricing. It's nice to know that when we look up a product, it doesn't matter whether the customer is down the street or in California. They see what we see while we talk to them and we strive to provide the same excellent customer service."
A blog for all seasons
Bloggers are the Rodney Dangerfields of the industry. They just get no respect. Admittedly, some of that is self-deserved because anybody can blog. In 2012, Tumblr alone had 88 million. Launched 2007 at www.coptool.com, Jay's blog gets 30,000 visitors a month.
As an established STAFDA distributor, an online retailer and leading blogger, Jay and OPT occupy a unique position in the industry. Jay's blog credentials are vastly enhanced by the family's physical store and online sales. Plus, his interaction with blog readers enables him to act as a high-speed conduit between manufacturers and tool users.
Information flows through Jay to the user community and back though him to manufacturers who use that data to develop next-generation products. Tool and supply
distributors have done this in partnership with their vendors for decades, but the Internet and blogging have accelerated the user feedback process from months to 15 megabytes per second.
Jay works on job sites, on OPT's sales floor and at industry conventions, but he is also among a handful of elite journalists who are invited to major manufacturer press events and new tool rollouts. Seeing new tools first — and getting them to OPT's store and site for sale ahead of the industry curve — is a constant goal and a point of competitive difference for the company.
"Sometimes I will get information before the sales team and at other times they will get it first and will bring it to me. Even within the same vendor, it's not always handled the same way, so we benefit from having more ways to gather information. That's also helpful because we always want to sell the newest model; we don't want to sell someone a bunch of new drills or grinders if we know a new model is coming in a month."
Jay admits this is a balancing act between OPT's goals and a vendor's desire to sell-down existing stock first. OPT can't and doesn't expect to receive the newest products before larger multi-store distributors and national accounts, but Jay's industry visibility does help level the field somewhat and he plays to his company's strengths to help OPT grow.
"There is no direct payout from a blog, though, so you have to do it for the joy of it, not for money," he observes. "I do it after all my other work is done for the day and I give it maybe 10 hours a week. I try to integrate it with things I'm already doing, so if I'm going to be testing a new tool, that becomes a subject for the blog."
As a blogger, Jay could in theory say whatever he wants, but his primary role as a distributor imposes rules of engagement — he is bound by Ohio Power Tool's promise to favorably represent the brands it carries.
"I try to keep the blog as honest as possible, keep it straight and list the positives with the negatives because you will get called out on them," he says with a rueful smile. "I have friends who just write blogs but it's a whole different thing when you have a sales counter and a guy walks up and says, 'I read your blog and bought this tool and I'm not happy.' So I have to be as honest as I can. Our name is on it, our local customers know who we are and they will let us know if they think something is wrong."
The road ahead
With all the activity OPT generates online and his role in that success, it would be easy to conclude that Jay Amstutz sees the Internet as the future of the business. But that would be only half correct. The company's new 40,000 square foot facility is all the evidence Jay needs to cite. And although he doesn't say it in as many words, Jay is clearly keeping an open mind about future brick and mortar stores.
"In the future, we could definitely put stores beyond Columbus, but our focus right now is on growing here," Jay states. "The Columbus-metro area has two million people and it is growing; there's a lot of room for us to grow."
His parents have other ideas, like retirement.
"Jay might be planning more stores, but I'm not!" Jim says and laughs. "If Jay wants to do that down the road, I'll leave that up to him."
"This business has been the main focus for Jim and me for many years now, and I feel like the foundation is here for Jay," Suzanne adds. "The move to this new facility nailed it down, so now we just need to spend a few years making sure Jay is ready to take over and managing the transition. If Jim and I step back gradually and let Jay and the next generation of well-trained people take over, we'll be comfortable. I feel good about it."
OPT's leadership transition is ongoing, but looking at Jay Amstutz's reputation and body of work in the industry so far — his successful blog, leading OPT's online sales, working with contractor customers and building new vendor relationships as the company's line card grows — we would say the next generation of distribution, at least in Columbus, Ohio, looks bright indeed. CS