Have Guns, Will Travel — Twin-Cities' Action Fastenings is light on its feet and fast on the draw
---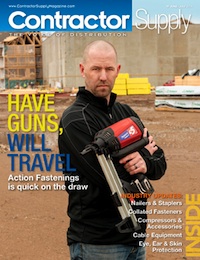 Quick draws — Action Fastenings' outside sales-driven team is led by Eric Erlandson, resident, who acquired the company from his father, Clay Erlandson, in early 2013.
In today's digital world, we are increasingly conditioned to expect immediate information and swift response to our needs. The addictive nature of e-mail makes us increasingly impatient to wait on anything — coffee, stop lights, flights or even the weather itself.
This is particularly true for Minneapolis contractors who have just shivered through the coldest winter in 35 years. Now, the Twin Cities' construction market is playing catch-up to recoup revenues lost last winter. Speed and uptime are more essential than ever.
This suits Action Fastenings just fine. From its single branch (at present) in Brooklyn Park, Minn., Action Fastenings is a nimble company powered by 10 employees, including five outside salespeople. With a focus on job site sales and fastening systems expertise, this scrappy distributorship is staking its claim in the land of some of the Paul Bunyans of distribution — including one named Hilti.
Action competes with a business model that is equal parts job site sales, fastening system expertise and nimble customer responsiveness.
Lead with Fasteners
"When my dad, Clay Erlandson, started the business in 1989, he was the go-to guy in the Twin Cities for powder-actuated tools," begins Eric Erlandson, Action president. "He built a strong core of customers who used powder for shooting down track. We are still strong in interior finishing but as we grew, many of our customers began using gas-actuated for different applications. Next came drop-ins, wedge anchors, vertical anchors and Sammys, power tools, extension cords, blades, abrasives, gloves and safety products. But we still lead with fasteners; that's our main area of expertise."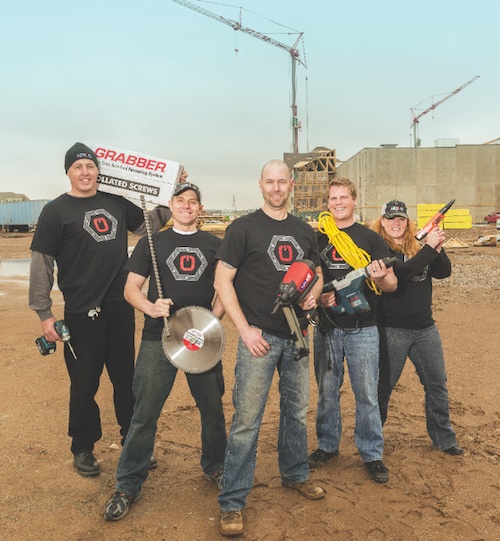 Quick draws — Action Fastenings' sales and management team includes (L-R) Jesse Demars, outside sales; Jeff Knier, general manager; Eric Erlandson, president; Kip Lonto, outside sales; and Tracy Mack, AR manager.
"Contractors who trust us for their fastener business will also work with us on other products too. Even though fasteners are the core of our business and what we rely on to ride-out a down economy, contractors who trust us for their fastener business will also work with us on other products too, so we aren't solely dependent on selling small consumable fasteners."
"Nearly 95 percent of our business is commercial, mainly with contractors and subs on large-scale projects," he adds. "We don't turn away smaller jobs but we naturally focus on larger job sites where we can see multiple contractors and there will be some volume of consumable business."
Action principally serves commercial interior finish professionals — drywall and acoustical contractors, as well as mechanical and electrical trades. Ancillary customers include roofers and some concrete contractors.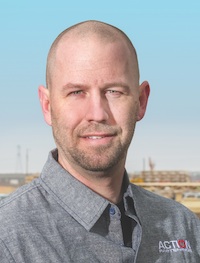 "Nearly 95 percent of our business is commercial, mainly with contractors and subs on large-scale projects."
— Eric Erlandson, president,
Action Fastenings
"We also have a great partnership with all the drywall yards in town," he adds. "They view us as their fastener source. We do some wholesaling to them and partner with them
whenever we can on projects."
"We're a fairly nimble company. If a contractor says, 'Sorry for the late notice, but I need this product in this location by this time,' we typically say, 'Yes,' and figure out a way to do it. That's a huge strength. Certainly, other companies do that as well, but being nimble, flexible and getting things like that done really helps build loyalty with the companies we serve. We truly are all about the 'Action,'" he adds and laughs.
Always "On"
From its approach to the market to its company logo and even vehicles, Action works to set itself apart from other competitors. The company logo is an excellent example. Action's icon is a stylized "On" button seen on virtually every electronics product today. The icon is incorporated into the company name on all marketing pieces from business cards to employee shirts, hats and even to its vehicles.
"The 'power on' button design on our logo means exactly that," Erlandson says with some pride. "We wanted something relatively simple that would emphasize the word 'action.' It supports the idea that we are job site related and that our reputation is built from always being 'on,' always able to respond and get things done. We continually reinforce the idea that contractors know they can make one phone call to us and get the job done, regardless of whether they know which fastener to use or even if it is here on the shelf. We will get it done for them."
"We have taken that even further. In our market, the official name is Action Fastenings but people just refer to us as 'Action.' We encourage that; the name and power button reinforce each other."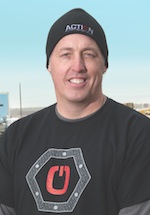 "We developed a simple
stainless steel bracket for our ceiling contractors that is predrilled for use with a stainless steel anchor."
—Jesse Demars, outside sales specialist,
Action Fastenings
Roller Skates!
This "instant on" concept also extends to deliveries. In addition to full-sized trucks, Action's small fleet includes a pair of Chevy HHRs. Their unique, retro work truck shape makes them instantly recognizable on job sites and roads.
"You can go anywhere and see a white Ford F150 with someone's name on the side. We thought, 'Let's be the Geek Squad of the fastener world,' because what we do is so strongly based on expertise. And it works. Some of our contractors jokingly refer to us as zipping around in 'those roller skates!' And that's fine — I'm happy that we are seen a bit differently because the only way we will be successful is if we are actually different. Plus, a lot of the products we sell will fit in a smaller vehicle, so we can run slightly smaller trucks, get better gas mileage and be pretty productive."
The "H" Word
Action competes with some heavy hitters in the Twin Cities metro market, including Acme Tools, Total Tool Supply, White Cap and Hilti. However, each independent house has its own specialty areas, so Action focuses on choosing its battles with Hilti. For example, Erlandson says that the Hilti DX351 is a very strong contender in the PAT market, so in addition to the Paslode and Powers tools and fasteners Action sells, it also carries fasteners that will fit Hilti for contractors who demand them. However, Action's main weapon against Hilti is its arsenal of top flight brands.
"We are a STAFDA and Sphere 1 member and we are extremely loyal to our preferred vendors," Erlandson explains. "If we suggest an abrasive to a customer, it's going to be Norton or Sait. Sphere 1 has really helped us focus our lines. When we joined, there was already a good alignment of the brands we already sold, but after joining, we started doing business with a lot more preferred vendors and realized, 'We can move this
product, too.' So it's been beneficial in both directions."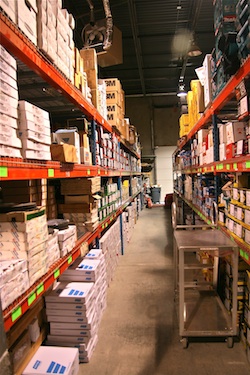 Action's warehouse is jammed floor to ceiling with fasteners and related products. Even so, sometimes customer demand makes a run to nearby manufacturer warehouses necessary.
"We certainly drive more business to our Sphere 1 suppliers, but in turn, when we became a member, they all reached out to us, wanted to do business with us and sat down with us to see if we would be good fit for each other. Safety is a good example; both PIP Safety and ERB are Sphere 1 members and that is how our relationships kicked off. There's a great emphasis, both from the supplier standpoint and the distributor standpoint, that if you're in Sphere 1, let's figure out a way to do business."
"That was fantastic, because now we had people coming in saying, 'Let's set you up — let's get you started. What's your market? Alright, here's a few products that will make sense to your customers.' Just like that, those companies came in and tailored some great programs just for us."
The "S" Word
As the safety culture in the workplace has grown, some companies have developed strong reputations as safety-first contractors. Minneapolis-based Mortenson Construction, with 2013 annual revenues of $2.35 billion, is one example.
"Mortenson is a safety-driven company. Even as a sales guy, if you walk onto one of their sites, you wear glasses, boots, a hard hat and gloves, even if you are just walking in to get a signature on a packing slip or spend a few minutes talking with people. It wasn't that long ago that some of these companies weren't providing gloves to their employees — now everyone provides them. We sell boatloads of PIP and Ansell gloves."
Erlandson also notes a trend toward easily replaceable, cost-effective, high-flex, nitrile-dipped gloves in the Twin Cities market.
"We deal with pros who are using sheet metal screws or drywall screws, often in the cold, so they need gloves with some tactile response. Leather gloves don't really work for that. These gloves are relatively thin and have some cut resistance, but they will wear out in a week or less. Plus, it seems like each contractor has a really specific taste in gloves and there are thousands of styles. But gloves and high-visibility vests are high-volume consumables."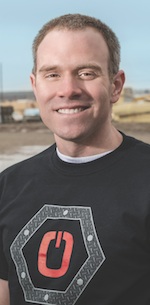 "It's very convenient to be able to run to a supplier's warehouse here in the city to pick up inventory for customers when we run low."
— Jeff Knier, general manager,
Action Fastenings
So rather than market itself with a shotgun approach on the Internet, Action offers services that target core customers and build loyalty. For one, Action repairs the tools it sells. Contractors have limited repair options in the Twin Cities, especially for PAT and gas-fuel guns, so tool repair provides a point of difference.
"You don't make any money doing tool repair, but I believe it is necessary for us as a service-oriented fastener distributor. Our customers know they can trust us to pick up failed tools and make informed decisions on whether to repair or replace them. That adds value for the customer, gives him peace of mind about his tools and removes one reason to shop anywhere else. He will think, "I'll just buy from Action because they'll take care of me."
Action also prefabs threaded rod to order.
"If a contractor knows he's going to need 190 5/8- by 9-inch stainless steel studs, we cut them all here and send them off to the job site ready to go."
In answer to a frequent customer request, Action also developed its own solution for acoustical ceiling installation.
"For the longest time, contractors here didn't have the right product for installing acoustical ceiling in applications such as swimming pools or hospital MRI suites that demanded corrosion-resistance," explains Jesse Demars, outside sales specialist for Action. "We developed a simple stainless steel bracket for our ceiling contractors that is pre-drilled for use with a stainless steel anchor. The contractor can drill his hole, fasten the steel, clip our product to it and it leaves an eyehole so he can cut the wire off and hang the ceiling."
Most of Action's 4,000-square-foot facility is devoted to warehouse and it is tightly packed with inventory. Even so, some orders will consume Action's entire stock of a given product. Action is fortunate that several suppliers maintain stocking warehouses nearby.
"We get most of our rod from Vulcan and Brighton Best. They both keep some stock in Minneapolis. PrimeSource has a big stocking warehouse just down the road, and Powers and Simpson both have warehouses here too, and that's great for a fastener guy. We stock all of those brands pretty heavily, but to have two major construction fastening vendors right in this marketplace is very nice. We are able to respond very quickly, especially on items that are a little different than what we typically have on the shelf or if the customer wants a larger quantity than we have in stock."
In the blood: Annette and Clay Erlandson offically handed over Action Fastenings to their son Eric in early 2013. Although they are now retired, they still come in regularly — Clay repairs tools and Annette calls accounts.
Jeff Knier, Action's recently hired general manager, is particularly happy to have such a wealth of readily-available inventory in the area.
"It's very convenient to be able to run to a supplier's warehouse here in the city to pick up inventory for customers when we run low," Knier says. "I live in Eden Prairie and the Milwaukee and DeWalt stores are on my way to work. So if we need something extra that day, it's easy to access. It's very convenient to be able to call up PrimeSource, DeWalt and Milwaukee service centers, or even get ladders locally. Having it local helps us out."
The recovering economy is also helping out. The Twin Cities are home to several major employers, including Target, 3M, General Mills and United Health Group, all of which are expanding their operations. A new $1 billion football stadium is going up and hundreds of millions of dollars of improvements are again underway at the Mall of America. Multifamily and condo building is booming.
"We have friendly competitors whose owners and employees are in their late 60s with no succession plan in place," Erlandson observes. "We bought a company about a year and a half ago, and there are a couple more where it would make sense."
Action Fastenings at a Glance
Founded: 1989
Ownership: Privately-held
Branches: Brooklyn Park, Minn.
Employees: 10
Sales Staff: 5 outside, 3 inside
Markets: Commercial construction: interior finishing, mechanical, electrical, roofing and concrete
Services: Tool repair, threaded rod, custom hangers
Advertisers in this issue: Brighton Best, Coleman Cable, DeWalt, Empire Level, Grabber, Intercorp, Keson, Lackmond, Makita, Powers Fasteners, PrimeSource, Simpson Strong-Tie

Line Card: 3M, Bosch, Brighton Best, Brynolf, Champion Cutting Tool, Coleman Cable, Cordova, DeWalt/Porter Cable, Diamond Products, Edge Eyewear, Empire Level, ERB Safety, Fall Tech, Flexovit, Fomo, Full Circle International, Global Glove, Grabber, Henkel, Hitachi, Intercorp, ITW Ramset/Redhead/Buildex, Keson, Lackmond Diamond, Lenox, Magnolia Brush, Makita, Milwaukee, MK Morse, MKT, Nelson Stud Weld, Norseman, Norton-Saint Gobain, Oshlun, Paslode, Pearl Abrasives, PermaGrip, PHD Strut, Phoenix Support, PIP Safety, PLS Lasers, Powers Fasteners, PrimeSource, Relton, Seymour,
Simpson Strong-Tie, STI Firestop, Surface Shields, U.S. Abrasives – SAIT, Voltec, Vulcan Threaded Products, XL Screw
Memberships: STAFDA, Sphere 1
Website: www.actionfastenings.com
"We're looking for growth," he continues. "I'd like to add another sales rep locally first, because I think there's enough in this marketplace that we're not reaching yet. But we do a fair amount of business in Rochester and St. Cloud, so I know we could benefit from a more consistent presence in those areas."
Eric's parents, Action Fastenings founder Clay Erlandson and his wife Annette, are pleased with Eric's stewardship of the company and its rising stature in the region. Although officially retired at the end of 2013, Clay still comes in to repair tools and Annette still does some collection work for the company.
"We worked hard to build this business and we would love to see it keep growing," Clay says. "We've done well; we've built our name and we've left it in good hands with Eric." CS