Extended Family — Three generations of J.C. Smith serve upstate New York
---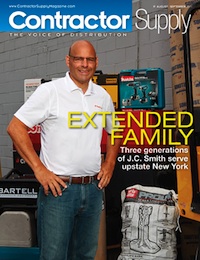 When Jeffrey C. Smith, president of five-store JC Smith, Inc. describes the company as a family business, he really means it. More than a dozen immediate family members, in-laws and cousins work in the Syracuse branch alone.

Family businesses can be great places to work, especially if you are part of the family. But what if you aren't and you aspire to ownership yourself one day? If the owning family has no intention of selling the company to you — or changes its mind — then the only answer may be to move on. For John Cayll "J.C." Smith, that day came in 1976.
"I had worked for the same distributorship here in Syracuse for 24 years," Smith explains. "In fact, I was president of that company when I finally decided to start my own. A marriage brought new people into the company who decided to keep it in the family, so I decided it was time to leave.
"Plus, right after I left, they shifted into the industrial market. I wanted to stay in the contractor market; I knew the lines at my old company and I just continued to sell them. Today, we do pretty much the same thing I did then."
Some family businesses struggle to find one or two family members who are willing to put in the work to learn the industry and eventually take over. John didn't have that problem. From its beginning, John's wife, Josephine, and his sisters helped run the business for years. John sold the business to Josephine when he officially retired and she ran it until she passed away in October of 2013.
Jeffrey was named president and his sister, Joanne, became CEO. Joanne's husband, Lance Reed, is company treasurer. Jeffrey's wife, Mary, is vice president and Jeffrey's brother, Jay, is corporate secretary. All told, more than a dozen first, second and third generation family members work here today, with Joanne, Mary and Jay as the company's majority stockholders.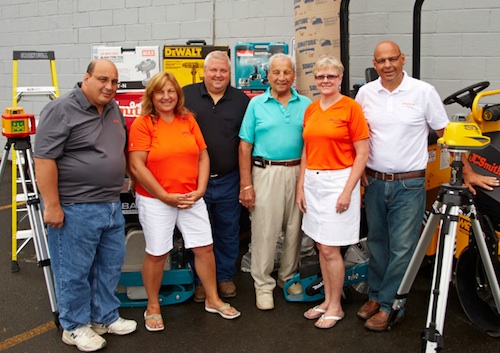 Two of J.C. Smith's three generations in the family business offer contractors 131 combined years of experience: (Left to Right) Jay C. Smith, Joanne C. Reed, Lance Reed, John C. Smith Jr., Mary Smith and Jeffrey C. Smith.
"Our markets are heavy highway, bridges, municipal and commercial construction, site work, landscaping and paving," explains Jeffrey C. Smith. "We started out as a rental house with basic air compressors and plate compactors. The first items that we sold were Apex hardhats. We put some money into a wire rope sling press, which we still use today. Our customer base is still the same."
Jeffrey has been with the company since 1976. He cites his father's "trust your gut" business style for imbuing the company with a willingness to try new lines and services.
"We've always done things by our gut," Jeffrey explains. "If we think something will work, we go for it."
Unique services, exclusive lines
One of John Smith's early gut-instincts put the company on the map.
"The tools that really helped us become a reputable company were Spectra-Physics lasers," Jeffrey explains. "They were the parent company of Spectra Precision, which is now part of Trimble. We have been their dealer since 1976. In the late 1970s and early 80s, lasers really helped us get our foot in the door with a lot of customers. To this day we still sell lasers to the same companies we did then. And today we are an authorized laser repair center for Trimble and other brands."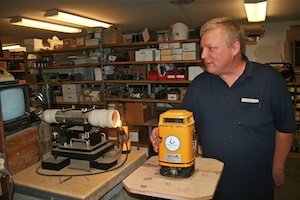 In the Syracuse store's laser repair center, laser technician George Peterson zeroes in a construction laser. The laser center repairs and recalibrates Trimble, Bosch, PLS, David White and CST Berger lasers, all of which J.C. Smith also sells.
The laser repair center is housed in its own climate-controlled room adjacent to the Syracuse store's laser display area. Inside the repair center, third-generation family member Ben Basilio and George Peterson oversee laser sales and repairs. They repair and recalibrate Trimble, Bosch, PLS, David White and CST Berger lasers, all of which the company also sells — plus many other brands and types of optical tools.
One of the company's newest lines is MAX USA rebar tying tools.
"This year we are excited to offer MAX USA rebar tiers to our contractors," Jeffrey enthuses. "This was another instance where we looked at a line and just thought, 'This is going to work for us.' We had been looking at MAX for a while and met them through Sphere 1 at the World of Concrete this year. We have a strong concrete and commercial
customer base and the more reasons people have to come here, the more
business we can do with them. We think MAX is going to work really well."
Signed, sealed, delivered
Another company service is easier to see, even at 70 miles per hour. Six years ago, noticing a limited number of sign makers in the region, Jeffrey decided to give sign making a try.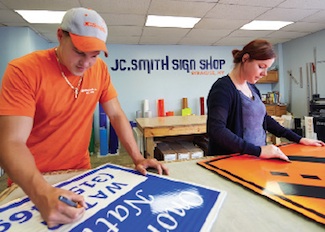 John C. Smith IV and his sister Allison Smith ready signs for customers in the Syracuse store's sign shop. Their customers include regional municipalities but most of their work is for highway and commercial contractors.
"The sign shop was another thing that we launched on gut feeling, really," Jeffrey explains. "There were a few places in the area but they just did big signs. We now have three sign shops; our first is here in Syracuse and the others are in Albany and Rochester."
Highway contractors are J.C. Smith's primary signage customers.
"Municipalities buy street signs from us too, but we really created the sign shop for the highway contractors, the crews that need signs to change traffic patterns for detours during road construction and applications like that. We do project signs, too. Syracuse U has a new athletic facility going up and we are doing the signs for that."
Jeffrey's daughter Allison and son John manage the Syracuse sign shop. Both have grown up in the business, working summers and holidays since their teens. Allison is the elder of the two but John has the longer tenure — he has been running the Syracuse sign shop full time for 18 months. Allison has recently joined the company full time.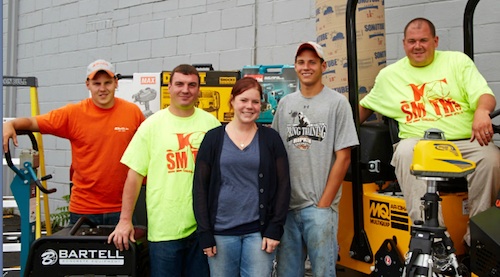 From left to right, third generation family members include sign shop manager and outside sales person John C. Smith IV, power tools and fastener manager Jay "JJ" C. Smith Jr., sign shop designer Allison M. Smith, "future accountant" Jeffrey C. Smith Jr. and laser and fastener specialist Ben Basilio.
"John's skills complement mine," Allison explains. "He's more into the technical stuff with the computers and our vinyl printers. I have a graphic design degree from SUNY Oswego, so I'm more into the design side of it."
"When contractors and cities start up job sites, they are legally required to put the proper signage in place before they can even begin the road work or excavation," John says. "When they call for the signs, we know those projects are coming online. And since they are coming to us for the signage, that opens the door for more business with them on fabric, fasteners, chemicals and tools."
Every good idea generates another. In late 2013, John began detailing trucks, construction trailers and equipment for contractors.
From 60 to 90
With sign shops in the Rochester, Syracuse and Albany stores, each shop's effective region mirrors its store's sales territory.
"Each store covers about 90 miles," Jeffrey explains. "Our Rochester store, managed by Matt Dombrowski, is about 90 miles west of Syracuse. Our Binghamton store, managed by Todd Story, is about 75 miles southeast. Albany and manager Tony Martin are about 120 miles east and Ithaca, run by Robert Stage, is about 60 miles south. Someday, I would like to visit every store on the same day. It would be fun to write an invoice in each store, all in the same day, but it would cost a lot in gas, though!" he says and laughs.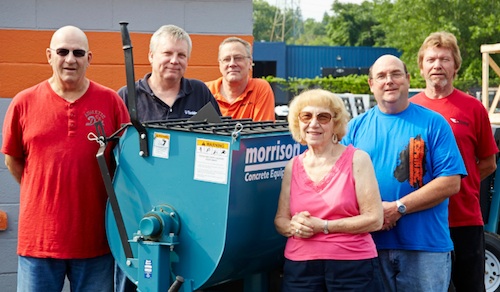 J.C. Smith's senior employee staff includes (L-R) accounts payable manager Mike Granteed, laser technician George Peterson, parts manager Russell Humez, office manager Rosemary Liss, rental manager Stewart Macdowall and inventory control manager Valentin Allmann.
From its central location between the branches, the Syracuse home store is also the operations, procurement and staging site for the company. The Syracuse store's 1.5-acre yard and open store design serves as a DC for regular shipments to the other branches. The branches also get direct drop shipments of bulky items like pipe and geo-textile fabric.
"We love the masonry and concrete business," Jeffrey says. "We've been with Bartell, Edco, WR Meadows and Kraft Tools for years. If I gave an award for vendor of the year, Kraft Tool would win every year."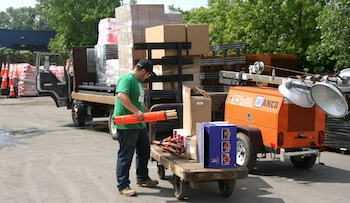 As the hub of J.C. Smith's five-store family, the Syracuse store also serves as the company distribution center. Here a company truck prepares a delivery for the Binghamton store.
"And, when customers come in from the field, it's easy for us to recommend Bartell diamond blades because we know they hold up and last. There are many lower-priced blades out there, but, you get what you pay for and we can say with confidence that we sell a better quality blade. Bartell is what we have on our rental concrete saws, too."
"We work more with Bartell now than ever since they expanded into plate compaction," adds rental manager Stewart Macdowall. "We've done diamond bits with Bartell forever. I don't know anybody in the industry who knows more than Jeff Durgin about cutting, grinding or drilling concrete. He's who you call when you've got an oddball project that nobody knows how to do."
Equipment rental contributes 20 to 25 percent of the company's revenues.
"Our rental business has been very consistent over the years," adds Macdowall, who has been with the company for more than 20 years. "Our retail lines have expanded in different directions, but rental is pretty much the same type of products."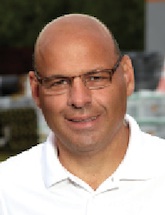 "We are very big in pipe, geo-textile fabrics, form release agents and curing and sealing products — W.R. Meadows is a big company for us. So is Powers Fasteners. Power tools and fasteners have become a very important part of our business." — Jeffrey C. Smith
"We also sell a lot of pumps, tampers, rotary and demo hammers including Bosch, DeWalt, Makita, Toro/Stone and Koshin," Jeffrey adds. "We are very big in pipe, geo-textile fabrics, form release agents and curing and sealing products — W.R. Meadows is a big company for us. So is Powers Fasteners. Power tools and fasteners have become a very important part of our business. Third generation J.J. Smith oversees those departments."
Open for business
The entire 36,000-square-foot store is open to customers, most of whom know exactly where to find their favorite products.
"Customers walk around and grab what they want," Jeffrey explains. "We've always had that open approach. We don't put things behind the counter, at arm's length. When we see people in the store they always have things in their hands so it's easy to ask them, 'Hey, can I help you with that?' We firmly believe that's the way to be. There are prettier stores, but people like us."
With family member Lance Reed behind the counter, customers can be confident they are getting the best advice in the industry. In addition, Reed runs the Syracuse store and supervises the company's inside sales force.
"No one has more knowledge than Lance," Jeffrey says. "Lance is the go-to guy in our industry and our customers know it."
Just off the store floor, four full-time repair technicians repair virtually every tool and piece of equipment the company sells or rents, from drills and demo hammers to pumps, generators and skid steer loaders. Each of the five stores has a repair center.
Keeping track of all that activity, ensuring that each branch stores gets what it needs promptly is a full-time job even before you pitch in and help load trucks yourself, but that is what inventory manager Valentine Allmann does every day. Allmann moved from Germany to New York 25 years ago, started working for J.C. Smith and has been here ever since.
JC Smith at a Glance
Founded: 1976
Ownership: Privately-held
Headquarters: Syracuse, New York
Branches: Albany, Binghamton, Ithaca and Rochester, New York
Staff: 55
Markets: Highway, landscaping, municipal, concrete and commercial construction
Services: Tool and equipment sales and rental, tool and equipment repair, laser repair, sign shop
LINE CARD ADVERTISERS IN THIS ISSUE:
Line Card
: Ames/Jackson, Anti-Hydra, Armor-Tile, Barco, Bartell Morrison, Baughman Tile, Bosch, Chapin, ChemMasters, Chicago Pneumatic, Corona Tools, CST/Berger, David White, DeWalt, DQB Industries, Eastern Metal, EDCO, ERB Safety, Falltech, Husqvarna, ICS, Imer USA, Indian Valley, Keson, Koshin, Kraft, Lane Pipe, Makita, MAX USA, Midwest Rake, North American Signal, Northrock, Norton/St. Gobain, PLS Pacific Laser Systems, Powers Fasteners, PrimeSource, Pyramex, Quikrete, Resinet, Simpson Strong-Tie, Solartech, Spectra Precision, Thoro Seal, Toro/Stone, USA Sign, Vulcan, WernerCo, Willacoochee, Winfab, WR Meadows, Wyco
Affiliations
:
STAFDA
,
Sphere 1
,
AGC
, local builders exchanges
Web site
:
www.jcsmithinc.com
"I've been here 25 years this week, in fact," he says. "I'm going to talk to the boss and make sure I get a raise!" he says and laughs.
Allmann manages the inventory for all five branches and shipping and receiving on the company's PIC system.
"The truck I was just loading is going to our Binghamton branch. Almost every day one of the branches comes here to bring us merchandise and pick up supplies. We do most of our ordering here and I make sure everybody gets a share. We have been running our PIC system for maybe 20 years and it works great for us."
Each year as construction season winds down, Allmann and his team go into inventory mode. They tighten inventory levels in advance of the annual count, which must be completed by the end of the calendar year. After New Years, it is time to begin ordering for the next season.
"Every March we attend the Central New York Hard Hat Expo here in Syracuse," Allmann says. "It is a major regional construction show and draws contractors from New York, Connecticut, Pennsylvania and the entire east coast."
"We have one of the largest booths every year. We display new products, talk to all the customers and get a feel for the jobs they have lined-up, and that's when the season starts for us. The show also enables us to meet people who come in from out of town who don't know us yet, learn their needs and get new leads."
The best laid plans
As one of the second-generation owners, Jeffrey Smith is bullish about the future.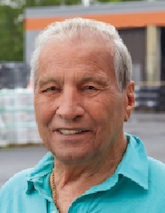 "We've always done things by the seat of our pants, but we have great people too, from our drivers to our salespeople and managers."
— J.C. Smith, JR., founder
"I see steady increases every year," he says confidently. "Thanks to our great employees and some sound decisions, our business has increased."
"Although we have never done a formal business plan, we've done the right things and we do have some plans for growth. Again, we do everything by our gut," Jeffrey says.
"Yup," family patriarch J.C. says and smiles. "We've always done things by the seat of our pants, but we have great people too, from our drivers to our salespeople and managers. I can't thank them enough." CS