Old School — New Lease
---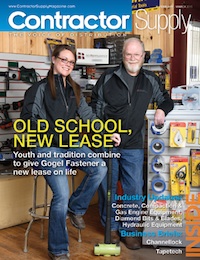 Industry icon Mike Terrell (R) has created a living inheritance for his family — including daughter Heather Terrell Berry (L), with their own distributorship, the historic Gogel Fastener & Industrial Supply of Toledo, Ohio.

By Tom Hammel
For folks of a certain age, especially men who maybe spent parts of their childhoods in the 1950s and 60s, entering the showroom of Gogel Fastener and Industrial Supply feels like walking into the hardware store where your dad bought his tools and paint. The floors are well-weathered maple, dust abides and a tin ceiling would fit in perfectly overhead.
That industrial patina says as much about the business as it does its owner. Now one of the industry's elder statesmen, Mike Terrell, started out in the tool trade when most distributorships looked just like Gogel does today.
"I've been in the industry since the late '60s," Mike recalls. "I started with Cleveland Twist Drill. From there, I went to Warren Tool as vice president of sales. After they were purchased by Wilton, I worked for EvenCut Abrasives for nine years before I decided it was time to find something of my own."
After initially looking at manufacturing firms to buy and not finding the right fit, Mike began looking at distributorships. He came to Toledo, saw Gogel Fastener and felt right at home.
"I have no ties here in Toledo but I came up, looked at it, sat down, negotiated, and within three months after first walking through, I decided to take it. It seemed right."
Launched in 1935, Gogel Fastener has a long and illustrious history serving the Toledo market, but by the time Mike Terrell came on the scene in 2006, it also had issues. After company founder Walter Gogel passed away, the company went to his wife and then his sons, none of whom could succeed where their father had. When Mike Terrell entered the picture, the company was in distress.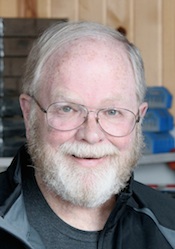 "We've seen a lot of change in this industry, and yet the more change we see, the more we realize that it is still people to people. In 30 years, I expect a big percentage of it will still be people to people." — Mike Terrell, owner/CFO, Gogel Fastener and Industrial Supply
"Other than its history in the community, the one thing that this place had in its positive column was inventory," Mike says. "People came in because the product was here. Today, Amazon and MSC and Grainger can get you anything you need by tomorrow. Well, these people want it now, and they come to us because they know that a very high percentage of the time, we're going to have it right now."
"You can only do that if you have a huge inventory. I would love to say that we have this super inventory control system, but we don't. When you walk through our warehouse, your head is going to spin. We have floor-to-ceiling inventory — 35,000 square feet here, 12,000 in the building next door and another 35,000 across the street. All Inventory."
Mike Terrell's impetus for buying the company was simple — he wanted a business to provide a comfortable retirement for himself and his wife, Deborah, that he could eventually pass on to his family. Three of his children, Heather, 29, Steven, 25, and Caitlin, 21, all work here full time.
Initially, the purchase seemed like a smart move. When Mike bought the company in 2006, it was a good time to buy, but as history has shown, it was a better time to sell.
"Hindsight is 20/20, and 2006 was the tail end of a reasonable year for the Toledo, northwest Ohio and southeast Michigan markets," Mike says. "They had just completed a huge bridge project here in Toledo, and as I took ownership, things started growing. Toledo was building a stadium, rebuilding an ice rink and several other projects that feed companies like us. After the first year, it looked like I had made a really intelligent move."
"Then 2008 came. We saw things slowing down late summer, and then the breaks turned on, and that was it for a solid eight months. The contractors just pulled in their horns and nobody was going to build anything. But we managed to get through it."
Fortunately, when the recession hit in 2008, Gogel was well diversified. The company has always focused on a broad swath of commercial construction, municipal, maritime, rail, manufacturing/MRO and trucking customers that have made Toledo the transportation hub of northwest Ohio. Terrell and his new Gogel team focused on its customer base and rode out the storm. Some 18 months of ownership had also helped Terrell find the right staffing levels for the company.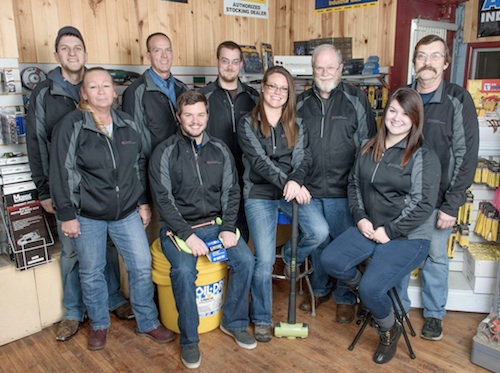 Gogel's Fastener's staff: (back row, L-R): Justin Berry, warehouse; Dewey Wilhelm, outside sales; Erik Wilhelm, warehouse; Mike Terrell, chairman/CFO; Kevin Walbolt, customer service/counter sales.
(Front row, L-R): Luann Larkin, electrical sales; Steven Terrell, vice president; Heather Terrell Berry, president; Caitlin Terrell, office manager.
"When you buy a company, you have the opportunity to hire the people you want, so therefore, you rely first on input from the people who sold you the company. Sometimes you may err in filling some positions, but it doesn't take you long to figure those out. The staff we have today is basically what we started with. We've had very little attrition in the last seven years."
Cleaning house was not Terrell's first priority as a new owner anyway.
"The first thing I did was start working the counter, right beside the counter guys," Mike says. "I could get to the paperwork and the headaches after 5:00 p.m. My bigger concerns were, What is the company about? What brings in the customers? A very high percentage of our business, upward of 60 percent, comes in the front door. They don't call ahead. They just come in because they know we will have what they need. That walk-in traffic was the way business was done here for decades before I came and I didn't want to upset that. You need to know your base before you can begin to build on it."
Mike still likes to work the counter today, as do Heather, Steven, Caitlin and most of the company's 12-person staff when needed.
"I still like to work the counter today. I like to talk to people, and I'm sure Heather got some of her mannerisms from me. You build relationships. It's not a business; it's a relationship. That's the way I feel. It worked back then and it still works today."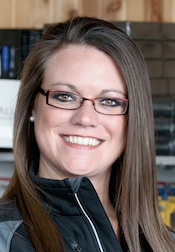 "We've got some pretty big shoes to fill. Any move we make will also reflect on our dad, who I believe is a legacy in the industry." — Heather Terrell Berry, president, Gogel Fastener and Industrial Supply
Although she does not have as many decades of experience as her father has, Heather knows the business better than most 29-year-olds in it today.
"I've been working with my dad since I was 14," she says. "He might be my dad, he might be my boss, but he's also my best friend, and when he says, 'All right, kid, let's go,' that's the way it works. I didn't know he was going to buy this place until he did it, but I was ready to join him when he did."
With nearly eight years full time with Gogel Fastener already and over a decade of STAFDA, ISA and NetPlus conventions and relationships to her credit, Heather clearly has distribution in her veins. Her father also made sure each of his children took the traditional route through the company; starting in the warehouse, then working the counter before moving into sales relationships, and then the office.
As of January 1, 2015, Heather officially became president of Gogel Fastener and Industrial Supply Co.
"This industry was very kind to me when I first started going to shows with Dad," she says. "At my very first show they said, 'You're a lifer now.' Once you put your foot down in this industry, you can't really get out of it because you always end up circling back around."
Gogel Fastener and Industrial Supply
at a Glance

Founded: 1935
Ownership: Privately-held
Headquarters: Greensboro, N.C.
Branches: Toledo, Ohio
Facility: 700 square-foot showroom, 85,000 square feet of warehouse, plus offices
Staff: 12
Markets: Construction and industrial/MRO, manufacturing, marine, municipal, electrical/HVAC

Line card advertisers in this issue: Alfa Tools, Brighton Best, Channellock, Drillco Cutting Tools, Metabo, NetPlus Alliance, Simpson Strong-Tie
Line card: ACT Fastening Solutions, Aervoe, Airmaster Fan, Akro-Mills, Alfa Tools, Apex Tool Group, Armstrong, Arrow Fastener, Au-ve-co, Bessey, Blaster Chemical, Bondhus, Brighton Best, CH Hanson, CGW, Channellock, Chicago Hardware, Coleman Cable, Council Tool, Coxreels, Drillco, Durham, Edge Eyewear, Electro Tape, Faultless Caster, Florida Pneumatic, G&J Hall, GearWrench, General Tools, Globe Pipe Hanger, Gunk, Hillsdale Terminal, Hindley, Indusco Wire, Irwin, Krylon, LS Starrett, Lenox, Linzer, Lufkin, MK Morse, Maryland Brush, Mayhew, Metabo, MHS Caster, Midland Metal, National Standard Parts, Nicholson, Oil-Dri, Oshlun, RSC Chemical, Rayovac, Relton, Simpson Strong-Tie, Sprayon, Standard Abrasives, Star Stainless, Steiner Ind., Tap Magic, Toggler, Vaughan & Bushnell, WD-40, Wilton, Wiss, Wright Tool
Affiliations: STAFDA, ISA, NetPlus Alliance, NFDA
Website: www.GFISCO.com
That said, when Heather joined Gogel and begin serving customers at the counter, the reception was not always so welcoming. In 2007, a woman behind the counter in a distributorship was still a novelty, and some customers couldn't resist testing her.
"I had to cut my teeth with quite a few people," she says diplomatically.
"She had to wait for the parking lot a number of times because some of those good old boys just loved to needle her with things like, 'You should be home in the kitchen,'" Mike adds. "I told her a long time ago, 'Wait until the parking lot. When you're out of the buyer's office, you can celebrate when he can't see you celebrating. When an obnoxious customer leaves after he's got his order and nobody else is around, then you can explode.' And she did, but she learned, and she won over every one of them. Now they wait for her."
"It's good to see more women are coming into the field and being successful," Heather says. "One of the groups I'm a part of now is WISE, Women Industrial Supply Executives, an ISA group. It's eye-opening. It's nice to be able to share those experiences with somebody else who is going through the same thing, and then see how, if you're strong enough to get through it, how successful we all can be."
In addition to WISE and her participation in other ISA and STAFDA functions, Heather is also a member of the NetPlus Alliance distributor council. Her growing industry presence, as well as that of her brother Steven, now vice president of the company, has been paying off in new customer and vendor relationships.
"Our line card has changed substantially," Heather says.
"In 2007, I ran into Dan Judge at the ISA convention and I said, 'Dan, I need to be a member of NetPlus,'" Mike fills in. "We joined NetPlus in June and by the time STAFDA rolled around four months later, we had added six NetPlus vendors. We continue to add NetPlus vendors today, sometimes to replace existing vendors, but also of course to bring in new lines. If we get asked more than two or three times at the counter for something we don't have, the chances are we're going to bring a line in and try it, and chances are it will be a NetPlus line."
Mike likewise is proud of the fact that Gogel only carries top-tier lines.
"When you walk around our counter area, you don't see any low-end stuff out there. That's by design," Mike states. "We're not interested in commodity-driven product, because there's no bottom to the prices. Somebody can always sell it for less. We like quality product. As often as we can, we carry Made in USA products, but everything we carry is high quality product, because we stand behind our product around here. Again, that is why we carry brands like Metabo and Simpson Strong-Tie —we've done well with them."
"NetPlus gave us access to a lot suppliers," he adds. "But because we are members, some of those suppliers paid a bit more attention to us. As a result, we've added some lines that I probably never would have picked up on my own. And they have done well for us. Our relationship with NetPlus has been absolutely phenomenal."
Because it sells into both industrial and construction accounts, Gogel is especially partial to lines that sell equally well in both markets; for example, Metabo grinders, CGW abrasives and Brighton Best fasteners. The vendor relationships that Mike helped Heather, and then her brother Steven, establish in STAFDA, ISA and NetPlus continue to grow as Heather and Steven assume the major purchasing and inventory management functions for the company as their father steps back.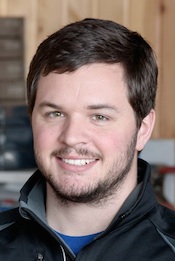 "We didn't realize we had been missing out on business, but when our website went live, the orders started pouring in." — Steven Terrell, vice president, Gogel Fastener and Industrial Supply
In addition to his vendor relationships and customer accounts, Steven also manages the company's computer systems and website. He works regularly with 48WS, which built Gogel's site.
"Our site has only been live since last year so we have just opened the door to online sales," Steven says. "When we have our inventory online, then we'll be ready to push more customers toward the site, but we have the ability to do online sales now, yes."
"Our customers pushed us in that direction," Heather says. "Some of them kept telling us, 'If I could do it online, it would be easier and I would buy more if I could do it that way.' A lot of people like calling in and talking to us in person, and you build a better relationship that way, but some people just like to do it on the computer and don't have to talk to anybody. So we want to be able to serve both groups."
"Our online business has definitely increased, though," Steven adds. "We didn't realize we had been missing out on business, but when our website went live, the orders started pouring in."
"48WS offers an amazing service, they expand all the time," Steven says. "Every few weeks, they send me a list of new vendors that they've added, and if we carry it, it goes right on the website the next day, which is great. It takes a lot of time to get that stuff populated, but as soon as it's online, customers have the ability to buy it that way. Integrating our system and our website is the next big project for us."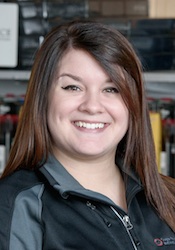 "I enjoy everything I do here and what I do next just depends on how we grow. I could be a branch manager at some point. I'm open to anything." — Caitlin Terrell, office manager, Gogel Fastener and Industrial Supply
Caitlin Terrell, the youngest member of the family, also started at a tender age and has taken the warehouse route to the office. As office manager today, she focuses on cash flow, billing and receivables, and, when time allows, organizing the warehouse. She sees a bright future for herself and her siblings in distribution and is open to new opportunities.
"Right now, of course, I am focused on billing and receivables, but I enjoy everything I do here and what I do next just depends on how we grow," Caitlin says. "I could be a branch manager at some point. I'm open to anything."
"Adding locations in the future is a very good possibility," Heather adds. "I like where we are now. We're stable, we're close-knit, and we have the ability to talk to anyone when something needs to be done. We've got some pretty big shoes to fill. Any move we make will also reflect on our dad, who I believe is a legacy in the industry. He's been around for so long and made so much headway that any move we make will have to be well thought out so that we don't reflect negatively on what or how he's taught us."
"When we first started going to shows, he introduced us to people and helped us build some relationships to start us out, and from there, we have been pretty much on our own," Steven adds. "He gave us really good guidelines to help us be successful in the industry, and a lot of the stuff he's taught us over the years is proving very valuable to us now. I have a lot to learn and a lot to prove, but it's been fun so far and I really enjoy the industry."
These days Mike Terrell still enjoys working the counter and chewing the fat with customers, secure in the knowledge that his values and experience have helped his children find a place in the world and in the industry he has loved for five decades.
"We've seen a lot of change in this industry, and yet the more change we see, the more we realize that it is still people to people," Mike observes. "In 30 years, I expect a big percentage of it will still be people to people. This industry has been very good to my family and me. I've made a lot of friends; I've had a lot of fun. It's been a heck of a ride. It's their turn now." CS