Phoenix Rising: AMW Construction Supply
---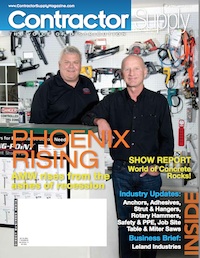 AMW president Chuck Farguson (R) heads up the AMW family of companies, which includes two AMW Construction Supply branches and AMW Packaging Supply, with operations in Phoenix and warehouses across the U.S., Australia and New Zealand. Manager and AMW partner Bob Berguin (L), a former Orco sales manager, runs the Phoenix branch of AMW Construction Supply.
AMW Construction Supply rises from the ashes of recession
By Tom Hammel
When one door closes, another opens, especially for those who keep their minds open to possibilities. While no one can predict precisely when opportunity will knock, a successful business doesn't passively hope for one, it actively prepares for it. This includes having a pro-growth mind set and the systems and networks in place to accommodate it.
In distribution, this means periodically reviewing your market space for potential complementary mergers and acquisitions, knowing your organization's promotable players and your competitors' top talent, having scalable ERP systems in place that can accommodate new branches, divisions or business entities and maintaining financial reserves and lines of credit to facilitate growth.
Sometimes opportunity comes to you. Other times you go to it. Growing up in Omaha, Chuck Farguson and Bob Berguin had both gotten their first taste of the distribution bug working summers and after school in high school. In the early 1980s, Farguson came to Phoenix to pursue a career in the business. Berguin followed a few years later.
In 1984, Farguson launched American Machinery Works (AMW) to sell and service industrial and packaging equipment, material handling systems, including bulk packaging equipment, conveyors, palletizing and pallet racking systems. The young company quickly expanded its purview to servicing packaging related equipment including air compressors and nail and staple guns.
"We do a lot of repair work today," Farguson explains. "On the construction side, we repair nail guns and staple guns and related equipment. On the packaging side, we still repair all the packaging machinery and equipment that we did when we launched the company."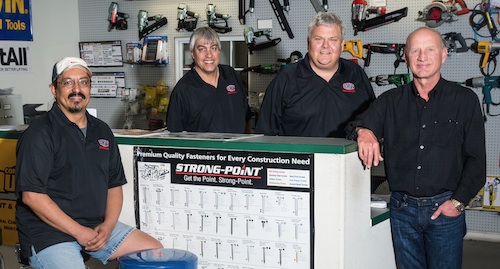 (L-R): Counter/inside sales reps Marion Hubbard and Bob McGivern help manager and partner Bob Berguin drive sales at the Phoenix branch of AMW Construction Supply for Chuck Farguson, president, American Machinery Works, Inc.
Along the way, AMW explored complementary businesses and manufactured hand trucks, strapping and material handling carts and later, its own line of shrink-wrapping equipment. Farguson found the supply side of the business more profitable than manufacturing, so AMW exited manufacturing and today does a thriving business selling and maintaining machinery and supplies for packaging and palletizing operations, serving domestic and international customers.
In the late 1990s, AMW also began private labeling and selling oxides for tinting concrete, mainly to the stone and concrete roof tile industry.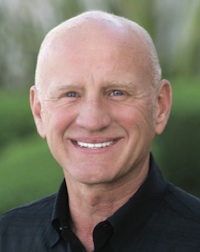 "We're a sales-driven company, and building lasting relationships is the ultimate key. We have an excellent team and we push that every day."
— Chuck Farguson, president, AMW/American Machinery Works, Inc.
"Today, our biggest volume of oxide business is in Australia and New Zealand," Farguson, says. "Some of our good clients moved to Australia to live and do business. Roof tile is popular there. After they moved, theycalled us and said, 'Hey, would you come over here and help us with things like oxides and packaging machinery?' And that's how it started."
In the meantime, Bob Berguin had moved from Omaha to Phoenix and had joined Orco Construction Supply. Over his 18 years with Orco, Berguin became their top salesperson in the Phoenix market.
In 2009, the recession claimed Orco Construction Supply, which was forced to close all of its stores and lay off all of its employees, including its entire Phoenix staff. His long friendship with Berguin led Farguson to follow the Orco story closely.
"Orco left a void in our market, which was critical for us," Farguson says. "If Orco had not gone under, it's unlikely that we would have started AMW Construction Supply at all. The Orco situation was really the catalyst that put us on the map in Phoenix."
And in true seize-the-moment fashion, it happened quickly.
"Bob's staff here is made up of primarily Orco folks he brought along with him to launch AMW Construction Supply," Farguson says. "He brought his sales staff and support people, so everybody here is extremely experienced and has been in the industry in Phoenix for a very long time. There were no training issues at all and we hit the ground running."
"Two months after Orco closed here in Phoenix, we opened AMW Construction Supply," Berguin states.
Within a year of launching AMW Construction Supply in Phoenix, the recession handed Farguson another opportunity. A rebar business in Las Vegas, owned by David Day, a former area director for White Cap, had become another victim of the recession. Day's reputation in the industry, client list and relationships made him a highly attractive acquisition for other distributors.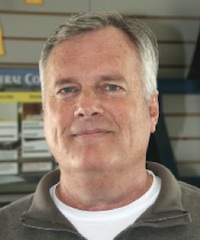 "The day after I closed my doors in Las Vegas, people started calling, asking me to work with them. Chuck was one of those callers."
— David Day, manager/partner, AMW Construction Supply, North Las Vegas
"The day after I closed my doors in Las Vegas, people started calling, asking me to work with them. Chuck was one of those callers," Day explains. "Chuck had never been in the rebar business before, but I felt comfortable with him."
"David's branch serves commercial and concrete contractors," Farguson says. "David knows all sides of the business, but his real expertise is in rebar. Our next hire for Vegas, Derick Goya, was the Simpson Strong-Tie rep for Las Vegas. He knows on-site construction supply and David knows the rebar side so they complement each other really well."
"Our primary market is concrete sub-contractors, framing sub-contractors and rebar placers," Day explains. "We also handle all the products and accessories for framers, like nails and Simpson Strong-Tie hardware — and yes, we fabricate a lot of rebar."
Day's Las Vegas store serves customers in Nevada, California and Utah, but very little of its rebar gets down to Phoenix. The Phoenix store sells 20-foot stock but subs out fabrication to nearby fab shops for now.
"We don't do rebar fabrication here in Phoenix and that is an area where we see potential for growth," Farguson says. "We could expand our operations here to include it or maybe acquire one of our current suppliers. There are a couple of small rebar shops right around here that could make good acquisitions."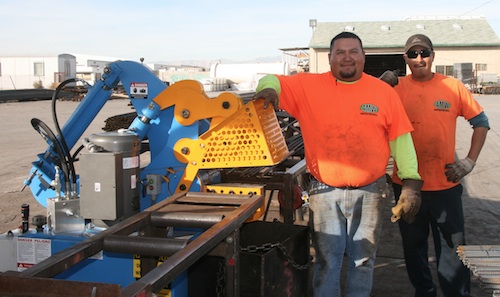 AMW staff rebar fabricators in AMW's north Las Vegas branch take pride in their work — and in showing off their brand new rebar cutting equipment, seen here.
Skin in the game
Each manager owns a piece of his respective branch.
"American Machinery Works, Inc., is the parent company and we operate each branch as a business unit," Farguson explains. "Bob Berguin is in charge of AMW Construction Supply here in Phoenix. David Day is in charge of the Las Vegas branch and Brian Worrall runs the AMW Packaging Supply operation. They all report to me over at the main store."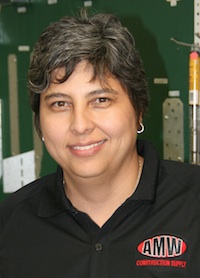 "Here at AMW, I supervise daily operations, do receiving, invoicing, inventory, adjustments and make sure my people are up to speed and providing great service." — Dierdre DuCasse, adminstrative manager, AMW Construction Supply, Phoenix
Each owner/manager runs the day-to-day business of his branch. All the paperwork, payables, checks, payroll and payments to vendors are done out of AMW Packaging Supply's corporate office, which is just few minutes away from Berguin's construction branch.
Ordering and inventory management is a joint effort. Berguin's 12-person team in the Phoenix branch includes three outside salespeople, two counter people and an administrative manager.
"My administrative manager and I keep an eye on the inventory," Berguin explains. "I buy all the commodity stuff, like the nails that we import by containers. They take care of the daily stuff through our computer system, which tracks inventory averages and when to reorder. We go over that quite often. We try to keep a two- to three-month supply on most everything. We have good turns here on our inventory, every 58-60 days on average."
Berguin's administrative manager, Deirdre DuCasse, got her start in the business with Carlson Systems and then moved to Orco.
"I have worked with Bob Berguin for 15 years, first at Orco and now at AMW," DuCasse says. "At Orco, I worked in counter sales, then as an assistant branch manager and inside sales support. Here at AMW, I supervise daily operations, do receiving, invoicing, inventory, adjustments and make sure my people are up to speed and providing great service."
"We look at our back order report three times a day to keep them as close to zero as possible. We have a 99 percent fill rate but there's always room for improvement."
May Day!
Keeping this tight a lid on back orders takes a highly trained and dedicated staff. It also helps to have a finely tuned line card. Ironically, perfect inventory levels would be a lot easier if not for the customers.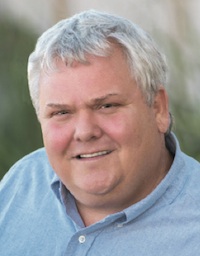 "Our key markets are residential, multi-family and commercial construction. We deal primarily with framing contractors, concrete contractors, roofers and lathers who do exterior stucco work, which out here is everywhere." — Bob Berguin, Manager/partner, AMW Construction Supply, Phoenix
"It's a crazy business," Berguin notes. "People tend not to look that far ahead. There are a lot of what we call 'Mayday Situations,' where they need it same day. We try to accommodate them as best we can and, for the most part, we do. We run about 99 percent fill rates on all of our orders. That's good for the customer and good for us because it's costly to have to go back to the job again for back orders, so we try to concentrate on that. That's one of the service aspects that we push often."
AMW provides inventory management services for some customers. Depending on the customer's needs, AMW provides weekly, biweekly or monthly consignment inventory replenishment and advises customers on product selection. VMI clients include both industrial and construction accounts, for whom AMW maintains yard inventory.
"Our customers usually have their own warehouses near their office," Berguin explains. "We deliver some materials to their yards and replenish their inventories. Their trucks will load that kind of stuff at their warehouses and we deliver the rest straight to their job sites."
Focused lines
Given its leadership team's 125-plus years of combined industry experience and vendor relationships, AMW maintains a stable, lean line card informed by a strict focus on its core customer groups and brands that work. AMW Construction Supply's line card leans heavily on Hitachi, Simpson Strong-Tie, Bosch, Makita, Grip-Rite, Jobox, Master Fasteners, Rolair, Vapor Barrier and other top-tier fastening and concrete related brands.
"Our key markets are residential, multi-family and commercial construction," Berguin says. "We deal primarily with framing contractors, concrete contractors, roofers and lathers who do exterior stucco work, which out here is everywhere."
"We're pretty loyal to Simpson Strong-Tie," Berguin adds. "We sell to concrete contractors, so we carry everything to go into the concrete, which typically means Simpson anchors, straps, ties, connectors and related products. Concrete contractors also use a lot of Vapor Barrier product as well."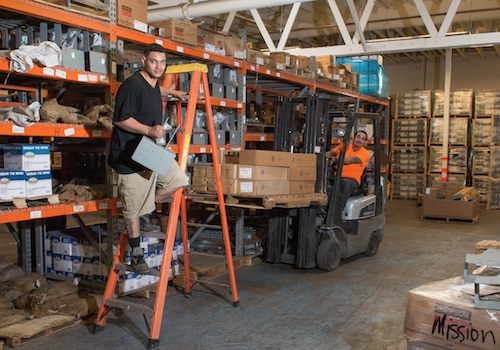 The Phoenix branch warehouse hums everyday with incoming and outgoing product shipments. AMW Construction Supply moves literally tons of fasteners and concrete accessories each week.
A walk through the Phoenix warehouse validates this emphasis, with full aisles of Simpson product and more pallets of Hitachi nails than we have ever seen in one place.
"Hitachi is our primary source for nails," Berguin explains. "We're pretty much their forerunner out here. It gives us a nice identity on job sites; when you see a box of Hitachi on a job site, you know it's an AMW Construction Supply job, which I like. We're considering a dual-label program with them to put our name on the box as well as Hitachi, as a way to further separate us from the competition."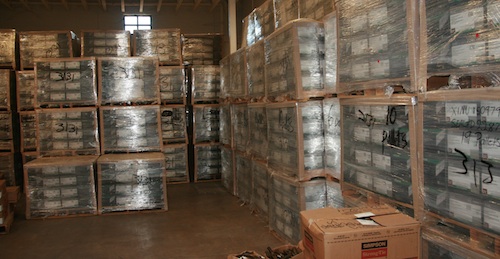 Seriously, we would need a much wider lense to be able to capture all the pallets of Hitachi fasteners that AMW moves to jobsites across the metro Phoenix area. The Phoenix warehouse is also home to several aisles dedicated to Simpson product.
Counting your industry tenure in centuries builds both strong relationships with vendors as well as customers. You learn what works and that cumulative wisdom is reflected in your line card.
"I like dealing with products that I know aren't going to come back to me, so the ones that have worked for us over the 30 years that I've been in this business, are the ones that we sell," Berguin adds. "That way we know that our customers have the best product available to get their job done. That's also why I've always been a big Bosch proponent."
AMW Construction Supply
at a Glance
Founded: AMW Packaging Supply: 1984; AMW Construction Supply: 2009
Ownership: Privately-held corporation
Headquarters: Phoenix, Ariz.
Branches: Phoenix, Ariz.(two branches); North Las Vegas, Nev.
Warehouses: Anaheim and San Jose, Calif.; Orlando, Fla.; Houston, Texas; Adelaide, Brisbane, Melbourne and Sydney, Australia; Auckland, New Zealand; Shanghai, China
Staff: (Company-wide): 33 full time; 5 part time; 10 flex time
Markets: Concrete, commercial and residential construction, industrial
Line card advertisers in this issue: Bosch Tools, Cox, Freud, Intercorp, Rolair Systems, Simpson Strong-Tie, Skilsaw, Stanley, Yamaha
Line Card: 3M, Aervoe, Bon Tool, Bosch, Cordova, Cox, Curry Tool, Dixon Ticonderoga, Eagle Mfg., Freud, Gatorade, Grip-Rite, Husqvarna, Igloo, Intercorp, Interstate, Irwin, ITW Ramset Red Head, Jobox, Lenox, Makita, Marshalltown, Master Fasteners, Mutual Industries, OK-1, Ox Tools, Paslode, Porter Cable, Pearl Abrasive, Pilot Pen, Quick Build, Quikrete, Rolair, Rubbermaid, Senco, Signode, Simpson Strong-Tie, SkilSaw, Soff-Cut, Spec-Chem, Stabila, Stanley, Swanson, Symons, Truper, USP, US Spec, Vaughan, Voltec,
Wallace Cordage, Yamaha, Zep
Affiliations: STAFDA, TRI (Tile Roofing Institute)
Website: www.AMWSupply.com;
www.amwpackaging.com
"Most of the manufacturers I deal with are guys that I've known for over 20 years," Day says. "They've followed me from place to place too, so I'm kind of protective of them for what they've done for me over the years."
However, Day also notes that he is open to trying new brands, too, if they can provide productivity gains or cost savings for his customers.
"We also deal with a lot of guys who really hate being strong-armed by the bigger boxes. They come here and do everything they can to help us out. If we offer our customer a product that is as good as what they were getting before and they trust us, then they'll take a gamble and use it.
"That's another thing that I've noticed with the economy bouncing back the way that it has — people are tied a lot less into brand names and a lot more into the people who are selling them. These days, relationships are more important
than brands."
And for David Day and Bob Berguin, nothing beats being in the field. Thanks to strong, experienced support staffs, they can spend much of each week in the field with accounts.
"Our tag line on our business cards and literature is, 'Building Lasting Relationships,'" Farguson says. "That really is true for the entire business. We're a sales driven company, and building lasting relationships is the ultimate key. We have an excellent team, and we push that every day. Everyone cares about their job and taking care of our customers. That drives everything."
AMW's Packaging supply business provided the resources for the company to grow into the construction market when most of the building trades were pulling back during the recession. Farguson notes that in 2014, sales for the construction businesses exceeded packaging operation sales for the first time.
"We have a great mix," Farguson observes. "Our industrial packaging division is coast to coast in the U.S., and in Australia, too. It helped us greatly when we were getting both the Phoenix and Vegas construction businesses off the ground."
On All Cylinders
AMW's leaders are all optimistic that the next couple of years look very promising.
"There's a steady uptick in the market," Berguin observes. "Last year was pretty good, but I think as long as we can keep a steady little growth going on and not spike too much, that's the ideal scenario."
"We're looking for new opportunities in our markets all the time," Farguson adds. "We're also looking outside of our market areas and outside of our geographic areas too. For one, we'd like to get a little bit deeper into the concrete side of things."
"From my perspective in the Vegas market, the next couple of years look pretty stable, but nobody knows what will happen after that," Day adds. "We're just trying to do the best we can until then. If we do hit another slow spot, hopefully we'll be able to weather through it again."
Farguson, Berguin, Day and their team at AMW know from first-hand experience that an economy that booms one year can bust the next. They keep the lessons they learned during the Great Recession close to heart against the day when tides change again, but in the meantime, they are alert for their next opportunity to grow.
Today, the desert sun is warm, the future is bright for AMW Construction Supply and it's good to be heading into another busy summer. CS