High Desert Fox
---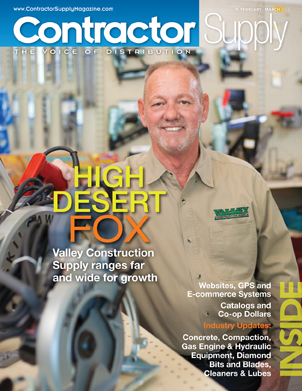 Mike Christensen, owner of Valley Construction Supply, has called California's high desert home since before the 14 Freeway came through his back yard. Construction and building has been in his blood ever since.
Valley Construction Supply ranges far and wide for growth
By Tom Hammel
The Antelope Valley Freeway winds north and out of greater Los Angeles through a pass flanked by the Los Padres National Forest on the left and the Angeles National Forest on the right. These mountains give way to the high desert of Antelope Valley, where sister cities Palmdale and Lancaster anchor the area to the freeway.
Today, this once sleepy corner of the Mojave Desert, including Lancaster, Palmdale and several smaller communities is a loosely conjoined Los Angeles bedroom community of roughly 500,000 residents. Many followed aerospace and military jobs here; others traded long commutes for affordable housing.
In the late 1990s and mid 2000s, this area was a real estate flipper's ATM machine. No more. Although the residential markets "over the hill" in metro Los Angeles have fully recovered from the recession, home values here remain well below their pre-recession peaks.
"When I was a kid, I watched them build the 14 freeway literally right through my yard," says Mike Christensen, owner of Valley Construction Supply. "The state bought some of our property to put in the freeway and there's a ramp right next to our old house, which I still own."
Base of operations
As it was since before Mike was born — and still is today — the military, specifically Edwards Air Force Base and its satellite commercial suppliers, have been the economic breadbasket of the region as much as the mountains are its spine.
"If it wasn't for the military and the southern California municipalities, we wouldn't be in business," Christensen says. "One of the main reasons Orco went under is they were just so embedded in the residential and light commercial markets. After the recession hit, only the government had any money. So we do residential, we do commercial, we do whatever our customers want, all day long."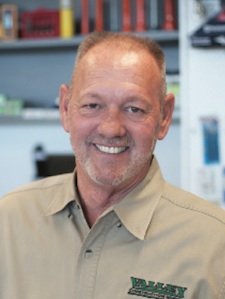 "AFTER THE RECESSION HIT, ONLY THE GOVERN- MENT HAD ANY MONEY. SO WE DO RESIDENTIAL, WE DO COMMERCIAL, WE DO WHATEVER OUR CUSTOMERS WANT, ALL DAY LONG."
MIKE CHRISTENSEN, OWNER, VALLEY CONSTRUCTION SUPPLY
Christensen knows the Orco story intimately, as do several of his key employees, including store manager Jerry Kelley and inside sales pro Mingo Ojeda, because they are all Orco veterans. Kelley worked with Christensen at Orco and joined Valley Construction Supply shortly after Christensen bought the company in 2002.
Christensen was one of Orco's top salespeople for several years before his entrepreneurial drive led him to strike out on his own. Valley Construction Supply, a small Lancaster mom-and-pop business launched in 1978, was the perfect target. As Orco's man in Antelope Valley, he knew the area and its customer base. When Orco fell to the recession in 2009, Christensen's decision came to seem prophetic.
There and back again
But Valley Construction Supply suffered through the recession, too. From a peak of 18 employees heading into the recession, the company operates on a lean 11 souls today.
"Being diversified got us through the recession," Kelley observes. "We supply all kinds of things for our customers. I think some of these big distribution companies don't have that ability. They get somebody buying for them who just looks at a screen and says, 'This is what we can buy for you and that's it.'"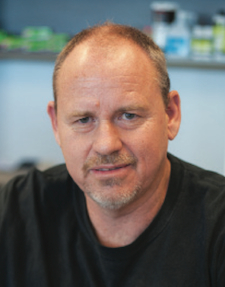 "WE SUPPLY ALL KINDS OF THINGS FOR OUR CUSTOMERS. I THINK SOME OF THESE BIG DISTRIBUTION COMPANIES DON'T HAVE THAT ABILITY."
JERRY KELLEY, STORE MANAGER, VALLEY CONSTRUCTION SUPPLY
Fortune smiled on Christensen in another way, too. Just before the recession hit he was planning on expanding the company.
"We were just ready to move. We were having our best year ever and I was looking for land and we were going to build our own building. Suddenly, people started talking about a recession. I didn't believe it at first, but then I looked around and noticed, 'Yeah, the phone doesn't seem to be ringing as much.'"
"We decided to hold off and sure enough, within six months it had hit us, too. So the money that we had saved for our new building helped us survive the recession. Orco on the other hand, which had been in business since 1958, went bankrupt. It was basically just cash flow. They had a very good company. I worked for them for 25 years, I know."
Christensen eventually got his new building, in February 2014, with a five-year lease-to-buy option. The new facility is on 2.5 acres of land and has 12,000 square feet under roof and a 72,000-square-foot yard. The compact 1,500-square-foot showroom is already full and some products, such as plate compactors and Jobox boxes, are displayed outside the front doors.
The 14 freeway is one mile straight down the street. Even the road past the building is brand new, with a roundabout still under construction. Valley supplies that job, too.
Even so, Christensen confides that the majority of Valley Construction Supply's business is conducted outside of Antelope Valley, in southern and central California.
"Actually, almost 90 percent of our business is out of town," he says. "We serve municipalities, the military, commercial and residential builders, general contractors, the solar and mining industries, safety and industrial customers all over southern and central California. I even sneak into Nevada and Arizona every now and then," he adds and laughs.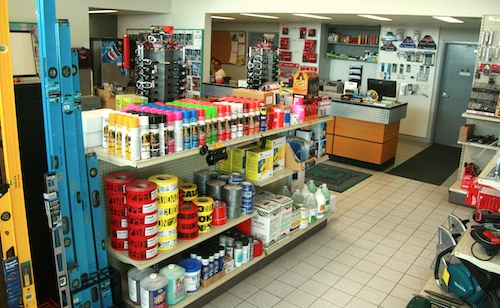 Valley Construction Supply in Lancaster, California proudly serves contractors, municipal and government customers across central and southern California. Although Valley specializes in several categories, they also take an "anything you need" approach to product procurement for their customers.
20-mule team customers
One lesson Christensen clearly learned from Orco was to avoid pigeonholing himself.
"We get a lot of calls from people asking. 'What do you guys specialize in?' I tell them, 'We specialize in specializing. I don't care what it is — if you want, I'll go get it. I'll sell it to you, not a problem.'"
Valley supplied one solar customer 49 miles of fencing to protect endangered tortoises, lumber for decks built between command trailers and even supplies and food items for the farm's employee break room. Except for the fencing and hardware, Valley typically stocks none of those products.
"I'm not a lumberyard but I still ship maybe a semi a week of it out of our yard. And as for those break room items, the soups and bags of chips and bottled water that they want — we go to Costco, buy them and mark them up. The customer is happy because no one else will deliver to them all the way out in the desert. I'll be more than glad to do it for you but I'm going to make a margin on it."
Christensen and his team also stepped out of their comfort zone to provide architectural contracting services for U.S. Borax, a major industrial customer, when it wanted to design and build a new break room in its facility. Valley found an architect, coordinated the design submittal and supplied the materials for the job.
"I never thought I would do that," Christensen muses. " But they are a great customer, so we did it."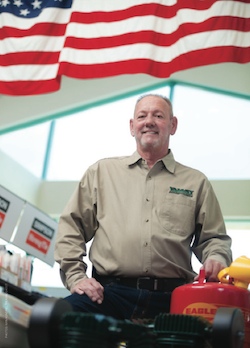 With a lifetime of industry experience as his guide, Mike Christensen stocks Valley Construction Supply with as many top-tier American-made products as he can, and advertises that fact proudly in his store and to all of his customers, whether they be government, municipal or private entities.
Buy American
Valley also offers more normal services like rebar fabrication and tool repair. Christensen stocks bar rebar and partners with an area rebar facility for fabrication orders. Valley's staff does tool repair in house. He is quick to note that tool repair is not a revenue source for the company; instead, he sees it as a very good customer source.
"Home Depot, Lowe's and White Cap don't want to repair your tools. They want to sell, they want your money, and then they are done with you. They send people over to us all the time and I just love that. When that customer comes to me to have that tool repaired, I'll make sure he never goes back to that store again. We will convert him to being our customer."
With numerous city, state and federal government customers, many of whom have buy-American mandated for purchases, Christensen also works hard to offer as many American-made products as possible. Some of his favorite lines include Simpson Strong-Tie, Klein Tools, Occidental Leather goods and Rolair compressors.
"We try to buy as much American product as we can," Christensen states. "When you are working on a government base or in the municipalities, they dictate that 90 percent of the products for the military and the government are supposed to be American made. Sadly, sometimes that's just not possible, because what they need may no longer be made anywhere in America."
"So many of these companies out there buy as much imported product as they can. They are selling to Americans, so you would think they would try to buy American, too, but they don't. We try to support as many domestic manufacturers as we can, from rebar and nails down to rope and twine. The funny thing is that often the difference in price between American-made and foreign products boils down to pennies."
Valley Construction Supply is also a pure sales organization. There are no rentals and no Internet sales. And even though the company is closed on weekends, Christensen and his staff have developed a novel approach to the weekend drop box. There is none.
"Because so many of our customers are from out of town and can't always get up here by 5:00 p.m., if we know they are coming and its a small order, we have an after-hours pick-up area. We've never had anything stolen and we won't put tools out there, but we drop four or five small orders — a few boxes of nails or a couple of saw blades —out there every night."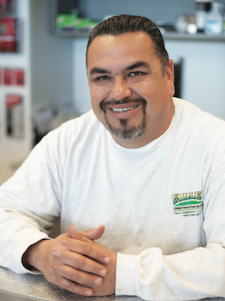 "I TRULY BELIEVE OUR KNOWLEDGE IS WHAT KEEPS CUSTOMERS COMING BACK TO US."
MINGO OJEDA, INSIDE SALES AND RECEIVING, VALLEY CONSTRUCTION SUPPLY
A few customers also have their own shipping containers staged inside Valley's yard, and have combinations or keys to the gate. Here again, Christensen says he has never been burned by this honor system and that those customers are more loyal as a result.
Fleet of foot
Valley has also won customers by simply turning on a dime.
"My local delivery trucks are also my pick-up trucks: they leave here each morning full with deliveries and come back in the afternoon full of product they have picked up from our vendors in the area," Christensen explains. "We have Garmin GPS units on all our vehicles and we use Fleetmatics so we can plot in the most efficient routes for the day."
If a customer expecting a delivery calls in and asks for its ETA, Christensen can check his computer and see precisely where that truck is en route and how far it is away from making that delivery. If a customer calls in to request an out of stock item but a delivery truck is near the vendor's facility, Christensen can send a message to the Garmin GPS screen in that truck and instruct the driver to swing by and pick it up.
"There are times we'll pick up a product at the vendor and drive it straight off to the job," Christensen adds. "It won't even come here. Why bring it back here just to let it sit overnight and then go out for delivery tomorrow?"
This agility has more than once helped Valley win contractor business away from larger distributors.
"We build on our relationships," Christensen stresses. "They are what bring us business and make us money. If you're a couple of dollars higher on a product, the customer won't care if he knows that when you say you will deliver it Tuesday, it's going to be Tuesday."
Mingo Ojeda, who does inside sales and receiving for Valley, adds another bullet point.
VALLEY CONSTRUCTION SUPPLY
AT A GLANCE
FOUNDED: 1978 (since 2002, under present owner)
OWNERSHIP: Privately held
BRANCHES: Lancaster, Calif.
FACILITY: 2.5 acres, leased, with 12,000 square-foot building, including 1,500
square-foot showroom
STAFF: 11
MARKETS: Commercial and residential construction, concrete framing, industrial, mining, safety, solar, government and municipal
SERVICES: Tool repair, rebar fabrication, plan take-off and estimating
LINE CARD ADVERTISERS IN THIS ISSUE:
Bosch, Channellock, Makita USA, Simpson Strong-Tie, Skilsaw, Stabila
LINE CARD: 3M, Ames, Bosch, Brickform, Channellock, Chapin, Chicago Pneumatic, DAP, Dayton Superior, Diablo, Eagle Manufacturing, Edge Eyewear, Empire, Gilmour, Gorilla Tape, Grip Rite, Halsteel, Hardy Frames, Hitachi, Interstate, Irwin, Jobox, Klein Tools, Knaack/Weatherguard, Makita, Marshalltown, Milwaukee, Multiquip, Occidental Leather, Ox Tools, Plews, Relton, Rolair, Simpson Strong-Tie, Skilsaw, Sonotube, Spectra Precision, Stabila, Stanley, Tenryu, Tru-Cut, Union Tools, Vaughan, Voltec, WD-40, W.R. Meadows, Wyco, Yamaha, Zep
AFFILIATIONS: STAFDA
WEBSITE: valleyconstructionsupplyinc.com
"I truly believe our knowledge is what keeps customers coming to us," Ojeda says. "I've been here for 10 years and I was with Orco for nine years before that. We have a lot of product knowledge to offer to our customers. Plus, if we don't have something, we know where to find it."
Getting paid
That said, even with stellar expertise and customer service, there are sometimes issues with getting paid. Fortunately, California's oft-maligned state government has a solution, called the 20-Day Preliminary Notice.
"The 20-Day Preliminary Notice is for contractors and for suppliers like us to make sure we get our money so that owners and people can't be just ripping everybody off," Christensen explains. "We send it out to the various parties at the very beginning of the job. It's just a notice saying, 'Hey, by the way, we are supplying materials to your job.'"
The Notice informs a property owner, contractor, lender and other interested parties that a distributor is supply materials for a project and that the distributor has a right to file a Mechanic's Lien in the event he is not paid. Currently, 34 states require materials suppliers to file notices if they wish to preserve their right to file Mechanics Liens for nonpayment.
"It costs us about $30 per job to do it, but it's the best piece of insurance you'll ever get," Christensen says. "It has saved our butts several times. I wholeheartedly recommend that every distributor and contractor should use it."
Christensen sees an economic springtime underway in the high desert. His son, Ryan, currently studying engineering, plans to take over the company one day. As he surveys the snow capped Tehachapi Mountains, Christensen recalls his father's pithy secret of success, "'Get up, get dressed, go to work.' That's all I've ever done. It seems to have paid off." CS