The Tenors of Titletown
---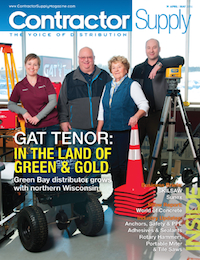 Life is good in Titletown! GAT Tenor's family owner/employees include (left to right) Georgina Kaschner, George Tenor, Karen Tenor and Andy Tenor.
GAT Tenor fines its niche(s) in Green Bay and beyond
By Tom Hammel
Not many people can drive into Green Bay without feeling a tingle of awe. After all, from July to January, Green Bay, Wisconsin looms large in the national psyche and wields a weight far in excess of its actual size. No one can say what this town would be like if not for the Green Bay Packers, but it is safe to say that the legendary football team is an economic and spiritual cornerstone on which much of the regional economy has been built.
But even though its 100,000 residents make up Wisconsin's third largest city, Green Bay still has a small working town feel with blue-collar neighborhoods. People here hunt, fish and enjoy sports year-round and businesses like GAT Tenor all share the region's Titletown pride.
Pride of Place
George Tenor, who cofounded GAT Tenor with his wife Karen in 1976, grew up here, hunting game and rooting for the Packers. He also grew up familiar with Green Bay's working class, in particular, its sewer contractors.
"My dad and his brothers owned a sewer construction business here," George explains, pointing to a photo of his father on his office wall. "They ran their business well and had a good name. I wanted to have a business and a good name like they did."
With a knack for sales, George Tenor worked briefly for a fastener house and then struck
out on his own, launching GAT Supply in his basement at the age of 24.
"We started out as just a straight fastener house," George recalls. "Just fasteners, some chemicals, penetrating oils and stuff like that."
As the fasteners business grew, George took advantage of his sewer background
and contacts to expand and create Tenor Construction Supply and Rentals.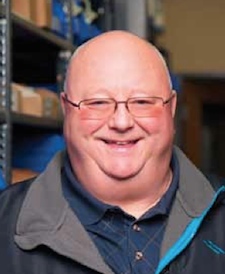 "Our niche is service, service and service. We don't take on more business than we can handle and we service our customers so well that most of them stay with us."
— George Tenor, Vice President
"I know all the sewer contractors in the area," George says. "As we grew, we added products that they use in their trades. They all use tampers and lasers so those lines were a good fit for us. I went to the manufacturer's schools to learn to teach them how to save time and money."
Tenor Construction Supply and Rentals features over 20,000 items with such name brands as Spectra Precision, Bomag, Multiquip, 3M, Norton, Bosch, Milwaukee, just to name a few.
"We also grew into the industrial fastener business and then launched Tenor Construction Supply as a construction supply division. Those companies merged and today, thanks to our wide range of products and our one-stop-shop approach, construction is probably 60 percent of our business now."
Growing Employees
George and Karen's son, Andy and their daughter, Georgina Kaschner, have both literally grown up in the business. Most customers know the story of how Andy and Georgina learned to count by stacking washers to be bagged for inventory.
"I started stacking and bagging washers when I was four years old," Andy Tenor states.
"By the time we could count to ten, we were working and bagging the nuts and bolts," Georgina recalls. "I remember sorting the piles of ten and knowing that ten piles of ten went into the bag and you stapled it and put it on the shelf."
As kids will do, Andy and Georgina also mixed fun with their work.
"One day we came home from a delivery and found them bowling with spray cans," George recalls. "They set up cans of marking paint and bowled them over with softballs!"
Hard Times, Work Hard
Through the recession, the Tenors simply tightened their belts and doubled down on their own work.
"Instead of working 12 hours a day, you work 15," George states. "Instead of five days a week, you work six days or six and a half."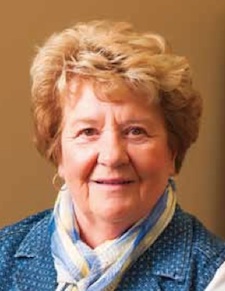 "We'll give the customers whatever they want. If we have to pull something off the floor and put it in rental, that's fine — we've done it many times."
— Karen Tenor, President
"Plus, when there are slow times, people don't buy, but they still have to fix, and that's where the fasteners come in," Karen adds. "They are the steady part of our business."
"And we have a wide variety of products here, too, which helps as well," George adds. "We have fasteners, construction equipment, surveying and agriculture now, too. Somebody in one of those areas is doing something all the time."
"Plus, we also have a rental department and we manufacture our own surveying stakes right here in house now, too. We acquired a small wood supplier and integrated it when we moved into this new facility."
With the new additional survey supplies, GAT Tenor continues to find ways to expand after being in business for 40 years.
Service First
That said, good times present their own challenges. GAT Tenor has been enjoying double-digit annual growth for several years, but with growth comes the responsibility to bring in experienced or qualified workers.
"We could hire three or four more people today," George says. "We're looking for salespeople, mechanics, delivery drivers, shipping and receiving."
Currently, the company fields five full time salespeople, including George and Andy, and George is interviewing to fill a sixth slot, which will allow the company to take on more business.
"Our niche is service, service and service," George says. "If a customer needs something special, we can get on it within a day, where some of the national companies take a week before they can process the paperwork to even begin getting the guy a price. We don't take more business on than we can handle and we service our customers so well that most of them stay with us."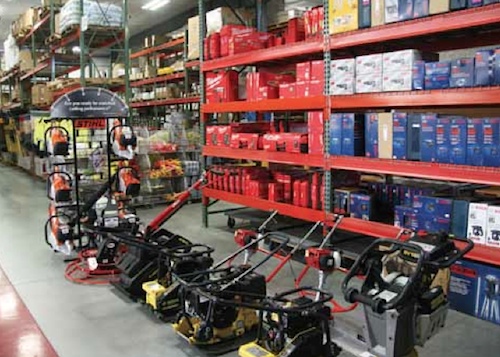 When designing their new facility, the Tenors opted for an open-warehouse, which effectively increased their showroom to 20,000 square feet.
George loves selling so much that he is on the road five days a week and firmly declares he has no intentions of ever quitting.
On any given weekday he ranges across the company's territory, which is a rough 100-mile radius of Green Bay. GAT Tenor reaches north toward Marinette and Menominee, Michigan and south into Appleton, Oshkosh and Fond du Lac.
"I work mostly to the north because that's where my cabin is," he says and chuckles.
The relationship nature of the business means that even though Karen has not actively sought out any new accounts in years, she still serves customers she acquired years ago in the early days of the company.
"I was on the road for four years, and I still have every one of my customers," Karen says. "I focused on the fasteners and I still know everything we have here."
GAT Tenor doesn't limit themselves to the 100-mile radius within Wisconsin and Michigan. They service customers throughout the Midwest. Having this ability allows them to ship their customers safety products, diamond blades, concrete materials, fencing and concrete blankets to wherever their job site may be.
Whatever They Want
Gat Tenor has also been offering laser and construction equipment rental for over 20 years. Building on George's relationships with area sewer contractors, the company's earliest rental products included lasers, compactors, diamond blades and troweling machines.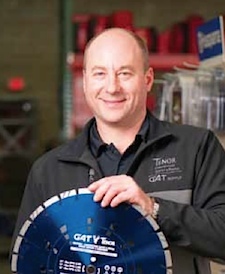 "I learned a long time ago that if a customer knows more about a product than you, then they don't need you."
— Andy Tenor, Sales Manager
From there, the rental line expanded further into Allen and Whiteman concrete equipment, Honda generators, Airman compressors and landscaping and surveying equipment. Rental represents 20 percent of the company's business.
"We'll give the customers whatever they want," Karen says. "If we have to pull something off the floor and put it in rental, that's fine — we've done it many times."
Green Bay's pocket-market nature has led distributors to develop niches where opportunities appear. From its early niche in lasers and surveying equipment, GAT Tenor now also sells decorative concrete products, which Andy Tenor pioneered for the company.
"Solomon color has become a very good line for us," George says. "When we were starting out with the line, Andy went out and showed companies that wanted to get into decorative concrete how to do it. He has been out on jobs many times, working with contractors and
showing them how it's done."
"The decorative business was born straight from customer demand," Andy states. "Some of our larger customers wanted to start decorative crews and they came to me asking for product and know-how. I set out to learn about decorative concrete so that we could be of value to them."
"I learned a long time ago that if the customer knows more about a product than you, then they don't need you. When you get your chance in front of a buyer and you don't know what you're talking about or you don't service them, you only get one shot at it. That puts a lot of these less-experienced sales guys in our industry at a distinct disadvantage. We are lucky to have a sales team where each sales person has over 10 years of experience."
A Concrete Education
With the goal of joining the family business one day, Andy worked for concrete contractors each summer during college to learn the business, its tools and processes. That learning process never ends.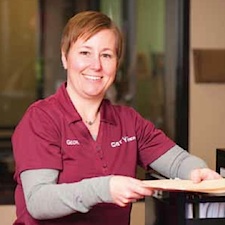 "We are very proud of what we have today, but i don't think dad ever dreamed this big. He just loves to sell."
— Georgina Kaschner, Accounting Controller

"That's what I try to tell my sales guys," Andy emphasizes. 'When you go on the job site, pay attention to the processes they are using there. We've got all the products in the world, but if we don't have a solution to help them, they have no need for us. Being problem solvers is what keeps us valuable to our customers. The Green Bay market is extremely competitive."
(A)typical STAFDA house
Growing where the market and its customers lead has made GAT Tenor a unique animal.
"We're not a typical STAFDA house, we're more of a hybrid company," Andy observes. "There isn't really anybody that melds fasteners, surveying, concrete equipment and rentals like we do. Fasteners, commercial concrete, safety and masonry are our lead categories but we also do industrial, maintenance and agricultural now.
Finding yet another area to grow in, Gat Tenor is starting to branch out into agriculture by serving all sized farming operations.
"We sell to the contractors that build these farms and they in turn lead us into relationships with farm owners and operators who need a lot of the supplies and products that we sell, too. As a result, we have been expanding into new product categories that are unique to those operations."
Tailgate Time!
The sidewalk along the side of GAT Tenor's new building is stamped with silhouettes of white tailed deer. "Our logo is a 10-point buck, a 'tenor,'" George says.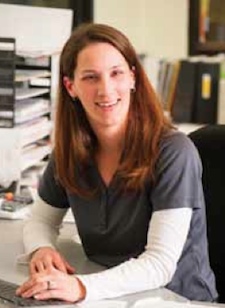 "We've gotten many new customers from referrals; 'You've got to go check these people out.' It helps a lot when you have good service and experienced employees." — Deborah Gierczak, Operations Manager
The showroom, part Green Bay Packer shrine and part hunting cabin, is decorated with football memorabilia and hunting trophies. Like many of their customers, the Tenors are avid hunters. The company even serves venison hot dogs at its annual contractor open house.
"We've been having open houses for over 20 years. Last year, between 300 and 400 people came," George says. "We get a big tent and our vendors set up and demonstrate their products. Last year we went through 400 pounds of pork and 300 venison hot dogs."
Since building the new store in 2014, the Tenors estimate that walk-in traffic has increased 20 percent.
"The growing walk-in trade is why we are adding more counter people," George says. "That increase in walk-in trade was also one of the reasons we added power tools about a year ago. We picked up the Bosch line because we sell Simpson anchors and we added the full line of Milwaukee tools last year to meet the demands of our customers."
GAT Tenor also does a thriving business in private label products, including diamond blades, paints and chemicals, which help the company set itself apart from its competitors.
After a career in education, Georgina joined the company three years ago and manages receivables and payables and also leads GAT Tenor's marketing, advertising and social media efforts.
Strong Fundamentals
As the company has grown, George and Karen recognized they needed someone to supervise the store so they could focus on their sales and financial work. Six years ago, they hired Deborah Gierczak as an administrative assistant. Today, as operations manager, Deborah oversees the store operations, manages the company's software systems, sources products, serves customers and even loads trucks now and then.
Deborah gives the improving economy some credit but believes it is the GAT Tenor work philosophy that has been the company's real growth driver over the years.
GAT Tenor at a Glance
Founded: 1976
Ownership: Privately held, WBE business
Headquarters: Green Bay, Wis.
Facility: 20,000 square feet, open warehouse store design, on 4.5 acres
Staff: 14
Markets: Construction, landscaping and surveying, decorative concrete, industrial/manufacturing, municipal, , commercial agriculture
Line Card Advertisers in this Issue: Bosch, Intercorp, MBW, Pferd, Simpson Strong-Tie, Skilsaw
Line Card: 3M, Advanced Concrete Tools, Airman, Albion, Allen Concrete Equipment, Ames True Temper, Aervoe, Anvil, Bomag, Bosch, Boss, Brighton Best, Camel, Chapin, Cooper Tools, Dayton Superior, Diamond Products, Flex-C-Ment, GearWrench, GFD, Grip-Rite, Honda, Husqvarna, Indusco, Interchange, Intercorp, Irwin, ITW Buildex, Jackson, Keson, Kraft Tool, Lafarge, Leica, Magnolia Brush, Marshalltown, Marson, MBW, Milwaukee, Multiquip, Norton, Nupla, Pferd, Presco, Quick-Cable, Quikrete, Rayovac, Razor-Back, Rockwell Window Wells, Rust-oleum, Simpson Strong-Tie, Solomon Colors, Spectra Precision, Stanley, Steelman, Stihl, Titan, Toro, Wiss, Wright Tools, W.R. Meadows, Wyco
Services: Tool, concrete equipment and laser sales and rental
Affiliations: STAFDA, NetPlus Alliance
Website: www.GATTenor.com
"I would say it is work ethic of the people here," she says. "Our team busts their butts. George and Andy start work at 6:00 in the morning and sometimes they're still working at 7:00 or 8:00 at night. Most of our employees have been here for upwards of 20 years and they give 110 percent. We've gotten many new customers from referrals; 'You've got to go check these people out.' It helps a lot when you have good service and experienced employees."
Fastener expert Ken Parma has been with GAT Tenor for 37 years. His knowledge and experience in fasteners is hard to come by these days and is invaluable. Whatever the fastener oddity, Ken can track it down. His dedication has made him a big asset to GAT Tenor.
Head inside salesman Jack Van Eycke has been with the company for 21 years. His expertise in construction supplies and equipment gives strength to the service he provides for their customers. His willingness to go above and beyond has customers asking for him by name.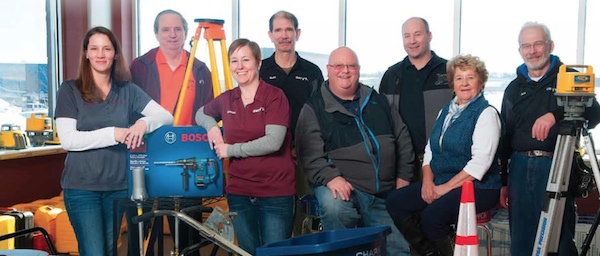 GAT Tenor's veteran team includes, from left to right: Deborah Gierczak, Ken Parma, Georgina Kaschner, Mark Parma, George Tenor, Andy Tenor, Karen Tenor and Jack Van Eycke.
Still in the Game
At 63, George Tenor still sells five days a week and has no inclination to taper off anytime soon.
"I love what I'm doing — I'll never retire," he says. "Our hope is one day turning it all over to our kids and staying and working for them."
"We told you earlier about stacking washers and fasteners when we were kids," Georgina says. "My kids are starting to do the same thing. Andy's kids are, too. That's gratifying, especially because we know this all came from one little room in a basement 40 years ago. Andy and I talk about this a lot. We are very proud of what we have today, but I don't think Dad ever dreamed this big. He just really loves to sell." CS