Triumph over Adversity
For Fasteners Inc. Michigan, failure is not an option
---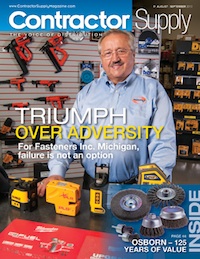 John Szlenkier, president of Fasteners, inc. Michigan has seen much worst than recessions in his life. The will to survive permeates how he lives and how he leads his business.

By Tom Hammel, Contractor Supply Magazine
To paraphrase Charles Dickens, Michigan is the best of states and the worst of states, especially for business. It is lushly wooded, with nearly 20 million acres of forest, 2,150 miles of shoreline on the Great Lakes and almost 24,000 miles of inland shore.
During good times, Michigan's industries,
led by Detroit's big three auto makers, suffuse the state with a continuous flow of cash. But Michigan winters are brutal, its cities have been blighted by urban poverty, its populations can be insular and, during downtimes, the auto-driven economy can feel like a rusty station wagon sliding into a sinkhole. Life here can be happy or hapless and the economic mood swings can be mighty.
John Szlenkier and Fasteners Inc. know this well. The company's eight stores across the state (plus two in Illinois) have been a fixture of Michigan's construction industry since 1946. Szlenkier has been with Fasteners' Inc. since 1970, when he was hired by industry icon Frank Deppe. In 1994, Szlenkier became just the third president in the company's history.
"I've been here 43 years and married to my lovely wife, Bernice, for 44," Szlenkier observes. "Everyone wants me to retire but I say, 'Why?' I love my job and as long as I'm healthy, I really enjoy this business. It has been very good to me."
During most of those years, Fasteners Inc. served the state's residential market.
"Until 2008, up to 70 percent of our business was residential contracting," Szlenkier observes. "When the big three (auto makers) were doing well, they carried Michigan. When Ford, General Motors or Chrysler would do changeovers for new models, they would bring in hundreds of electricians for two 10-hour shifts each day. They bought a lot of product. But when the big three are down, you have to find other ways to survive. Fortunately, the medical field has been growing and has been keeping us going in Detroit."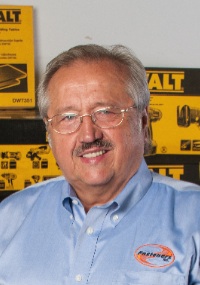 "To understand my character and how I lead this company, it helps you to know a bit about my personal history. I was born in a displaced persons camp in Germany in October 1945."
— John Szlenkier
Szlenkier and company vice president Scott Battershell work out of the metro Detroit store in Madison Heights. David Buhr, the company's CFO and comptroller and Tom Rickers, vice president of operations and director of purchasing, work in the Grand Rapids store, which also serves as the company's purchasing and primary distribution center.
Szlenkier's son, Jason, has also worked Fasteners Inc. for the last 15 years. Jason has taken the traditional route through the company — from the warehouse to the counter to outside sales. Today Jason works along side his father in the Madison Heights branch and ranks among the company's top 20 percent of revenue producers.
"When I joined the company in January, 2006, our receivables needed work," Buhr explains. "I changed personnel and procedures. We cleaned things up and by 2008 our balance sheet looked pretty good. It's difficult in sales organizations to find a balance between wanting to loan money to your good accounts while also dealing with those that just take your time and use your money if they can. You have to cut some people back while you're giving others room to run."
With 5,000 active accounts, this can be very difficult.
"You have to set a tone for things with credit limits, let your collections people do their work and create a method where they can work together," Buhr adds.
Buying Right
Tom Rickers, vice president of operations and director of purchasing, has been with the company for 27 years.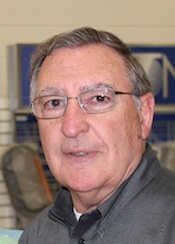 "A lot of our vendors run
promotions all the time,
so we've learned from
experience to resist the
temptation to overbuy . . ."
— Tom Rickers
"Most of our purchasing and distribution is centralized here in Grand Rapids," Rickers explains. "We have three buyers who cut all the purchase orders and do all of our price changes. If you have a buyer at every branch, you don't always get the best buy. When one person is responsible for a specific line, then the whole company gets the same pricing."
"I work mainly with our top 10 vendors — they make up about 80 percent of our business," Szlenkier says.
Szlenkier is a former chairman of the Evergreen Marketing Group, so it is no surprise that those top vendors are Evergreen preferred suppliers. Incoming inventory is split between the company's two major distribution centers, the main one of which is in Grand Rapids. Fastener's Inc. completely rebuilt the facility two years ago, adding a 6,000 square foot showroom onto a 30,000-square-foot warehouse with 33-foot high-bay ceilings.
Given the economy, Szlenkier, Rickers and their buyers have been working on short lead times with vendors.
"A lot of our vendors, especially our power tool suppliers, run promotions all the time, so we've learned from experience to resist the temptation to overbuy because they are always going to come up with a special program," Rickers says. "A month from now it may be a better deal yet. So we buy every month or couple of months. DeWalt, for example, has a four-or five-month program that features certain products each month — a new product rollout or a promotion on an item we are already selling — so we buy accordingly."
"PrimeSource is an exception. We buy large amounts of product from them. Their Premiere Club buying show is held at the end of February or the first of March every year and when we go to that, we basically place
blanket orders for most of the year."
A Game Changer
"Again, by mid 2008, our receivables and inventory were clean and we had made a lot of good operating choices," Buhr says. "Then in November 2008, everything fell apart."
When the recession hit, Michigan's economy went into a nosedive. Auto sales evaporated and housing dried up. As a company that served primarily residential contractors, Fasteners Inc. went rapidly from running well to gasping for air. Only hard decisions and a change of course saved it.
"In 2009, we closed a store in Traverse City and one in Kalamazoo. We had to let go about 18 employees, some of whom had been with us for 15 and 20 years," Szlenkier says. "But we had to keep the mother ship afloat. We had to make some tough decisions, cut costs and change our model to survive. As a company president, a lot of families
depend on you and you have to see your way through these things. I told everyone, 'Failure is not an option.'"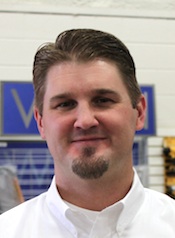 "The recession was a very difficult time, but we came out of it with new lines and relationships."
— Scott Battershell
For Scott Battershell, who is also Szlenkier's son-in-law, it was the first major recession of his career.
"The recession was a real eye-opener about what was really important in life; it made you refocus," he recalls. "It was a very difficult time, but we came out of it with new lines and relationships. I can't credit John enough — if it weren't for his foresight, we probably wouldn't be in business today."
Szlenkier set about refocusing the company from residential to commercial construction. This in turn called for bringing on new lines, which stressed the company's fragile finances.
"We had to be very careful as we brought in new lines to avoid overstepping our bounds," Szlenkier says. "But it worked out for us. We now focus on general contractors and all the subcontracting trades, from our existing residential carpenter contractors to the electrical, mechanical and plumbing trades."
As the company courted commercial construction, the lines evolved to follow suit. Stepping outside of its base of expertise in traditional stick building tools, the company began selling products for metal stud construction, including track tools, metal-to-metal screws, chop saws and blades, pipe cutting and bending equipment, electricians hand tools and conduit and cable equipment. In just three years, Fasteners Inc. has fundamentally reinvented itself.
Today, Szlenkier estimates that Fasteners Inc. is Michigan's largest independent distributor in a dozen lines that it never carried before 2009, including RIDGID, Greenlee and Klein Tools.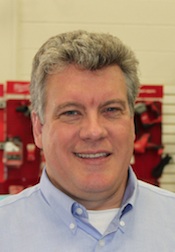 "You have to set a tone for things with credit limits, let your collections people do their work and create a method where they can work together."
— David Buhr
The company also dramatically increased its focus on safety products. In early 2012, Szlenkier hired an ambitious young man to be a dedicated safety specialist for the company. Adam Krejicek travels between all the branches and works with customers
and Fasteners Inc. salespeople to build safety awareness and compliance. The strategy works; in the current safety conscious environment, Krejicek can get Fasteners, Inc. salespeople access to safety directors who would otherwise be inaccessible.
"A lot of big general contractors have safety directors, and the larger roofing companies have them too, because safety, especially fall protection, is such concern today," Szlenkier notes. "We have more than doubled our safety business this year. Adam can get into doors on job sites where even the salesmen can't because he's talking safety and everybody listens to that. And there's another thing we've found out about selling safety product: you don't have to discount it."
"I do group presentations and work closely with our 28 outside sales reps on key accounts, getting them up to speed on safety, training them and certifying them," Krejicek explains. "I do Competent Person training for customers, which can be a major benefit to them in terms of lower Workmen's Comp insurance rates and a stronger safety rating. When a company bids a project, customers look at their OSHA safety rating. If they have a poor safety rating, their bid will not be viewed as favorably as one from a company with a strong safety culture in place. That can make the difference between winning or not winning a bid."
"Safety can't be neglected anymore. Fall protection is the number one OSHA citation and our number one training category, but we also do ladder and scaffolding inspections, power tool training, fit tests for respiratory gear and lead and asbestos training. Every day OSHA is growing in size, the field offices are growing in number so it's just going to get harder for contractors to get away with things that they used to get away with. Getting and keeping them up to speed with the right training and equipment opens a lot of doors."
An Opening in Chicago
After closing two stores in 2009, it might seem like a stretch to open a new one a year later and buy stores in Chicago just two years later, but opportunity knocks in its own time. Fasteners Inc.'s Ann Arbor store, opening in 2010, has been a smart move for the company.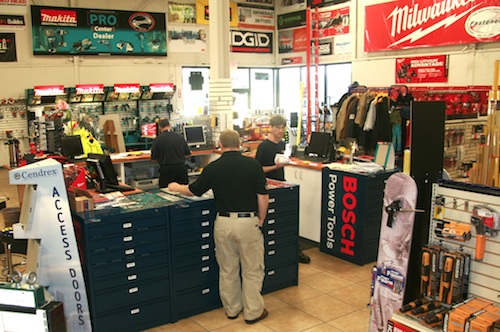 Top lines are well represented in the 6,000-square-foot Grand Rapids store: "DeWalt is our number one line," Szlenkier says, "Milwaukee is our number two line; Makita is third and Bosch is fourth." Each brand has significant wall and floor space.
In 2011, Brian Hoekman, owner of Dee & Bee Fasteners in Chicago, was losing his battle to save two recession-ravaged stores in metro Chicago. Hoekman, a former Fasteners Inc. employee himself, approached Szlenkier with an offer that might save the businesses from extinction. After three days of on-site review, Szlenkier and his team decided the time and the deal was right.
"Chicago is four times larger than Detroit," Szlenkier notes. "Our 28 outside salespeople in Michigan cover the entire state except the UP (Upper Peninsula), so there are no 'vacant' places left here where we could open a store and say we are going to grow. Chicago could be an entirely new market for us and that's why we decided to go there."
Fasteners Inc. Michigan at a Glance
Founded: 1946
Ownership: Privately held
Locations: Ann Arbor, Grand Rapids, Holland, Lansing, Livonia, Madison Heights, Petoskey and Saginaw, Mich.; Chicago and Lombard, Ill.
Markets: Commercial and residential construction
Services: Sales, repair, rental
Line Card: (Issue advertisers are hot linked) 3D Traffic Works, 3M, Aervoe, AO Safety, Arbortech, Bosch, Cpak, Coilhose, Coleman Cable, DBI-SALA, Delta machinery, DeWalt, Diamond Products, Duo-Fast, Erico/Caddy, Fein, Freud, Green Bull, Global Glove, Greenlee, Hitachi, Hougen, Husqvarna, Irwin/Lenox, ITW Buildex/Paslode/Ramset/Red Head, Kett, Klein, Knaack/ Weatherguard, Kreg, Lift-All, MK Morse, Makita, MAX USA, Metabo, Milwaukee, Motorola, Newborn, OSI, PLS Pacific Laser Systems, Panasonic, Pneu-Fast, Porter-Cable, Powers, PrimeSource/ ProTwist, Qualtool, Quik Drive, Rectorseal, Reed, Ridgid, Rol-Air, Rubbermaid, Safe-Waze, SAIT/United Abrasives, Senco, Simpson Strong-Tie, Stabila, Stanley Bostitch, Sumner, Surebond, SurfaceShield, Todol, Trimble/Spectra Precision, Vermette, Union Tool
Affiliations: STAFDA, Evergreen
Marketing Group
Website: www.fastenersincmi.com
The larger of the two branches is in Lombard, about 21 miles west of downtown Chicago. The downtown store, on Elston Avenue, is less than three blocks from a ramp onto the Kennedy Expressway and just over two miles to the lake front and Lincoln Park.
"A lot of work is done in downtown Chicago and if you have a store right there, contractors can stop by and pick stuff up when they heed it, especially consumables like hole saws, Sawzall blades, carbide bits, anchors and similar products, so that's what we stock there," Szlenkier says. "You don't need a lot of space for that; we have about 2,500 square feet — just enough room to carry profitable lines."
But just because Szlenkier believes that Michigan is saturated on the distribution side, that's not to say he sees no opportunities for further growth in the state. In addition to continuing to grow sales to commercial construction, safety, medical and collegiate customers, the company is presently building out its first combination tool repair and rental center, right across the parking lot from the Grand Rapids store.
"We are earmarking half the building for repair and half for rental," Szlenkier says. "Once we get this model going we will do the same thing in Madison Heights store and then step it out to the other branches. There's money to be made in rental and it doesn't make any sense for us to give it up because the contractor comes to us first. We are going to make the repair and rental separate, stand-alone businesses. If they are going to be in their own place, they have to be a profit center."
Another key component of growing company sales is keeping sales force at the top of their game. This means training.
"We rely on Evergreen very heavily for training," Battershell says. "Our goal is to have every outside salesperson become an Evergreen Certified Tool Specialist within the next four years. They do a fantastic job down there; their training is second to none."
"I was the first guy in this company to get become an EMG Certified Tool Specialist," Szlenkier notes. "And I am a former chairman as well, in 2002-2003."
As a bonus, residential construction is beginning to recover across the state. Business prospects continue to improve for the company, which makes Fasteners Inc.'s leadership very thankful that their business and their employees livelihoods have survived this very difficult period. This is especially true for John Szlenkier.
An Immigrant's Tale
"To understand my character and how I lead this company, it helps you to know a bit about my history," he says. "I was born in a displaced persons camp in Hildesheim, Germany in October 1945. My parents were from Warsaw, Poland. My dad decided to bring the family to the United States, but we couldn't do it via Poland because the ports were all bombed. So we had to go through Germany. It took six years before our number was drawn to be able to come to the United States, so that displaced persons camp was my childhood."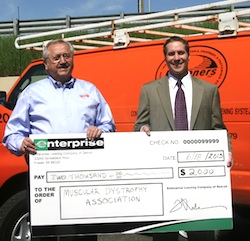 On the day of our visit, representatives of Grand Rapids' Muscular Dystrophy Association dropped by with a "big check" representing Fasteners Inc.'s latest donation. To date, Fasteners, Inc. has donated more than $500,000 to MDA alone. Fasteners Inc.'s distinctive "orange pumpkin" delivery vans are a common sight on job sites across Michigan and now, Illinois, too.
"At Ellis Island they held back my Dad, claiming he had tuberculosis. We later learned that some money had changed hands and records were switched to let somebody with tuberculosis go through, but they held my dad up. That stuff happened back then."
Szlenkier's mother, grandmother, sister and he were adrift in New York City for more than two weeks while they awaited news of his father. Szlenkier's mother became so distraught that she tried to take her own life before being saved by a priest who had taken them in.
Upon his release from Ellis Island, Szlenkier's father gathered his family and moved them to Philadelphia where they found work in steel mills and food plants. From there they migrated to Detroit and were absorbed into the automotive industry.
One result of his upbringing is a "take no unnecessary chances" approach to business. Another is a lifelong-involvement in his church, community and charities. One of these is Fasteners Inc.'s Annual Charity Golf Outing, now in its 15th year, which benefits the Muscular Dystrophy Association.
"You've got to give back," he says simply. "If you have the opportunity, you have to do it. Our golf outing has donated more than $500,000 to MDA. That money stays within the community. It's very therapeutic for me, too. It's the right thing to do."
"One of the best things about our team here is that John, Tom and Scott are extremely moral people," Buhr observes. "When everyone wants to do the right things, it is easier to make the right decisions and feel supported. You concentrate on how to do the right things and move forward." CS