A Capitol Investment
The Darragh Co. has been serving Arkansas for 105 years. Now Kramer Darragh begins a year of service as 2012 STAFDA president.
---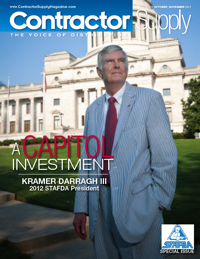 Kramer Darragh is the third generation of his family to run the Darragh Company. As incoming 2012 STAFDA president, he continues to look to future, including grooming a fourth generation to lead the company.

By Tom Hammel, Contractor Supply Magazine
Industry cliché holds that there is no such thing as a typical STAFDA house. Never was that more true than in the case of Darragh Company of Little Rock, AR, which for much of its 100-plus years of business has had more in common with poultry than power tools. In fact, it is only since the early 1990s that Darragh Co. transitioned completely into being a tool and supply distributorship, a "typical" STAFDA house.
The Darragh Company began its life in 1906 as a warehouse for hire for local Little Rock businesses, including feed and grain for poultry farms. Because they had the space to house it, company founders Frederick Kramer Darragh and his two brothers began to broker Portland cement and lime for use in the construction of the Arkansas state capitol building, which was completed in 1915. Thus began Darragh Co.'s dual career serving the agriculture and construction industries.
Darragh's strategy of investing in local markets worked. The two sides of Darragh's business grew with the state's industries.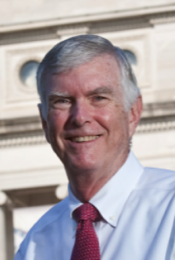 "The ag business grew faster than the construction supply side and got more attention from management until the industry matured," Kramer Darragh explains. "Then we got into egg production and that industry matured too. In the egg business, the biggest cost of production is a commodity, and of course your product is a commodity too, so we didn't have as much control over our destiny as we would have liked. We were fortunate to sell off all of our ag business entities in the early 1990s."
Arkansas has never been a "boom" state; its industries have largely avoided the boom and bust scenarios that have bubbled then popped in other regions of the country. There has been no oil boom, no housing bubble, no concentration of manufacturing — the state has largely been agricultural, so change has come mostly at the pace of the planting and harvest seasons. Before the coming of Wal-Mart, Tyson Foods was the state's major business.
Kramer himself studied grain science and feed technology in graduate school. Mementos of that era hang in his office; a wall thermometer from the 1950s advertises the company's main product categories: cream corn meal, prepared feeds and grain products at the top and building material, roofing material and built-up roofs at the bottom.
The Darragh Company
at a Glance
Founded: 1906
Ownership: Privately held
Headquarters: Little Rock, AR
Branches: Benton, Fort Smith, Hot Springs, Jonesboro, Little Rock, Lowell, AR; Texarkana, TX
Staff: 90
Lead Lines: BilJax, Bosch, Chapin, Chicago Pneumatic, Coleman Cable, CST/Berger, Dayton, DeWalt, Eagle, Eagle Enclosures, Empire Level, Endlock, Enviroseal, Epcon, ERB Safety, Fein, Gates, Generac, Husqvarna, Igloo, Ironclad, Irwin, ITW, Keson, Klein, Kraft Tool, Metabo, Milwaukee, MSA, Multiquip, Nelson King, Newborn Bros., PLS, Powers Fasteners, Prosoco, Radians, Rayovac, Ridgid, Rustoleum, Safewaze, Simpson Strong-Tie, Sonneborn, Squincher, Stanley Bostitch, Thoro, Titan, Trimble, Unibilt, Union Tools, Universal Manufacturing, Voltec, Werner, Zurn
Affiliations: STAFDA, ACD, Evergreen Marketing Group
Web site: www.darraghcompany.com
Kramer's vision for the company fell more to the "bottom line," so the company transitioned full time into the construction supply business in the 1990s. Since then the company has had as little to do with commodity products as possible. The company's long-established strategy of finding markets to serve now focuses on construction and its related industries. These now include tool rental and repair, rebar fabrication, scaffolding rental and erection services and, most recently, firestop application. These round out Darragh's core business as a full-line tool and accessory, fastener and concrete finishing products distributorship.
"Our core product line today is concrete accessories; sealers, hardeners, coatings, waterproofing and forms," Kramer says. "We rent and sell concrete forms. And of course we fabricate and sell rebar."
As a relatively recent distributor member of the Evergreen Marketing Group, Darragh Co.'s showroom is becoming a showcase of Evergreen preferred brands. The strategy is clear— offer contractors the best brand names in the business, buy product expeditiously to maximize the company's buying power and stay as far away as possible from commodity lines and products.
"We buy from Evergreen Preferred Suppliers when it is advantageous to us, and typically it is very advantageous," Kramer says.
While the buying advantages in Evergreen are important, so are the opportunities for professional training and product knowledge. In the pursuit of new sales, both to new and existing customers, Darragh Co. believes that simply having product in stock is not enough — knowledge is essential.
"The product expertise of our people is the justification for our existence," Kramer says.
Although Darragh Co. salespeople tend to be veterans in the business — some have been with the company for more than 35 years — product knowledge here is a journey, not a destination. In the last two years, two well-tenured Darragh sales pros, Todd Carter and Leslie Morgan have become Evergreen Certified Tool Specialists.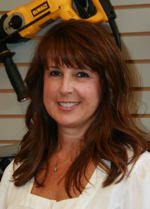 "There are always new things to learn, or to relearn — things that make you say, 'Oh, I forgot that years ago,'" Morgan says. "And Evergreen is great for refreshing your hands-on experience. I've been instructing people for 20 years on how to set a drop–in anchor, but until I went to Evergreen, I hadn't actually set one myself for years. I can tell you what you're doing wrong when I watch you do it, but having that training experience gives you just that much more insight into the problems a customer may be having."
The right tools for the job
A large part of Morgan's job lies in keeping on top of the constant flow of new products and ensuring that they meet the needs of Darragh customers in the field.
"Getting the right selection of tools to offer our customers is more important than just about anything else because if you don't have the tool the customer wants, he'll just leave," she says. "Getting the right tools — and the most current ones — that our contractors want and that will do the job is a large part of what I do."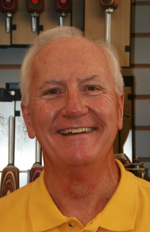 Bob Harrison, who manages inside and outside sales in Little Rock, divides his time between building customer relationships and training his salespeople.
"We have added some new people in the last year and we are doing a lot of training with them to get them up to speed on product knowledge and our systems," Harrison says. "Training here is everything from Webinars to ride-alongs; we do a lot of ride-alongs when people first start with us. We go out into the field with them, introduce them to our customers and help them show new products to the contractors. It's always easier to learn a new product if you are on a job site handling it and seeing it in action."
"As we begin to wean the new people off ride-alongs, we transition them to a lot of in-house training. Manufacturers come in and do seminars here or we send our people to their facilities and schools, including Evergreen. We really like Webinars; they are quick and easy; you get them on-line and they take 30 or 45 minutes depending on the product."
In addition to general-line sales reps inside and out in the field, Darragh Co. also employs several product specialists in specific areas including highways, geo-textile and soil erosion products and waterproofing.
A few years ago, Darragh acquired a small tool repair business, mainly as a way to build customer loyalty.
"We're still learning that business," Darragh says. "The idea was to develop more customers for our accessory business — and that business has picked up — but we can't tell yet what impact the tool repair has had on that."
Tool repairs are done only at the Little Rock branch. Rental is offered out of each branch except one: the Benton, AR branch specializes in rebar bending instead. In 2001, Darragh Co. bought Arkansas Rebar in Benton and kept the name. Two more rebar operations followed, in Hot Springs and Lowell branches.
"That's been a very interesting business," he adds. "I told you earlier how I have a distaste for commodity products. Well about two years after we bought it, steel saw an unprecedented volatility. So here we were, back in the commodity business again. But we learned quite a bit, like how to control our destiny a bit better by laying in inventory for stuff we have sold."
Like it has in other regions, Darragh's rental revenues have ticked up slightly in the last couple of years, as contractors shifted from buying equipment to renting it. The economy has also triggered changes in the company's rental fleet.
"We don't rent big iron anymore," Kramer explains. "Today we rent air compressors, Husqvarna cut-off saws and that type of equipment. The bulk of our rental is in scaffolding and concrete forms."
Veteran Leadership
Darragh Co.'s executive team consists of Kramer Darragh, executive vice president F. Richard Dunlap, vice president of distribution David Priest, and company controller (Kramer's son) Thomas Eugene Darragh III — Ted for short.
Priest oversees the distribution channel aspects of the business, the sales and operations of the "STAFDA-market" platform of Darragh Co. Now in his 26th year with the company, Priest is grateful that Arkansas has largely avoided the roller coaster economic cycles seen in other parts of the country.
"We are fortunate here," he says. "Our ownership has been very conservative and construction in Arkansas moves a little slower — both up and down —compared to other parts of the country. We are spending more time just trying to get better — making sure we have the right people on our team, the right vendor relationships, that our inventory is performing and that we are building customer relationships like we historically have done. There's nothing we can do about the economy, so we are concentrating on becoming better at what we do."
Dunlap agrees. "Of course, you hate to have a slowdown in business, but when you do, it's a good time to step back, look at the business that you might have let slip though through the cracks and how to perform better — on all fronts," he says. "Those exercises have led us to some successful sales in those areas."
"We still pay a lot of attention to inventory, evaluating vendor lines and customers," Dunlap adds. "We put a lot of emphasis on turning over new rocks — going into areas where we have been weak before or that we traditionally would have ignored when times were better. We are also emphasizing customer evaluation; filling in any gaps between what we sell and what they buy so we can get them to increase their spending with us."
Darragh's membership in STAFDA and Evergreen has been instrumental to the success of those efforts.
"Our membership in STAFDA and Evergreen have helped us during the downturn by allowing us to focus on some products that have not been in our basket before," Dunlap says. "The relationships we have formed with manufacturers and more importantly, with other distributors — people who have been successful in the business for a long time — have really helped us broaden our product lines. That has made a difference during the downturn."
A Scaffold across the gap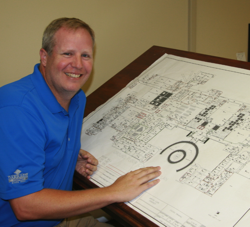 In addition to its tool repair, rental and rebar bending services, Darragh Co. has recently launched a scaffolding division. For the past six years, Logan Moss and his crews have been selling and installing scaffolding on job sites across the state. Recent jobs have included supplying and erecting scaffolding for the renovation of the Arkansas Capitol building's dome and providing safety netting for the conversion of an old railroad bridge across the Arkansas River into a pedestrian walkway.
"The capitol dome was one of our first scaffolding jobs," Moss says. "We also do 'dance floors,' inside auditoriums — we build a deck 20 to 30 feet off the original floor so they can work on the ceilings."
At any given time Moss has 10 to 15 workers doing scaffolding work across the state. The jobs are coordinated mainly out of Little Rock but are loosely based on the nearest branch. Having the scaffolding business also translates into opportunities to sell safety, PPE equipment and even general tools and accessories to scaffolding customers, too.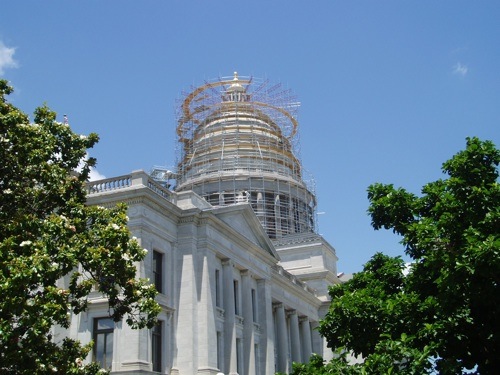 A newer item on Darragh's menu is firestop sales and installation, which the company began offering three years ago, again, in response to a need its executive team uncovered in the Arkansas market. Today, Darragh fields one crew exclusively for firestop work across the state.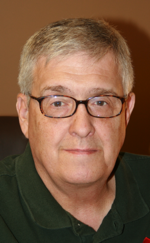 Scaffolding erection and firestop projects both require trained and certified personnel and this adds to the value Darragh Co. offers customers. Reinforcing and building loyalty from the company's various services and areas of expertise falls to John Hicks, marketing and training manager. Hicks too focuses on turning over new rocks, including virtual ones, to find new products and new customers.
"We are now on Facebook, trying to get our name out there," Hicks says. "We aren't the typical Facebook player — we are contractor-driven — and a lot of people in our industry are not there yet with social media, but as that group gets younger, we think it will grow. We're learning."
Hicks is also a point person for training programs in conjunction with the Evergreen Marketing Group.
"I work closely with Wade McCone on Evergreen programs," Hicks adds. "We have several people across our branches in training to be tool specialists and we already have two on staff."
Soft(ware) on the fundamentals
The latest phase of Darragh Co.'s ongoing reinvention is the company's switch to a new Prelude-driven computer system. Having gone through the processes of downturn-driven inventory reductions and receivables tightening, the company decided to make the big change to Prelude. Begun in fall 2010, the process has been exhaustive, but is now completed and the new system is live throughout the company.
"We are taking advantage of this slower time to convert our computer system to Prelude. We expect to gain better efficiencies in warehouse management and inventory control — availability and forecasting," Darragh says. "We talk a lot about efficiency but the critical aspect is customer service. The whole reason we are doing this is to improve our customer service."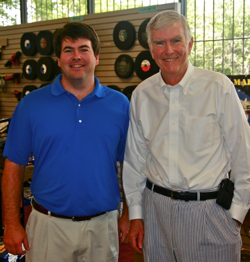 Spearheading the process has fallen to Ted Darragh III. Currently the company controller, Ted's masters degree in Industrial Distribution from Texas A&M makes him a logical choice to drive the project.
"We could have upgraded with our old software provider but we decided to spend a little more and form a long-term relationship with a company that is more progressive with their software," Ted explains. "We switched to be able to do more things, particularly in forecasting, and to keep ourselves more on the cutting edge of the technology. One of the things we want to do is allow our customers online access to their invoices,
balances, even possibly our inventory levels so they can see if we have in stock what they need."
As for the future, with the last name of Darragh, is it assumed he will take the reins one day?
'That's an option, but I'm not in a hurry for it," he says broadly. "My dad seems very happy where he is and we have some very competent people to fill in if he doesn't. When the time comes, hopefully I'll be ready, but my hands are full right now and I'm learning a lot with this software project. But down the road . . ." he lets the thought trail off.
Whatever that road brings Darragh Co., it's a safe bet the company will be ready when that next "capitol" idea comes along. With 105 years invested in Arkansas so far, Darragh knows the future will get here right on time. CS
Kramer Darragh III, STAFDA President 2012
The Darragh Company joined STAFDA in 1995. President F. Kramer Darragh III will become STAFDA's 2012 President this November in San Antonio. As the third generation of the Darragh family to own the business, Kramer is deeply aware of the value of relationships, partnerships and friendships with customers and vendors that STAFDA has facilitated over the years.
"STAFDA was such a bargain that we didn't even have to go to the conventions to get our $350 a year out of it," Darragh observes. "We got that much value and more just in the mailings, the Directory and so on. That was applicable to us before we were even much of a tool house. I started attending a few conventions, then one of our other key people went and we became more involved."
Darragh brings his volunteer spirit to his work with STAFDA.
"What I've found over the years is that with involvement in association work you typically get a lot more out of it than you put in — that the opportunities to broaden your contact with people are pretty special. A lot of the value we get is in the information and relationships that we have developed both with other distributors and some of the vendors. And then there's the education. And the convention is still such an incredible bargain for a distributor that it's just amazing."
Darragh hopes his coming year as STAFDA president will enable him to encourage greater information exchange between members.
"If I were to have an agenda as president it would be to increase the sharing of information among the distributor members particularly. One thing that concerns me is the declining participation in the financial survey that Al Bates conducts. That's very important to us in setting goals and seeing what other people are doing with financial ratios, margins and so forth. I'd like to see that study revitalized." CS