Big Game Hunting
A.W. Meyer is part tool store, part natural history museum and all business.
---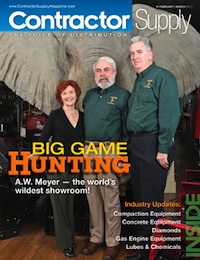 A.W. Meyer co-owners Cathie and James
Hascup (left and center) and vice president Jim Kelly (right) pose with a friend in the showroom of their 22,000-square-foot store in Ridgefield, NJ.
By Tom Hammel, Contractor Supply Magazine
You might think it would be difficult to hide an elephant in a tool store, but you would be surprised how well those big guys can blend in, even if the jungle is table saws and drill presses, mountains of cordless drills and canyons of work shirts and boots.
At A.W. Meyer in Ridgefield, New Jersey, the aisles encroach on shoppers with rows of plastic barrels and wooden bins of cordless drill bodies, batteries, tape measures and hand tool sets. Behind them rise platforms of miter saws, generators and air compressors. Then there are the animals; moose, leopards, crocodiles, antelope, hyenas — and that elephant looming over everything.
Yes, it's a jungle in here, but a well-orchestrated one. Take away the wildlife and A.W. Meyer's showroom says, "mid 20th-century hardware store," in a way that is not arrived at by accident.
Natural History
Since 1901, A.W. Meyer has served drywall, paint, woodworking, electrical and commercial contractors (and some homeowners) in New Jersey and metro New York City. Over those years, A.W. Meyer has built a reputation and a business model based on having in stock pretty much anything a tradesman might need, and then some. In its 100 plus years of business, the company has moved just once, across the street. But once moved, it has expanded in space occupied, lines carried and markets served.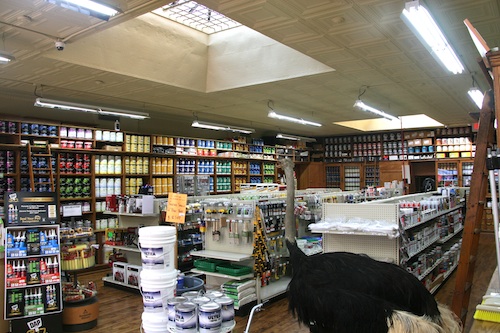 Standing guard over the paint store in front of him and the entryway into A.W. Meyer's main showroom at his back, this six-foot ostrich somehow looks right at home. The store itself is faithfully restored to look as it did back in the 1920s, with the exception of all new products on the shelves. The oak wall cabinets and rolling ladders and maple flooring are all original.
A.W. Meyer has never shied from hunting up new markets, a trait that has helped it weather a century's worth of recessions. In the 1960s when the drywall market took off, the company added drywall finishing tools and supplies. In the 1980s, the company began serving environmental and asbestos abatement contractors. It has an even longer history in the paint business.
"Our paint store is in the original 2,000-square-foot A.W. Meyer show-room," Cathie Hascup says. "We re-stored it to look like it did in the 1920s."
Accessible by a door off the main showroom, the paint store features tin ceilings, original rolling ladders and oak shelving. It is stocked with Benjamin Moore paints, spraying equipment — and an ostrich.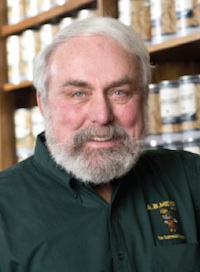 "I love to hunt.
I hunt all over the world and I love to share that with people, which is why the animals are in the showroom."
— James Hascup, Jr.
James Hascup Sr. joined the company in 1958. Today James Jr. and his wife Cathie co-own the store. James is president, Cathie is the secretary/treasurer and director of marketing. For the past 50 years, James has been hunting game across the world and his trophies have become an integral part of A.W. Meyer's identity and shopping experience in the store. To say, "You can't miss them," is an understatement
of, pardon the pun, elephantine proportions.
Hunting for Business
"You've got to have a passion for something other than selling power tools," Hascup says. "I love to hunt. I hunt all over the world and I love to share that with people, which is why the animals are in the showroom. You should see this place on Saturdays; people bring their kids and take hundreds of pictures."
But as much draw as the wildlife is, A.W. Meyer is first and foremost a contractor's destination. Without them, there would be no trophies whatsoever on the wall.
"Commercial construction is our key market segment, and our lead-in has always been the drywall industry," explains James Hascup. "When the economy for most of the country tanked, New York City didn't decline as much. New York City was still very strong and we capitalized on that. We spent a lot of time over there and picked up a lot of new customers. And now, since Hurricane Sandy, there's twice as much business
because most of the city flooded."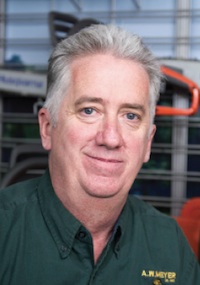 "Our motto is, 'If the customer asks you for it, he doesn't want to look for it — he wants you to find it for him.'"
— Jim Kelly
"Anytime we felt a pinch in the economy, there was another trade we could jump into," observes vice president Jim Kelly. "We would look at our supply lines and say, 'Hey, we can sell boots,' or, 'We can sell demolition tools.' Yes, sales declined during the recession, but the market stayed."
"There used to be holes in the ground all across Manhattan because if you put a hole in the ground, your project was grandfathered," Hascup says. "Then when the economy started to recover, you could start again. Now many of those jobs are starting to come back."
"And the store revenue has been steady," Kelly adds. "The clientele that comes in here is local to this market and our annual show brings in new customers and old customers back."
The World's Largest Showroom
A.W. Meyer's website proclaims that the company has the "World's Largest Tool Showroom," and who are we to argue with an owner who hunts lions and elephants for a hobby? Well, we ask anyway.
"Between our showroom and the paint store we have nearly 22,000 square-feet," Hascup says. "No one in a four- or five-state area comes anywhere close."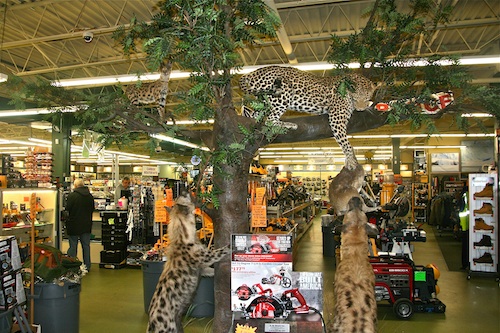 From the moment they walk in the door, customers know they are in for an exotic shopping experience. This This display of hyenas, a leopard and other jungle animals literally splits traffic into two "trails."
"And so far, no one has disputed it," says Cathie Hascup. "We opened this showroom about seven years ago and we have been using that tag line ever since."
"Both Jim and I came from the supermarket industry," Kelly says. "We wanted to give the contractor professional a supermarket of tools, a real shopping experience. We put out baskets and pails of products. The aisles are grouped by category and the walls by vendor. Then we have our big area of woodworking machinery. More recently we added Carhartt and Helly Hansen clothing and Timberland footwear."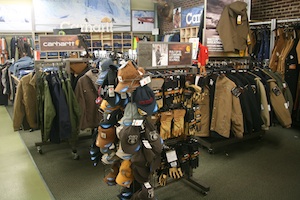 In keeping with its model of "everything for the contractor," A.W. Meyer features a fully-stocked Carhartt area that moves hundreds of pairs of jeans alone each month. The hard-working foot is well cared for as well. Just to the right of this Carharrt display is a similarly well-shopped Timberland workboot alcove.
"We do very well with work boots," Hascup adds. "And we sell a hundred pairs of Carhartt jeans a month."
"So we have a one-stop shop for the contractor," Kelly continues. "We look at this like the Costco experience — when you go to Costco you will spend $200 or $300. The same thing happens when a new customer comes in here — he will walk back out with $500 or $1,000 in merchandise. When new customers come into the store they say, 'Wow.'"
In the Woods
A.W. Meyer's woodworking section is one of the most extensive in the region. That might seem to be at odds with such an urban market, but not only are upscale enthusiast woodworkers a strong regional market, professionals are too. The recession took its toll on woodworking retailers too, with the result that A.W. Meyer now has fewer competitors.
"Professional woodworkers and furniture makers are coming back," Kelly notes. "They are opening plants in New York and New Jersey."
"Brooklyn is becoming the woodworking capital of the Northeastern United States," Hascup claims.
"That's right," Kelly says. "There's a real renaissance in that area. If you go into Brooklyn now, below the Brooklyn Bridge, you will see multi-million-dollar brownstones that people are moving into, and they are bringing the need to renovate with them."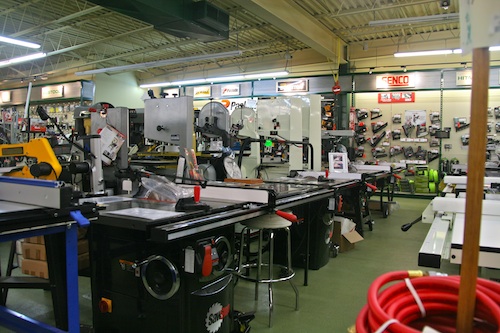 The metro New York City area is home to a revitalizing woodworking, cabinetry and furnishings industry. Not only is residential rennovation booming, but wood products manufacturing itself is enjoying a renaissance — in Brooklyn in particular. A.W. Meyer serves those local customers and also does a considerable business outfitting complete woodshops for shipment by Hispanic customers back to their home countries in Latin and South America.
To cater to these woodworkers, A.W. Meyer sells Delta Machinery, Powermatic, JET and SawStop — especially SawStop.
"We sell 15 to 18 SawStop saws a month, to wood shops, hobbyists, schools, municipalities and all the agencies in New York," Hascup says.
Hascup notes that the company also has a large Hispanic customer base that buys equipment both to use locally and to ship to Central and South America.
"I can't tell you how many complete shops we have sold that way," he says. "We hired a woodworking expert from a woodworking store that went out of business. Customers come in and discuss their needs with him or some of our bilingual salespeople, put together an order and we'll ship it off to South America."
Endless Inventory
But the company's real claim to fame and part of the secret of its ongoing success is that whatever your trade, you can find what you need at A.W. Meyer.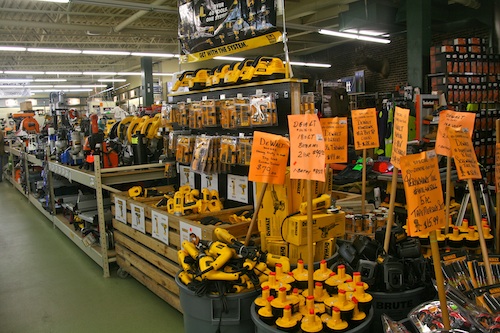 The wildlife is a great attraction but A.W. Meyer's real draw is its immense volume of inventory. Just as metro New York has one of the highest per capita population densities in the United States, A.W. Meyer has one of the highest — if not the highest — per-square-foot density of product in the country.
"Our motto is, 'If the customer asks you for it, he doesn't want to look for it — he wants you to find it for him,'" Kelly says. "So we do. We sell to all the trades; construction, electrical, mechanical, demolition and environmental. There isn't a trade that we wouldn't sell to or facilitate, and we have always been known for: If you don't see it; we'll get it for you."
So in addition to anchors and fasteners, clothing, boots and power tools, A.W. Meyer sells compressors, generators, breakers and chipping hammers, light compaction equipment and cement mixers. Lead equipment lines include Generac, Honda, Multiquip, Ridgid, Stihl and Greenlee.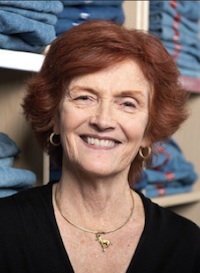 "Hurricane Sandy was huge.
Everybody worked around the clock. We contributed a lot to the 9-11 relief effort too."
— Cathy Hascup
In anchors and fasteners, the company's brands include Powers, Porteous, Ramset Redhead and Zipper, A.W. Meyer's own brand of drywall screws.
"We have been importing our Zipper line since the 1980s," Hascup says. "It is a complete line, not just one or two SKUs."
And he means it. A.W. Meyer's drywall screw inventory alone equals or exceeds the entire fastener and anchor inventory of other distributorships. Herein lies another key to the A.W. Meyer model. Like Hascup's passion for big game hunting, the company model is loosely based on "Go big or go home."
When Hurricane Sandy hit the region, A.W. Meyer delivered — from its own inventory — 300 generators the first day the storm passed and a total of 1,400 within three days.
"We have 300 generators in stock all the time — we don't stay lean," Hascup states. "We never have. If you need it, we have it and we usually have enough for you and two of your friends. And we have always done it that way. Is it wrong? Absolutely. Should we be leaner? Absolutely. Are we going to? No. We are going to stay this way — it has worked out very well."
A.W. Meyer at a Glance
Founded: 1901
Ownership: Privately held
Location: Ridgefield, N.J.
Showroom: 17,000 sq. ft.; Benjamin Moore paint store: 2,000 sq. ft.
Employees: 38
Sales Staff: 16 total; 5 outside
Markets: Construction, electrical, mechanical, environmental, woodworking
Line Card: (Advertisers in this issue are linked below) 3M, Apex Tool Group, Benjamin Moore, Bosch/Freud, Campbell Hausfeld, Capital Safety/DBI/Protecta, Carhartt, Channellock, Contractors Choice, Delta Machinery, DeWalt/Bostitch/Porter-Cable/Stanley, Diamond Products, Dri-Eaz, Eagle Enclosures, Erico/Caddy, Ergodyne, Fein, Festool, Generac, Honda, Husqvarna, Igloo, Irwin/Lenox/Rubbermaid, ITW Buildex/Epcon/Paslode/Ramset, JET/Wilton, Jobox, Klein Tool, Kreg, Little Giant, Louisville Ladder, Lug-All, Makita, Malco, Marshalltown, Metabo, Michigan Ladder, Milwaukee, Mi-T-M, MK Diamond, MK Morse, MTD, Onsite Products, Pearl Abrasives, Protective Industrial Products, PLS, Powermatic, Powers Fasteners, RIDGID, Rolair, Safety Maker, Sait, SawStop, Senco, Seymour Mfg., Stabila, Stihl, Strong Man, Surface Shield, Swanson, Timberland, Tsurumi Pump, Zipwall
Affiliations: STAFDA, Evergreen Marketing Group
Website: www.awmeyer.com
"James really invests in the company," Kelly says. "He could lean out the inventory and throw that cash in the bank, but he invests that inventory back into the company. If someone comes in right now and needs 100 hammer drills, we've got them."
Its exceptionally deep inventory has earned A.W. Meyer lifelong customers and not a little media coverage in the aftermath of disasters like 9-11 and Hurricane Sandy.
"We are a 'seven days a week' company, always have been," Kelly says. "We aren't open Sundays, but we have worked all hours and days during hurricanes and emergencies."
"Hurricane Sandy was huge," Cathie Hascup notes. "Everybody worked around the clock. We contributed a lot to the 9-11 relief effort too."
"On 9-11, our whole company was down there that same day," James Hascup recalls. "We got Generac to donate a container of generators and we went down there and assembled them for the fire departments on the scene and we stayed there all night. We also took Bosch demolition tools and chop saws down there, oiled up the generators and got the tools up and running. At that time they still thought people were under the rubble so time meant everything."
"We delivered to them every day," Hascup continues. "The State Department met us on the bridge and escorted us to the site every day."
Across the Globe
On a local and regional level, A.W. Meyer has never been more popular. The company has on-call status for numerous New York and New Jersey agencies. Its inventory capabilities are second to none, its popular Oc-Tool-berfest show is in its 30th year and its truly "wild" showroom is a local attraction. Today, the company's leadership team is looking at the Internet for its next phase of growth. One goal for 2013 is to get an effective e-commerce platform in place.
"We need to bring our showroom not just to existing customers in New York City, New Jersey or Pennsylvania who have never seen our place, but also to give them — and people who have never shopped with us before — the ability to order products online," Kelly says. "We expect to be there this year."
Kelly and the Hascups also laud their employees, many of whom have decades of service with the company.
"We can't stress enough the quality and longevity of our employees, their professionalism and their knowledge," Cathie Hascup says. "Some of them have been business owners themselves. They are the ones who answer the phones, work with the customers every day and make our deliveries. Our people are really why our customers keep coming back."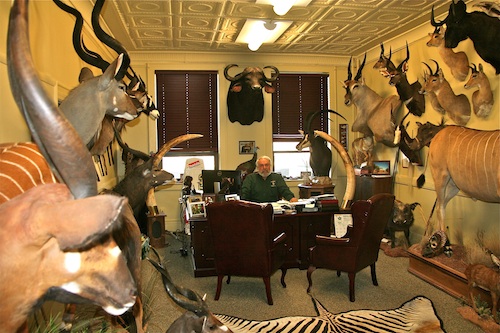 All eyes on you: James Hascup's office, also called by friends and employees the James Hascup Museum of Natural History, is home to some two dozen trophies of his five decades of big game hunting across the world. Two anterooms house more of his collection, including rams, antelope, bears, mountain lions and numerous other species.
For a mix of product, know-how and showmanship, few distributors in the country can compete with A.W. Meyer. At some point, another company may successfully lay claim to having the world's largest tool showroom, but it will have to go a long way to build one that holds more inventory — or more fun. CS