Core Values
For PCS, it's all about the diamonds.
---
Owned by Marci Clements, president, and Mark Clements, vice president, ProContractor Supply was launched and to this day is built around a core product line of diamond blades, bits, saws and repair parts.
Distributors as a rule are either generalists or specialists. Generalists carry a broad range of products, some approaching the range of home centers, while specialists focus on one or two customer groups, such as plumbing, HVAC, electrical or concrete contractors. Few companies however, have taken the specialist route to such a degree as ProContractor Supply (PCS). The company was created by the husband-and-wife team of Mark and Marci Clements to serve one of the narrowest subcategories of all, concrete cutters.
A straight and narrow line . . . card
ProContractor Supply's line card is more than blades and saws, but with the exception of items like Seymour marking paint, Marshalltown and Kraft trowels and Sarge knives, it's all about the diamonds.
"Everything we do is to sell more diamonds," says Mark Clements, vice president and co-owner. "The only anchor we sell, and we sell thousands of them, is an MKT one-half-inch drop–in anchor because that size is what every concrete cutter uses for setting drills, wall saws and track. And we really only sell (Relton) five-eights-inch carbide bits because that's what you use for the half-inch drop-in anchor."
Basically, the company inventory consists mainly of diamond blades, core bits, chain, cutting equipment and repair parts. Gas cut-off saws, electric core rigs and hydraulic tools comprise the bulk of equipment inventory PCS keeps on hand. Larger equipment, which ranges up to 84-hp, 60-inch-blade walk-behind saws, is not inventoried but instead routinely drop-shipped from vendor facilities.
"We didn't ship many saws last year, but historically we have sold a lot of them," Mark says. "Big saws, too — we would sell one or two 60- or 65-hp saws a month."
ProContractor Supply Co. At a Glance
Founded: 1995
Ownership: Privately held: Marci Clements, president; Mark Clements, vice president
Location: Oakwood, GA
Facility: 10,000 square feet (owned) on three acres
Lead lines: Diamond Products, Dust Muzzle, ICS Blount, Husqvarna, Kraft/W. Rose Tool, Marshalltown, MKT, Multiquip, Norton, Relton,
Sarge Knives, Seymour paint, Stihl, Stone Equipment, Wacker
Memberships: CSDA, STAFDA
Software: QuickBooks
PCS sells — and services — saws and core rigs from Diamond Products, ICS Blount, Husqvarna, Multiquip, Norton, Stihl, Stone Equipment and Wacker. PCS pairs this equipment with the ProDiamond blades, chains and bits that will deliver the best results in given applications and regions of the country.
In addition to these brands, PCS has partnered for the last decade with a local company to manufacture and sell a ProDiamond brand hydraulic hand-held saw. The saw accepts up to 24-inch-diameter blades for cutting up to 10 inches deep. PCS sells these locally and nationally to cutters who like its rugged construction, depth of cut and hydraulic reliability.
Diamonds are a cutter's best friend
But diamonds are the company's key stock in trade. PCS globally sources diamond blades and core bits and sells them under its own ProDiamond label. This long-developed, hard-earned ability to select products from global sources that will deliver reliable, cost-effective cutting and coring results is one key to the company's success.
"We constantly communicate, especially to our national customers, our ability to fine-tune products from all over the world that will work well for them," Mark says. "For example, we import an asphalt blade that will keep up with anyone's product."
Marci Clements, company president, adds and laughs. "We don't necessarily want to say it this way, but we cherry-pick lines from all over the world, and we are very good at helping design blades for different applications and geographies.
"That's true," Mark says. "Pretty much every manufacturer today is doing the same thing, especially with smaller blades."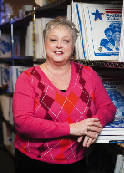 "There is an ebb and flow
to this industry,"
— Sherry Wilson, operations manager
Sherry Wilson, operations manager, adds, "Companies like Husqvarna and Dixie Diamond will still manufacture their larger diameter blades here, but otherwise it is just too expensive to make small blades in the United States." Wilson speaks from long experience. Before becoming the company's first employee, she worked in customer service with Norton.
Small shop, national customer base
How can a company with nine employees that "just" sells diamonds survive, even in a metro area the size of Atlanta? It's a trick question — PCS never tried. Only 40 percent of their sales ($4 million in 2007), are local or even regional. The remaining 60 percent is national, to customers both large and small who buy diamonds, equipment and parts.
This national business is the fruit of the 20 years Mark spent as a road warrior for major diamond tool manufacturers. Wilson spent a similar amount of time building relationships from the inside as a customer service manager for diamond companies. This knowledge of diamond tool users and sources put them in a unique position to capitalize on the emerging market of imported diamond products.
A man, a woman and a basement full of diamonds
"In 1995, when the diamond tool companies we worked for started importing product, we decided we could, too," Marci Clements summarizes. "We trademarked the brand 'Pro Diamond' and formed a company. Then we gradually developed a market that we are pretty proud of today."
X-Ray Specs for Concrete
GPR (Ground Penetrating Radar) provides 3D images of
rebar, water and electrical lines and other elements in the ground. These images enable contractors to make fast, accurate decisions on which tools to use, and helps concrete cutters determine where and how deep to drill or cut to avoid damaging crucial hidden systems.

In early 2009, PCS bought scanning equipment, sent
Ernesto Mendoza to school to get certified in its operation. Now, part of his work for PCS is with ProScan 3D Imaging, helping local concrete cutters "see" into concrete before cutting or drilling it.

"We use a scanning system called Conquest, from a Canadian company called Sensors and Software (www.sensoft.ca)," Mark explains. "The technology is still in its infancy in our industry, but in a few years when more saturated cutters start buying this equipment and doing their own scanning, then we will also probably sell it, too."
"ProScan is not cutting," Clements emphasizes. "We don't want to compete with our customers but we will scan concrete for them. It has done well enough that we are building a business in it, too."
What was born of the need to combat a recession may well become a full-time job for Mendoza or even a team of new employees in the future. For now, Clements is pleased that the service is gaining popularity with PCS customers.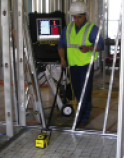 ProContractor Supply's Ernesto Mendoza performs a scan prior to a cutting job at an Altlanta-area job site.
Located 45 miles northeast of Atlanta, ProContractor Supply is based in Oakwood, Georgia, just off I-985. In 2004, the growing company bought three acres of land and built a 10,000-square-foot facility. They occupy 7,500 square feet and rent out the rest. The land has pre-approved zoning for another 10,000-square-foot building. The only other "permit" they need is that of a recovering construction market.
Of the company's nine employees, Russell Hamilton, Ernesto Mendoza and Mark Clements make sales calls in Georgia and Alabama. PCS also works with independent sales reps who serve clients across the Southeastern U.S. In addition to their other work managing operations and purchasing, Marci Clements and Sherry Wilson also manage some accounts.
"The 60 percent that goes out to the rest of the country is managed by Sherry Wilson, Marci and me," he adds. "Our company is leaner than most, but our margins are tighter than most, too, because we are squeezing ourselves in-between the manufacturers and the concrete cutters. Most of our customers can buy direct from our suppliers, too, but they continue to buy from us because of the relationships we have built with them, our expertise and the service we provide."
Never having to say you're sorry
"Service means being knowledgeable, being able to answer questions and delivering the parts they need the first time. That's critical," Mark says. "A lot of this equipment is very involved. The experience of a customer trapped in a huge company's voice-mail maze is how a company like ours, makes it in business. We answer the phone, we have schematics for just about every saw on the market, and when someone calls and asks for a 'fratistat' or whatever, we know exactly what they are talking about."
In a fix
Because PCS knows equipment inside and out, customers began asking them to fix it, too. Two years ago, PCS began offering tool repair. EMR Repair (named for Ernesto and Mark) serves local customers, fixing mainly gas engine saws, hydraulic and electric equipment.
"Tool repair involves a lot of pick-up and delivery, which is a hidden cost we had not thoroughly considered beforehand," Mark notes. "It is a service we like to provide, but we have not been as diligent as we should about passing through those costs in our service fees. We need to do a better job with that."
Although the repair service was launched before the recession hit, Mark admits the downturn may have been good for business: the current economy forces contractors keep equipment in service longer before replacing it.
"Our magic number is $150,000 a year in repair business," Mark says. "If we reach that number, we plan to add the second building, but we aren't there yet."
Currently, PCS employee, Ernesto Mendoza, does triple duty in sales, repair and for a new service (see sidebar on next page) called ProScan 3D Imaging that PCS launched in 2009. Mendoza is ASCS certified and is also certified to repair Diamond Products, Husqvarna, ICS Blount and Wacker equipment.
PCS does a healthy national business in parts, too. "We sell a lot of parts because the customer service people for manufacturers don't always want to deal with smaller orders or customers who aren't already in their systems," Marci says. "We get a lot of leads from vendors that way."
Card carrying members
PCS is a distributor member of both STAFDA and CSDA, the Concrete Sawing and Drilling Association. Of the two, the CSDA is closer to the company's core, but the Clements find both organizations valuable in their own ways. PCS participates in each STAFDA PAR (Performance Analysis Report) survey to benchmark the company against others in the industry.
But, true to its unique niche in the industry, PCS is one of a very few affiliate members of CSDA. Mark believes the CSDA still represents a small fraction of concrete cutters in the United States. He attributes this to the belief that concrete cutters are something of a breed apart. "For the most part, independent cutting operations stay that way," Mark says. "There are exceptions like Penhall, but these guys as a rule grow organically, not by acquisition. It is a skill- and machine-based industry."
Also, as cutting companies grow, they often bypass PCS and buy direct from their suppliers. "There is an ebb and flow to this industry," Sherry observes. "A Penhall will come in and buy up companies and the little guys will leave and start up their own."
This independent nature and tendency to spin off new, smaller companies means that as the cutting industry continually renews itself, so does PCS's customer base. This fact alone goes a long way toward explaining why PCS remains so unique in its niche.
Margins pose a more universal challenge. PCS has watched diamond blade and bit prices slide for years.
"We went into business 15 years ago because back then a 14-inch high-speed blade was $300," Mark explains. "Today it is $50."
The recent U.S. court rulings on diamond product dumping will bring some relief, but the Clements don't expect to see $300 blades again. Mark notes that he has seen modest price increases so far as a result of the dumping ruling, but nothing significant.
"On average, the import duty on Chinese product is going to be about 45 percent," he estimates. "By late October and early November 2009, we had seen some price increases of about 15 percent from Chinese suppliers, so they appear to be absorbing the other 30 percent for now. Those increases are only going to take a $30 blade to maybe $35, so I don't think the import duties are going to impact pricing as much as we would like to see."
Like many other distributors, PCS has in part survived the recession by living off the stored fat of its inventory. Mark Clements believes the years of "sell one, buy three" inventory management are gone forever, but admits that when the economy rebounds he would like to find a happy medium between those fat and happy days and the bone-lean levels of recent months.
The prospect of continued weak commercial construction through the rest of 2010 does little to cheer the Clements. However, as the commercial market has contracted, government spending has increased, and they have been more aggressive going after it.
"The cutting business is shifting from commercial construction to public works; hospitals, schools, prisons and airports," Mark says. "So we are pursuing that business more because municipalities still have money to spend. And because we have been paying more attention to it, that part of our business has grown this past year."
"Plus, the southeast has a lot of military bases," Marci adds. "Ft. Benning for one has some huge projects going right now. We don't have a GSA (General Services Administration) contract ourselves, but many of our customers do, so our equipment and blades are being used on a lot of the bases anyway."
A break in the gray
"We are a very lean company," Marci says. "The only employee we lost through this recession was to attrition. We are proud that we have not had to lay off anyone."
Keeping their small staff intact through the recession has been a challenge but they have met it. The steps they have taken before and during the downturn — offering their own concrete saw, instituting tool repair, converting inventory to cash, launching a ground scanning service and focusing more on government sales — have seen them through. Today, the company is looking ahead.
"I believe the economy will turn around significantly in the next 12 months," Mark says. "When the construction market comes back — and I think it will be led by housing again — there will be a lot of pent-up demand for saws and drilling equipment. I think distributors are going to see a growth spurt in the next five years and we need to be planning for it." CS
Visit ProContractor Supply at www.procontractorsupplyinc.com