Keeping a sharp eye
An asset sale brings New Hampshire Tool & Supply an infusion of cash and a new outlook on life.
---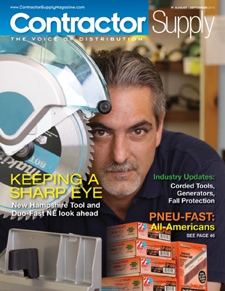 Thanks to an asset sale to Duo-Fast NE, Dan Paul, manager of New Hampshire Tool and Supply, is looking ahead to a revitalized business as customers return to the fold.
By Tom Hammel, Contractor Supply Magazine
In the universe called "between a rock and a hard place," few scenarios are as agonizing as being a distributor facing the prospect of going under. Not only do you have to watch your once-thriving business dwindle, often due to forces beyond your control, but you have the added burden of knowing that you may have to lay off loyal long-time employees as well.
The recent recession hit large and small businesses alike, but the reversals of fortunes seemed most cruel to small companies that were only hoping to enjoy modest growth.
Such was the case with the New Hampshire Tool Outlet of Salem, NH. In 2006, encouraged by growing sales, then owner Craig Cole built a new flagship store in Pembroke. No sooner had the store opened for business than the residential construction market began to go south.
In less than two years, New Hampshire Tool Outlet's sales dropped 70 percent. The company was forced to close the Pembroke branch and began having difficulty meeting vendor obligations. It began to lose lines. Something had to give.
In late 2009 Cole approached Rod Steier of Duo-Fast NE about a possible asset sale. The two had known each other for years, were occasional competitors in New England and worked together on the same committee for Sphere 1.
With a primary focus on industrial fastening market in the Northeast, Duo-Fast NE in 2009 was not openly on the acquisition trail, especially not for companies like New Hampshire Tool Outlet, which served the residential market and as such was completely outside of Duo-Fast's comfort zone.
Ironically, when Cole approached him about New Hampshire Tool Outlet, Steier was in fact in the process of acquiring an Internet retailer based in Pennsylvania. Duo-Fast NE was not so interested in the company's lines, which ranged from Kreg jigs to Tenryu blades, but rather its "backroom" Internet retailing capabilities.
Two things about New Hampshire Tool Outlet interested Steier. First, he knew and respected Cole and his staff, knew they were good competitors who could, if given the chance, recover and rebuild New Hampshire's business.
Secondly, Steier and Duo-Fast NE were interested in learning the residential distribution model as a possible avenue to future growth after the recession ended. New Hampshire dropped into his lap.
"We told the creditors, 'We're thinking about buying the assets of New Hampshire Tool Outlet — would you be ok with that?' They all said, 'Oh yes, that would be a great move for you." — Rod Steier
"For 60 years Duo-Fast NE has sold primarily to industrial, woodworking, lumber yards and tool houses — we really didn't sell retail," Steier says. "This was totally different. We never really understood the retail piece, per se, because we sold to lumber yards, not contractors. We thought learning about retail sales would be an interesting education. So, as a way to better understand the market and have something that we could replicate if we wanted to, my brother Dan and I agreed to look at their numbers."
New Hampshire shared its balance sheets with Duo-Fast's accountant, who quickly determined that NH Tool Outlet could be profitable again, particularly if given the benefit of Duo-Fast Northeast's purchasing power.
"The old New Hampshire Tool Outlet really got hit with a double whammy," Steier explains. "The economy tanked on them just as they built a really nice facility. If either of those things had not happened, we would not have been able to buy them because they would not have been for sale. That scenario is exactly what happened to a lot of people who are in trouble today."
"What they needed was to re-inflate their balloon, and the air was money. If we could put money in here and restock the shelves, they could sell it. I was absolutely confident of that. They have a very loyal customer base and a terrific location; just one exit up the road from Massachusetts, which has a fairly high sales tax."
New Hampshire has no state sales tax; Massachusetts levies 6.25 percent. Contractors often make the short hop up to New Hampshire Tool & Supply to buy equipment and avoid the sales tax bite. New Hampshire Tool is not alone in enjoying this advantage. A Home Depot is next door, and Lowe's is coming in down the street.
NEW HAMPSHIRE TOOL & SUPPLY AT A GLANCE
Year founded: DuoFast NE (parent company) 1949; New Hampshire Tool Outlet (1983); New Hampshire Tool & Supply, 2009
Year Acquired by DuoFast NE: 2009
Ownership: Privately held
Locations: East Hartford, CT (DuoFast NE main office); Salem, NH (NH Tool & Supply)
Warehouses: Vermont, Rhode Island (DuoFast NE)
Employees: 50 total (New Hampshire Tool & Supply: 5)
Lines (DuoFast NE): 3M, Carborundum, DuoFast, Dynabrade, MAX USA, Norton, Pam, Paslode, Primatech, QuikDrive, Robertson-Holtzher, Senco, Shuford, Spotnail, Stanley Bostitch, TACC, Teno-Spin
Lines (New Hampshire Tool & Supply): All DuoFast NE lines plus: A-Plus, Coilhose, DeWalt, Empire Level, Estwing, Fein, Freud, Hitachi, Ironclad, Irwin, ITW Ramset, Johnson Level, Makita, Newborn, Occidental Leather, PLS Pacific Laser,
Powers Fasteners, Remington, Rolair, Safeway, Stabila, Swanson, Tyrex, Vaughan, Veto Pro Pac, Wobblelight
Web sites: www.nhtoolnsupply.com;
www.nailersandstaplers.com
"That is a big factor; when contractors from Boston and Gloucester want to buy something big, they come up here," Steier notes. "So, after analyzing all those factors, we said, 'Let's buy it. Let's learn what they do, how they do it and why. Our accountant is telling us we can't get hurt too badly in this educational process, so let's buy it."
As luck would have it, all this happened in the run up to the STAFDA convention last November. While there, the Steier brothers discussed New Hampshire's situation with several key creditors.
"We told the creditors, 'We're thinking about buying the assets of New Hampshire Tool Outlet — would you be OK with that?' They all said, 'Oh yes, that would be a great move for you. They used to be really strong and there's no reason why they aren't going to be strong again. Do it.' "
Decision made — now the hard part
In many ways, the emotional and analytical processes of acquisitions are the easy parts. Once you have decided if you can make a deal work, then you have to determine how. And the devil truly is in the details — incompatible computer systems, ordering policies and procedures, handling credit, the list was endless.
"They had a totally different way of doing business," Steier says. "First, at Duo-Fast Northeast we run an IBM AS400 system; they ran off a PC. It just didn't work. So we transferred all of their accounts into our system. A lot of history gets lost in that process and pricing all has to be manually loaded in. Craig, Dan, Tony and Bill had a lot their pricing in here," Steier says tapping his head with a finger, "but not in here," tapping a computer monitor. "Our pricing has to be in the computer."
Credit was another issue. Even in the best of times, credit can make or break a distribution business, but in the current market, it is critical. Duo-Fast developed its own formalized credit policy for its industrial and wholesale accounts in part with expertise it tapped from STAFDA.
However, "New Hampshire deals with builders — it was a whole different beast."
Today the computer system integration is complete and New Hampshire's staff is becoming more comfortable with it every day. They are also quickly learning to enjoy some functions, like having Duo-Fast inventory levels instantly available at their fingertips.
Avoiding others' mistakes
Horror stories abound of the fate of acquisitions where the new parent autocratically forced the new child into a preexisting model in arrogant disregard of legitimate
differences in business models and customer bases. Being admittedly unschooled in the vagaries of "retail" distribution, the Steiers have wisely elected to allow New Hampshire Tool & Supply to operate as an independent business, with its own staff and line card.
Keeping New Hampshire's entire staff onboard was a key from the earliest stages of negotiations. There are two basic ways to acquire a company; you buy it outright or watch it go under and hope to acquire its staff afterward — an iffy proposition at best.
"Getting their talent was key," Steier says. "One of the main reasons we were interested in purchasing the company was because we knew them; our salespeople occasionally competed with them and we knew they had tremendous customer loyalty. Dan Paul is a great store manager. Their outside sales guys, Bill Devereaux and Tony Cole, have tremendous relationships with their customers and great insights into their needs. And
Bryce Burke is a top-line repair technician."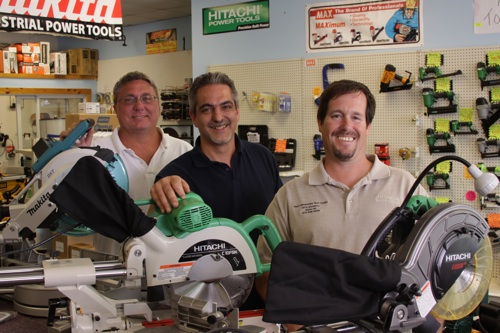 Although Rod Steier plans to add a new employee, the staff of New Hampshire Tool & Supply runs lean and mean. Shown here: (L-R) Bill Devereaux, outside sales, Dan Paul, store manager and Bryce Burke, repair technician. Not shown: Tony Cole, Craig Cole. Just five men run the business.
Line autonomy plus
Maintaining as much autonomy of line card was also essential. As a primarily industrial/wholesale fastening system supplier, Duo-Fast Northeast's line card was much different from New Hampshire's. The staff at New Hampshire had invested decades nurturing local preferences for some brands that were either too "exotic" or just too far outside of Duo-Fast's customer focus to make sense. Industrial fastener users have little use for high-end lasers and levels or heirloom quality tool belts, but building
contractors have different needs.
As buying group members (both Duo-Fast NE and New Hampshire Tool Outlet belonged to Sphere1) there are benefits in patronizing preferred vendor buying programs. In this case, New Hampshire Tool & Supply did end up sacrificing a couple of lines for the greater efficiencies of the company as a whole, but for the most part, Duo-Fast elected to allow the Salem staff to stock the lines they and their contractor customers had spent decades establishing as preferred brands.
Another benefit of retaining both New Hampshire's staff and line card intact comes in the form of faster reconnection of customer relationships. Word travels fast on the jobsite and local contractors worried that New Hampshire was going out of business for good. Fortunately, good news travels just as fast, so contractors have begun coming back to New Hampshire Tool & Supply very quickly. Many of them have openly expressed gratitude that New Hampshire Tool & Supply is "back in business" with fresh inventory.
Market "insurance"
The main reason the original New Hampshire Tool Outlet got into trouble was its heavy reliance on the residential market. Duo-Fast aims to address that weakness by expanding New Hampshire Tool & Supply's line capabilities to reduce that single-market vulnerability.
"I do plan to expand New Hampshire's focus a little into commercial construction and smaller cabinet shops," Steier adds.
New Hampshire's staff welcomes the added market/line card firepower. When the downturn hit, it quickly became too late to expand into areas like commercial construction, and the money for inventory investment wasn't there anyway. Now all that has changed.
"Cash means inventory," says Dan Paul, New Hampshire's manager. "Now we can stock more of the lines we used to carry, like Stabila, Occidental Leather and DeWalt. Plus, the relationship with Duo-Fast is enabling us to pick up some lines we never had before, like MAX and Aerosmith."
The line cross-pollination works both ways. New Hampshire has long done good business in Fein tools and accessories; now Duo-Fast is finding eager customers among its industrial base for the line.
But New Hampshire is the clear winner in the line card lotto. The asset sale gives New Hampshire access to lines and expertise they need to begin to expand into
the commercial and cabinet shop markets, and Duo-Fast's 60 years of fastener expertise will enable New Hampshire to buy fasteners much more cost effectively than before.
The revitalization of the business is palpable.
"Our customers are very glad that we're back," Paul says. "The asset sale has taken a strain off everybody. The Steiers have been fantastic to deal with — it has certainly been a good experience."
So which came first, the recovery or the revitalized New Hampshire Tool & Supply?
"I think it has been a little of both," Paul says. "The economy has picked up, which is fantastic, and hopefully that will continue. Many customers didn't know if we were going out of business or not. Once word started getting around, over the last three months those customers have started coming in again. We are getting a lot of walk-in business again. It's been a good turnaround." CS