Shining the Light
Frank's Supply pioneered government sales — for Itself and for an industry
---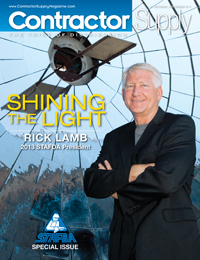 Rick Lamb, sales, marketing and quality assurance manager for Frank's Supply, has helped his employer become a top-flight supplier for several high-security U.S. government and private customers engaged in nuclear, weapons and energy research and uranium enrichment in New Mexico's "atomic league."
Tom Hammel, Contractor Supply Magazine
Some years ago I visited the Midgetoy company in Rockford, Illinois. The owner was well into his 80s by then, and his factory had been shuttered for a number of years. As he talked about the company's glory days, his eyes fell on a yellowed sheet of paper tacked over a workbench. He picked it off the wall and handed it to me, saying, "Not many people have ever seen this."
It was a purchase order for precision parts his company supplied to the government in World War II. The top of the page was stamped, "Manhattan Project." To an Iowa boy born in the 1950s, holding that slip of paper was like holding a piece of the first atom bomb itself.
The atomic leagues
Back in the early 1940s, anyone with a machine shop was working for the war effort. These days it takes a bit more — a General Services Administration (GSA) certification — to earn the privilege of selling to government installations, especially those doing top secret nuclear, weapons and energy research in New Mexico's mountains and deserts.
With "just" 120 employees companywide, Albuquerque, New Mexico's Frank's Supply is a small company that dreams large. The vision and tenacity of Frank's employees have enabled it to do what no rental company had done before, compete for — and win — contracts serving major government sites such as Los Alamos National Laboratory and Sandia National Laboratories. Another high-clearance Frank's customer is Urenco, which supplies nearly 30 percent of the world's enriched uranium products.
Frank Deaver opened Frank's Supply's doors in 1953, offering tool and equipment sales and rental. The company is now owned and operated by Deaver's granddaughter,
Melissa Deaver-Rivera. Just as Frank's Supply has progressed through the family's generations, so has Albuquerque. From 1960 to 1996, the city doubled in size from 202,000 to 440,000 people. Frank's kept plenty busy serving that growth, including the needs of the city itself.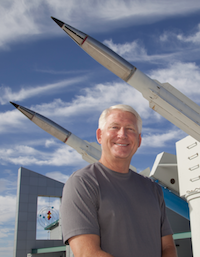 "An interesting aspect of our contract with Sandia National Labs is that our products are going into the actual labs — into nuclear, weaponry and energy research. That's pretty cool."
— Rick Lamb, Frank's Supply
The bid that changed the world
"We always did some business with the government, especially with the local government," begins Rick Lamb, sales, marketing and quality assurance manager for Frank's Supply. "But in 1996 Los Alamos National Laboratory put out a contract for their JIT (Just In Time) contract."
"It was a highly formalized bid process," Lamb explains. "It was the first time we ever bid on a job that took two thick binders just to put together. We had to do a complete history of Frank's Supply and explain how we would manage the contract. There were many specific requirements to meet, such as delivery within 24 hours at a 95 percent service level. We had to show them how we would meet that fulfillment rate and show that our business system was able to handle their program. We had to explain our entire operation — all of our processes. And all of that only filled one of the binders."
A second binder covered the methods Frank's would use for pricing products, including safeguards to ensure that the prices charged were the same as the prices quoted for a multitude of different products.
Completing the application took Frank's project team nearly six months. The team handed it off to Los Alamos on Dec. 6, 1996 and prepared for a long wait. Just 18 days later, on December 24, Christmas Eve, 1996, Lamb answered his office phone and learned Frank's had won the contract.
"It made my Christmas, that's for sure," he says. "But if you ask me how we did it, I'd have to say it was because our team paid attention to the details," Lamb says. "We really scrubbed that proposal; a lot of eyes here looked it over."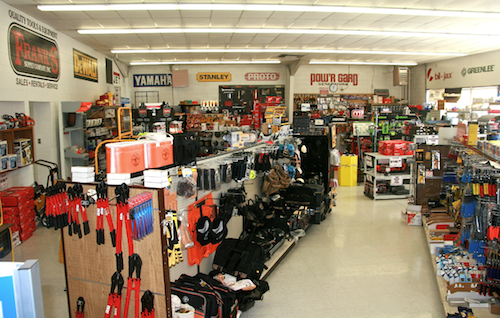 The 6,000-square-foot showroom of Frank's headquarters store in Albuquerque has served the company well since 1963, but at present, company employees are excitedly discussing ideas for a soon-to-be-commenced renovation.
Opening the GSA door
As Frank's team learned, landing a government contract was just the beginning.
"Then we had to put together a team to administer the contract," Lamb explains. "The people heading that team today are the same employees we hired to administer the contract in 1997. We were fortunate to hire two individuals with years of experience in government sales, contract administrator Betty Jacques and customer service representative Mark Naranjo. For over 15 years, these two individuals and their staff have made this contract a Frank's Supply success."
From there, Frank's team began preparing for the next big contract.
"Once we won that first contract, we started getting ready for the next opportunity that might come along. We started to talk about it, saying, 'Well, why don't we get a GSA contract? We already meet all these regulations so it's not like we have to start all over from scratch.'"
Lamb used his network to make some initial connections with people at GSA. An industry associate got him in contact with Ellen Upchurch, the contracting officer at the General Services Administration. Frank's team worked with Upchurch for six months, at the end of which Frank's had its GSA certification.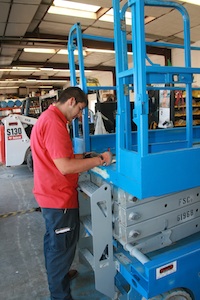 Frank's two-acre rental yard has two service and repair buildings, one for returns and turnaround maintenance; the other for major repairs. Here in the returning rentals shop, a technician completes a checklist on a scissor lift before clearing it to go back out again.
That effort would not go unrewarded for long. When Sandia National Laboratories, also in Albuquerque, opened one of its tool contracts for bid, Frank's successful experience with Los Alamos helped it put together a winning bid.
"The Sandia contract is technically for 'MRO products,' but it covers a wide range, including everything you might expect to go into an industrial type situation — hand and power tools, air tools and lots of safety equipment such as respirators, safety glasses and gloves," Lamb explains. "But an interesting aspect of our contract with Sandia is that our products don't go into the maintenance department — they go into the actual labs. Our products are going into the nuclear, weaponry and energy research going on there. That's pretty cool."
GSA — global sales access
Many distributors dismiss the pursuit of GSA certification out of hand as being more work than it is worth. Their standard excuse is, "Our customers work on government installations so we make the sale anyway." Frank's took the more difficult road, believing the rewards of GSA certification would make the effort worthwhile.
"Our GSA has turned out to be an exceptional contract," Lamb says. "And here's why: once you have the contract, it's not just local — it's national and international. We send stuff to Iraq, to Afghanistan, all over the world."
Winning contracts is no solo act. Lamb works closely with several key members of the Frank's leadership and operations team.
"My primary responsibility with government business is finding opportunities, putting proposals together and negotiating contracts," Lamb explains. "I bring in all the resources of the team, headed by Randy Irwin, our general manager. Randy makes sure that the managers of each department work together. He has each manager develop processes for government bid opportunities and monitors the processes after a successful bid award. This includes human resources because you typically have to provide resumes for the people who will be running the contract."
"Then, I bring in information from the inside sales department on the products to quote and how we should we quote them. I make our presentation to the customer, but that is really the end result of a major team effort."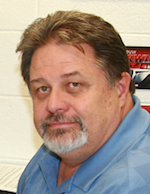 "Part of what we watch with products we sell to the government is that they are TAA compliant. "That means the product cannot be any product that's sold in China or produced in China or a few other countries, such as North Korea, Thailand, Malaysia or Pakistan."
— Daryl Hart,
Frank's Supply
Running the government
Once the contract is awarded, it goes to one of Frank's inside sales pros to manage. Frank's point man at the Albuquerque store is government contract administrator Daryl Hart. He has been managing the Sandia National Laboratories JIT contractor business since Frank's won the contract five years ago.
"I also handle the GSA contract avenue that brings in orders on a daily basis through e-mails and phone orders," Hart adds. "I do all the selling of that product throughout the U.S. Some product goes overseas as well, but we only ship to consolidation points in New York, San Diego, Houston or another port and then the government ships it from those locations."
The products Hart handles include everything in Frank's catalog, from Proto hand tools, DeWalt and Milwaukee power tools, all the way up to articulating boom lifts.
"Part of what we watch for with products we sell to the government is that they are TAA (Trade Agreements Act) compliant," Hart explains. "That means the product cannot be any product that's sold in China or produced in China or a few other countries, such as North Korea, Thailand, Malaysia or Pakistan."
The vast majority of products Frank's inventories are okay to sell. The company maintains an online list of every "cleared" product where government customers can verify part numbers. This eliminates redundant origin searches and allows government buyers to research some products themselves.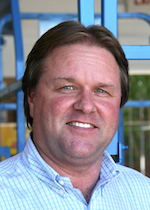 "We were the first rental company in the U.S. to win GSA contracts. Once the nationals came in, they advertised that they were the first 'national' companies to get GSA contracts, but we were the first one, period."
— Bill Griffin,
Frank's Supply
Renting to Uncle Sam
Frank's sales team works closely with its rental department. Like many distributors that have occupied the same location for decades while their cities have grown around them, the rental department is on its "own" lot across the street. In point of fact, Frank's owns all the land it occupies, roughly four acres.
Rental manager Bill Griffin has been with Frank's for 25 years. His staff serves a customer base of commercial and residential construction, remodelers, industrial MRO and the government.
"We rent a lot of aerial lifts, scissor lifts, backhoes — you name it," he says. "We do a pretty good business with the government too; we were the first rental company in the U.S. to get GSA contracts. Once the nationals came in, they advertised that they were the first 'national' companies to get GSA contracts, but we were the first one, period."
Frank's rental department in Albuquerque has one dedicated outside salesperson. He has no assigned accounts and can go anywhere he likes to drum up rental business. However, most of the rental business is driven by Frank's 11 outside salespeople.
Each of Frank's five branches has its own rental department and fleet but as the largest branch and corporate headquarters, the Albuquerque store serves as the central ordering, receiving and dispersal location for the company, both for sales and rental. Rental products shuttle back and forth between branches every day, including incoming repairs.
"We send equipment to other stores and bring back major repairs to do here rather than having them do it at their branch," Griffin adds.

Frank's Supply at a Glance
Founded: 1963
Ownership: Privately held
Branches: Albuquerque, Farmington, Hobbs and Los Alamos, NM; El Paso, TX
Albuquerque Showroom: 6,000 sq. ft.; Warehouse: 30,000 sq. ft.; Land: 4 acres
Employees: 120
Sales Force: 11
Rental Staff: 30
Markets: Construction, industrial, mining and government
Line Card: APT, Bil-Jax, Blackhawk, Bobcat, Bomag, Calculated Industries, Capital Safety, Caterpillar, CEP, Champion Cutting Tool, Channellock, Coleman Cable, CLC, Columbus McKinnon, CST/berger, Delta Jobox, DeWalt, Diamond Products, Ditch Witch, Ergodyne, Genie, Greenlee, Husqvarna, Irwin, JET, JLG, Keson, Klein Tools, Knaack, Kraft Tool, Louisville Ladder, MasterLock , Miller Electric, Milwaukee Electric Tool, MSA, Pyramex, Reed, Ridgid, Stabila, SkyTrak, Stanley, Stanley Proto, Starrett, United Abrasives, Werner Ladder
Operating System: Epicor Prelude
Affiliations: STAFDA, Evergreen Marketing Group
From zero to 60
It would be easy enough to say Frank's Supply is a rarity in the STAFDA industry, but the fact is that Frank's is a rarity in any industry. Frank's was the first rental supply house to earn GSA certification. Frank's was also nominated by Los Alamos National Laboratory to be the Department of Energy's National Small Business Contractor of the year in 2006. (It received this award from the Department of Energy in June 2007.)
As Lamb looks ahead to 2013 and coming year as STAFDA president, he is clearly bullish.
"Next year is Frank's 60th year in business," Lamb says. "If Frank's didn't step out of the box in 1996 and go for that first big federal contract — which scared us to death at the time, by the way — things would be very different here today. That changed the company."
"Yes it was very formalized but it just becomes how you run your business — it becomes second nature," Lamb says. "I think there is a lot of opportunity for STAFDA distributors to take that step too." CS