White Cap Breaks New Ground
White Cap and HD Supply aim to change the landscape of distribution.
---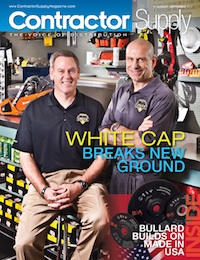 John Stegeman, (L), president of White Cap Construction Supply and Joe DeAngelo (R), CEO of HD Supply, have an ambitious vision
for their companies and a solid plan to back it up.
Tom Hammel, Contractor Supply Magazine
If you haven't visited a White Cap store recently, you may be in for a surprise. Over the last year, the company has spent more than $5 million remerchandising nearly 70 of its 133 stores, installing new fixtures and signage, and bringing in new product in key categories.
The new showrooms are clean and welcoming with a pleasing, clutter-free abundance of inventory. Everywhere your eye falls, product is logically displayed, clearly signed and within easy reach. Some stores, such as the branch in greater Chicago, Ill., have also moved to higher-traffic locations to attract more walk-in contractor customers.
It's all according to plan — the reset program is designed to create a more aligned look and feel across White Cap stores, a more uniform experience for customers and — not incidentally — a more standardized line card across the company.
Positioning and remerchandising its stores is one element of the company's comprehensive master plan to capture the largest possible share of purchasing dollars in its markets. It's all about consumer awareness, which is what White Cap is seeking to capture at every level of the construction and industrial markets.
A league of their own
With seven lines of business and a Canadian operation ranging from contractor supplies to waterworks, MRO and utilities/electrical supply, HD Supply spans the construction and industrial landscape of America. It's a huge pie and HD Supply aims to be number one in each of its markets. With specialty construction supplies, that means White Cap.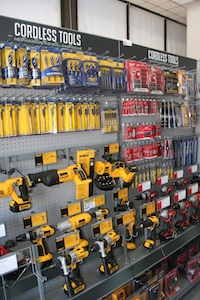 In White Cap's greater Chicago branch, each display is capped with easy-to-read bilingual signage. Sign design, color schemes and fonts are consistent throughout the store — and from one store to the next as the company moves to a standardized visual presentation.
This is a big beast to get a handle on. HD Supply's eight divisions employs some 14,000 professionals in 640 locations across 45 states and nine Canadian provinces. Last year, HD Supply's revenues hit $7 billion. That figure is down significantly from the $9.8 billion HD Supply reported in 2007, but the company has also recently reported eight consecutive quarters of growth. The company is hitting the comeback trail with a vengeance.
White Cap is one of HD Supply's four largest divisions. The other "big four" businesses are Waterworks, Facilities Maintenance and Power Solutions (the combined utilities and electrical supply).
HD Supply's four smaller divisions include California-based Repair and Remodel, which supplies home improvement products and building materials to remodeling contractors, tradesmen and DIYers; and Creative Touch Interiors (CTI), which supplies flooring, cabinets, counter tops, window coverings and design services for residential and
commercial projects.
Rounding out HD Supply's smaller divisions are Crown Bolt and HD Supply Canada. Describing Crown as a smaller division is a relative term — Crown is one of the largest retail consumer hardware suppliers in the U.S. — its largest customer is the Home Depot itself.
White Cap itself employs nearly 2,700 people in 133 stores in 29 states, plus three distribution centers, in Sacramento, Dallas and Atlanta. White Cap's outside sales force alone numbers more than 400 professionals.
On the horizon is an entry into the Northeast with branches in Newark, N.J. and Boston, Mass.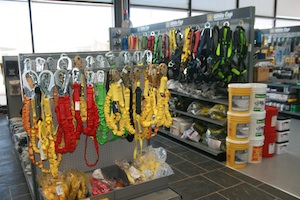 Safety products are front and center in the newly relocated greater Chicago store, displayed by category for easy browsing with harnesses in one area, jackets and gloves in another.
All star leadership
Keeping all those people on the same page is a major undertaking and is a central focus for the company as it pursues its national positioning strategy and aggressive growth goals. White Cap and HD Supply's leadership team subscribes to what might be termed a nuclear theory of growth, harnessing and concentrating basic elements to unleash tremendous energy that radiates in many directions at once.
It takes steady hands at the controls just to maintain an engine this large, to say nothing of growing it. To handle the job, HD Supply and White Cap have built an all-star team to drive growth and manage the interaction of the eight divisions.
Captain of the team is the CEO of HD Supply, Joe DeAngelo. He joined The Home Depot in April 2004 as senior vice president of its Pro Business and Tool Rental divisions. His resume includes General Electric and executive vice president of Stanley Works. When HD Supply spun away from Home Depot in 2007, Joe took the helm.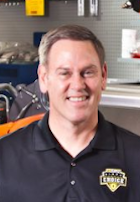 "The only way you can grow is to have great people."
— John Stegeman, president, White Cap Construction Supply
In April 2010, DeAngelo brought in industry veteran John Stegeman. One of Stegeman's jobs as executive president of HD Supply was to find a new president for White Cap, but he loved White Cap's business opportunity so much he encouraged DeAngelo into letting him take the job.
Stegeman in turn brought in Ross Anker from MSC Industrial Supply to be vice president of merchandising. Ian Heller, White Cap's vice president of marketing, came from Grainger, and several other key team players followed Stegeman over from Ferguson Supply, where he had been president and CEO.
"The key is having significant relevant experience to the industry you are in," observes Stegeman, White Cap's president. "It gives you instincts and an understanding of the customer.
"Another element that makes our senior team very exciting is individuals like Bob Jacoby, our senior vice president for the Southwest region; Brian Bilderback, our Gulf regional vice president; and J.J. Jackson, our Northwest regional vice president."
"All three of these senior team members were with White Cap and its acquisitions before White Cap was acquired," Stegeman adds.
"It's great to be able to combine the experience of people from White Cap with that of people from Ferguson, MSC, Grainger, The Home Depot and General Electric," he continues.
Each HD Supply vice president also has a personal ownership stake in HD Supply, a concrete statement of their commitment to the company's long-term success.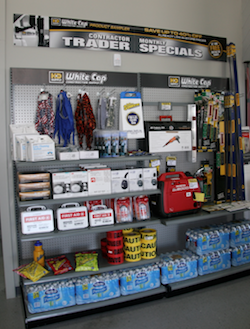 Adjacent to the sales counter, the Trader wall showcases products promoted in White Cap's monthly Contractor Trader mini catalog. White Cap produces 13 regional editions of the Trader, which it mails to select customers and hands out in stores and on sales calls.
Bench building
Getting a great leadership team in place is part of the equation, but coaching doesn't gain you many yards without great players on the field. White Cap and HD Supply are determined to build a strong bench.
"As of June 2012, White Cap had 2,671 employees and we are hiring more," Stegeman says. "Through the downturn, many companies stopped hiring. You held on to your best."
"Now we are back in the hiring mode. Some come from competitors, some from other areas of industry, but we aren't completely focusing on building our bench from new hires. We are also strengthening the bench of associates we have, with significant career development training."
Relentless recruiting and training is the rule, not the exception.
"The only way you can grow is to have great people," he asserts. "We focus all the time on making sure we have great leadership in our local branches and that they are developing teams under them so we can grow and expand. That is a very important aspect of our business."
"It is also a good gauge of the kind of leader you are, both in your ability to hire the right people and surround yourself with smart people," Stegeman continues. "When you do that you get smarter yourself. So it is important to offer those individuals opportunities to develop professionally and to take care of their families. You can build a great company when you do that."
Greenfields and acquisitions
Finding that best fit also applies to acquisitions. As the economy recovers, the time is ripe for M&A activity.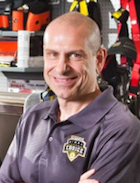 "As owners we focus on long-term value creation. During the downturn we invested more in new talent than any of our competitors."
— Joe DeAngelo, CEO, HD Supply
"Are we looking for acquisition opportunities? Absolutely. But is there value there; does it have a good foundation; is it a good fit? Is it in a geography where we want to be? Is it profitable? We look at all those things and many more, but the number one requirement is – does it have good, quality people who want to remain with the business and work for the new parent company, HD Supply? Sometimes the answer is yes, sometimes it's no."
"We always look forward to welcoming businesses into the HD Supply family," adds Joe DeAngelo. "The key things we look for are values that match ours — people who are hard-working, have positive attitudes and who have achieved a level of competitive greatness. Those things align with our culture perfectly and we believe we can provide a lot of value to teams that can help us create another generation of success. 'Join us!' is the battle cry I'd like the industry to hear."
In addition to growing into new markets, White Cap is also reviewing its territories for greenfield expansion opportunities.
"A key question we ask is, 'What markets make sense for us to bolt on another location an hour or two from an existing branch so we can increase our convenience for customer pick-up points?' " Stegeman says. "Our recent greenfield stores in Lafayette, La., and Conroe, Texas were both easily bolted onto existing networks."
"We have opportunities even in our strongest markets to fill in service gaps. We want the contractor to think of White Cap because of the relationships we build with them, our knowledgeable associates, our professional service and our product offering."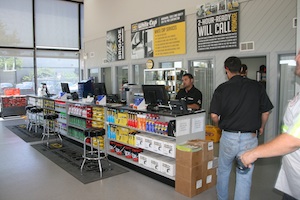 The sales counter of the greater Chicago branch faces the street. Lighting is not an issue — the showroom has window walls on three sides. Customers can park and enter the showroom from either end of the store.
1,000 percent customer focused
To DeAngelo and Stegeman, the key to successful acquisition is the same as it is for a successful company, a culture that is completely focused on the customer.
"We frame our execution around a couple of simple things," DeAngelo explains. "First, we are 100 percent focused on our customer and the urgency of performing perfectly for our customer every day. We have over 450,000 customers and we sell over one million sku's."
"Secondly, as owners we focus on long-term value creation. During the downturn we invested more in new talent than any of our competitors," DeAngelo continues. "John Stegeman, Ian Heller and Ross Anker are just a few examples, and what John has added to the all-star team that Bob Jacoby brought to us with White Cap gives us the opportunity to make a real difference in this market."
No one wants to endure a painful downturn, but HD Supply learned and adapted. It trimmed its portfolio, selling off those divisions (including its lumber, plumbing and industrial pipe, valve and fitting businesses) where the company wasn't either already the number one player or within striking distance of becoming the market leader.
"Then we doubled down on our key investments and made sure we had solid strategic growth initiatives," DeAngelo adds. "We got our systems in place so we can scale effortlessly as the markets return. Those investments are already paying off for us."
Through it all, HD Supply and White Cap focused on key customer groups and on developing strategies to most effectively cultivate each group.
Each of the eight businesses in HD Supply has a line-of-business president, who works under the umbrella of HD Supply. The parent company supplies financial backing for each business as needed and is a centralized center for strategic business development, information technology, human resources, legal, marketing, communications and finance functions for the whole company.
The right tool for the customer
This umbrella system is designed to free up the divisions for what they do best, focus on key customer groups and on developing strategies to best appeal to each one.
Stegeman sees distinct differences between White Cap's main customer groups and works to ensure each is served to the best of the company's ability, while working to bring the best attributes of each group to the others.
This means building lasting relationships with traditional customers, providing easy-to-use and comprehensive print offerings to catalog buyers and paving the Web for technology-driven buyers.
"White Cap has great focus with medium and large contractors today, but if we're to do the right job developing our business then we should also be a better distributor for smaller customers," Stegeman asserts. "Our job is to build relationships with them, so they have someone they know and can call as opposed to visiting one of our competitors."
"So yes, there is a huge opportunity for relationship selling in our business, but there is also an incredible need for the catalog business. Our 700-page color catalog offers more than 16,000 professional quality tools and supplies. Today our customers can get those products from White Cap, too."
White Cap at a Glance
Founded: 1976 White Cap; 2007 HD Supply
Ownership: Private equity
Branches: 135 branches in 31 states
Employees: 2,671 total
Sales Force: 400+
Markets: Commercial and residential construction, concrete, erosion control, safety, industrial/MRO, waterproofing, rebar, DOT/government
Line Card: 3M, Armor-Tile, Black Stallion, Bosch, Brigade, Chapin, Diablo, Dayton, DeWalt, Eagle, Ergodyne, Guardian, Hitachi, Husqvarna, Irwin, Knaack/
Weatherguard, Makita, Marshalltown, MAX, Milwaukee, ML Kishigo, MSA, PLS, Porter Cable, Powers Fasteners, Pyramex, Rapid Set, Razor-Back, RIDGID, Rolair, Rubbermaid, Simpson Strong-Tie, Skil, SpecChem, Spectra Precision, Sqwincher, Stabila, Stanley, Stihl, Surface Shields, Tyvek, United Abrasives, Vaughan, Werner, West Chester
Affiliations: STAFDA
Web sites: www.whitecap.com,
www.hdsupply.com
A third major initiative is building new Web capabilities.
"We have a full team working on our Web capabilities to augment our catalog so a customer can log in and order from us online and get delivery just as fast as they could from a competitor, yet still be able to offer the expertise and relationship value that makes White Cap unique," Stegeman states.
"We are focusing on our core groups, which are relationship-driven. We focus on bringing customers into our locations to see the broad variety of products we sell and to take advantage of our industry expertise. We are focusing on technology and how we can use it to leverage sales and profitability in the future."
"Our customers are pro-contractors who need innovative product knowledge," he adds. "It is our account manager's job to go out and help them with speed and convenience, to take care of their problems and emergencies. Our mission is to fulfill their needs faster than they can get them filled anywhere else."
Next up: Building cities and keeping them running
In some cases, the job is to fulfill needs more completely than anywhere else. White Cap and HD Supply's newest and by far most ambitious initiative, which is to provide a diverse portfolio of products and services of multiple HD Supply companies on the same job. Presently, HD Supply is testing the concept in several metro markets including Atlanta, Phoenix, Tampa and Orlando.
"We have a tremendous opportunity to utilize our resources across the portfolio to drive customer success," DeAngelo explains. "This initiative is designed to leverage our resources to get customers to think about doing business not only with White Cap for example, but with our other divisions for their facilities maintenance, electrical or
waterworks needs — any of our companies that can make it easier for them to run their business."
"It's a unique proposition for contractors with needs that can only be filled by a company like HD Supply," he adds. "That's what we are doing at BahaMar."
The 1,000-acre, $3.4 billion BahaMar project in the Bahamas, the largest single-phase resort development in the history of the Caribbean, is being supplied by HD Supply's White Cap, Waterworks and Electrical divisions.
"If you think about it, we are the only company that has the assets to build a city and keep it running," DeAngelo adds. "So that is what we are focusing on with our customers. We are working very aggressively to ensure that our customers in infrastructure or construction or facilities maintenance get everything they need from HD Supply."
DeAngelo and Stegeman are confident that HD Supply and White Cap are uniquely positioned and staffed to make immense strides in the coming years.
Just as BahaMar is transforming the Bahamas, HD Supply and White Cap seek to transform the landscape of distribution. If vision, sweat and force of will can transform islands, they are already halfway there. CS