Exploring the PEX Market
As the housing market recovers, demand will grow for PEX fire systems.
---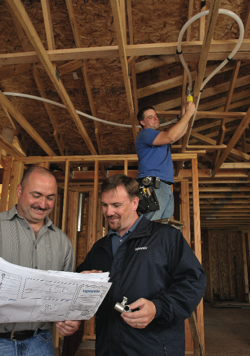 The 2009 International Residential Code (IRC) requires fire sprinklers in every new home in the United States. This mandate creates a new $3 billion market for suppliers of tubing, fittings and sprinkler heads. Although each state now must choose to adopt the new code, the sprinkler mandate will eventually create an annual demand for 540 million feet of tubing and 30 million fittings.*
Since fewer than two percent of homes today have fire sprinklers, this new industry is looking for creative, cost-effective solutions — and the suppliers to produce those creative solutions. A leading provider of residential sprinkler systems for more than 10 years, Uponor is perfectly positioned to dominate this new industry with high-value, competitively priced products.

MANDATED MARKET OPPORTUNITY
The IRC is a nationally recognized set of building standards that dictate how new homes are constructed, to ensure the safety and welfare of homeowners. In an effort to further protect occupants from the dangers of home fires, the new 2009 edition of the IRC requires that residential fire sprinklers be installed in every new home in the United States.
The decision to include this new mandate in the IRC was a hard-fought battle between home builders and the fire service community. Home builders were concerned about the costs of implementing the new mandate, while fire officials argued that the mandate would save thousands of lives for less than the price of most home upgrades. Eventually, the fire service successfully voted to modify the code.
While some states are undecided or have chosen to delay adoption of the new IRC, California, one of the largest housing markets in the country, did adopt the new code. This means, as of Jan. 1, 2011, every new home in California requires residential fire sprinklers.
Additionally, regardless of state adoptions, more than 400 individual jurisdictions already have ordinances in place that require fire sprinklers in their new homes.
TYPES OF RESIDENTIAL FIRE SPRINKLER SYSTEMS
Residential fire sprinkler systems are defined by the National Fire Protection Association's (NFPA) Standard 13D. This standard lists two broad types of sprinkler systems: stand-alone and multipurpose.
A stand-alone system generally uses rigid, orange CPVC pipe that's limited to sprinkler applications and is separated from a home's potable drinking water by a backflow preventer.
A multipurpose system commonly uses flexible PEX (crosslinked polyethylene) tubing and is integrated with the home's cold-water plumbing, thus eliminating the need for a backflow preventer.
MULTIPURPOSE PEX
Uponor, a manufacturer of PEX heating, plumbing and fire safety systems, has been selling and supporting residential multipurpose PEX fire sprinkler systems for more than ten years. The AquaSAFE multipurpose system uses exactly the same tubing, connections and tools that are used with their established plumbing systems. This means that, with a multipurpose system, a qualified plumber can also install the sprinklers.
For home builders, this means that they're able to use the trusted plumbing subcontractor who is already on the job site. In addition, both builders and home buyers value the fact that, with a multipurpose sprinkler system, there's no expensive backflow preventer to install, inspect or maintain.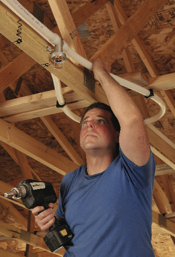 SUPPLIER OPPORTUNITY
Since fewer than two percent of homes today have fire sprinklers, the mandate is creating an inexperienced group of stakeholders, all looking for creative, cost-effective solutions and the experienced suppliers to produce those creative solutions. Home builders may have fought against the mandate, but now that it's in the code, they will want to make the process as painless as possible. This means they'll want to use products and suppliers that they're already comfortable and familiar with.
Suppliers and distributors that carry PEX lines like Uponor's have an opportunity to take advantage of the massive new business being created by the increasing demand for fire sprinklers. Since Uponor's multipurpose system uses the same tubing, the same tools and many of the same fittings that are used in their plumbing line, a distributor can enter the fire sprinkler business with a limited number of new SKUs. And most experienced manufacturers will help educate their distributors on how to sell and support their customers.
THE RIGHT TOOL FOR THE JOB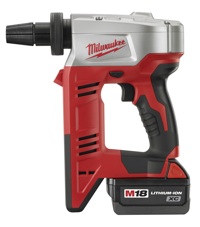 Last year Uponor entered into a partnership with Milwaukee Electric Tool to develop a comprehensive solution for installing Uponor's ProPEX fitting system. The results are Milwaukee's new M12 model 2432-22 and M18 model 2632-22 cordless ProPEX Expansion Tools. The tools feature an auto-rotating head for accurate, one-handed expansion.
The M12 features a Quick Cam Mechanism for continuous actuation for up to four times faster installation and steel gears and an integrated metal frame for job site and impact durability. It has backward/forward-compatible quick change heads for tool-free change of 3/8- to 1-inch ProPEX heads.
In addition to the above features, the M18 model 2632-22, shown here, has an integrated
magnesium frame with D-handle design and accepts 3/8- to 1 1/2-inch ProPEX heads.
The tools accelerate the speed in which users can install ProPEX connections and are compatible with over 25 Milwaukee cordless tools on their respective battery platforms. Learn more at www.milwaukeetool.com. CS
* Residential Fire Sprinklers, Market Grown and Labor Demand Analysis, Russ Leavitt, 2008, Fire Smarts LLC.
Jayson Drake is senior product manager, Plumbing and Fire Safety, at Uponor Inc. in Apple Valley, Minn., which manufactures AquaSAFE Fire Safety Systems. Reach him at jayson.drake@uponor.com.
Uponor is a leading supplier of plumbing, fire safety and radiant heating and cooling systems for the residential and commercial building markets in the United States. Uponor, Inc. employs 380 people at its North American headquarters in Apple Valley, Minn. For more information, visit www.uponor-usa.com or call 800-321-4739.