Featured Supplier: Bullard Abrasives Builds on "Made in USA"

Since 1927, Bullard Abrasives has been helping pros master the daily grind.
---
Made in the USA and growing strong. In seven short words that sums up the essence of Bullard Abrasives of Lincoln, Rhode Island. A leading manufacturer of resin bonded grinding and cutting wheels, Bullard has been meeting customers' needs since 1927.
With humble beginnings in George Bullard's garage in Westboro, Massachusetts, the company has grown and changed with the times and now occupies a manufacturing, office and warehouse facility totaling more than 100,000 square feet.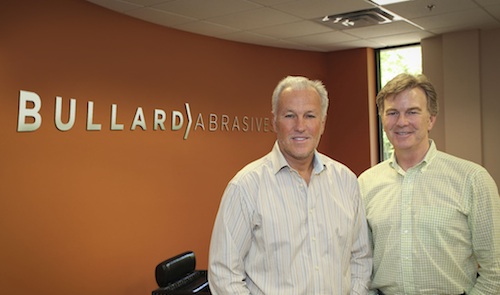 "We are always trying to anticipate our customers' needs and adjust to rapidly changing markets," notes Craig Pickell, president of Bullard since 2000. "Two key reasons for our success are that all our products are made in the United States using local suppliers, and that with a goal of total customer satisfaction, we have strong customer loyalty."
As proof of this, here is what Dan Shovlin of Shovlin Construction has to say. "My team was supplied with wheels from Bullard's warehouse. The production with the new wheels was amazing in comparison to what I had been using. They not only cut faster, they would last four to five times longer. I now use Bullard Abrasive wheels exclusively as
others don't seem to compare with production or savings."
Growth continues at Bullard in 2012. Earlier this year, the company announced the acquisition of Marvel Abrasive Products of Chicago, Illinois. Marvel has been in business for more than 75 years and is using the latest in laser-cutting technology and "super-sized" resin technology in the production of resin fiber and ceramic based fiber discs. This move expands Bullard's U.S. manufacturing base. At a time when many abrasive products come from overseas, Bullard believes in the quality, efficiency and effectiveness of American industry.
"We source all of our raw materials from domestic suppliers right here in the Northeast," says Richard Whyte, Bullard's executive vice president of sales and marketing. "This shortens our manufacturing time and expedites shipping — 98 percent of our orders are shipped within 24 hours. Our practice of 'just in time' inventory makes for a smooth business operation and a happy customer."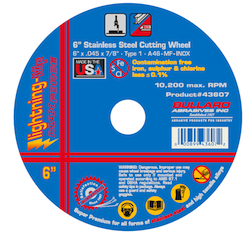 Bullard Abrasives has long been an innovator in the industry. George Bullard, a former chief engineer for an abrasives manufacturer, founded Bullard Abrasives because he wanted to make customized products and market them his own way. He invented the square-nutted hub, allowing for re-use on flat grinding wheels, and the system of color-coding wheel labels by application.
Bullard also created the Type 29 blend and flex wheel to put more work on the surface, and a sand-away product to cut, grind and sand surfaces.
Today, Bullard specializes in Type 27 depressed-center grinding and cutting wheels and Type 1 cutting wheels in multiple sizes, thicknesses and grains for a wide variety of applications across the welding, construction and steel manufacturing industries. Bullard also makes flap and resin fiber discs.
"There are many examples of how we have changed over the years," says Pickell. "Originally, the bulk of our business was with larger Type 1 cutting wheels of 12 to 14 inches used for chop saws and gas saws. Over time our customers have come to use smaller Type 1 and Type 27 cutting and grinding wheels for right angle grinders."
Lean manufacturing is another way that Bullard Abrasives stands above their competition. The company not only welcomes suggestions from employees, it puts them into practice. Each department is challenged to come up with better ways to be more efficient in their part of the manufacturing process. Ideas are brought up through the ranks and many are implemented. Some examples have included the area of ergonomics — making machines more accessible, making changes in the production process to improve efficiency and maintaining the cleanliness of all areas of the plant.
In 2009, Bullard Abrasives earned the ISO9001:2008 certification.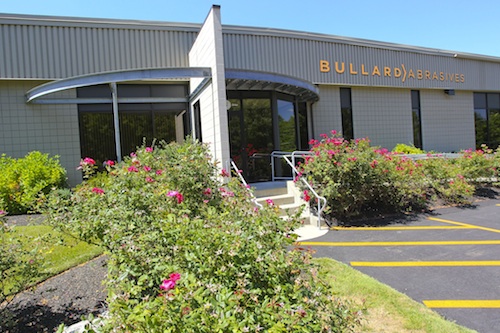 Also new in 2012, is the opening of a 24,000 square foot warehousing addition to the plant. This is just one more example of company growth and foresight. From the initial operation in a garage, to the move to a former meat packing plant in Massachusetts in 1947, to its present location in Lincoln, R.I. in 2006, Bullard has always worked ahead of the curve.
Bullard's current location was designed and built for present and future needs. It contains state of the art mixing and screening systems which provide uniformed blending of resins, grades and bonds. Computerized automated pressing equipment allows for consistent product balance, thickness, weight and flatness. Multiple banks of computerized gas ovens provide even dispersion of heat for product curing. The company also conducts quality control testing and training in a new state of the art testing room and lab.
What's next for Bullard Abrasives? Says Pickell, "Our philosophy is simple. We will continue to provide quality that is second to none, innovation that is ahead of its time and a total commitment to customer satisfaction. We believe in American manufacturing and keeping our customers happy."
And who can argue with that? CS
For more information on Bullard products, contact Rick Whyte at 1-800-227-4469 or visit the Web site at www.bullardabrasives.com.
Author Scott Fraser, Fraser Communications Group, can be reached at 1-401-647-3444; www.frasercomm.com.