Industry Update: Air Compressors
As contractors return to buying mode, they seek maximum value and fit for their needs.
---
Air compressor manufacturers have had good reason to worry during the recession. Few product categories are as closely linked to the fortunes of their industries as air compressors are to the housing market. Where one goes, the other follows.
Housing is on its way back, but issues such as credit availability and chronic contractor underemployment continue to hinder recovery. In the meantime, compressor manufacturers have been making incremental improvements to their products to maximize value for contractors when they begin buying again. Here is how four leading manufacturers have been preparing for housing's return.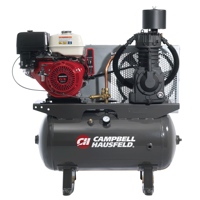 Campbell Hausfeld's model CE7003 air compressor is designed for service truck installation and features a cast-iron, two-stage pump with over 17,000 hours of rated life and a gas-powered Honda GX390 13-hp engine with electric start and alternator. It delivers 25 cfm at 90 psi or 24.3 cfm at 175 psi.
Campbell Hausfeld
"At Campbell Hausfeld, we are driving improvements by getting closer to the professional contractor," says Chuck Shoemaker, director of marketing, CH Pro for Campbell Hausfeld. "We have invested resources to gain information from the field regarding
contractor likes and dislikes and are quickly translating this information into new product development."
One consistent trend, Shoemaker says, is that contractors expect durable and reliable equipment.
"At Campbell Hausfeld, we take pride in producing products that are reliable and durable for job site or commercial users. As a result, we use heavy-duty compressor materials such as solid cast-iron components in our air compressors. We have also increased
the protection around key components that may be susceptible to damage. For example, after conducting extensive research, Campbell Hausfeld developed
protective control panels around our manifold and controls area."
In addition, Campbell Hausfeld is developing higher-pressure air compressors and introducing products with improved storage and security features to make the compressors more theft-resistant.
"We are hopeful for the recovery of the building industry, but see this as a long-term situation," Shoemaker says. "However, as a result of the government support to first-time home buyers, we see a faster improvement in the remodeling industry, which should help support the air compressor market."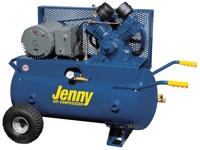 The Jenny Products W5B-30P two-stage, electric-powered compressor is designed to produce high air flow for demanding jobsite use. It has a 30-gallon air tank and features Jenny's "W" pump, a four-cylinder, two-stage pump with long piston strokes for producing large volumes of air at high pressure ratings. It delivers 18.1 cfm at 100 psi or 17.9 cfm at 175 psi. The pump is belt driven by a 5-hp electric motor, which requires a 230-volt, single-phase electrical source.
Jenny Products
Location always influences air compressor usage, notes Daniel Leiss, president of Jenny Products, Inc. Whenever an electrical source is readily available, electric-powered compressors are usually chosen.
"In some regions, electric companies must set up temporary poles soon after a building permit is granted," Leiss says. "In these areas, electric compressors are obviously more popular. However, when electrical power isn't readily available, end users must rely on gas-powered units."
Air compressor design has not changed dramatically since their invention, Leiss notes. They still mainly work on the concept of a piston moving up and down in a cylinder.
However, Jenny Products continues to make incremental improvements as technology increases, he adds. These improvements include using better materials, building smaller units and enhancing the machining processes.
The sales outlook for compressors is improving, but slowly.
"Demand for air compressors closely follows the housing market, which is still trying to rebound," he says. "Although the climb back to the top won't come easy, I do believe the market has already hit the bottom."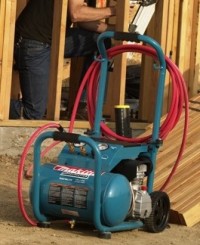 Makita's MAC5200 has a 3-hp motor and a 5.2 gallon tank capacity. It is engineered with a cast iron pump and Big Bore Cylinder for faster recovery time. It also includes a durable
roll-cage construction with eight-inch wheels for job sites.
Makita
A key pitfall to avoid in selling air compressors, says Joe Soto, product manager, residential construction and pneumatics for Makita, is the temptation to base a recommendation on just one compressor specification, such as psi or tank capacity alone.
"Different applications require different degrees of power and durability," he says. "When defining 'power' in an air compressor, one must consider horsepower, pump efficiency, cfm, psi and tank capacity."
For example, many compressors can deliver 80 to 150 psi, a range of air pressure required by many nailers. But if the end-user is running high-repetition applications like roofing or sheathing on a single compressor, this will demand more air volume and fast recovery time.
"An undersized compressor with small tank capacity and low horsepower will struggle to deliver the air volume required for high repetition fastening ­— regardless of the compressor's psi capacity," Soto explains. "It will likely operate in a constant state of recovery, which can shorten the life of the compressor."
High repetition fastening applications not only require a compressor with an adequate psi operating range, but also a larger tank and higher horsepower to deliver a higher cfm rating for faster recovery. With these specifications properly identified, the dealer can help the customer select a compressor that will deliver the air volume to match the application.
Additional features linked to power and performance include motor and pump efficiency. Compressors with low horsepower and less efficient pumps work harder and deliver less air.
"A compressor with a more efficient pump — including Makita's Big Bore compressors with a large capacity cylinder — will deliver faster recovery times," he states. "And a four-pole motor, available on select Makita models, operates at lower rpm and with less noise than comparable two-pole motor models."
Portability and durable construction are important, too. Makita Big Bore
compressors are engineered with a cast-iron cylinder and piston sleeve, with oil lubrication for cooler operation and longer tool life, he adds. Roll-cage designs and kick-plate construction also help extend compressor life, and mounted wheels and handles are an important feature for applications that require portability.
"When choosing an air compressor, it is vital to consider all facets of power, including horsepower, pump efficiency, cfm, psi and tank capacity," Soto concludes. "In addition, features like piston and cylinder construction, oil lubrication, four-pole motors and durable construction can make a big difference in performance, noise and user satisfaction. Dealers familiar with these specifications can provide a valuable service to their customers, helping them get the best compressor and the best performance for their nailing applications."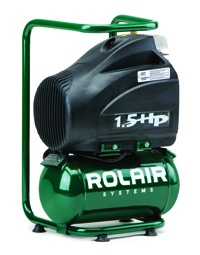 Rolair's FC1500HBP2 is the smallest, lightest compressor the company has ever produced, but it doesn't scrimp on materials or performance. It delivers 3.6 cfm at 100 psi, has a 1.5 gallon tank and a splash-lubricated, 1.5-hp, 3,400-rpm, 115-volt low-amp-draw motor. Addded features include manual reset, an intake filter/silencer and a cold-start valve. It weighs 39 pounds.
Rolair
"The slowdown in the residential housing market has had a large impact on the way professional contractors are buying air compressors, most notably a switch away from larger belt-drive wheel barrel units and into smaller direct-drive hand-carry models," explains Mike Kelley, vice president of Rolair. "It's an obvious cost-saving choice for contractors when times are slow and cash is tight.
"Thankfully, the choice for those customers still interested in a larger unit comes down to quality, performance and life span — traits that Rolair compressors have a reputation for delivering."
Customers looking to go small with a hand-carry unit are now typically searching for three things; inexpensive, light and quiet. To address these trends, Rolair has added a pair of compressors, which Kelley says have become instant hits; the FC1500HP2 and the FC1500HS3.
"The FC1500HBP2 is not only the smallest and lightest air compressor we've ever offered, it is also the least expensive," Kelley says. "You can imagine how quickly that caught our customers' attentions. It has the most cfm of any 1.5-hp model we've ever offered — 3.6 cfm at 100 psi; and it weighs 39 pounds.
"Our other new unit, the FC1250LS3, at just 43 pounds is also a low-weight and low-cost alternative, but adds one special feature — low noise. It's powered by a low-speed, 1,725-rpm motor, which considerably reduces noise on the job site and aids in cold weather starting."
Both models have helped Rolair grow sales in the increasingly competitive hand-carry market.
As for other trends and innovations, high-pressure
compressors continue to carry quite a bit of intrigue. However, Kelley notes, their hefty price tag typically makes them cost-prohibitive for anything other than
job-specific applications.
"Overall, our sales have been surprisingly strong in the early part of 2010," he concludes. "If first quarter numbers are any indication, we're looking at substantial growth as compared to 2009. We also continue to be encouraged by feedback from distributors who have indicated growing optimism from the contractor and a willingness to reinvest in equipment." CS