Industry Update: Job site generators
Cleaner, quieter and lower cost models are driving the generator market.
---
Editor's note: This article features expanded content including commentary from Wacker Neuson which was not available at press time for our August/September print issue.
The economy is a key factor in job site generator design — contractors are looking for the best overall value they can find; ideally, more machine for less money. As a result, manufacturers are developing new models with fewer features than previous
models.
Other trends include reducing noise on the job site, inverter technology and coming EPA Tier 4 regulations. Here is our overview of what leading generator manufacturers are bringing to market to answer these demands.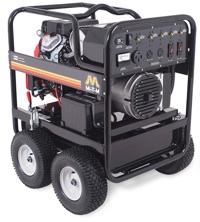 Mi-T-M's heavy-duty generators now range from 1,700 to 14,000 watts. The GEN-12000-1MHE (12,000 watts) shown here is built to withstand even the most demanding applications and features a 620cc Honda engine with low oil shut down and electric start (battery included), and large low-tone mufflers to reduce noise to lowest levels possible. It has a reinforced 1 1/4-inch powder-coated steel tube frame with center-balanced lifting hook.
Mi-T-M
"Today when cost efficiency and user friendly is at the top of everyone's mind, many companies are adjusting products to better suit their customer's needs and Mi-T-M is among them. Mi-T-M is beginning to make improvements to a few of their product lines to offer a variety of options when consumers are looking into buying a specific product," says Bill Murray, division manager.
Mi-T-M manufactures an air compressor/generator line that is perfect for every industrial application that requires electrical power and air. Customers appreciate the convenience of the built-in generator system, which increases productivity by condensing two vital pieces of equipment into one versatile must-have machine. Now a job that once required two individual machines allows contractors convenience with only having to own and maintain one piece of equipment.
"Customers no longer need to clutter the work vehicle or take care of two individual machines. This product not only saves time, it saves money," states Steve Cleary, service manager.
Mi-T-M's new 14,000 watt generator is another trend setter in the industry. With the new Honda engine, the generator produces 14,000 watts of power and ample power is always important. With the new engine, the machine will have better fuel consumption. Along with
being more efficient, Mi-T-M also incorporated a larger fuel tank to extend even longer running time and even has built in accessories for easy portability and lifting.
Each Mi-T-M generator either comes with a wheel-kit standard or as an option because portability is essential when trying to move the generator around a job site.
Mi-T-M also produces a basic generator model in its Choremaster line. This line features a Mi-T-M private label engine as opposed to a brand name engine, in order to keep costs low. Some of the extra features were also removed from the product such as the "idle-down" and "hour meter" to keep the price down but the product still has low total harmonic distortion (THD) so along with all other Mi-T-M generators, it generates clean, undistorted power.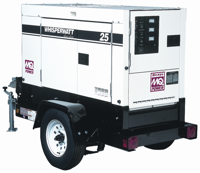 Multiquip's ultra-silent Whisper Watt series of generators produces sound levels at or lower than 65 decibels under full load at a distance of 23 feet — the equivalent of a modern "quiet" home dishwasher. New EPA Tier 4 compliant diesel engines will burn up to 95 percent cleaner than engines made prior or 1996.
Multiquip
"The overall trend is for companies to produce generators that are smaller in physical size, meet all current EPA engine emissions requirements and are quiet in operation," says Jim Rose, director of product management — power equipment for Multiquip, Inc.
Next to engine emissions, noise emission has become one of the most important attributes of job site generator power. Since the majority of these generators are diesel-powered and portable [usually trailer mounted], the housings are acoustically treated for operation in low noise environments such as residential areas.
Another fast growing trend is for Green operation. Today, diesel engines are relatively clean burning. With the implementation of EPA Tier 4 regulations, diesel engines will be as much as 95 percent cleaner burning as compared to unregulated engines prior to 1996. Plus, with a growing population of bio-fuel users in metropolitan areas, diesel engines are truly becoming Green in nature.
MQ is also addressing unit cost.
"Multiquip is working on several new generator designs that will offer the same high quality and reliability that customers have come to expect from the company's products," Rose says. "Users will be able to operate the new generator in the same areas and job sites where they use current Multiquip generators. The new products have fewer features to help reduce costs; however, they will come standard with quality sheet steel acoustic housings and powder-coat paint."
These new units will supplement the current line of Multiquip generators, offering customers a value-priced option and the flexibility to choose the right unit for their specific job. The company expects to introduce this product in the fourth quarter of 2010.
The "greening" of power generators is also a familiar trend at Multiquip. All of the company's diesel-powered generators are capable of operation on a B5 blend of bio-fuel. In some cases, a B20 blend can be used as long as the engine manufacturers' operating guidelines are met. There may be a requirement for special filters or fuel additives for the higher percentage mix of bio-fuel. (B5 blend is a mixture of 5 percent bio-fuel with 95 percent diesel fuel; B20 contains 20 percent bio-fuel.)
The leading change to impact this equipment and industry is the introduction of EPA Tier 4 Interim regulation that becomes effective January 1, 2011 for engines with horsepower ratings from 174 hp to greater than 751 hp.
"By January 1, 2015 all diesel engines must meet EPA Tier 4 Final regulations. This regulation will have a severe impact on the industry. Based on preliminary estimates from several prominent U.S. diesel engine manufacturers, costs are expected to increase by as much as 60 to 80 percent," Rose warns. "Design configurations for Tier 4 Final regulations are not complete. There is still ample time to evaluate what impact the new regulations will have on the industry. Engine companies and aftermarket emissions hardware manufacturers are working hard to design emission-friendly components and packaging concepts to help with the transition to the final emissions tier level."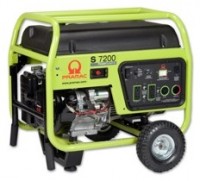 PRAMAC S Class generators were developed with the contractor or rental operator in mind, to meet the everyday demands found on multiple job sites. Powered by Honda gas engines, the S Class generators are available from 3,000 to 12,000 watts and are fully EPA, CARB and CSA compliant. Any of the generators can be fitted with an optional wheel kit.
Pramac
"The job site generator market has gravitated to two distinct markets, says Bob IntVeldt, vice president of industrial sales for Pramac America. "Contractor-grade generators are designed for long term daily use. In the opposite scenario, the generator is included in cost of the job and the contractor does not have an expectation of long life for the equipment."
"Pramac recently redesigned our job site/contractor-grade generators. We still use Honda engines, premium alternators, large gas tanks, and include as standard features voltage selector switches, full power voltage selectors and heavy duty wheel kits — even an on-board storage box.
"On the opposite end, we have an import line that is light duty, economically priced, but it is not designed for long life."
Pramac also offers CARB models for California. This trend may eventually move to the rest of the country as EPA regulations increase, IntVeldt adds.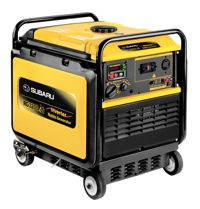 Subaru's RG3200iS inverter generator produces 3,200 watts of clean, quiet power. Unlike traditional all-or-nothing generators, Subaru inverter generators run the engine at a slower speed for low-power use and automatically increase speed as more electrical power is required. Subaru inverter models range from 1,650 to 4,300 watts.
Subaru
Pam Meyer, equipment sales manager for Subaru Industrial Power Products, sees two major trends at work in the generator market.
"First, inverter models are continuing to become more and more popular because of the demand for clean power, quiet generators," she says. "The second trend is toward lower cost equipment. This product, typically purchased by consumers, is also now being purchased by some contractors."
Subaru is currently developing a line of generators to meet this demand for lower cost equipment, yet maintain professional grade features and performance.
"Unlike a consumer model, we still maintain a high quality product with the Subaru OHC engine, three-year limited warranty and essential key features including large fuel tanks, full steel frame, GFCI and twistlock receptacles and an hour meter," she explains. "We have eliminated the less frequently utilized options of the full power switch and idler control. There will be three models, 3,500-, 5,000- and a 7,500-watt electric-start model. We expect to release these units late this summer.
"Always continuing to innovate, Subaru is currently in the development stage with additional new products," Meyer concludes. "We hope to announce these early next year."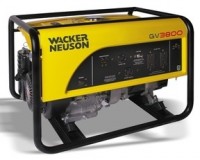 Wacker Neuson's GV 3800 generator was designed for value-seeking contractors with durable basic features like a large steel fuel tank, an easy to read fuel gauge and long run times between fills. It has a full 120V power switch for maximum 120V or 120V/240V power -- ideal for a wide variety of applications. Its GFCI (neutral bonded to ground) protected 120V duplex outlets comply with OSHA job site requirements. All components are protected by a durable wrap-
around steel tube frame. An automatic engine idle control reduces engine wear, noise and fuel consumption.
Wacker Neuson
"The leading trends we're seeing are lower cost, better fuel economy, lower weight, and more compact in size," states Marc Leupi, product manager for Wacker Neuson. "Inverters address the later three trends but they are still significantly more expensive than standard generators. Downward price pressures are being driven by the economic downturn, an excess of used equipment in the market, fewer than expected hurricanes in 2009 and low-priced competition from China."
Wacker Neuson has taken several steps to address these challenges.
"We introduced a line of inverter generators in 2009," says Leupi. "We also continue to promote our lower cost GV line, which has many of the contractor-preferred features (auto idle, 120/240V, GFCI receptacles, full frame, large fuel tank) but at a lower price point than our premium GP line."
The company is also watching the inverter market very closely.
"We believe inverter generators will continue to make inroads into the construction/industrial sector of the portable generator market, especially as prices come down," he adds. "More OEMs are considering introducing or have introduced inverter lines in response to this trend. However, high-quality standard generators with brush alternator and AVR voltage regulation still provide significantly better tool starting than inverter generators, which will limit inverter sales inroads into some construction and industrial market segments where this is important."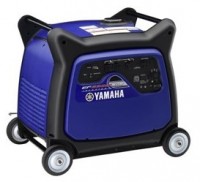 Yamaha's EF6300iSDE inverter generator produces 5,500 watts of power (6,300 peak). It has an OHV, air-cooled, four-stroke, single-cylinder engine, a 4.5-gallon tank and is tested to operate for13.3 hours on a single tank at one-quarter load. It comes with a three-year limited warranty.
Yamaha
One of the trends that we are glad to see is noise restrictions on more and more job sites, mainly in residential areas," says Colin Iwasa, power equipment sales manager for Yamaha. "Yamaha's EF6300iSDE addresses the noise restriction very well. The EF6300iSDE is a robust 120/240 dual voltage generator that produces over 50 amps, 120-volt or over 25 amps, 24-volt. Normally, a generator of this size will produce noise levels well into the 80-decibel range, the EF6300iSDE maxes out at 64 decibels.
A portable generator is a major source of job site noise; typically running all day long. A generator that size will easily run through 8 to 10 gallons of gas each day. However, Iwasa notes, as an inverter generator equipped with Yamaha's Smart Throttle feature, the EF6300iSDE will typically run all day on less than one 4.5-gallon tank of gas.
"In addition, the pure sine wave produced by the Yamaha has a side benefit of running variable speed tools, computers, battery chargers and other sensitive electronic tools the conventional generators can't. On top of those benefits, Yamaha generators are covered by a three-year factory warranty." CS